Children will be out of school for summer vacation soon and these Egg carton crafts for kids are a great way to recycle, save money and have lots of fun! The egg carton craft projects I've put in this collection are all pretty easy and mostly use basic crafting supplies.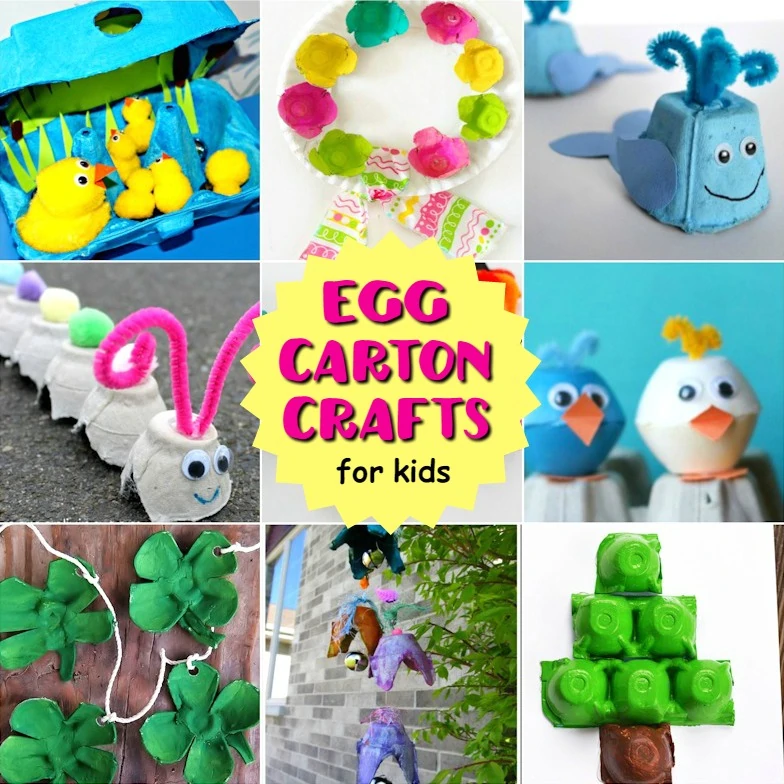 These Egg Carton Crafts were chosen for their ease to do with children, as well as creating a cute finished craft that kids will want to show off.  Common craft items are used in these kid's projects.  After all, who wants to run around looking for obscure items to make a simple kids craft. Parents are way too busy for that noise.... I know I am.
Egg Carton Crafts for Kids: Recycling Education Opportunity
Be sure to not only enjoy making these egg carton crafts for kids, but to also discuss with your children how the craft project is recycling the egg cartons. I would also take the opportunity to point out to them what to do when it is time to dispose of the craft project. Explain how removing items such as eyes or pipe cleaners for reuse, since they don't decompose like the carton, is a smart move.


24 Egg Carton Crafts for Kids
Here are the egg carton crafts for kids project collection.  Titles link directly to the projects.
1. Egg Carton Bugs Craft
2. Egg Carton Whale Craft
3. Little Chick Egg Carton Craft
4. Egg Carton Chicken Egg Cups
5. Egg Carton Flowers
6. Sunflower Egg Carton Craft
7. Flower Bells Egg Carton Craft
8. Egg Carton Creatures
9. Five Little Ducks Egg Carton Craft
10. Egg Carton Flag
11. Egg Carton Daffodil Flowers
12. Egg Carton Christmas Tree Craft
13. Egg Carton Caterpillars
14. Egg Carton Flower Wreath
15. Egg Carton Flowers
16. Egg Carton Christmas Tree
17. Egg Carton 4 Leaf Clovers
18. Egg Carton Frog
19. Egg Carton Matching Game
20. Egg Carton LadyBirds
21. Egg Carton Flower Bouquet
22. Egg Carton Pumpkin Faces
23. Start Your Garden Seedlings with Egg Cartons
24. Spring Flower Craft