My daughter will be back-to-school in a few weeks and things are already getting hectic around here. Today, was battle "find new sneakers for school". The results were not good.  On days like this the hours spin by and before you know it dinner is overdue. Our sponsor Gorton's Seafood knows how those things happen and challenged me to create a fun dinner recipe that can be ready in 30 minutes or less. Fish Stick Alfredo Pizza is what I came up with ... Yes, I said fish stick pizza!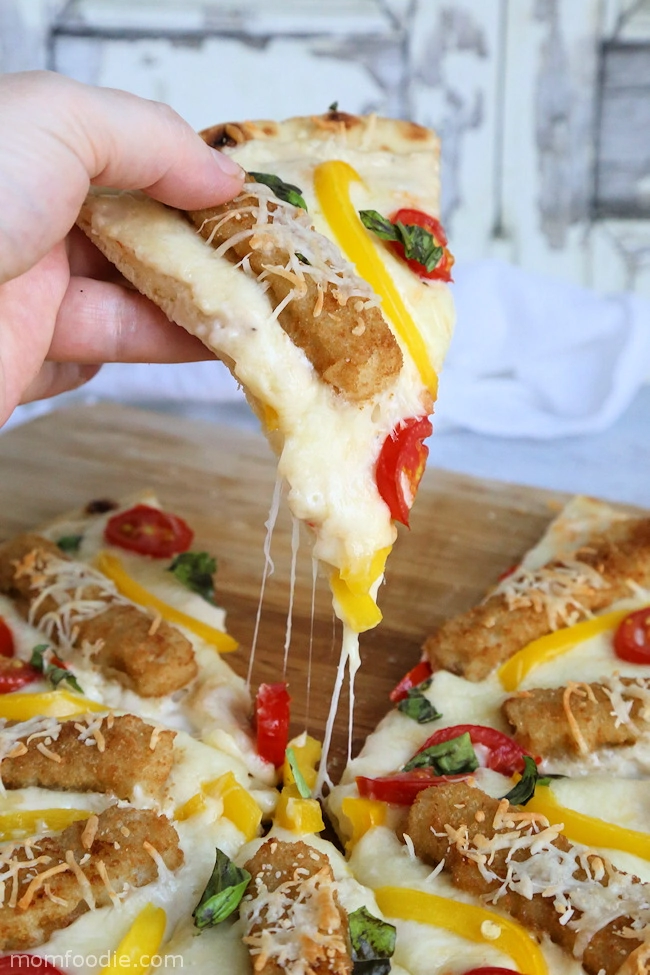 Fish Stick Pizza - Yes, Really!
Many kids like fish sticks and I thought about other foods most children love. Pizza was of course on that list as was cheesy pasta. I realized if I used a cheesy sauce like Alfredo on the pizza  rather than tomato sauce, the flavors would work together.
Making it FAST!
Gorton's Crunchy Fish Sticks are ready in just 8-12 minutes. This left me ample time to top a ready made crust and bake it nicely in under a half an hour. I even tossed on some freshly sliced vegetables to make the dish even more fun. Potato tots, broccoli florets or more fish sticks would also be great choices for topping this pizza.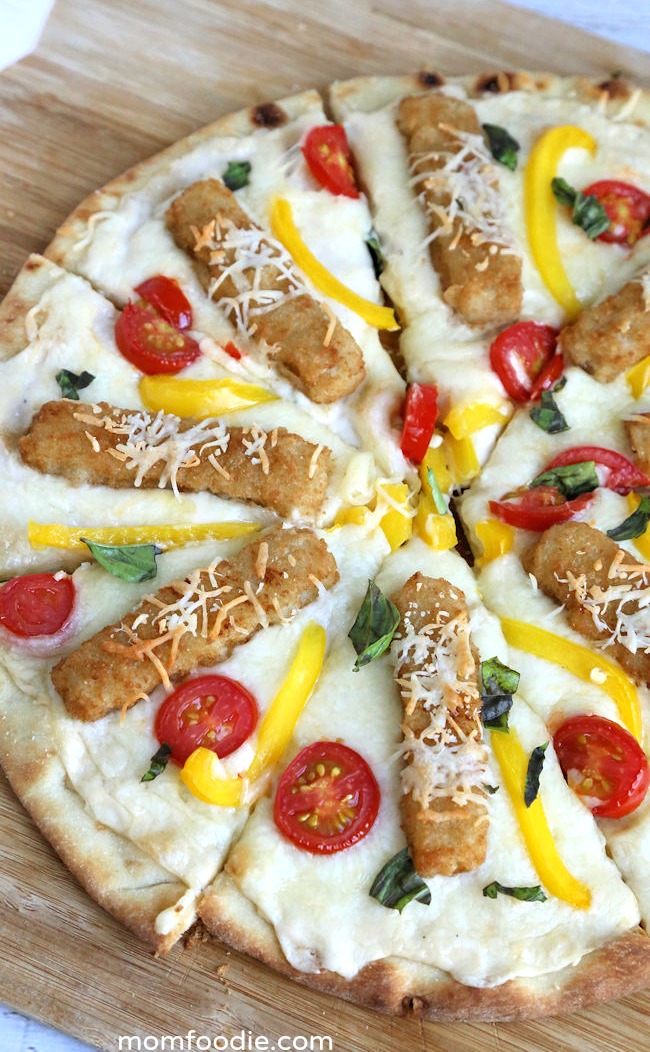 Making Fish Stick Alfredo Pizza
Time to show you how quick and easy this is!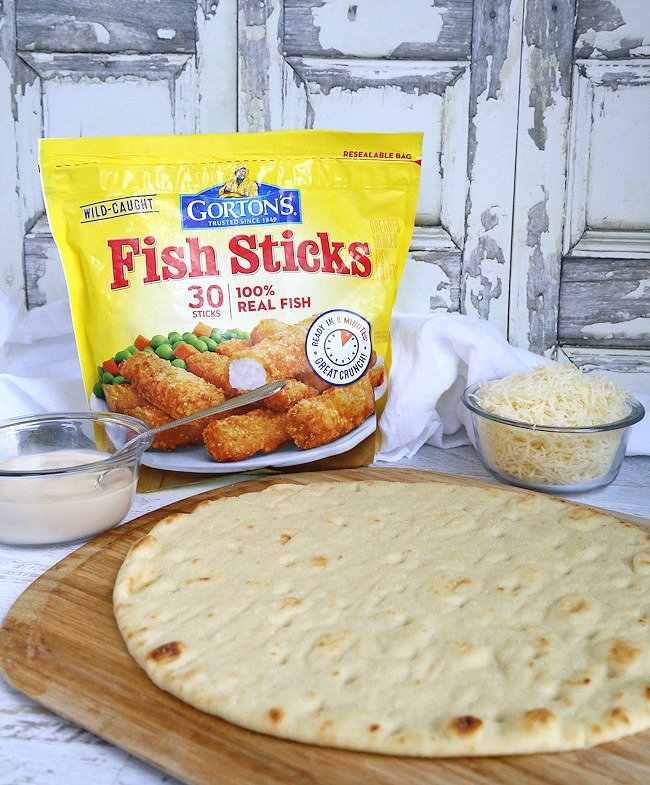 The essential ingredients are Gorton's Fish Sticks, a ready baked pizza shell, some jarred Alfredo sauce, and mozzarella or Italian blend/pizza cheese. You can add some veggies if you like too.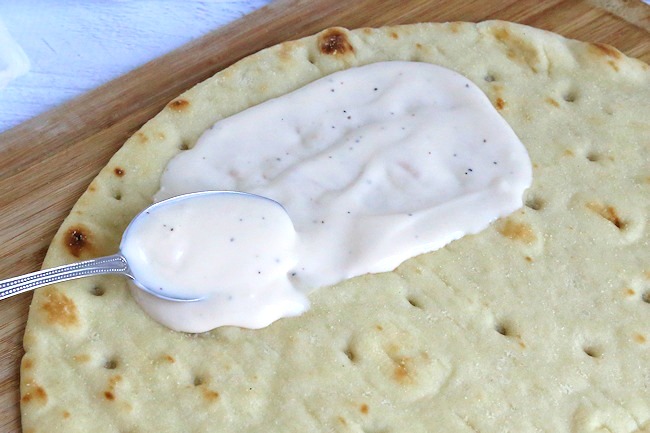 While the fish sticks are baking, spread Alfredo sauce on the crust and top with most of the cheese (reserve about a ¼ cup to sprinkle on top after).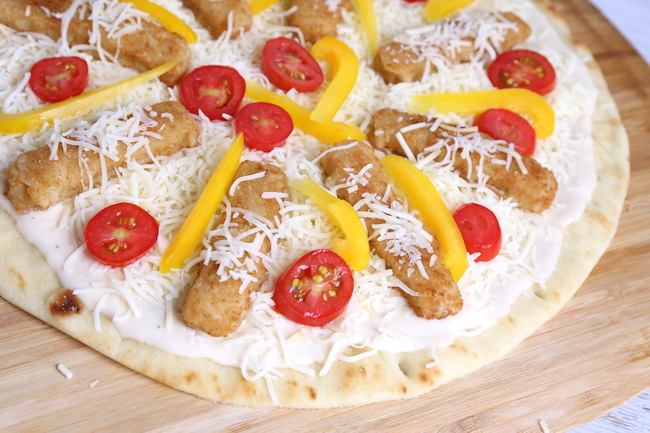 Arrange the fish sticks on top of the pizza like spokes on a wheel and add veggies. If your kids are not big fans of veggies double up on the fish sticks.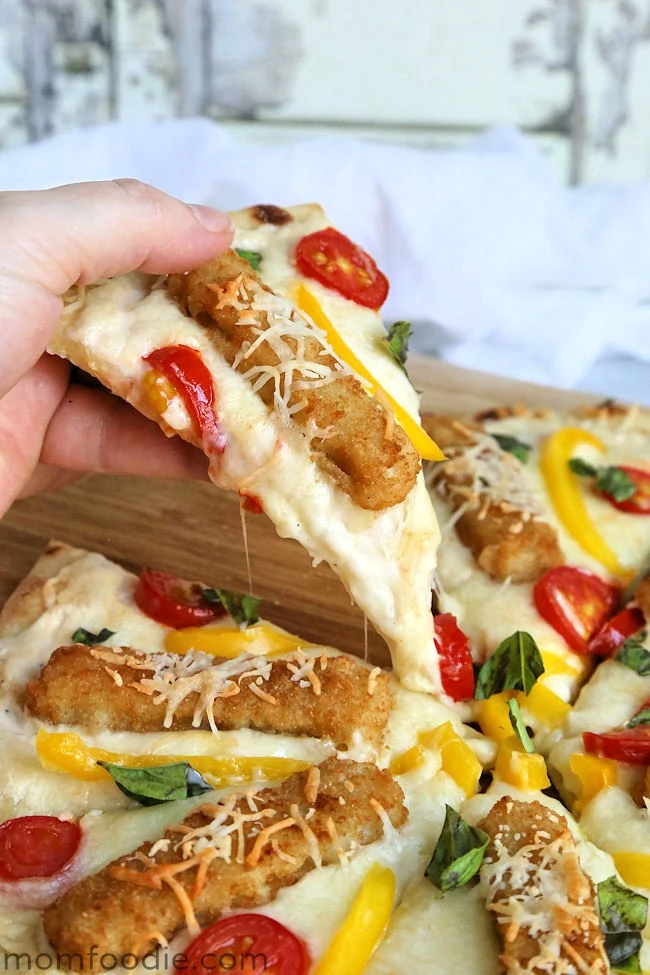 Bake for 8-10 minutes and enjoy!
If you prefer to make a quick pizza crust from scratch, try my easy 2 ingredient Greek yogurt pizza dough. It doesn't require yeast or rising.. just prepare and bake.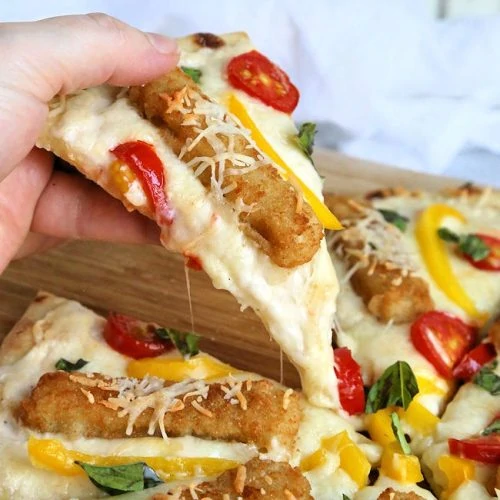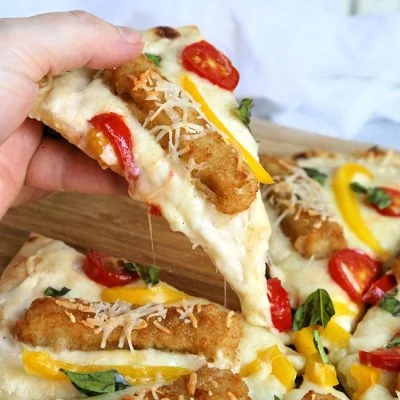 Fish Stick Alfredo Pizza
This fun fish stick pizza with Alfredo sauce is a unique way to create a seafood dinner in a flash. Kids will love it.
Print
Pin
Rate
Ingredients
8

Gorton's fish sticks

⅓

cup

Alfredo sauce

jarred

1 ¼

cup

Mozzarella or Pizza blend cheese

shredded

1

ready made pizza crust

sliced tomatoes and sweet peppers

**optional
Instructions
Preheat oven to 425 degrees.

Spread fish sticks on baking sheet and bake for approximately 10 minutes (flip after 7-8 minutes).

While the fish sticks are in the oven, spread Alfredo sauce over the pizza crust and top with shredded cheese (reserve roughly ¼ cup of the cheese to sprinkle on top after).

Arrange the fish sticks around the pizza like the spokes of a wheel and if you are adding vegetables nestle those between each stick. Sprinkle the remaining cheese on top and bake for 8-10 minutes, until cheese is melted and crust is crisp.

Slice and serve. Torn fresh basil is a nice finishing touch if you have any on hand.