Fish Stick Sandwich ~ Mermaid Style
Fish sticks are sort of a staple of childhood and mermaids are all the rage these days. I combined these two things kids love to make a SeaDog twist on the old school hot dog.  The franks are swapped for fish sticks and served on shorter easy to handle finger rolls then topped with a colorful mermaid mayonnaise dubbed "MerMayo" and some shimmering edible sprinkles. This is the cutest fish stick sandwich you will ever serve!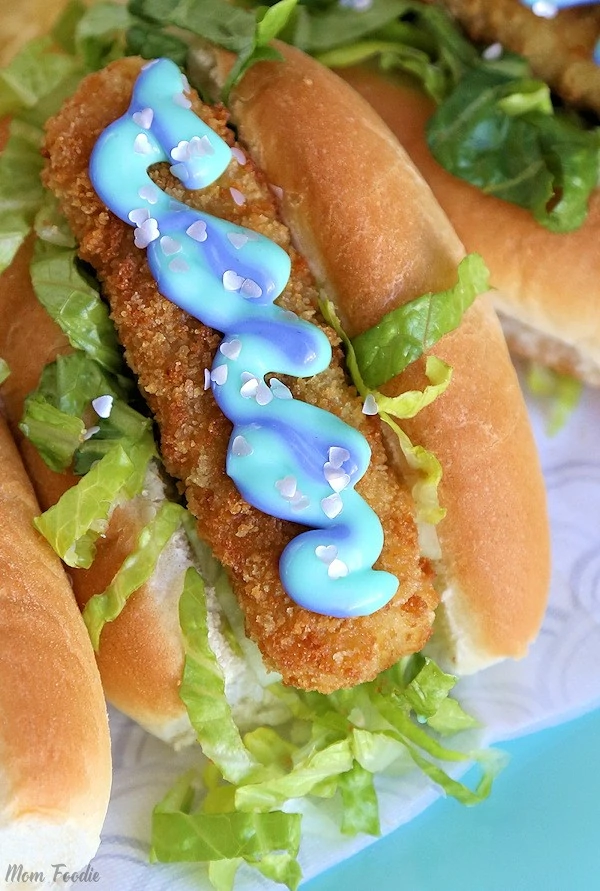 Mermaid Fish Stick Sandwiches
I created a purple stripe in the teal blue mayonnaise to add visual interest and to enhance the wave pattern of the Mermaid mayonnaise sauce on each fish stick sandwich. This was easy to do and I think it was worth the small extra effort. There are many mermaid dessert and beverage options to serve at Mermaid Parties, but fun savory party foods are not as common. These cute colorful mini fish stick sandwiches which mimic hot dogs are simple to make and a food many children are familiar with and will eat. This is just a fun twist on an everyday kids food. The silver sprinkles are paper thin and do not effect the taste or texture of the sandwich at all.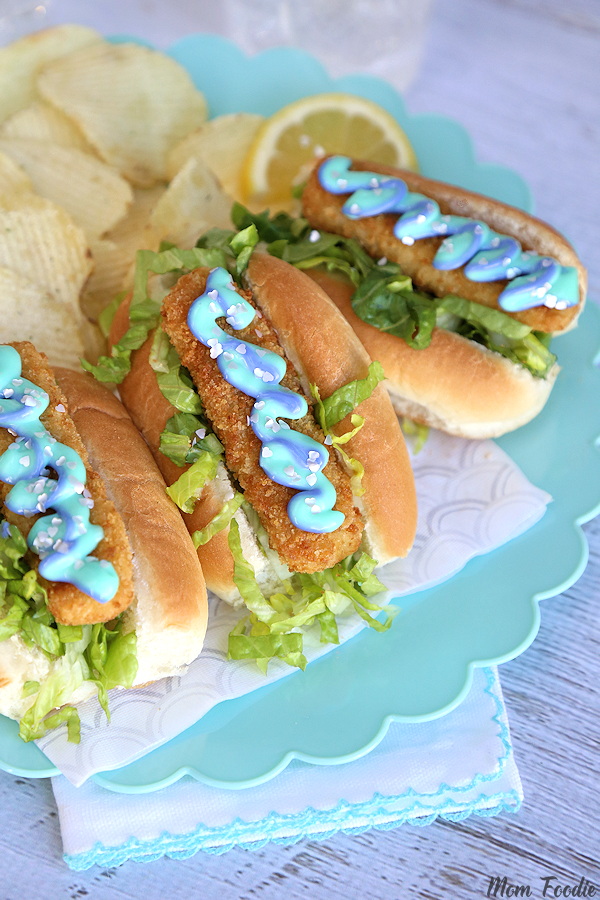 I think a tray of these little fish sandwiches with their waves of colorful mermaid mayo and glittery sprinkles would make a fantastic addition to any Mermaid party.
Making Mermaid Mayonnaise (aka MerMayo)
The mermaid mayonnaise for the SeaDog fish stick sandwiches can be fully prepared even a few days ahead and left in the refrigerator. Here is how to make the easy two toned mayo.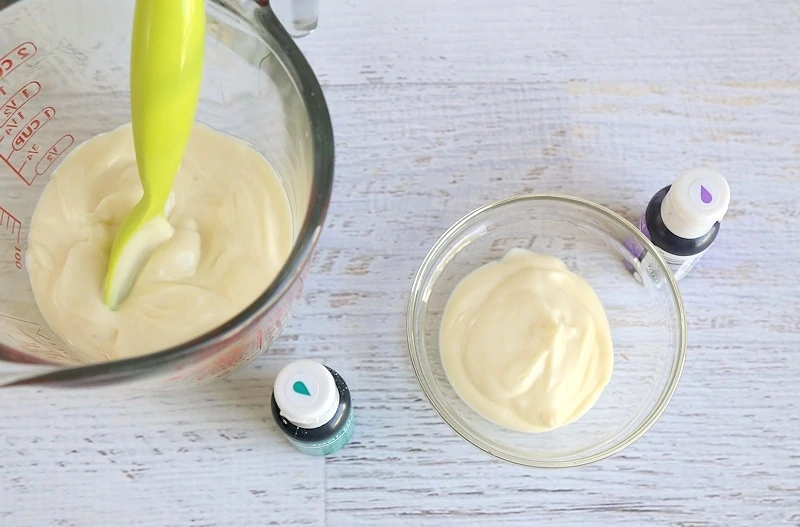 Gel food dye
is the trick to getting the rich color of this mayonnaise. It takes very little colorant to create a rich tint to the mayo, so toe flavor and texture is not effected. This teal dye is the same one I used in my Mermaid Bath Bombs on my other site Beauty Crafter (Make the dye serve double duty, and give the bath bombs as party favors!) Gel food coloring is mostly geared toward baking, but around here it gets plenty of other uses too.
These are the dyes I used in this project.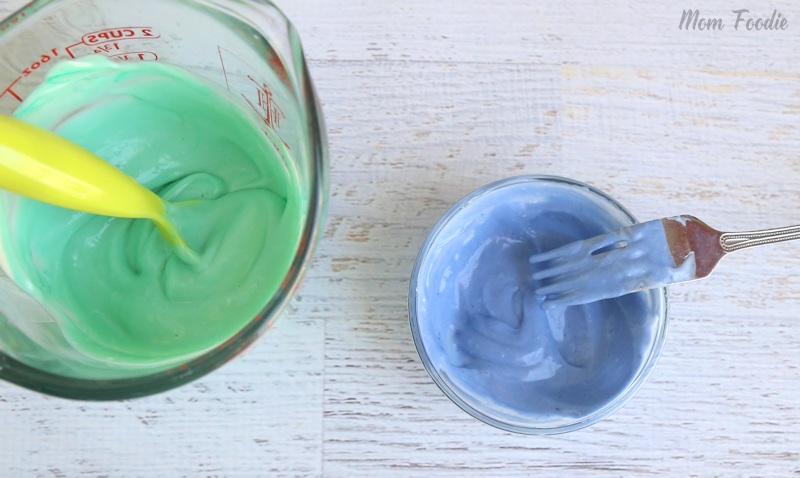 While the larger batch looks green in the image above a more aqua blue tint develops in it as it sits. The purple also becomes more vivid. You can see this in the images of the completed sandwiches. The Mermaid Mayonnaise used in completed images was made a few hours before I applied it.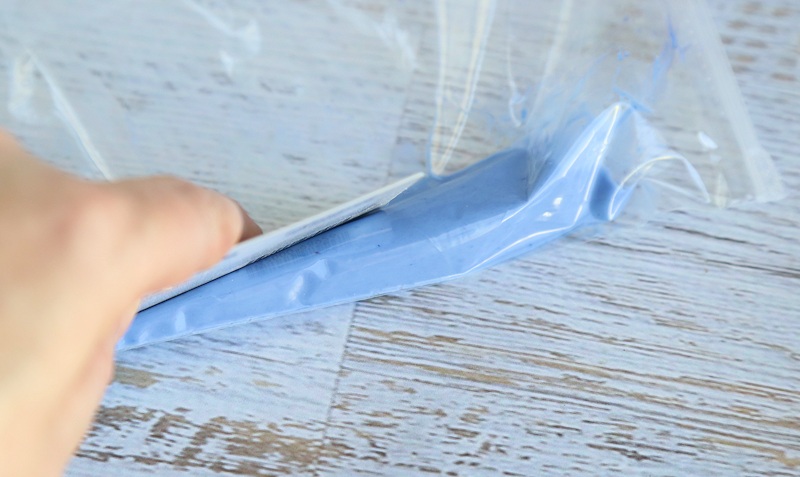 I am not the tidiest cook and while I guess I could have piped the purple stripe into the bag... I probably would have made a mess of it. Instead I dolloped the small batch of purple mayo into one side of a plastic zipper storage bag, then used an old store card to drag the mayonnaise into a tidy line,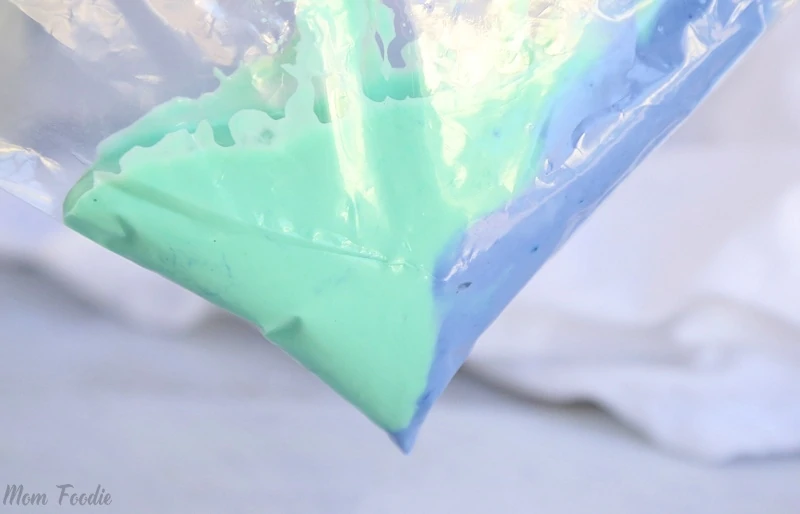 Then just add the larger batch of greenish blue mayonnaise to the other side and store the Mermaid Mayo in the fridge until you are ready to put it on your fish stick sandwiches. At that point you just snip the end off with scissors and pipe it is a wave pattern on the fish sticks.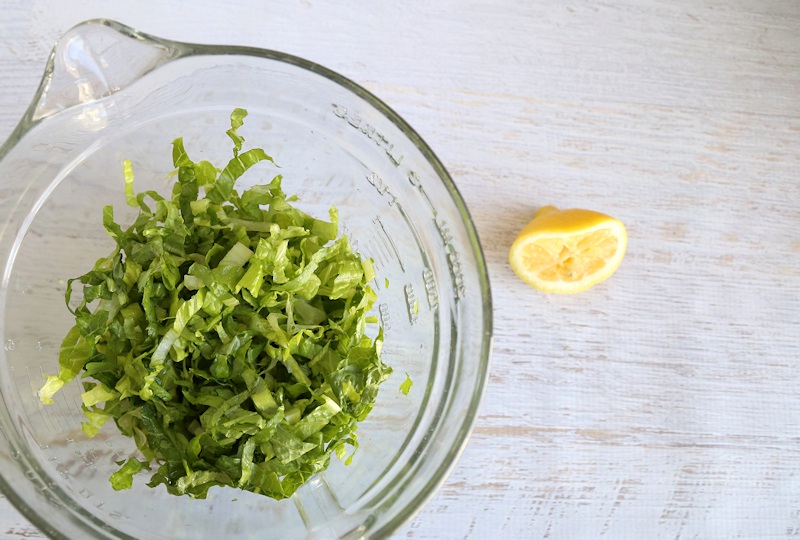 Seaweed & Scales
The finishing touches are thin sliced romaine with a squeeze of lemon to be the "seaweed" under your fish sticks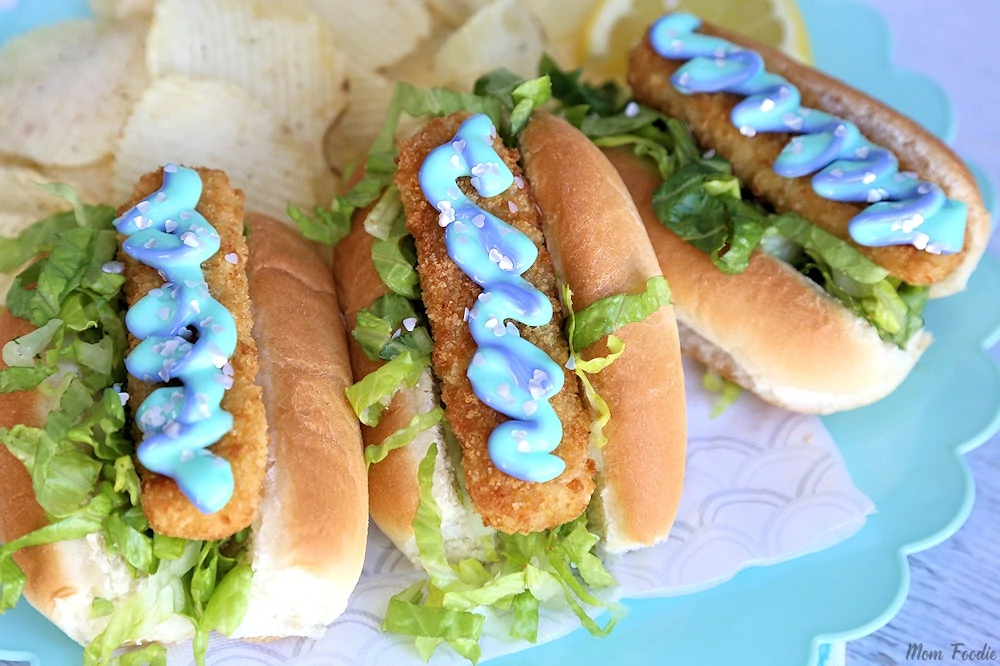 and a generous sprinkle of shimmering silver glitter heart sprinkles to add sparkle and evoke the idea of the scales of a mermaid's tail. Do not swap the edible flake glitter for these. I tried them, they don't work well with the mayo. You can use the stars though that are just like the hearts if you prefer. They are the same material just a different shape. 
These are the sprinkles I used.

Make It a Mermaid Party!
To make planning your party even easier check out these cool Mermaid Party Ideas from Finding Zest. She has some really cute recipes and crafts there. I also like the ideas Jen from Suburban mom shared from her daughter's Little Mermaid Birthday Party and well, this Mermaid Ice Cream from MomDot blows out all the fun stops. For the grown ups, stay on theme by serving Blue Lagoon cocktails or Blue Cosmopolitans.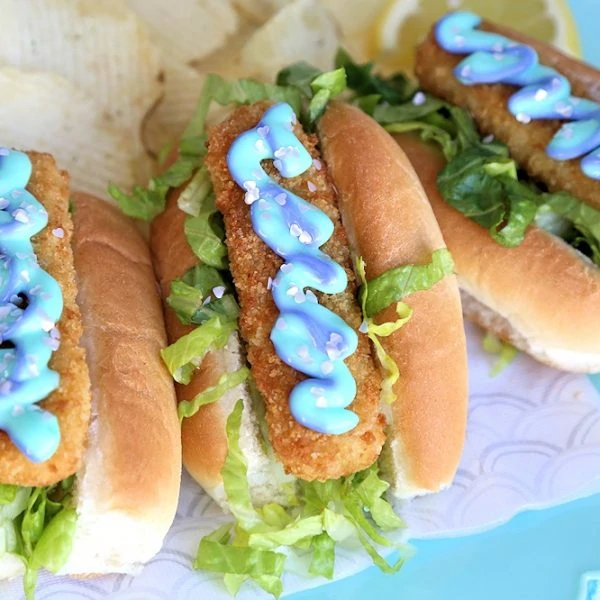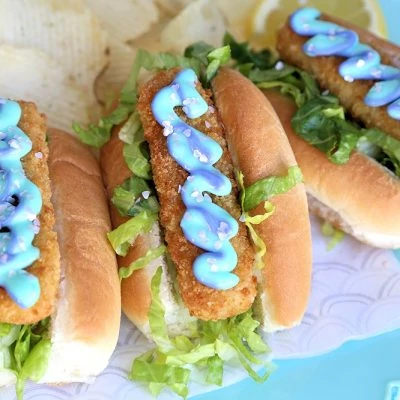 Mermaid Fish Stick Sandwiches
Mermaid Fish Stick Sandwiches with Mermaid mayonnaise. A fun food to serve at your mermaid party!
Print
Pin
Rate
Ingredients
16

fish sticks

16

finger rolls

2

cups

romaine lettuce, shredded tops

1

teaspoon

fresh lemon juice

Edible Glitter, Silver Hearts
Mermaid Mayonaise
½

cup

mayonnaise

1

drop

teal gel food coloring

2

tablespoon

mayonnaise

2

drops

purple gel food coloring
Instructions
Prepare the Mermaid Mayo
Mix one drop of teal food coloring into a half cup of mayonnaise and two drops of purple food dye into 2 tablespoons of mayo. Position the purple mayo on one side of a zippered storage bag with the help of sliding a credit card across the outside of the bag as pictured. Then add the teal mayonnaise and refrigerate until ready to use.
Make the Fish Stick Sandwiches
Bake the fish sticks according to package directions. Cut rolls in the middle in preparation for assembly and mix the shredded romaine with lemon juice.

Place a the romaine in rolls to give a seaweed effect, then top each with a fish stick.

Snip the corner tip off plastic storage bag to pipe the mermaid mayo onto the fish sticks. Use a wave like pattern, then sprinkle with the edible silver hearts glitter to serve.