I grew up shopping flea markets (my grandmother was an antiques dealer). Here are some flea market shopping tips to help get you the best stuff at the best price at the flea market. It is essential to learn to scan for the good stuff and come away with what you want and leave what you don't need... and of course get a great deal.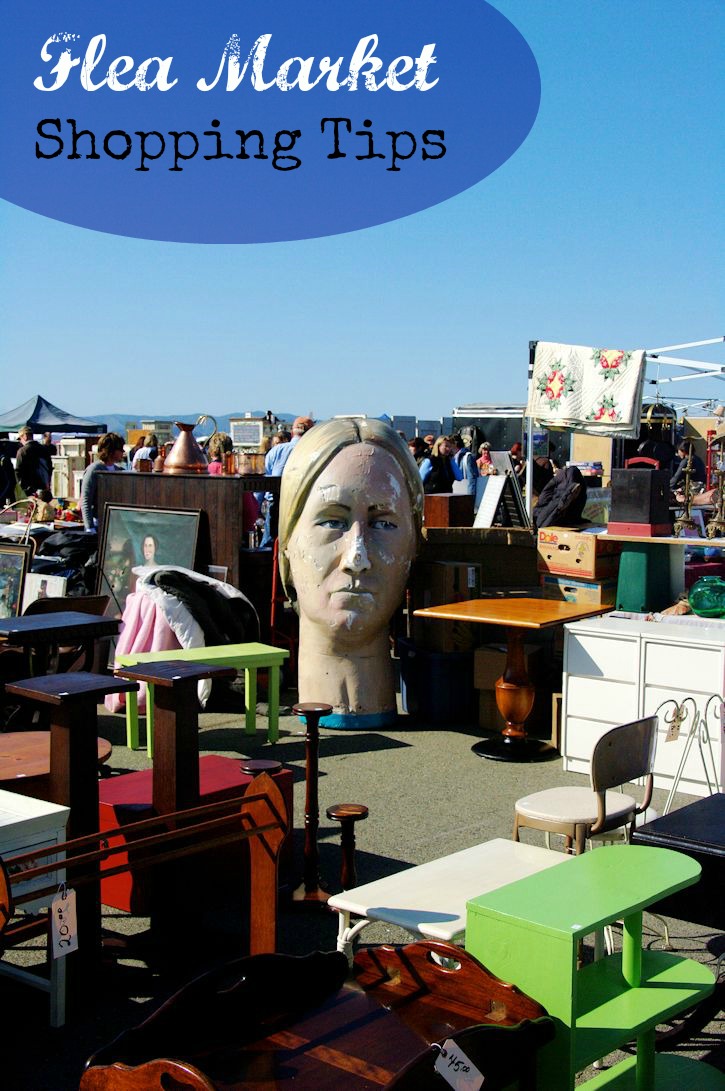 Flea Market Shopping Tips
Come Prepared
Wear comfortable clothing that you don't mind getting a little dirty (especially if shopping for antiques at the flea market). As much as the amount of stuff might overwhelm you, be prepared and able to dig through it to find what you want. A lot of vendors only display higher ticket or fragile items, and leave the rest in bins. They have a limited display space and many buy auction box lots or storage/estate clean outs during the week.  They pick out a few select items, and leave the rest in the box for flea market shoppers to pick through.  Make sure to look in those bins, under tables, through the piles and under other items, your treasure may just be there. If shopping for larger items, come prepared to remove and transport items home that day.  Bring rope or bungee cords, the most roomy vehicle you can, and make sure you can get the item home before you buy, once you do it is yours & your responsibility.
Look For Uniqueness
Who needs another golden sunburst mirror above the mantle? Look for pieces that are truly unique, that is the whole point of shopping a flea market after all. If something really stands out to you in the hodge podge of the flea market, its going to stand out in your home. A find has to stand out in a good way though, and needs to add something to your home in its uniqueness, while not clashing. Interesting textiles, handcrafted panels, a traditional pattern or design, all of these add interest to a piece.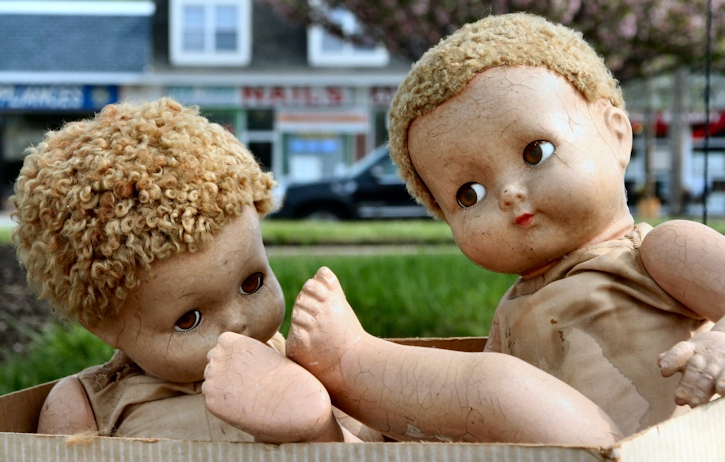 ReThink the Purpose of Items
Sometimes while flea market shopping, we see things we like, but not for the purpose they were originally intended. When shopping for home decor at the flea market it is perfectly acceptable to rethink an item's purpose. If you see something that you think would look good as a centerpiece on your dining table, but it was originally used in a barn, repurpose it. Marry the cast iron legs of an old sewing machine case with some old barn boards for a new console table.  Damaged antique kitchenwares can be remade into storage accent pieces for modern kitchens.  The limit is only as far as your imagination.  Before buying determine if any work needs to be done to rework the item way you want or if it can be used as is. Factor the cost of remaking something into the cost of the item to determine if it is within your budget, and be realistic about whether you will actually complete the project.
When to Shop the Flea Market
Flea markets open early, and the shoppers get there even earlier to watch as items are unpacked. In order to find what you want at the price you want, plan to show up to the market as early as possible. If you are shopping for furniture or large pieces, scan the stalls to find things that interest you and be ready to make purchases on the spot because furniture and stand alone pieces goes fast and first.  While the early bird does usually catch the worm, showing up fashionably late has it's advantages as well.  Arriving a couple hours prior to close may garner you some great deals on the items which have been passed over throughout the day.  Vendors may be more generous in their pricing flexibility rather than have to pack the item back up.  You may be able to grab a fantastic deal on cumbersome pieces.
Haggling for Flea Market Finds
Vendors are there to sell, so ask necessary questions about pieces you are interested in, but to get the best deal, don't take up too much of the vendors time or appear too enamored of the item.  It's best to have an idea in mind what you are willing to pay before starting negotiations, then put your bargaining skills to work. In order to get the best price for the items you want you are going to have to haggle. Sellers fully expect to haggle on price at a flea market, but don't be insulting in your offers/counter offers.  A vendor will see you as a time waster or simply get annoyed at an extreme low ball price.  If something is not marked with a price, ask.  You may be pleasantly surprised, that it is less than you expected, if not, offer a little less than your ceiling price.  They will likely counter offer, and may settle where you want.  It is not an exact science, feel the seller out a bit and observe their dealings with other buyers if the opportunity presents itself (a reason that frequent visits to the flea market are advantageous). If you are interested in two or more items from the vendor, try to make a package deal.  Remember to take into account the costs of transporting, repairing and remaking the items that you want when agreeing to a price.