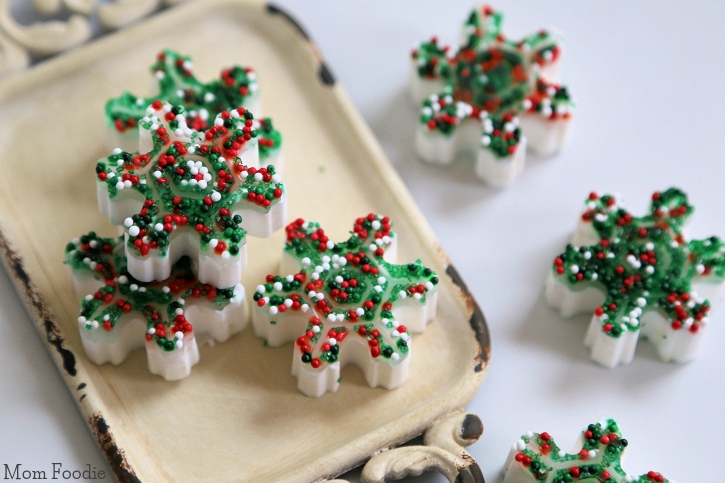 These cute homemade holiday guest soaps can be made in just a few minutes.  They're a great easy DIY Christmas gift, and other than the pour & melt soap only require holiday cookie sprinkles and silicone or plastic molds. You can literally run out and grab your supplies and make a bunch of batches of these little holiday soaps in one evening after work.  They make a nice homemade gift for co-workers, neighbors, teachers, etc., and of course make a batch of this festive guest soaps for your own home this Christmas season.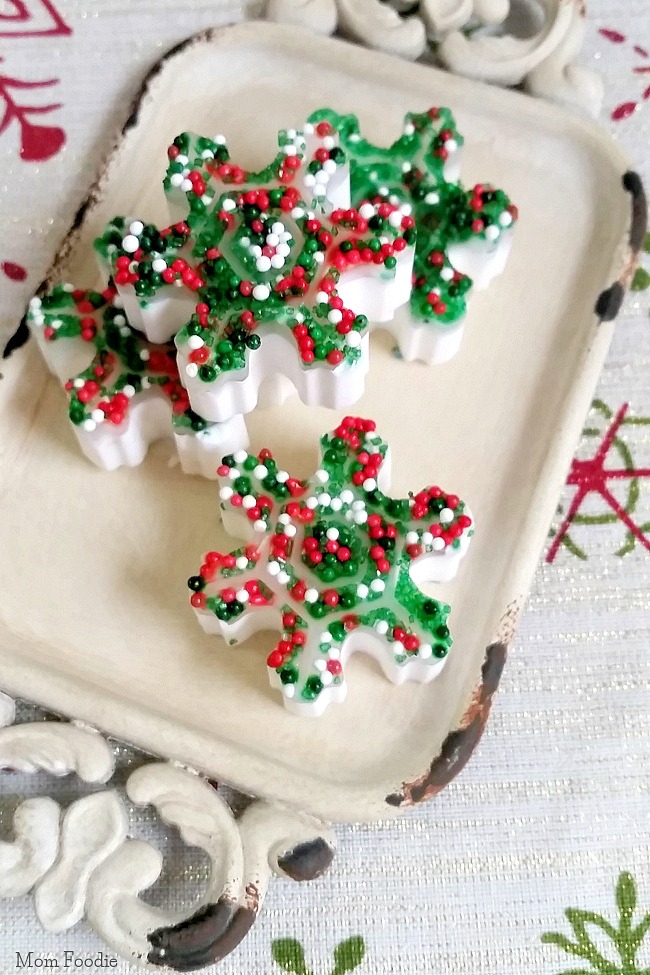 Making the Homemade Holiday Guest Soaps
As you will see the process of making these guest soaps is quite simple.
Supplies:
Holiday baking sprinkles (I used tiny nonpareils and green sugar)
Clear glycerine pour & melt soap
White pour & melt soap
6-7 drops essential oil of choice
molds (soap molds, chocolate/candy molds, pretty much any small plastic or silicone molds will do)
2 small microwave safe containers
Directions:
Quantities quoted are for mold of 7-8 small guest soaps.
Place mold on dish or small cutting board.  Cover the bottom of each mold with sprinkles in a thin layer.  If using two types, place the lager ones first.  I tried a few types and the nonpareils made for a festive look, were big enough for impact, yet small enough to not disturb the mold patterns.  The colored sugar was added for sparkle.
Cut 1 oz of clear glycerine soap into a few chunks.   Microwave in small container until melted (about 20 seconds in my microwave).  Pour a little in each mold, just enough to saturate the sprinkles.  Make sure to get all the edges.  Soap in container is likely to start hardening in the middle of this.  Simple microwave for 6-7 seconds to re-liquefy.
Cut 3 oz of white pour & melt soap.  Microwave until melted, stir in the essential oil, then and pour soap into the molds to top off.  Lift using the dish or cutting board and place in refrigerator to set.  It will only take a few minutes for the soap to harden.
Pop the soaps out, and start your next batch.