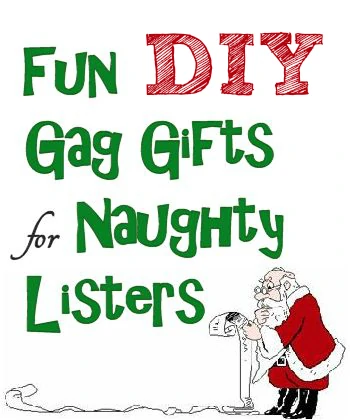 Do you have a few people on your list who have been naughty this year.  These gag holiday gifts are just the thing for them. All are cheap and easy to make, and none of these Christmas joke gifts take very long to create.   You still have time to make them.
Christmas Poo Gifts
Christmas poo gag gifts have become pretty popular over the past few years.  People have gotten pretty creative in this area, and printable tags are readily available free online, so your poo will have a "professional" look to it 😀 The original and still the most popular holiday poo gift is Reindeer Poo.  There are several recipes to make your own at home, or you can simply use any brown roundish candy (ie. malt balls, brown m & ms, Raisinets or chocolate covered peanuts).  Here is just one of the many recipe links online if you want to make the Reindeer droppings yourself . (link) I would actually make mini cocoa bourbon balls myself.  Whatever choice you make, just bag the poops in any small plastic bag and staple a reindeer poo poem/tag on the top.  Here is my favorite printable tag for this: https://christmas.organizedhome.com/printable/poop-gifts/reindeer-poop Another cute Christmas poo gift is "grinch poop".  Green candies (usually the green holiday M & Ms) are put in the plastic bag.  Sherri Osborn has a great printable Grinch poem tag for these.  It is pre-formatted to fold over so it will be nice and neat when stapled on the bag. https://familycrafts.about.com/od/makinggaggifts/ss/GrinchPoopPoemBagTag1.htm While there are a few other poo ideas out there, the only other one that I really found cute enough to add here is Snowman poop.   I would suggest making the poop out of mini marshmallows.  Just dip them quickly,  in warm water, to rinse off the non-stick dusting they have on them.   Let them sit on a rack for a minute or two, then roll in edible glitter.  Let them dry out, for a couple hours, before bagging.    You will then have some glistening little snowman droppings to bag and tag.  Once again Sherri Osborn has a great tag available for this craft.  https://familycrafts.about.com/od/makinggaggifts/ss/SnowmanPoopPoemBagTag.htm
Edible Coal (Lump of Coal Candy)
I found a great recipe for edible coal online.  The directions are easy and the ingredients are inexpensive.  While a cloth sack would have the best effect for this gag gift, you could just put it in a plastic bag with the poem that comes with the recipe and it would still be cute.  Lump of Coal recipe & poem .