No need to miss dessert this Thanksgiving. I have a Keto Pumpkin Cheesecake for you today! The recipe makes a nice big holiday sized low carb cheesecake.
It's also a great way to introduce keto friendly desserts to your friends and family. Yes, you can eat cheesecake on keto!

Keto Pumpkin Cheesecake with Almond Crust
This keto cheesecake is my low carb dessert solution for the holidays. I started Keto a few months ago and have been cycling between a strict keto diet, highly focused on reducing inflammation, and lazy keto. I am feeling great. This low carb pumpkin cheesecake is a great fit, no matter what version of the diet you are following.
When we are doing great on the keto diet, the last thing we want is to fall off the wagon on the holidays. Planning ahead with low carb versions of holiday favorites makes staying on track during the holidays so much easier. This Keto Pumpkin Cheesecake has just 4 net carbs per serving and I promise you won't miss the sugar. The low carb dessert is sweetened with organic erythritol
* and the crust is made from almond flour
.
I have to say ... it turned out great!
Just team it with turkey and some low carb recipes and Thanksgiving is Keto!
*Erythritol is a naturally occurring sugar alcohol found in some fruits, vegetables and fermented foods. It doesn't really digest and has little effect on net carbs.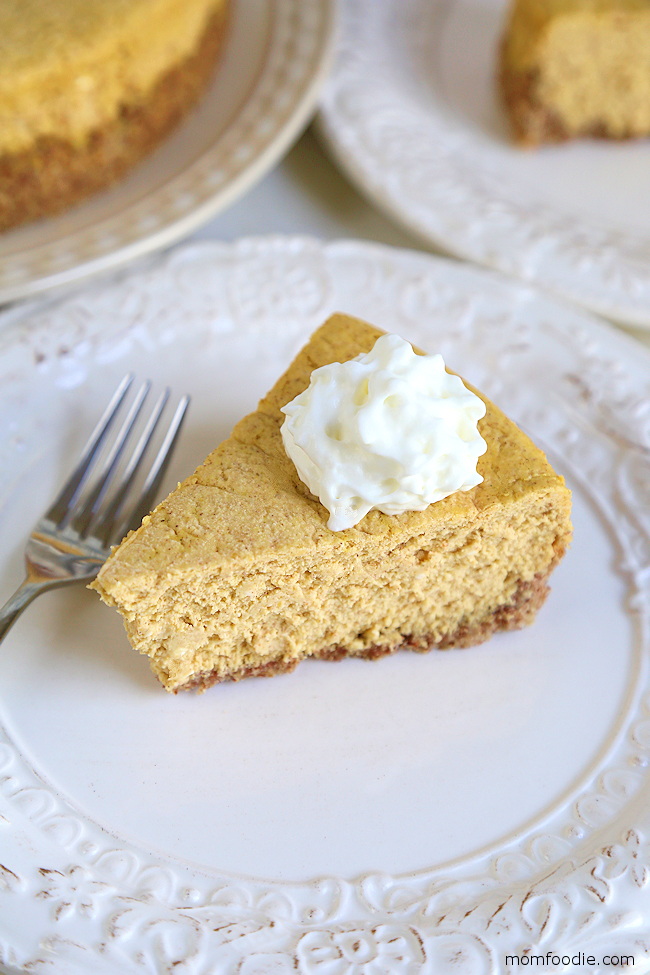 How to Make Low Carb Pumpkin Cheesecake
Although cheesecakes are relatively easy, I'm sure we have some newer bakers looking to try the recipe. So, here is a visual walk through of the process to help out.
I know I find it reassuring to see my progress look like the original when I am making an unfamiliar recipe. I have a few friends that are visual learners. This spurs me to be conscious of taking pictures while making recipes.
Ingredients You Will Need
Here are all the ingredients you will need to make your Keto Pumpkin Cheesecake.
See the printable recipe card below for ingredient measures.
Low Carb Almond Crust
almond flour

erythritol

sea salt

unsalted butter
Keto Pumpkin Cheesecake Batter
full fat cream cheese

 

, softened 

erythritol

sea salt

vanilla extract

pumpkin puree

pumpkin pie spice

cinnamon

large eggs
Preparation
First preheat your oven to 350 degrees. Make sure you have all the listed ingredients, then coat the interior of a springform pan with cooking spray.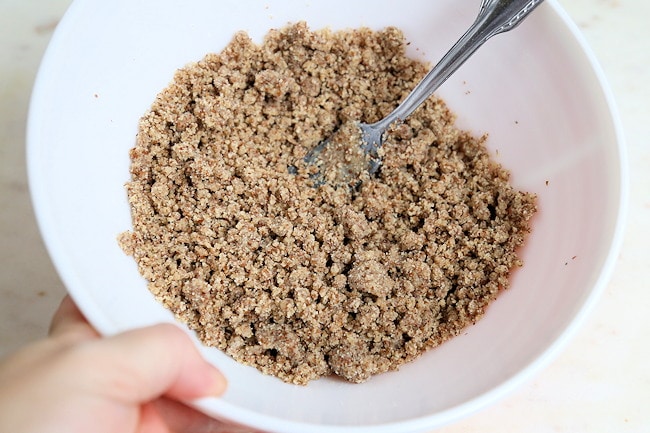 Now mix almond flour and butter together with a little erythritol and sea salt to make the crust mixture. Softened room butter is best, but if you forgot, just melt it. It will still work fine.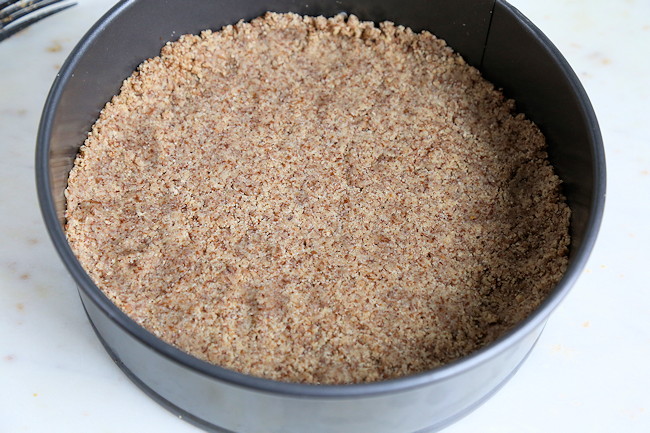 Gently press the mixture into the bottom of your coated springform pan
to create the almond flour crust.
Bake your low carb cheesecake crust for 12-14 minutes to lightly brown, while you work on the cheesecake filling.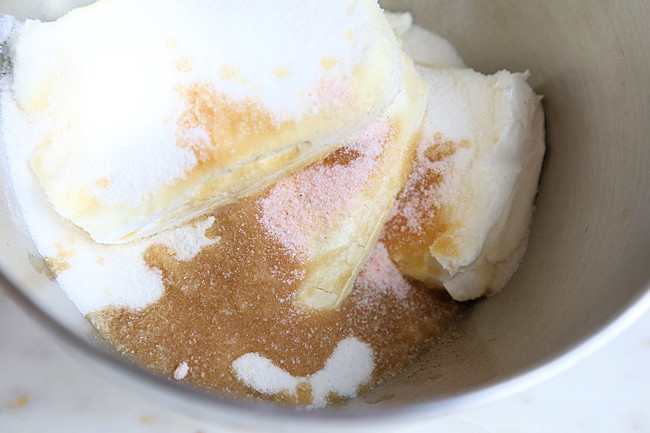 To start the filling, cream together room temperature cream cheese, the erythritol, sea salt and vanilla extract.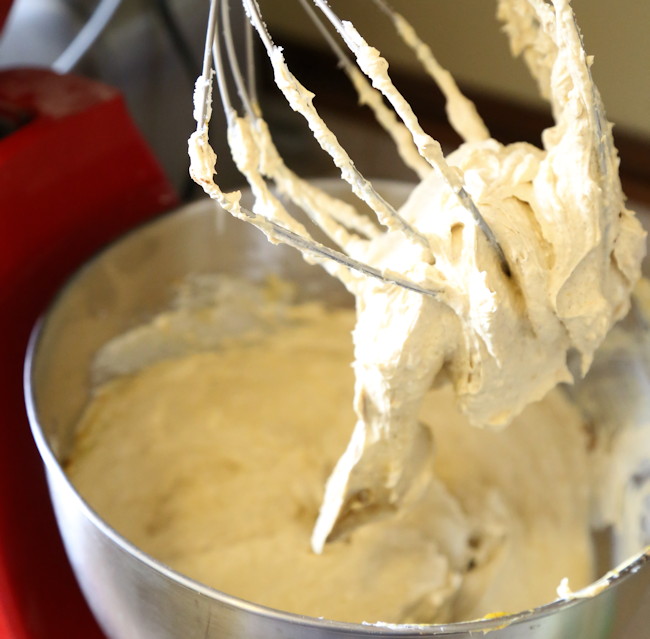 Beat in the pumpkin puree. Add pumpkin pie spice and cinnamon, then double check the flavor before adding eggs.
Add a little more spice, salt or sweetener now if you need to, before the eggs go in.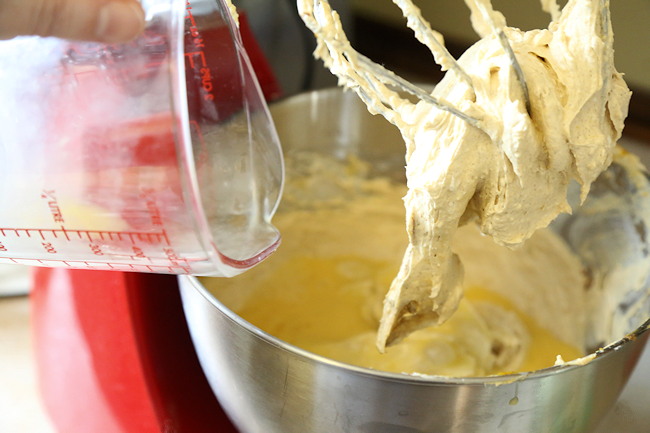 Now beat the eggs in. Don't be shy about it, but start slow and increase beating speed.
I am using a stand mixer but a hand mixer will do just as well.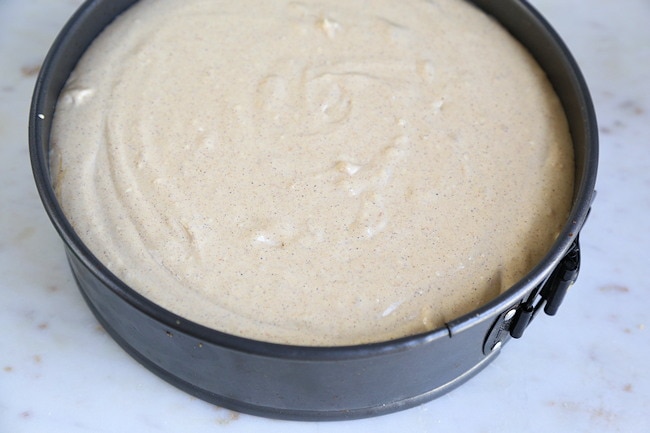 Dump the cheesecake filling into the pan and spread out a little. It will then self level.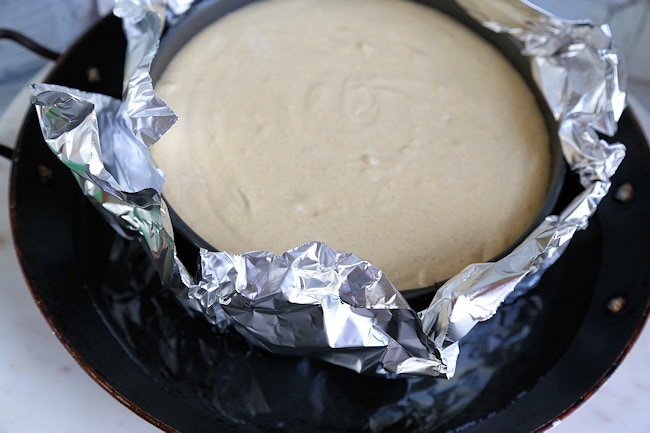 Envelope the springform pan in foil and place in a shallow water bath. Just an inch or so is sufficient to ensure a nice evenly cooked cheesecake.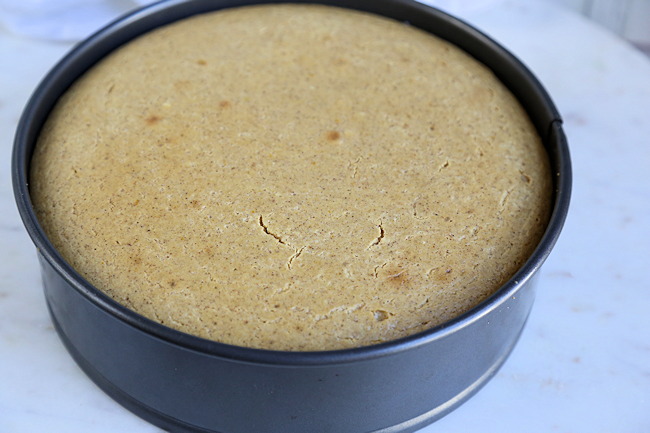 Bake for 85-90 minutes, until most of the cheesecake feels slightly spongy to touch, but center is still a little jiggly.
Allow your dessert to cool completely before placing tin the refrigerator.
The keto cheesecake can be removed from springform when fully cooled to room temperature, but you may find it easier to remove without cracking if you chill it first.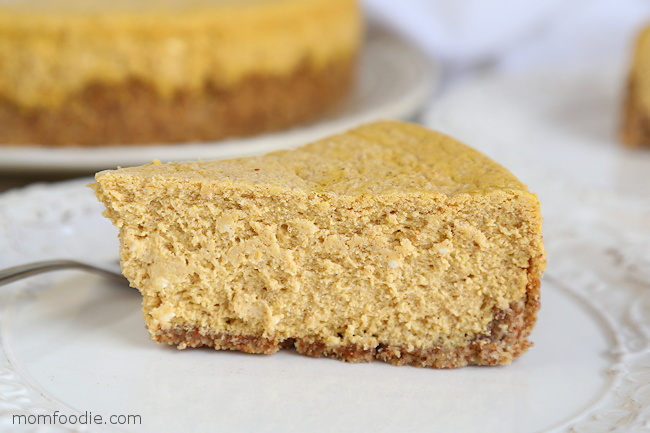 Once completely chilled the low carb pumpkin cheesecake will slice easily.
The almond crust is thick enough that it should hold up well, without becoming stodgy.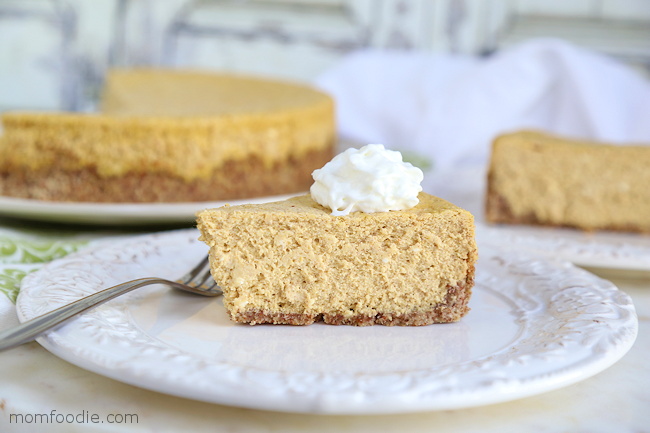 Top with some freshly whipped cream to serve. Add a little keto-friendly sweetener to the whipped cream, if you like. I personally just whip it and dollop it on.
Tips for Good Results
Make sure your almond crust is a relatively smooth surface and free of cracks or bald spots before baking.
Shoot for a gradual increase and decrease in temperature of cheesecake for best results. Room temperature eggs and cream cheese will help avoid your cheesecake cracking when baking. Allowing the dessert to fully cool off before placing in the refrigerator avoids condensation and potential sogginess.
Yes, like most cheesecakes, you can freeze Keto Pumpkin Cheesecake to serve later. Just plan on ample thawing time.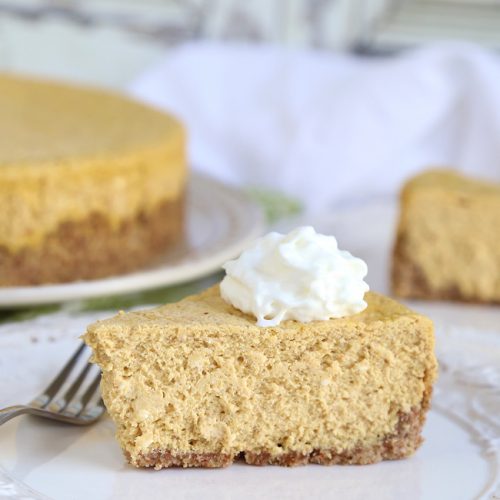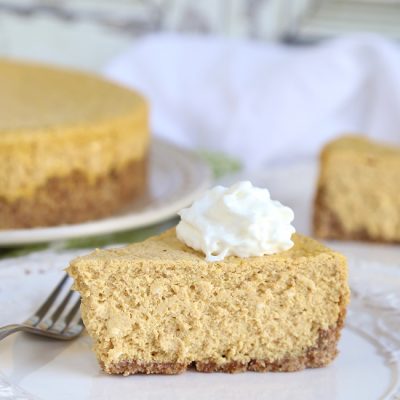 Keto Pumpkin Cheesecake Recipe
This low carb pumpkin cheesecake is keto diet compliant. It has just four net carbs per serving.
Print
Pin
Rate
Ingredients
Low Carb Almond Crust
1 ⅔

cup

almond flour

1

tbsp

erythritol

¼

tsp

sea salt

¼

cup

unsalted butter
Keto Pumpkin Cheesecake Batter
24

oz

full fat cream cheese

, softened (3 standard packages)

1 ⅔

cup

erythritol

½

tsp

sea salt

1

tbsp

vanilla extract

1

cup

pumpkin puree

1

tsp

pumpkin pie spice

1 ½

tsp

cinnamon

3

large eggs

1

egg white
Instructions
Preheat the oven to 350 degrees. Coat inside of a springform pan with non-stick cooking spray and set aside.

Mix together the almond crust ingredients.

Spread the a crust mixture out in the bottom of the pan, and gently press down. I prefer to leave a slight lip on my crust for a more stable cheesecake. Bake for 12-14 minutes until crust is starting to lightly brown at edges.

Place softened cream cheese, erythritol, sea salt, and vanilla extract in a large mixing bowl. Mix well.

Add the pumpkin puree, pumpkin pie spice and cinnamon. Mix thoroughly. I suggest you taste to adjust flavor slightly if you want at this point, as raw eggs are being added next.

Beat the eggs with egg white next until smooth. Pour in and beat well. Start on lower speed and work your way up.

Next, pour the cheesecake filling into the pan over the almond crust. Spread out a little, but it will level out on it's own.

Wrap the pan in aluminum foil. I use two crossed sheets. Leave the top open. Put in a shallow water bath in another oven safe pan. I found my paella pan works perfectly.

Bake for 85-90 minutes. Don't poke to test for doneness, Cheesecake will look like this when done. It will feel a little spongy to touch on most of the surface, but still be jiggly, particularly in the center. Remove from oven and foil wrapping. Set out to fully cool to room temperature.

Refrigerate. Preferably overnight. Then remove from the pan and slice to serve.

Top with homemade whipped cream. If you make it yourself, you can either make unsweetened or use a keto compliant sweetener.
Notes
Net Carbs:
5 carbs (does not include sugar alcohols) - 1 fiber = 4 net grams carbohydrate
Nutrition
Calories:
252
kcal
|
Carbohydrates:
5
g
|
Protein:
6
g
|
Fat:
24
g
|
Saturated Fat:
10
g
|
Cholesterol:
85
mg
|
Sodium:
260
mg
|
Potassium:
73
mg
|
Fiber:
1
g
|
Sugar:
1
g
|
Vitamin A:
705
IU
|
Calcium:
75
mg
|
Iron:
0.8
mg