This Orange Herb Roasted Turkey recipe and article are sponsored by Stop & Shop. All opinions are my own.
This year brighten your Thanksgiving turkey with an infusion of herbs and orange. This recipe is super easy to make, nicely flavored and goes great with all the traditional sides.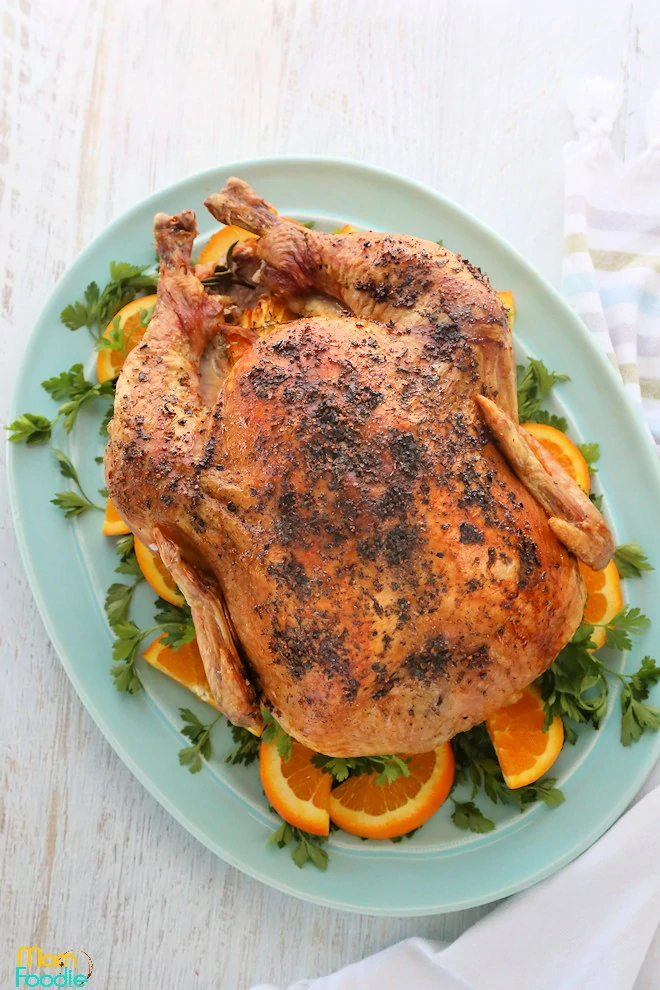 Herb Roasted Turkey Infused with Orange
Orange is a wonderful compliment to herb roasted turkey. While the enhancement is bright and an uncommon twist, the flavor is an approachable addition to the holiday. Thanksgiving is not the day to try out wacky recipes. The turkey's seasoning and citrus infusion are subtle and pleasant.
How to Roast the Turkey
While some have made a lot of fuss about how to cook a roast turkey for the holidays, these days it really is easy.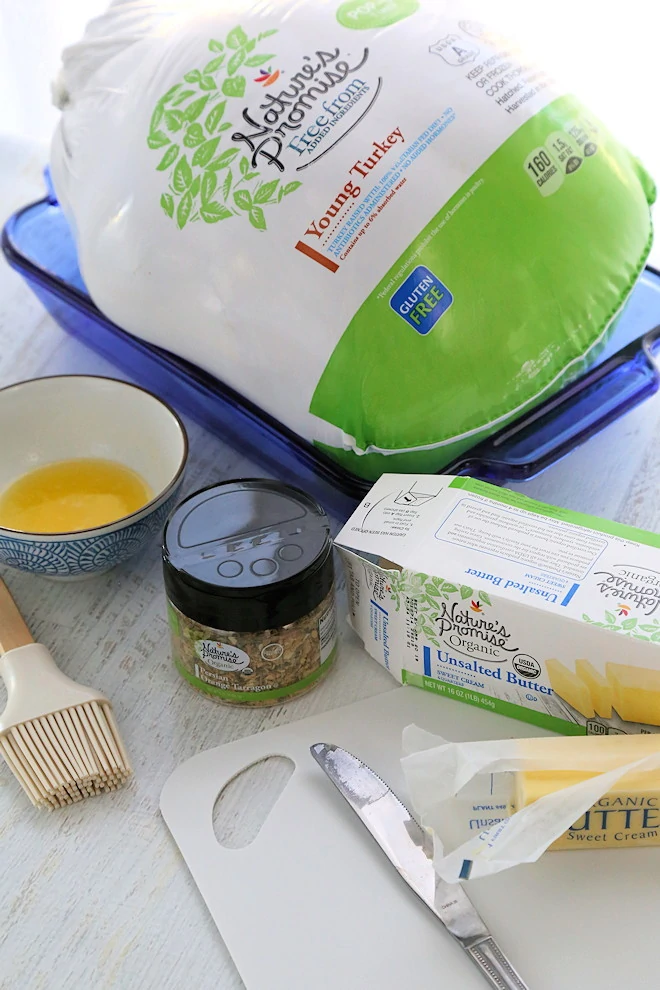 Timing the Turkey
These and many other fresh or frozen turkeys have a pop-up timer, so no worries whether the bird is cooked through. The directions on the packaging will instruct you on time and temperature for your bird. Smaller turkeys can be cooked at 350 degrees, whereas larger ones are cooked a little lower at 325 degrees.
How to Prepare the Roast Turkey
Thaw the Turkey
First, you will want to thaw your turkey.
Best way
Ideally, this is done by placing the frozen turkey in the refrigerator several days before you will be cooking it. Estimate that each 5 pounds of turkey weight will require about one day to thaw. Start thawing a 15 pound turkey on Monday morning, a 20 pound turkey on Sunday.
Thawing in Cold Water
If you are pressed for time, your still wrapped turkey can be thawed overnight in cold water. While this method can thaw roughly 2 pounds per hour, precautions must be taken in doing this method. You must ensure the entire turkey is submerged and the water does not get too warm. Frequent water changes every 30-45 minutes are recommended.
Personally, I use a large well insulated cooler to thaw my turkey overnight. I add cold water and lots of ice to the cooler and weigh the turkey down with a heavy upside down pot (Dutch oven). I only sleep about 6 hours, so there is still some ice remaining when I get up and the turkey is nearly thawed. This is how I've thawed every turkey I've cooked for the last 15+ years.
Prepping the Turkey for Roasting
First make note of the expected cook time for the weight of your turkey and preheat oven at 325 or 350 degrees according to packaging directions. Then remove and discard the wrapper.
There is no need to wash a turkey. It accomplishes nothing other than increasing the likelihood of spreading bacteria. Patting it dry with paper towels is helpful though, if you will be applying baste or rub, as I am here.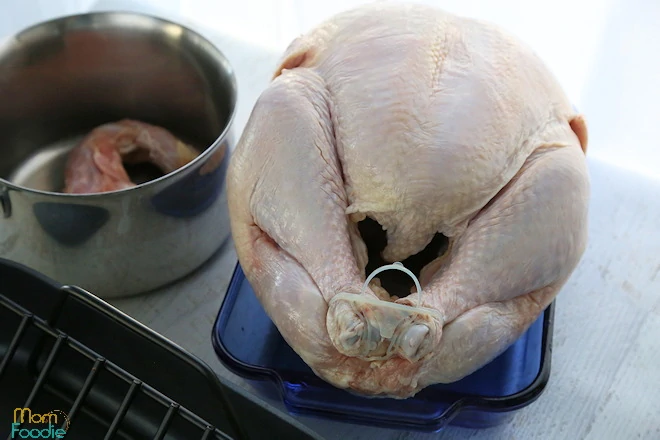 Don't forget to remove the giblets from inside the turkey. I use plastic glove for this. Simmer it in a pot with a little carrot, celery and onion while the turkey is cooking and you will end out with an excellent stock.
The plastic leg holder is oven safe. I leave mine on. It helps keep the drumsticks from drying out.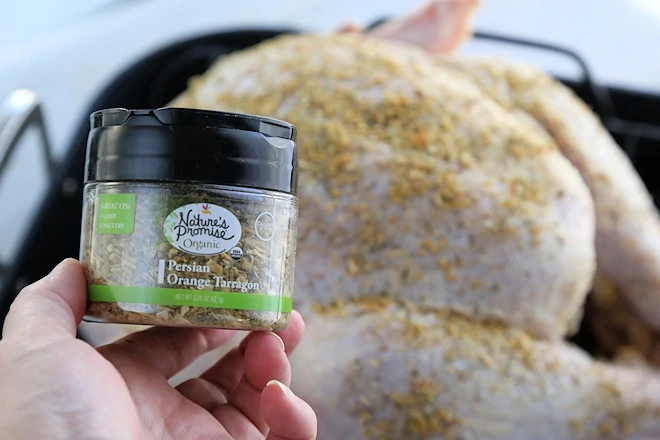 Place the turkey in roasting pan with V rack.
Mix about 1 ½ to 2 tablespoon of Nature's Promise Organic Persian Orange Tarragon spice mix into 3- 4 tablespoon of melted butter. If your butter is unsalted add a couple pinches of sea salt. Mix well and baste the turkey with it.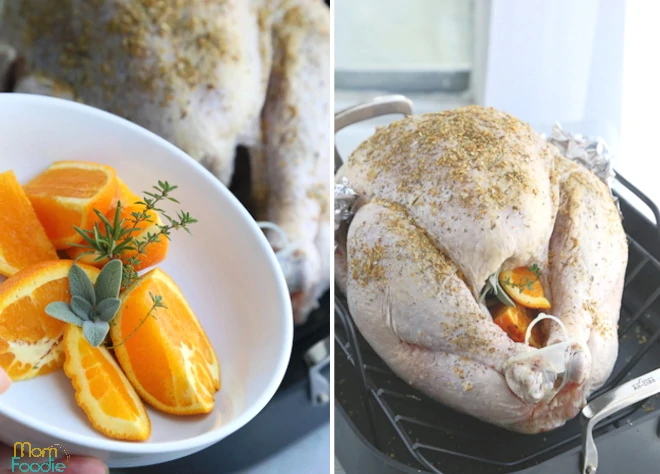 Stuff sliced oranges and herbs into the cavity of the turkey. Keep these loose. packing tightly will cause the turkey to take longer to roast. You can stuff or baste the bird first. It doesn't really matter.
Wrap a piece of foil over each wing tip. Now pop the turkey in the oven. I set my timer for 30-40 minutes less than the stated time and add the remaining time on if needed. Pop up timers often goes off quite a bit before the listed time.
To Baste or Not to Baste
Do whichever you want. Kitchen tests have shown basting doesn't enhance the resulting turkey. There is something satisfying about giving a turkey a baste or two though. That satisfaction may well be worth the fluctuation in oven temperature from opening the door.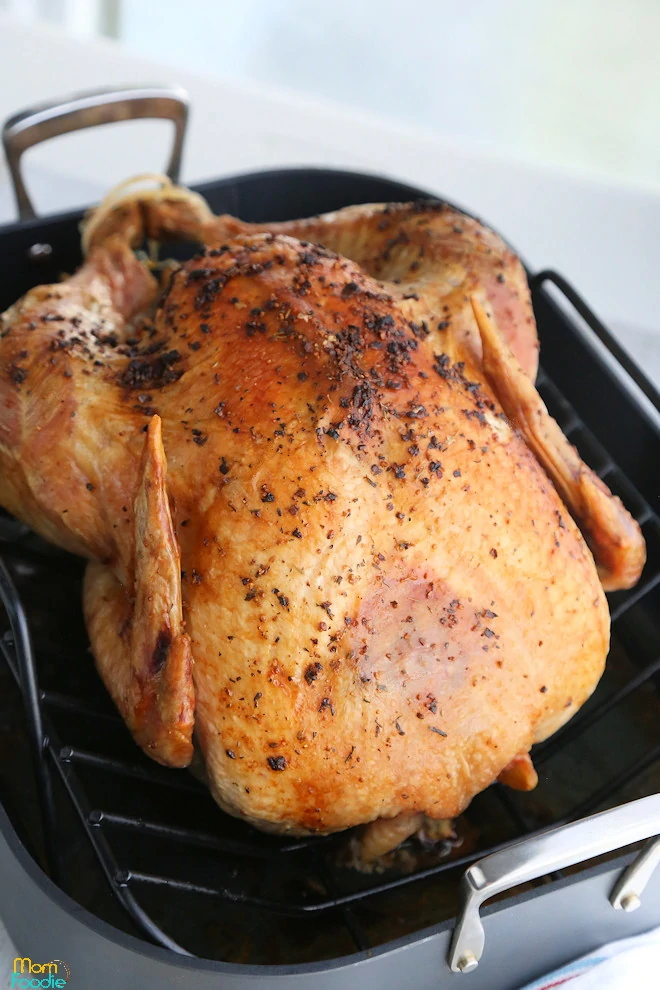 Pop Goes the Timer!
Once the timer goes off your turkey is done and ready to come out of the oven. In general pop-ups are calibrated go off when the turkey is slightly overdone. I am fine with this. I prefer a little more done over the risks of it being underdone.
Rest the Turkey
Allow to turkey to rest a 30-35 minutes before plating or carving. When you are ready to plate tucking some sprigs of parsley and freshly sliced oranges around the bird dresses it up nicely and hints of the mild orange infusion of the meat.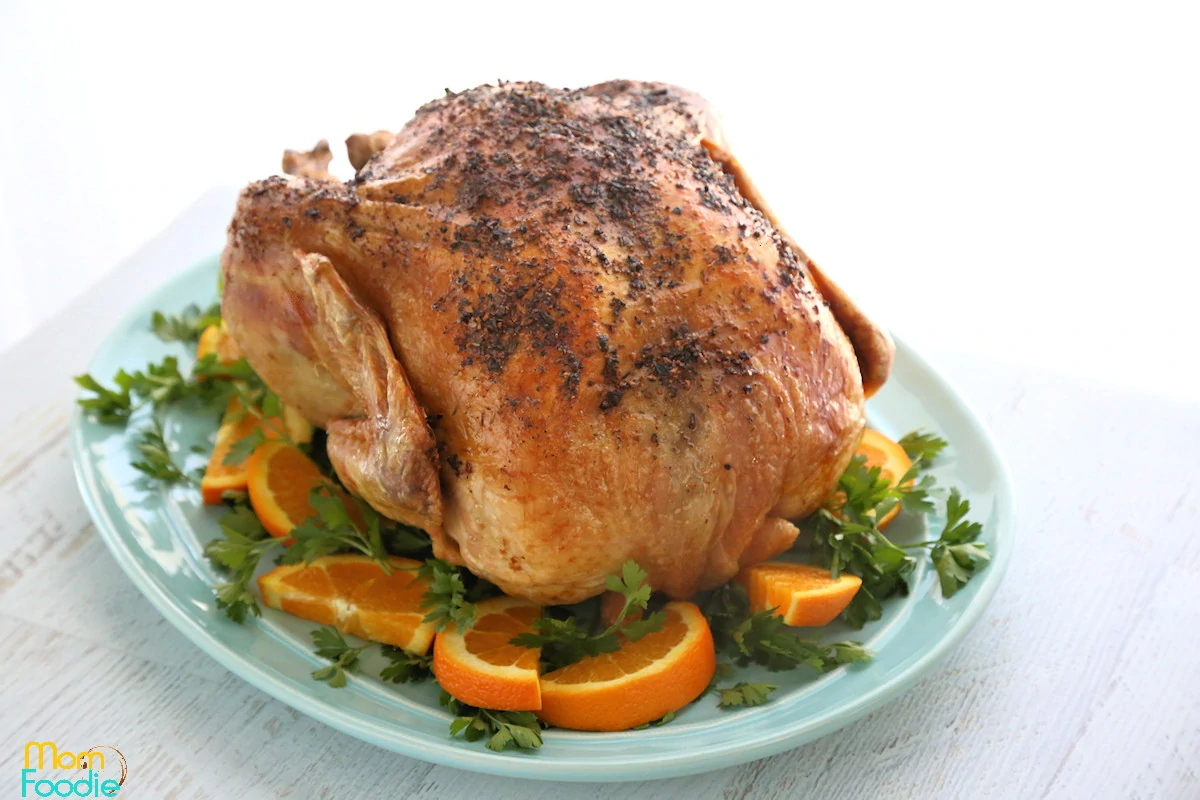 Carving before putting the turkey on the table is more practical, but arguably not as festive.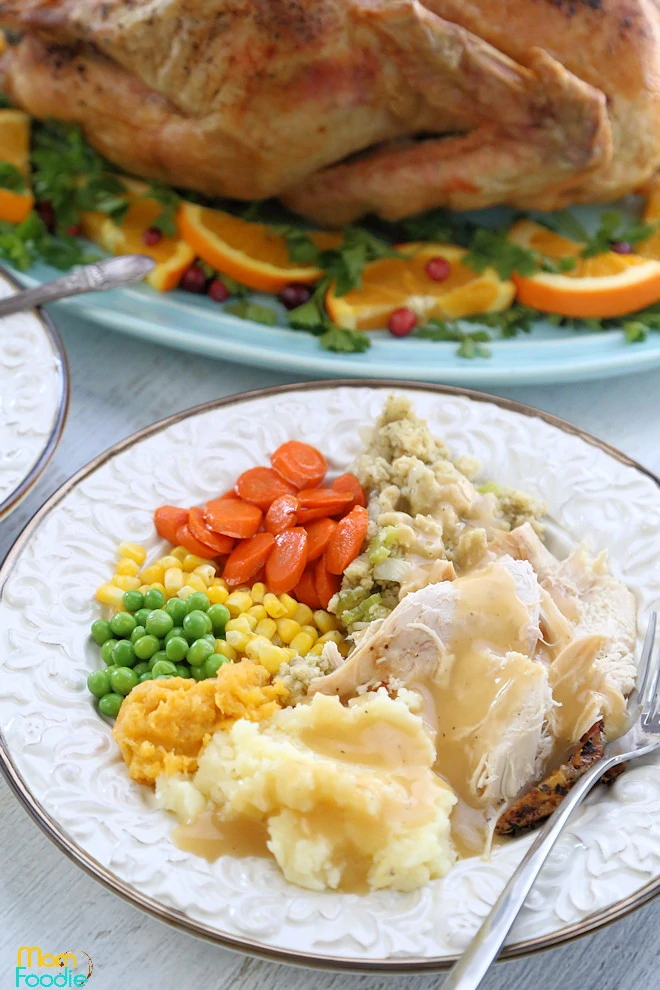 Don't forget a Thanksgiving dessert! For a fuss-free sweet treat to end the meal, try my Grape Nut Pudding, Italian Ricotta Pie, Cranberry Bundt Cake or Starbucks Banana Bread Recipe.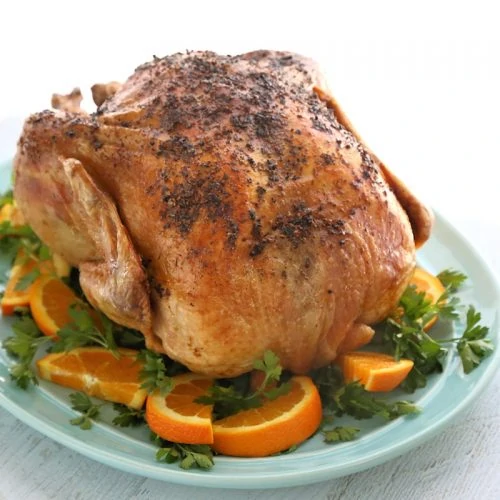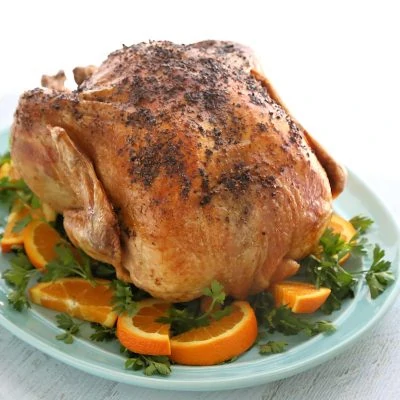 Orange Herb Roasted Turkey
Easy roasted turkey recipe seasoned with oranges and herbs.
Print
Pin
Rate
Equipment
Roasting pan preferably with V rack

2 small pieces of foil
Ingredients
1

Turkey

thawed (I used Nature's Promise brand)

1

large orange

sliced

fresh herbs

(I used thyme, rosemary and a little sage)

1 ½-2

tablespoon

Persian Orange Tarragon Spice Mix

(also from Nature's Promise)

3-4

tablespoon

melted butter

a few

pinches

sea salt

**optional if using salted butter
Instructions
Preheat oven to recommended temperature on packaging (325-350 degrees).

Remove the giblets. Lightly pat the turkey dry with paper towel.

Tuck orange slices and herbs into the cavity of turkey loosely.

Combine spice mix, butter and salt (if you are using it). Baste onto the turkey.

Cover tips of wings with foil. Place in oven and bake until timer pops.

Allow the turkey to rest about 30 minutes before carving.