This is the way I have been cooking broccoli rabe for about 20 years. It is a simple braising method, which I have only changed slightly in recent months since being on the keto diet. In my broccoli rabe recipe the low carb vegetable is seasoned with garlic, sea salt and Italian seasoning and braised in bone broth. Previously I used standard broth with a slash of Balsamic vinegar, but I'm liking this way better... and it is an extremely low carb side dish.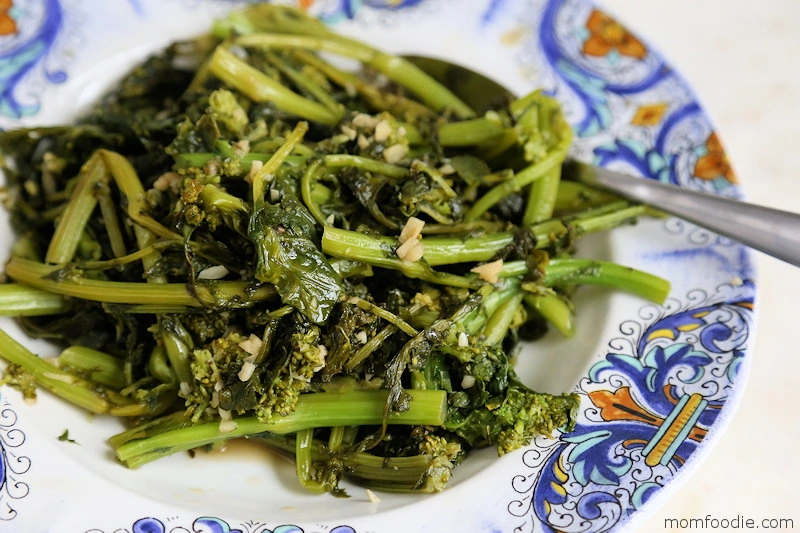 Broccoli Rabe
Broccoli rabe (Rapini, Raab, Rapp, Rape, Rappi or Broccoletti ) Rabe is a popular vegetable in my area, due to a large Italian population in the state.   If you have never eaten Rabe before, it may take a little while to adjust to the bitterness of this leafy green. Many are put-off the first time they try this leafy green due to this bitter taste. When cooked well, the bitterness is lessened and after a few times trying it, you start to crave it occasionally. There is just something so nourishing about it.
Rabe is packed with vitamins and minerals (vitamin A, C, K,  plus, potassium, calcium, and iron), so it fits in well with my health and weight loss endeavors.
Broccoli Rabe Benefits
This is why broccoli rabe is my top choice as a Keto super vegetable. Check out all these great health benefits!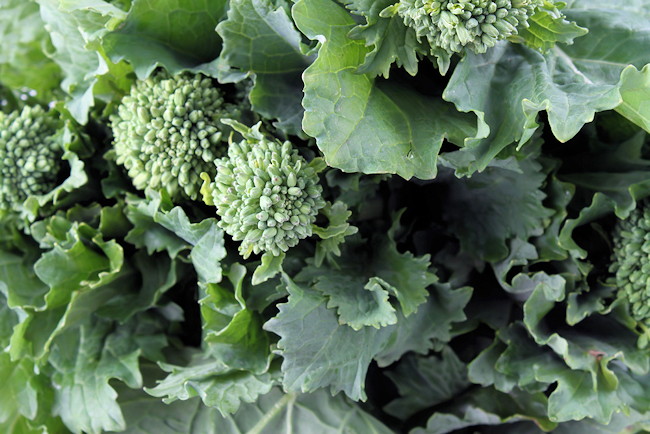 Lowest Carb Vegetable
As far as I know Broccoli rabe is the lowest carb vegetable available. One 85 gram serving has 2.9 grams of carbs with 2.4 grams of fiber, results ...  net carbs in broccoli rabe are a less than a gram per serving. This makes it perfect for Keto dieters.
Calories in Broccoli Rabe
As I'm sure you can imagine at this point the vegetable is also low in calories. Yes, it is. Broccoli rabe has a meager 28 calories per serving.
Nutrient Rich
Considering how low in calories and carbohydrates this leafy green vegetable is you might expect its nutritional portfolio to be a bit thin. Not at all! A single serving of broccoli rabe boasts nearly three times the daily recommended amount of Vitamin K. The keto friendly veggie aslo provides large amounts of Vitamins A & C. It is loaded up with minerals too. Bone broth adds a few more nutrients as well.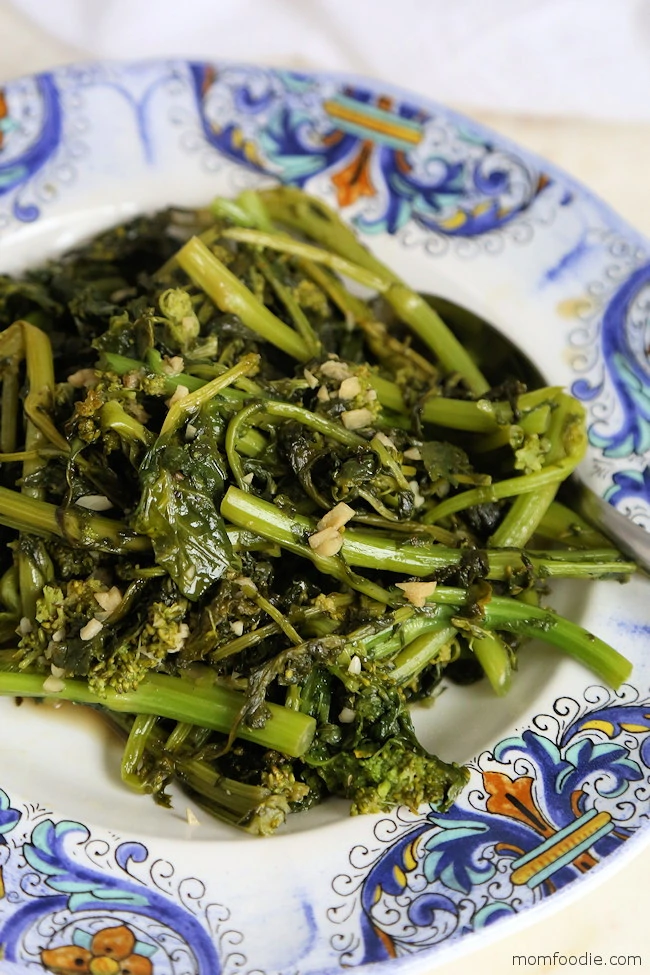 How to Cook Broccoli Rabe
Here is a visual walk through of how to prepare braised broccoli rabe. Full printable recipe is below.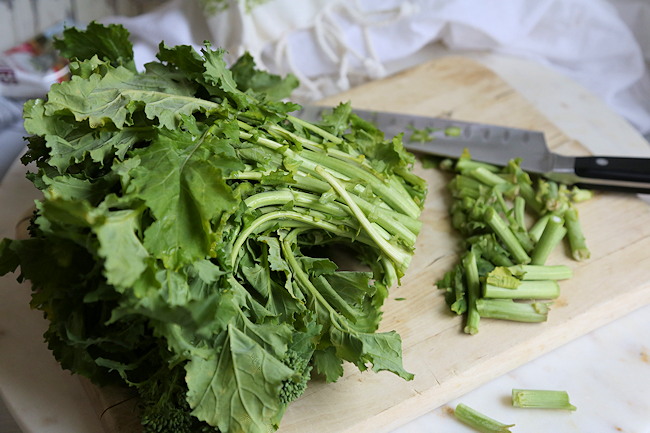 First trim the ends off the greens along with any yellowed leaves and discard.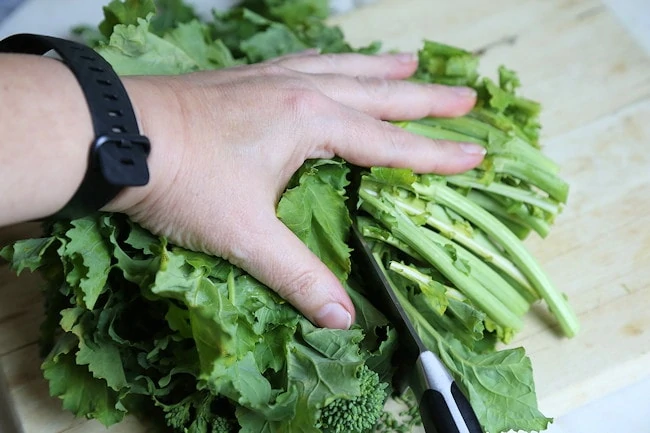 Then chop then in half.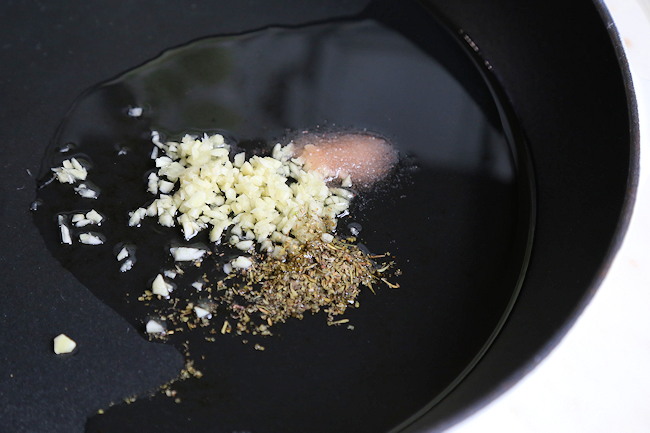 Place skillet over medium heat. Add oil, garlic, salt, and Italian seasoning.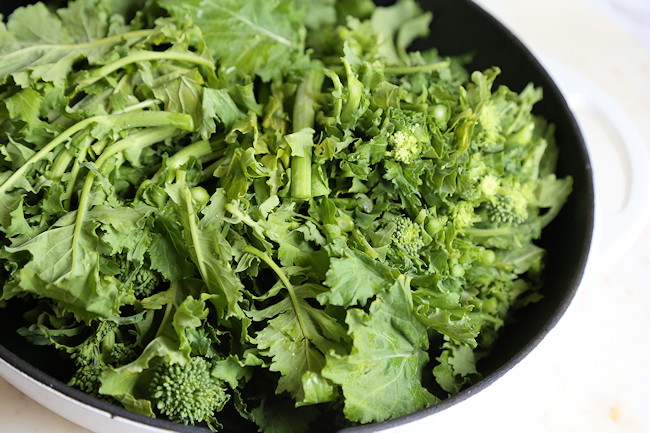 Add the broccoli rabe greens. Lay them over the the oil and seasonings and cover to cook for 5 minutes.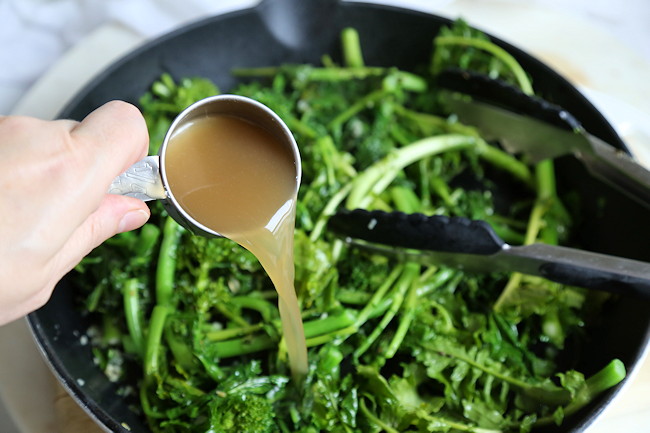 After 5 minutes, stir the rapini well. Add the bone broth*. Stir again, then cover to cook another 20-25 minutes stirring occasionally. The broccoli rabe will be ready to serve then, just season with salt if needed.
*Make Your Own Bone Broth with my Instant Pot Bone Broth recipe.
This low carb vegetable side dish teams well with my keto-friendly Turmeric Chicken Thighs (the side is actually pictured with the dish).  Keto Pork Chops in Parmesan Cream Sauce would as benefit from this keto side dish and it would swap in well for the dandelion greens in my Keto Salmon dinner.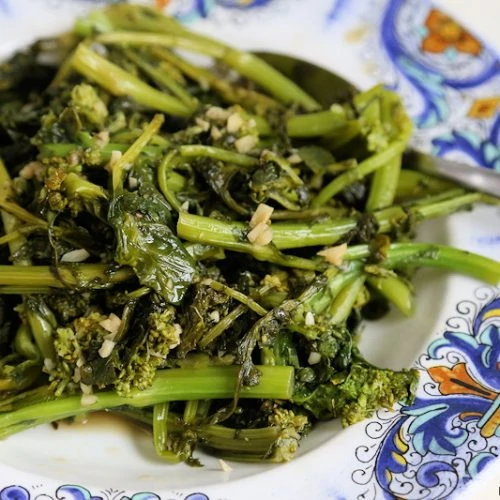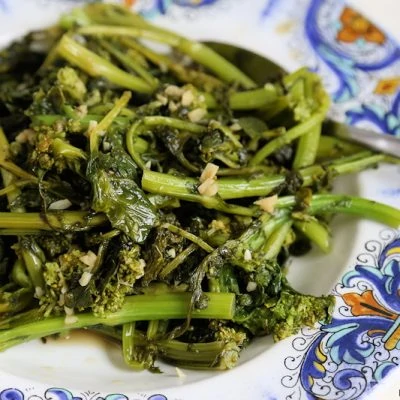 Broccoli Rabe Recipe
Keto friendly broccoli rabe recipe. Low in carbs and calories, but high in nutrients. Great remedy for Keto flu.
Print
Pin
Rate
Ingredients
1

bunch

broccoli rabe

1

tbs

olive oil

2

cloves

garlic

minced

¼

teaspoon

sea salt

¼

teaspoon

Italian seasoning

¼

cup

bone broth

chicken or beef
Instructions
Trim off the ends of the broccoli rabe.

Then chop the greens in half.

Place a large skillet over medium heat and add; oil, garlic salt and seasoning.

Place the greens in skillet on top of the oil and seasonings. Cover and cook for 5 minutes.

Turn and mix the broccoli rabe greens while adding the bone broth. Recover and cook stirring occasionally. Braise for another 20-25 minites until stems are tender but leaves are not burnt.

Serve hot or warm. Season with salt if needed.
Nutrition
Calories:
47
kcal
|
Carbohydrates:
2
g
|
Protein:
2
g
|
Fat:
3
g
|
Saturated Fat:
0
g
|
Cholesterol:
0
mg
|
Sodium:
169
mg
|
Potassium:
110
mg
|
Fiber:
1
g
|
Sugar:
0
g
|
Vitamin A:
1480
IU
|
Vitamin C:
11.9
mg
|
Calcium:
64
mg
|
Iron:
1.2
mg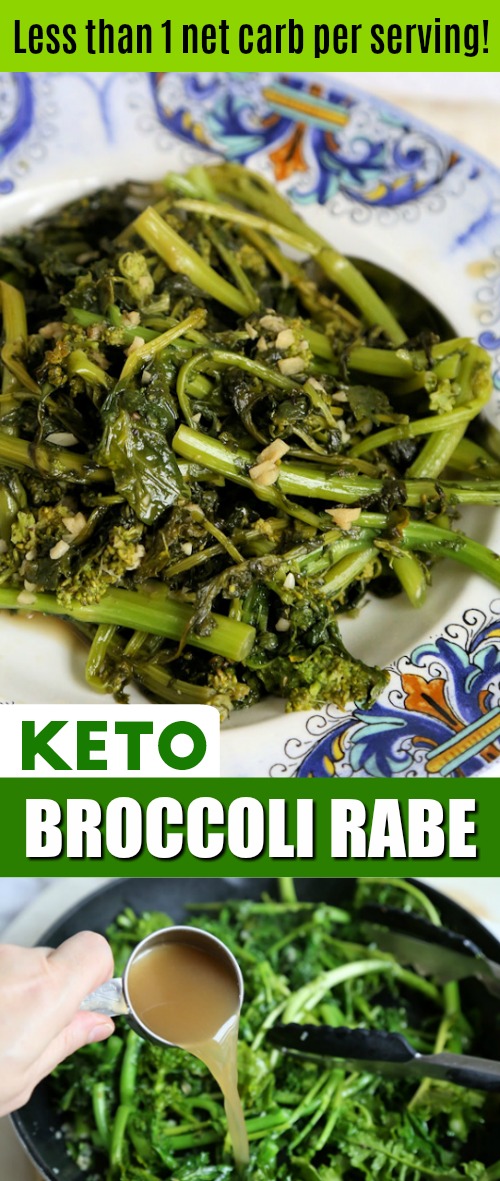 More Keto!
7 Gut Healing Foods to Add to your Keto Diet
Keto Chicken Salad Recipe - Low Carb Willow Tree Remake!