What could possibly be more festive than Pumpkin Eggnog Cheesecake this holiday season!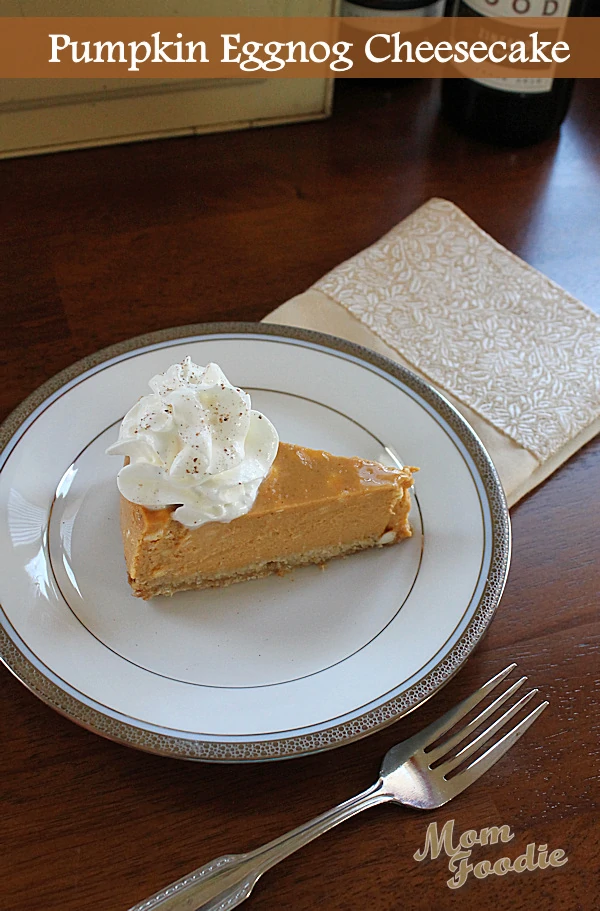 Twas' the night before Thanksgiving, and visions of cheesecakes and pies danced in my head... the only thing was, I couldn't quite decide what  holiday dessert to make.  It was getting late, so rather than push my fickle mind into a decision, I decided to go with a "fly by the seat of me pants" baking strategy, and started popping things into the mixer.
The direction of a Pumpkin Eggnog Cheesecake recipe quickly started to emerge.  It was sort of a cross between a pumpkin pie, chiffon pie, custard and cheesecake, with a bit of extra nutmeg, to ensure "eggnogginess"... sort of an all-in-one holiday dessert.
I crossed my fingers, as I put this baby in the oven, and carefully watched the progress as it baked.  An hour and a half later, it was nicely set, with barely a hint of cracking. So far so good,  hopefully the taste and texture would fare as well the next day.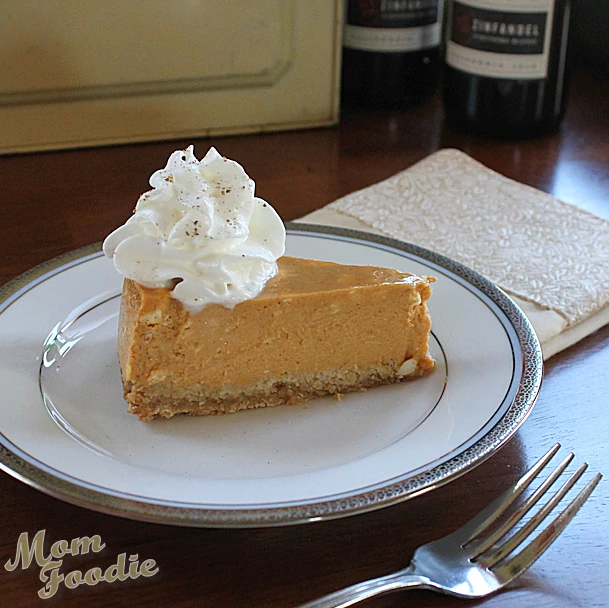 All was well, on Turkey Day.  The Pumpkin Eggnog cheesecake was not as dense as a typical cheesecake.  It was moist and the pumpkin showed through nicely, there was a mild tang from the cream cheese and subtle eggnog  taste, as well.  My reckless last minute concoction was a success.
Holiday Dessert Recipes!
Here are a few more dessert recipes to consider for your holiday table.
NOTE: The recipe does not include premade eggnog. This is NOT a mistake. The ingredients of the cheesecake provide the eggnog flavor.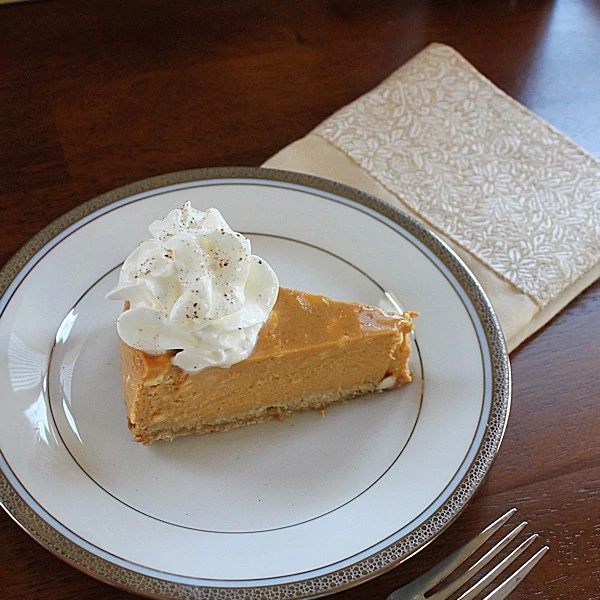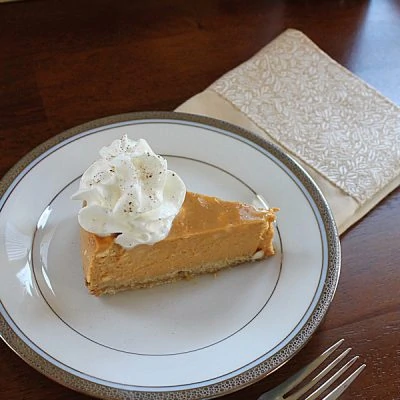 Pumpkin Eggnog Cheesecake Recipe
This Pumpkin Eggnog Cheesecake recipe blends the flavors of pumpkin pie with cheesecake, and a bit of eggnog. Perfect holiday dessert.
Print
Pin
Rate
Ingredients
16

oz

cream cheese regular or ⅓ less fat

two 8 oz. packages of room temperature

1

cup

light brown sugar

½

cup

sugar

1

15 oz can of pumpkin

1

can of evaporated milk regular or fat-free

4

large eggs

2

tbs

maple syrup

1

teaspoon

vanilla extract

1

packet

unflavored gelatin

½

teaspoon

nutmeg

½

teaspoon

ginger

1

teaspoon

cinnamon

crust recipe of choice

graham cracker, crumbled cookie, oatmeal* or nut crust I used the one from my Oatmeal Pear Tarts recipe.
Instructions
Preheat oven to 350 degrees.

Prepare crust mixture and spread out in bottom of large spring-form pan, that has been coated with non-stick spray. Press gently down on it, to firm it up & bake for about 12 minutes to set. Put aside to cool.

Cream together the cream cheese and sugars.

Beat eggs in small bowl, then add to mixture. Stir.

Add remaining ingredients, and mix well.

Pour into the spring-form pan, over the crust.

Loosely wrap bottom of pan in aluminum foil, and create water bath by placing in shallow pan with about a ½ to ¾ inch of water.

Bake for 1 hr 15 minutes. Center will be set and edges will be starting to pull away. You may see faint cracks in edges, but they will be subtle.

Remove form oven to cool, then refrigerate. Release from spring-form before serving.

Top each slice with whipped cream and a pinch of nutmeg.