This pork chow mein recipe makes a nice big batch of chow mein.  We simply eat it with chow mein noodles.  My family loves this easy home made version of Chinese take-out, so it goes pretty quick  .  Leftovers are great for a light, but nutritious lunch, with no worries about MSG, because it it home cooked.  It is one of our favorite family recipes, and you will find this pork chow mein recipe is very easy to make.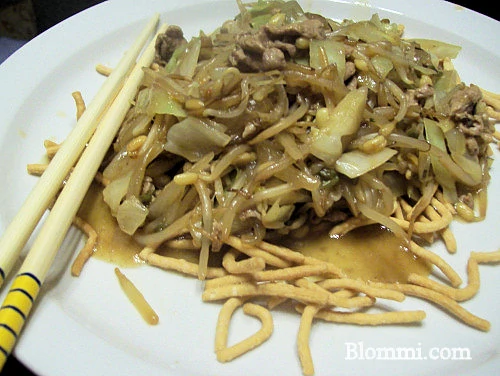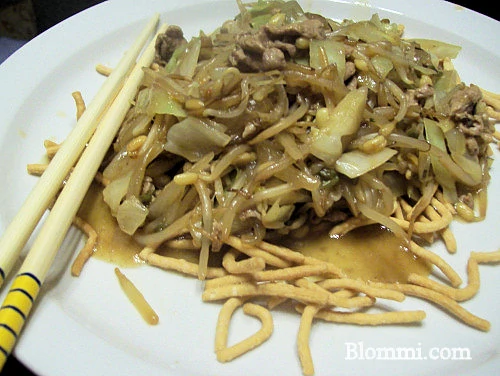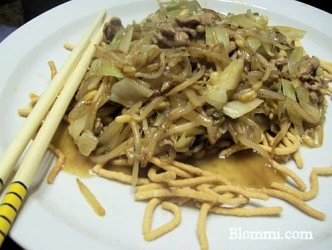 Pork Chow Mein Recipe | Easy Pork Chow Mein Recipe Using Tenderloin
It is easy to make your own chow mein.
Print
Pin
Rate
Ingredients
1

pork tenderloin

1

sweet onion

½

green cabbage

small head

12

oz.

bag of mung bean sprouts

2

cups

chicken stock

2

tbs

+ ½ teaspoon corn starch

1

tbs

soy sauce

canola oil

sesame oil

optional

Ready made Chow Mein Noodles
Instructions
Drizzle approx. 2 tbs. of canola oil in a large flat bottom skillet, or wok. Put on Med-high heat.

While pan is heating chop onions & cabbage. Add to pan as ready. Stir frequently.

Begin slicing pork tenderloin. Use a very sharp knife to get thin pork slices (put it in freezer for about a half hour beforehand to stiffen if necessary).

Once cabbage is softened, set the cabbage & onions aside in a large bowl.

Saute the bean sprouts over med. heat, just until stiffness relaxes, then dump them in the bowl with the rest.

Lightly cook the pork, just until rawness is gone. Add it to the bowl.

Drizzle some sesame oil over the bowl contents. (optional)

Whisk broth, soy sauce and cornstarch together, in med. bowl.

Heat over med-high heat, until thickened.

Add the cooked pork & veggies, while stirring the chow mein to coat.

If your chow mein gravy is a little to thick, add water, a couple tbs. at a time. If too thin, whisk a ½ teaspoon of corn starch in a little water, push chow mein to sides and whisk sauce while cooking.

Serve the homemade pork chow mein over premade noodles, and/or rice. Enjoy.
Prepping the meat and vegetables for the chow mein.
This is a personally developed Pork Chow Mein recipe.