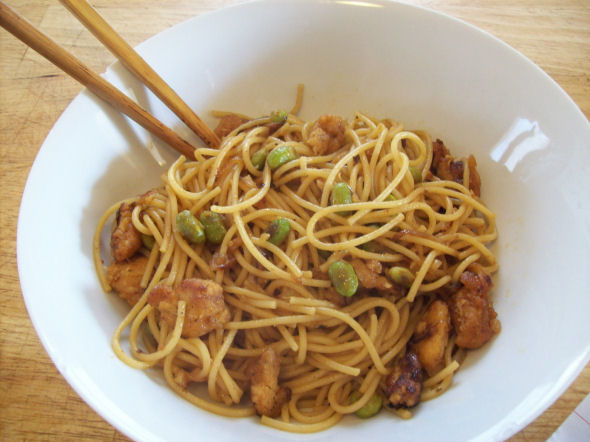 This Chicken and Edamame Asian Noodles recipe is quick and easy.  Although I love cooking from scratch, sometimes short-cuts help when making quick lunches.  In this recipe I use frozen breaded pop-corn chicken and frozen shelled edamame to cut down on prep and clean-up time.  The results are still quite satisfying, and if you are like me and are fussy about raw chicken clean-up this recipe is a real time saver.   The edamame adds an extra boost of protein, as well as color.   Even my fussy daughter will eat this Chicken and Edamame Asian Noodle recipe.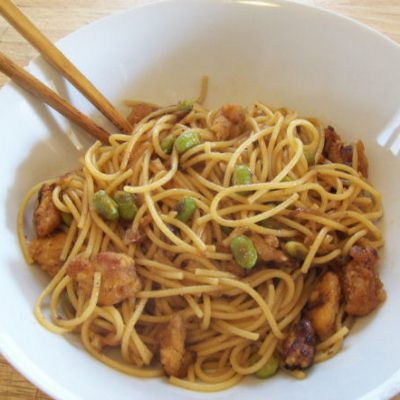 Ingredients
1 ½

c.

chicken

thin spaghetti

⅓ of a box or ramen noodles (2 packages)

½

of a sweet onion

½

c.

frozen shelled edamame

2

tbs.

canola oil

1 ½

tbs.

BBQ sauce

a basic one like Kraft original, nothing mesquite

2

tbs.

white vinegar

1 ½

tbs.

soy sauce

½

tbs.

oyster sauce

2

teaspoon

sesame oil

¼

tsp.

Sriracha sauce

optional, if you like it spicy
Instructions
Put on a pan of water for noodles (or spaghetti).

Microwave the chicken in a covered bowl, just long enough to thaw.

Slice the onions into ¼ " wedges, then cut in half.

Fry the onions in the canola oil (med/high) until they start to brown.

Toss chicken in with the onions. Stir frequently.

Noodles and frozen edamame should be going in water by this point (together).

Whisk all remaining ingredients together in a small bowl.

Continue cooking the chicken and onions, the goal is crispy browned chicken.

Once noodles are cooked and drain.

Toss the noodles and edamame in with chicken, and stir to coat with oil and slightly stir fry.

Add sauce mixture, while stirring well.

Noodles should be moist but not wet.
Notes
I like to serve these with Ponzu sauce, a little soy sauce and lemon juice is a good substitute. I sometimes add peanuts, either half way through cooking or as a garnish.
If you are in the mood for rice noodles why not try out my Tangy Chili-Curried Chicken and Rice Noodles Recipe , at Yankee Kitchen.