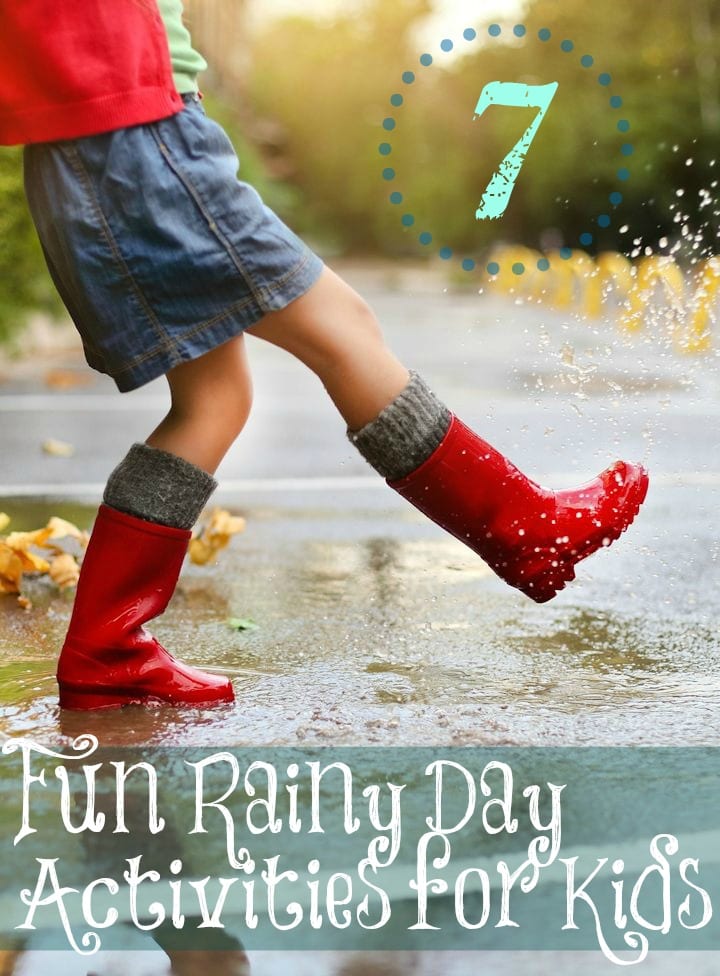 Nothing is more frustrating than being cooped up inside with a bunch of fidgety kids on a rainy day when you have a lot of work to get done.  As a working mother who often has kids at home with her, I understand the dilemma when these days appear and so these 7 Fun Rainy Day Kids Activities have become a standard in our house for those days when the weather turns sour and we find ourselves bored and itching for an adventure. When the rainy weather gets to be too much, crack out this list and start having fun.
7 FUN RAINY DAY KIDS ACTIVITIES
BUILD A FORT: We have all seen the Internet memes that state we want to be kids again and go play in our forts, why not bring that joy to your own children's lives the next time there is a rain?  Throw the couch cushions on the floor, grab some blankets and help the kids build a fort.  Set them up with a portable DVD player or build the fort near a TV for a rainy day of movies in their own fort.  This is also a perfect time to grab the dress up box and let them play "save the princess" or "fight off the dragons".
MAKE HOMEMADE PLAYDOUGH:  One of our favorite things to do as kids on rainy days was grab the play dough and make all kinds of animals, boats and of course the always popular snake.  Why not enlist the kids to make their own play dough too?  We love the simple recipe of  1 part hair conditioner to 2 parts corn starch for a soft, simple dough that smells great and keeps the kids hands moisturized too.  Add food coloring as desired.
WASH THE CAR:  Yes it is already raining but why not add to the mix of fun by giving the kids soap, sponges and buckets and send them out to scrub down your car for you?  This may require a little help from mom or dad to reach the taller places and rinse of the suds but the kids will have fun being allowed to get wet and play in the rain while doing mom a favor.
GO ON A SCAVENGER HUNT:  Give the kids a list of items to find around the house and promise a prize to the one that finds them all first.  Fun things like paper clips, a brown shoe, a cat toy or even a thimble for sewing can be on the list.  Make sure it's a mix of things that are easy to locate as well as a few that might take some time and thinking or searching for them to find.
BAKE BREAD OR COOKIES:  Nothing is more fun than donning an apron, grabbing a stool and climbing up beside mom to help crack eggs into a bowl for some yummy chocolate chip cookies.  Whether you choose to let the kids help you knead the dough for a loaf of fresh homemade bread or simply help you stir the chocolate chips into your favorite cookie recipe the entire family will enjoy this fun rainy day treat.
HAVE A SPA DAY: Grab the sugar, coconut oil, olive oil and a few drops of your favorite essential oils and create your own refreshing and soothing body scrubs. Sit down for a nice foot scrub, massage and pedicure courtesy of your daughters (take turns of course) or if they are still a bit too young to do your nails, simply pamper them. Let them wash and brush out your hair. Maybe even include some braiding tutorials and experiment with different updo hairstyles. Finish the day with a round of "drinks" you mix up using favorite fresh fruit juices and pretty glasses.
HAVE A MOVIE MARATHON: Pick out your kids favorite movies or start a new series of movies the whole family will enjoy and spend all day curled up on the couch eating junk food and watching as a family.  Grab a few special soft drinks that are for treats only, make cookies, pop popcorn and even splurge on a corn dog or nachos made at home and have a "movie day in" they will cherish for years to come.
One of the easiest ways to come up with fun rainy day activities for kids is to think about those things they are always asking you to do with them when you are busy.  Does your child always want you to read books to them?  Play with their legos? Perhaps even have you teach them how to do something in the kitchen, sew on buttons or crochet a blanket.  No matter what activity you choose, make it something that will keep them thinking, going and above all, show them how important they are to you.