Save money on Easter baskets this year!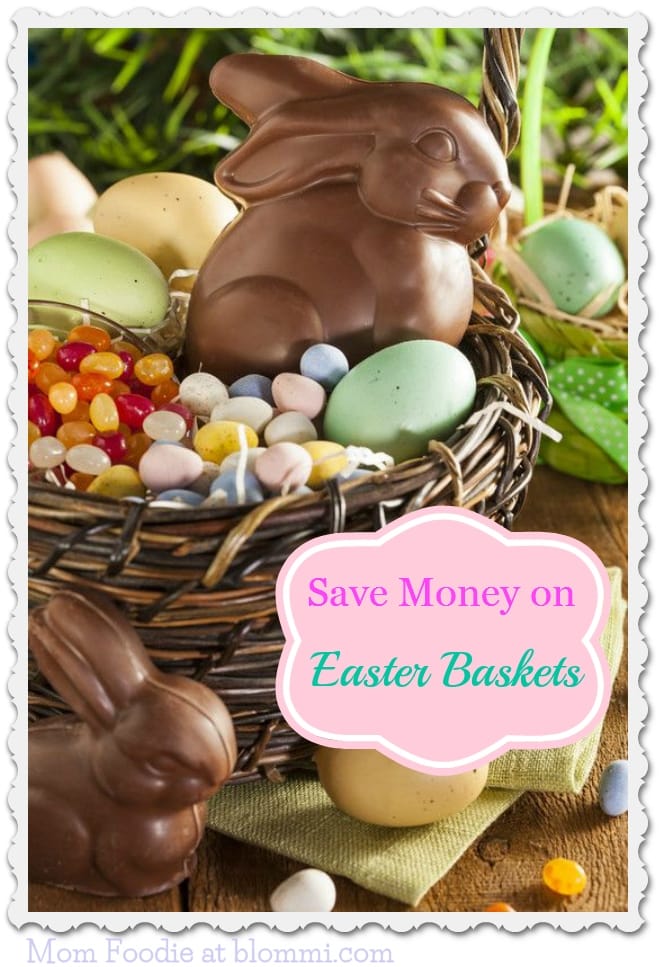 Easter baskets are something most kids really look forward to after the egg hunting festivities of Easter morning. I remember my mom used to tell me that the Easter baskets you buy at the store that are already put together are not worth the price because they are not all the way full and I was devastated. I always wanted one of those baskets because you could see all the goodies in them. Now, as a mom myself, I can see why. They really are not a great deal at all. If you agree and will be assembling your own Easter baskets this year, here are some tips to save money on them.
How To Save Money on Easter Baskets
Try the dollar store. You can often get great deals on spring toys for children and baskets there. They have great stuff like cello-wrap and ribbons for making your baskets a pretty package as well. Skip the candy there, though as it is usually small packages that are more expensive per ounce than the larger ones sold elsewhere.
Buy the basket at a thrift store. You can find nice baskets for very low cost at thrift stores that can be used as storage around the house afterwards. Just make sure to check the condition of them before you buy as sometimes you will run into missing handles and weak, broken bottoms.
Use coupons to buy candy. This time of year, there are a ton of coupons out for Easter themed candy just like at Christmas and Halloween. Sometimes, you can even get it for free if you combine it with sales.
Shop at the drugstore. You would be amazed at what you can find for Easter baskets at the drugstore. Not only are toys pretty cheap, but candy and other fillings are as well and you can get fun things like Easter themed stickers, pencils and even Band-Aids there to stuff your baskets as well.
Make your own Easter grass with newspaper or magazine pages. All you need is a paper shredder!
Do you have a stash of free samples? Place lotions, lip balms and other goodies you got as a free sample in baskets. This is especially great for older kids or any adults you might be getting an Easter basket for.
Shop the party section of your favorite store. There, you will find multipacks of small toys and trinkets that you can divide among children. You can also find special character plastic cups and other small stuff to fill your baskets.
Bake a batch of your children's favorite cookies and put them in cellophane baggies tied off with curling ribbon.  They will take up more space than many candies, and you know what you put in them.
Re-use plastic eggs every year. There is really no need to toss the plastic eggs you fill for baskets or egg hunts. Just save them for the nest year and you won't ever have to buy them again!
Shop for next year after Easter. You can get great deals on small toys, Easter grass, and those pre-made baskets that you can break up next year into baskets you are assembling.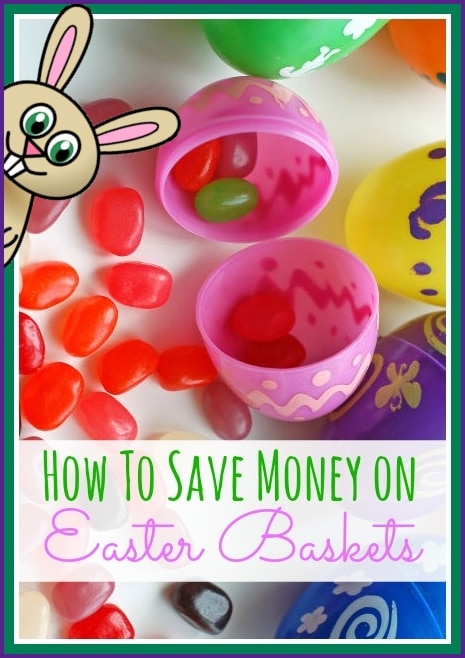 Do you have any tips on how to save money on Easter baskets?
More Easter Fun
Easter Popcorn Recipe: Pastel Chocolate Covered Popcorn
Homemade Easter Egg Bath Bombs