The Thanksgiving Turkey is the centerpiece of this ultimate family dinner gathering, so it really shouldn't be a culinary afterthought. I've gathered a delicious collection of tempting Thanksgiving Turkey recipes from some of our favorite bloggers, to help you ensure this most essential part of the meal is outstanding this year.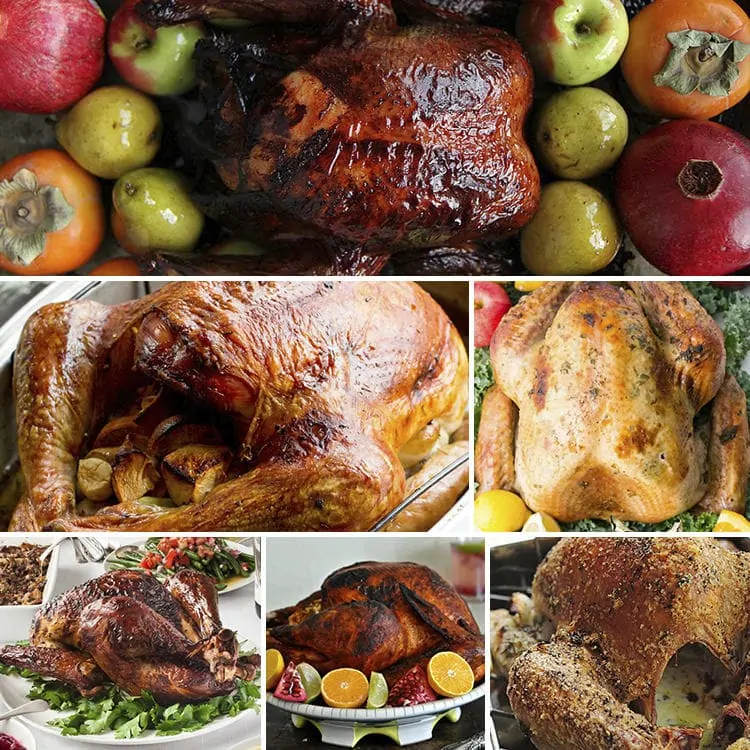 So often people focus so much on the desserts and sides, that the poor Thanksgiving Turkey is lucky if he even gets brined. Not to say a simple turkey is not delightful, and varying tastes must be taken into account, but the recipes in this collection allow the natural flavor of the bird to stand out, while elevating him a bit. You are sure to find the perfect Turkey Recipe among this recipe collection to make this Thanksgiving's dinner the best ever.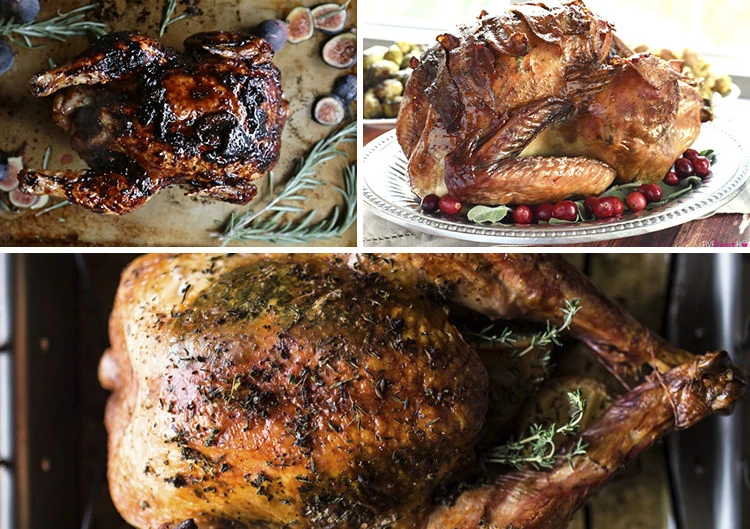 Thanksgiving Turkey Recipes Collection
These are the Thanksgiving Turkey recipes that flew to the top in our opinion. Enjoy!
Select each title to be brought directly to the recipes.
Maple Glazed Turkey with Bacon and Sage Butter  Five Heart Home
Mayonnaise Roasted Turkey  She Wears Many Hats
Damn Good Roast Turkey  Self Proclaimed Foodie
Herb and Butter Roasted Turkey with White Wine Pan Gravy  Half Baked Harvest
Juicy Roast Turkey Recipe  Natasha's Kitchen
Dry Brined Thanksgiving Turkey  Back To Her Roots
Citrus and Herb Butter Roasted Turkey  The Suburban Soapbox
Cajun Thanksgiving Turkey  Charbroiled Oysters
Smoked Thanksgiving Turkey  Chaos In The Kitchen
Pernil Style Turkey  Amanda's Cooking Adventures
Honey Roasted Turkey  Back To The Cutting Board
Simple Garlic and Herb Roasted Turkey  Neighborfood
Smoky Paprika Bacon Roasted Turkey  Cooking On The Weekends
Achiote Roasted Turkey  Hola Jalapeno
Herb and Citrus Turkey  What's Gaby Cooking
Deep Fried Sriracha Turkey  Tori Avey
Red Wine Lacquered Turkey with Spiced Butter  Heather Christo
Sweet Tea and Citrus Brined Turkey  The Brewer And The Baker
Fig and Rosemary Sticky Glazed Turkey  Country Cleaver
Maple Cider Bourbon Brined Turkey  Greens and Chocolate
Juicy Dry Brined Roast Turkey  Recipe Tin Eats
Cider Brined Turkey with Star Anise and Cinnamon  Thyme Food Blog
What is your favorite Thanksgiving Turkey Recipe?  If it is available online, please share the link in the comments below.  Others would love to see it & by all means the collection is not locked.  I'll be adding more over the years.
Need Stuffing? Check out my 35 Stuffing Recipes for Thanksgiving recipe collection.
For a fun and delicious twist on traditional cranberry sauce try my Cranberry Orange sauce or Cranberry Chutney. You won't regret it!