Tres Leches Cupcakes are a moist and delicious. They are a perfect dessert for casual parties and celebrations. The name means "three milks", which is appropriate since the recipe is made with condensed milk, evaporated milk and heavy cream. The cupcakes are then topped with a fresh homemade whipped cream frosting!
These cupcakes are a perfect choice for Cinco de Mayo or Quinceañera celebrations.  It is a commonsense approach to the cake recipe.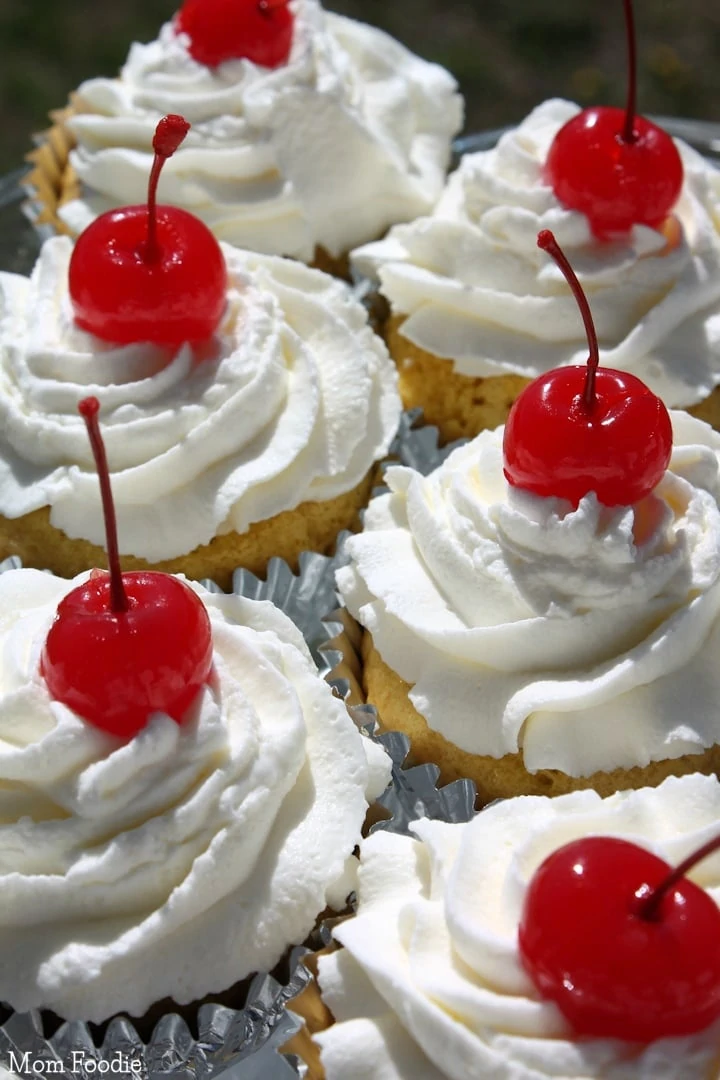 Cupcake Twist on Tres Leches Cake
Tres Leches cake originated in Mexico, probably in the state of Sinola in the 19th century [ref] and has become widely popular throughout Latin America. It has become more popular here in the U.S. in recent years as well.
If you've never had this Mexican dessert before, expect a a light fluffy cake that is made rich with heavy milk products. These cupcakes are soaked in a sweetened milk mixture, and the texture is somewhere between cake and pudding.
Since cutting and serving a really moist cake can be challenging, a cupcake recipe seemed the perfect answer. The individual servings make a festive presentation too. The cupcakes may be removed from the wrapper and eaten like a regular cupcake, or scooped out with a spoon at more elegant gatherings.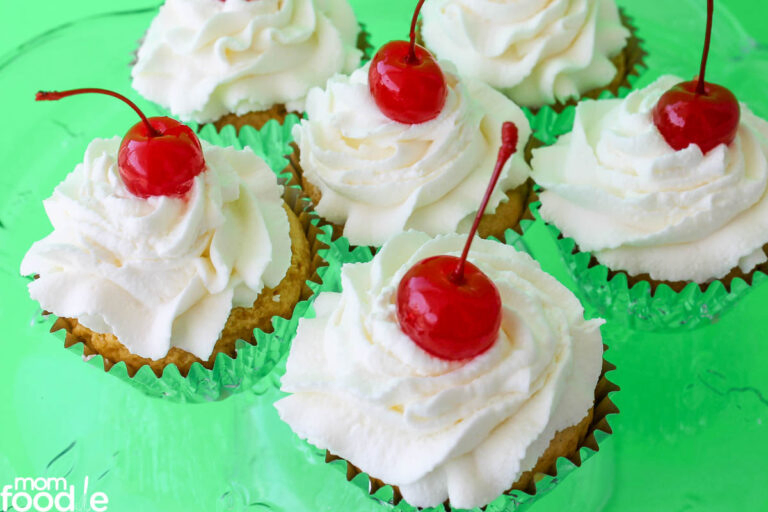 Boozy Version
Many Tres Leches recipes include brandy or rum in the soaking sauce. If you want to use liquor, simply add two or three tablespoons to the milk mixture before spooning it over the cupcakes.
How to Make Tres Leches Cupcakes
Now let's make a batch of these moist delicious scratch baked cupcakes! Print recipe below.
Recipe Ingredients
1 vanilla bean
14 ounce can sweetened condensed milk
1 cup evaporated milk
½ cup heavy cream
6 eggs room temperature
¾ cup sugar
1 teaspoon vanilla extract
1 tablespoon milk
1 ½ cup cake flour
1 teaspoon baking powder
⅛ teaspoon salt
Liquor brandy, rum, or tequila if desired
Foil cupcake liners
Maraschino cherries
Topping:
1 pint 2 cups heavy whipping cream
½ cup powdered sugar
Equipment
Stand mixer or hand electric mixer
cupcake pan
Preparation
Preheat oven to 375 degrees.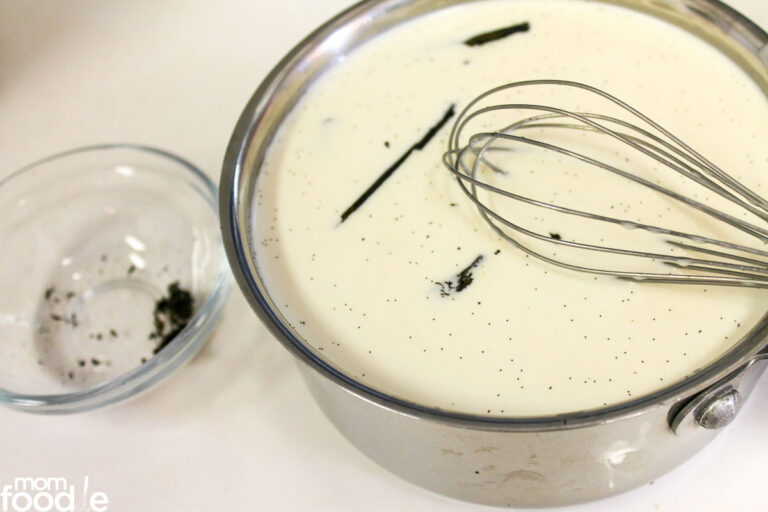 Make the vanilla and three milks (Tres Leches) mixture from vanilla pod, sweetened condensed milk, evaporated milk, and whipping cream. Warm in pan and whisk.
Yes, you can use vanilla extract, but pods or paste will give you a better flavor.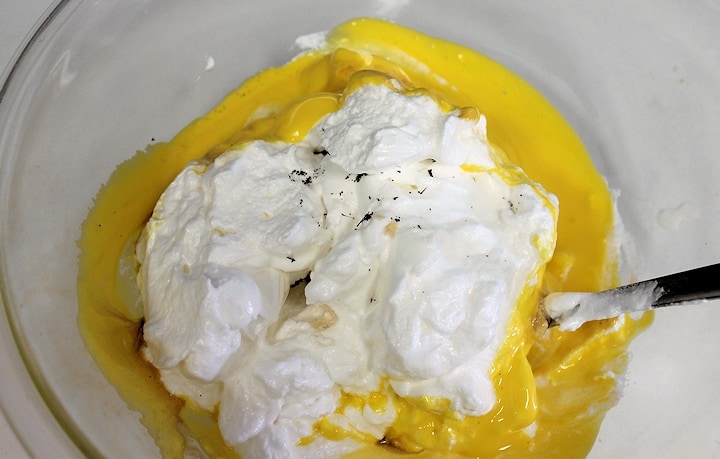 Separate egg yolk and white in two mixing bowls.
Prepare the egg whites by beating well, then slowly adding sugar until stiff peaks form.  The egg yolks are beaten separately, until thick.
The two are then folded together in a large bowl to create an egg mixture.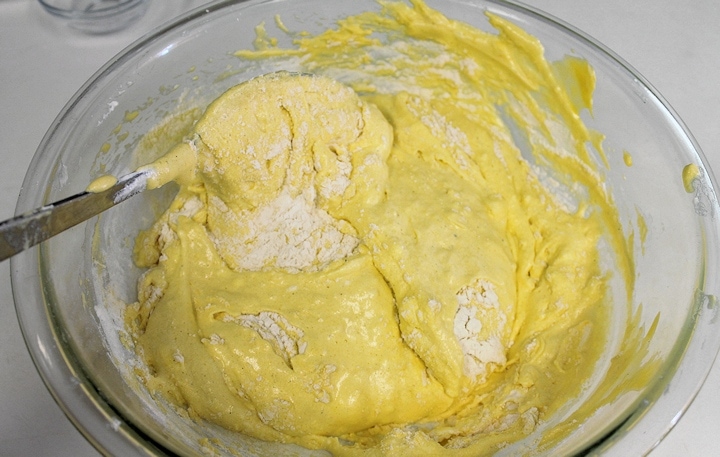 Mix the cake batter together.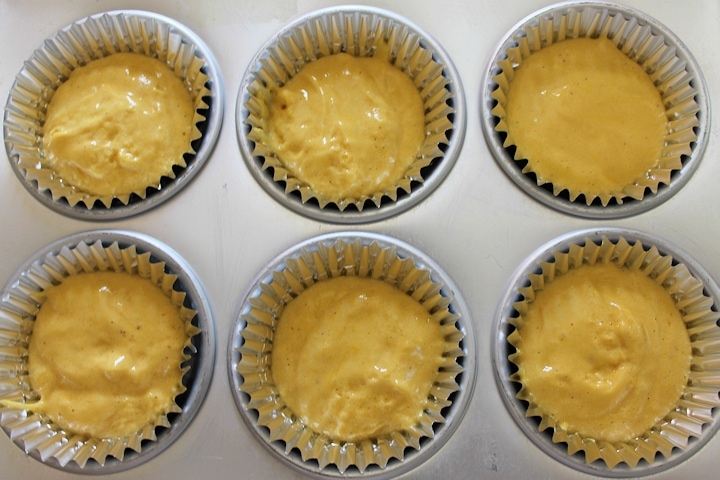 Fill cupcake liners ½ full and bake until a pick inserted in center comes out clean.
Foil liners are preferable over paper liners, as liquid will be added after baking.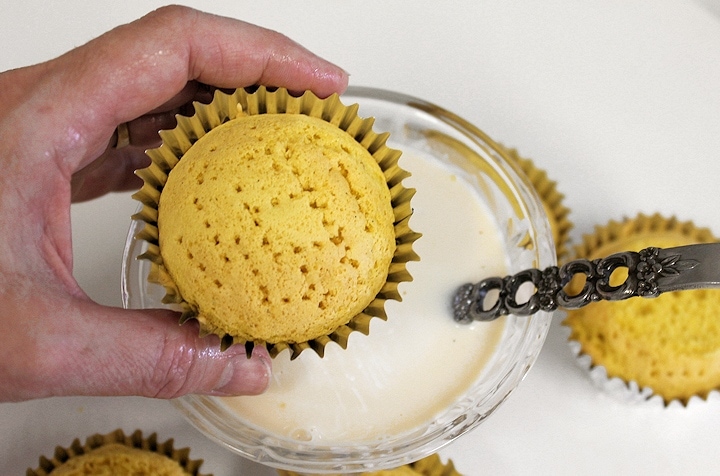 Poke holes in the baked cupcakes.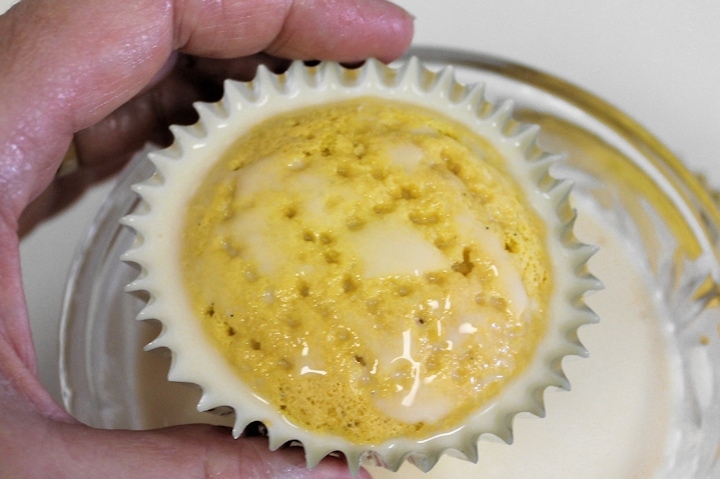 Spoon the milk mixture over the cupcakes shortly before serving. It will absorb quickly.
Pipe the whipped cream frosting on the cupcakes  and top each with a cherry for a festive touch.
Enjoy these Tres Leches Cupcakes on Cinco de Mayo, or anytime you want a fun moist cupcake for your guests.
NOTE: Make sure keep these cupcakes cool the delicious whipped cream frosting will melt easily in heat.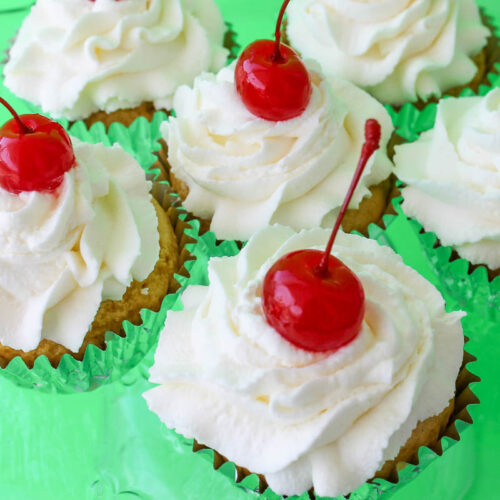 Tres Leches Cupcakes Recipe
Tres Leches Cupcakes are a moist and delicious cupcake that your guests will go crazy over!
Print
Pin
Rate
Ingredients
1

vanilla bean

14

oz

sweetened condensed milk

1

cup

evaporated milk

½

cup

heavy whipping cream

6

eggs

room temperature

¾

cup

sugar

1

teaspoon

vanilla extract

1

tablespoon

milk

1 ½

cup

cake flour

all-purpose is acceptable

1

teaspoon

baking powder

⅛

teaspoon

salt

Liquor

brandy, rum, or tequila if desired

Foil cupcake liners

Maraschino cherries
Topping:
1

pint

2 cups heavy whipping cream

½

cup

confectioners sugar

(powdered)
Instructions
Split the vanilla bean lengthwise and scrape out the vanilla seeds. Set the seeds aside for later.

Break the vanilla bean pod into 1-inch pieces.

In a small pan over low heat, combine the vanilla pod pieces, sweetened condensed milk, evaporated milk, and whipping cream. Heat just until warm, and then remove from heat to cool.

Heat oven to 375 F.

Separate the eggs, putting the whites into a medium bowl and the yolks into a large bowl.

Beat the egg whites until soft peaks form. Gradually add the sugar, beating continuously until stiff peaks form. Set aside. (best done with a stand mixer)

Beat the yolks in a medium mixing bowl with a whisk until thick and lighter in color – about 3 minutes. Add the vanilla extract and 1 tablespoon milk and mix well.

Put the egg whites on top of the yolks. Add the vanilla and vanilla bean seeds and fold all together gently until there are only small lumps of egg white in the mixture.

Combine the flour, baking powder, and salt. Add to the egg mixture in three increments, folding the dry ingredients in gently and completely each time. Batter will be thick.

Place foil cupcake liners in cupcake pans. Fill each half-full.

Place in oven and immediately turn heat down to 350 F.

Bake for 15-17 minutes, or until the tops are just beginning to turn golden and a pick inserted in center comes out clean.

Cool on cake racks.

Strain the three-milk mixture. Remove and discard the vanilla pod pieces.

Poke shallow holes in each cupcake using a fork or wooden skewer – no more than ¼-inch deep. If your cupcakes rose over the top of the liner, cut off the top with a sharp knife. You won't need to poke holes in this case.

If you are using liquor, add it to the milk mixture now.

Holding each cupcake over a bowl, slowly pour about 1 ½ tablespoons of milk mixture over each cupcake. Wipe any spilled milk from the outside of the foil liner and place the cupcake on a tray or baking sheet. Repeat until all cupcakes are soaked.

For best results, chill in the refrigerator for at least 2-3 hours, or overnight. Add topping up to an hour before serving, and keep refrigerated.
To make topping:
Whip cream at medium-high speed until soft peaks form.

Add powdered sugar and continue whipping until stiff peaks form.

Pipe the whipped cream onto the cupcakes using a star tip. Top each with a maraschino cherry.
Nutrition
Calories:
240
kcal
|
Carbohydrates:
28
g
|
Protein:
5
g
|
Fat:
13
g
|
Saturated Fat:
7
g
|
Cholesterol:
84
mg
|
Sodium:
70
mg
|
Potassium:
153
mg
|
Fiber:
1
g
|
Sugar:
21
g
|
Vitamin A:
494
IU
|
Vitamin C:
1
mg
|
Calcium:
109
mg
|
Iron:
1
mg