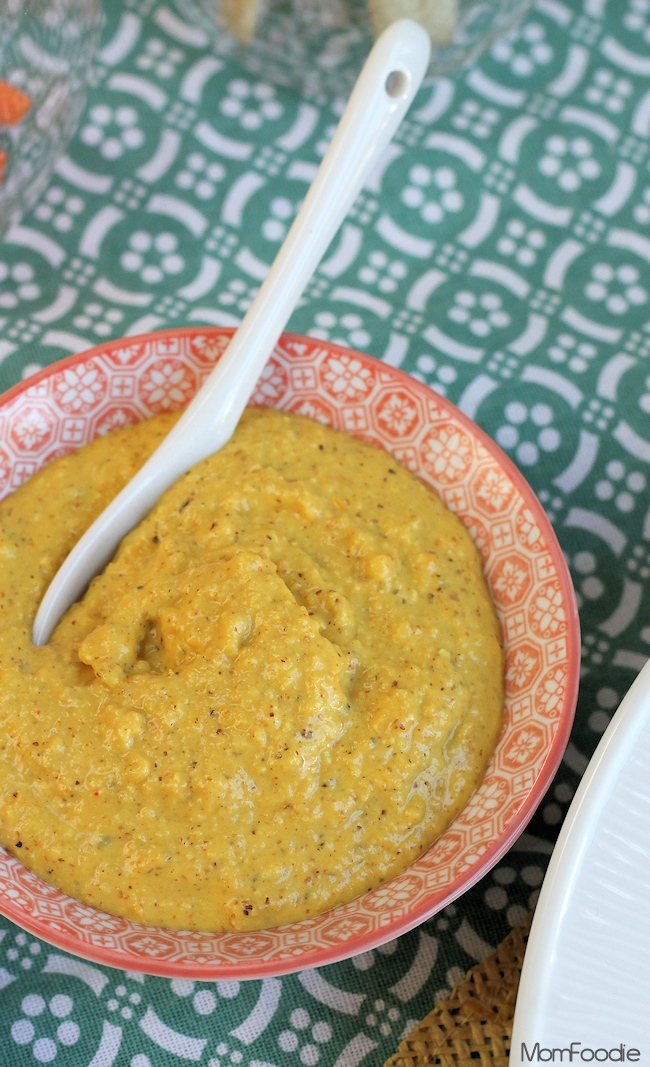 Spanish Cuisine has been especially popular in recent years, and with good reason. Spain has been a cultural and culinary melting pot for well over a millenia. The area was under Islamic rule for many centuries , and then Colonialism brought the exotic ingredients from the New World to be incorporated into dishes. With all those choices, no wonder the smaller portions of tapas are a part of their food culture. Who would want to decide on just one thing.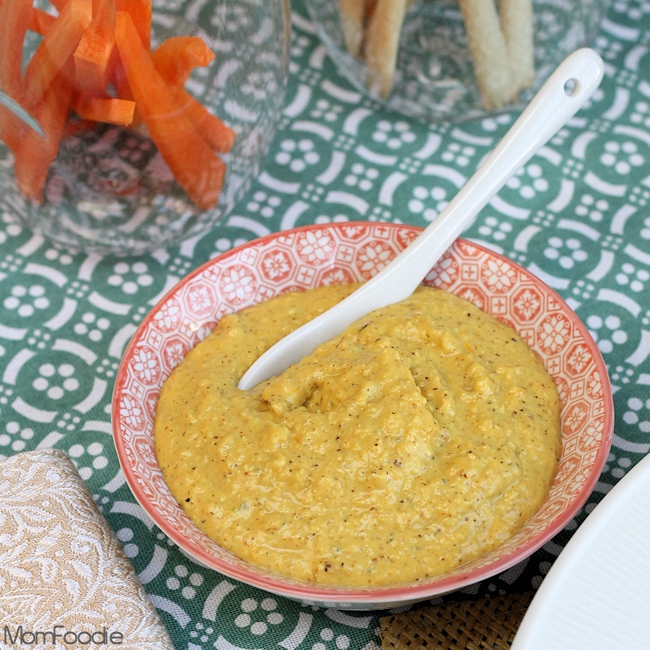 One my favorite sauces is Romesco, which originates from Catalonia. It is a sweet pepper and nut sauce. It is typically reddish in color, from Red Peppers and some of the spices used. When this month's issue of Cooking Light arrived, it featured this sauce in their 25 All Time Favorite Recipes collection.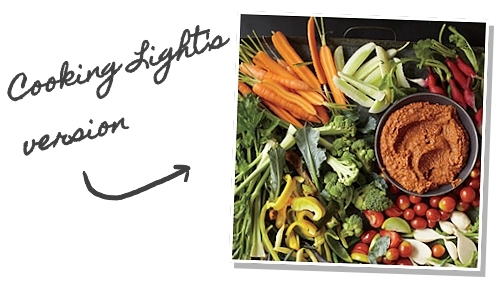 I decided I needed some of this healthy and tasty condiment on hand, so I resolved to make a batch. The only thing is... I had a bowl full of roasted yellow peppers in my refrigerator, not red. I enjoy roasted peppers, but was not about to roast red ones while the yellow ones sat in wait. I looked over the Cooking Light version of Catalonian Pepper and Nut Sauce. After perusing it a bit, I concluded that with a number of swaps and alterations, and the need to roast some yellow tomatoes (see I still didn't get away from roasting something...lol), I could come up with a yellow version of Romesco. Of course, it would not taste quite the same, but the flavors and swaps all made sense in my head. I rolled up my sleeves and the kitchen mess making commenced!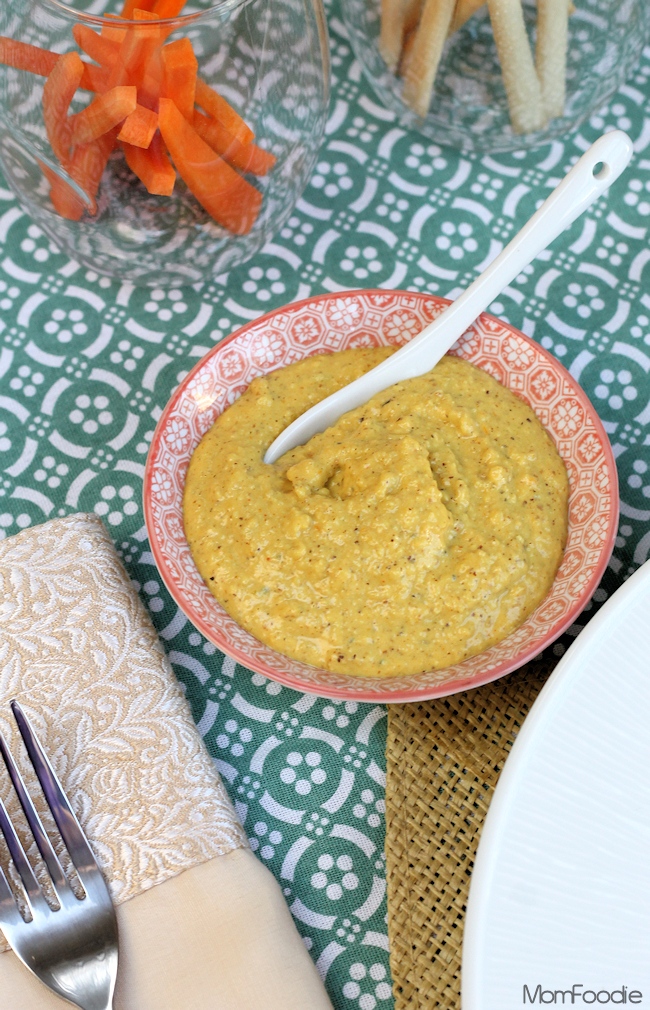 In my yellow version of Romesco, I purposely kept the heat quite mild, skipping the ancho chilis altogether. I maintained the nut and garlic quantities from the original recipe, but substituted the tomato paste for a doubled up quantity of roasted yellow tomatoes. Panko stood in for sliced bread, and red wine vinegar was replaced by white vinegar and lemon zest and juice. Since the roasted yellow peppers were sitting in their own juices, I used that juice, rather than adding water to the sauce. When it came to spices, I didn't want to go to far astray, but also didn't want them to muddy the bright yellow of the sauce, so white pepper and turmeric rounded out a reduced quantity of paprika. Smoked olive oil, stood in for some of the smokiness lost from reducing the paprika and omitting the ancho chilis.
The sauce is different than a traditional Salsa Romesco, but harkens to it's predecessor more than enough to for younger sibling status.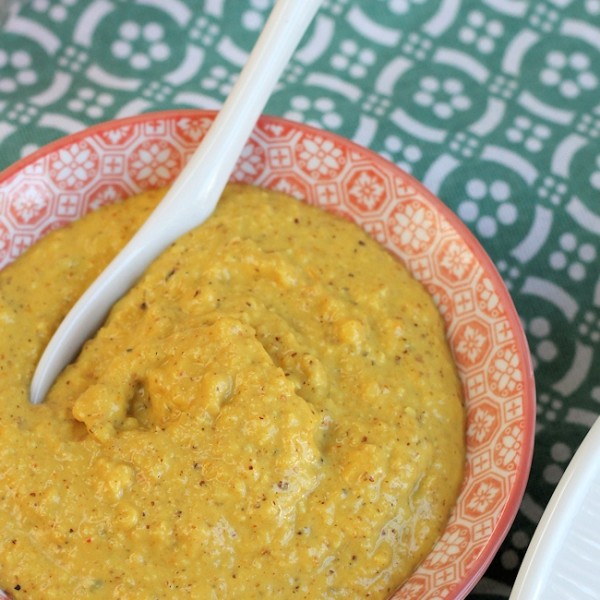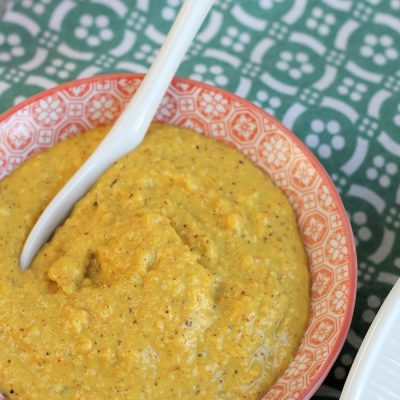 Yellow Romesco Recipe (Catalonian Sweet Pepper & Nut Sauce)
Print
Pin
Rate
Ingredients
½

cup

almonds

½

cup

chopped hazelnuts

4

cloves

of garlic

coarse chopped

2

tbs

Panko crumbs

¼

teaspoon

white pepper

¼

teaspoon

turmeric

1

teaspoon

smoked paprika

½

teaspoon

Kosher salt

zest of one lemon

2

tbs

lemon juice

3

tbs

white vinegar

¼

cup

roasted yellow tomato*

1

cup

roasted yellow pepper with ¼ cup of the juices

¼

cup

smoked olive oil

¼

cup

extra virgin olive oil
Instructions
Preheat oven to 400 degrees and quickly toast the nuts (just a few minutes). Cool for a few minutes.

Place nuts in food processor and pulse until well chopped.

Add garlic and Panko, pulse to mince.

Add the white pepper, turmeric, paprika, salt and lemon zest. Pulse a few times.

Add the lemon juice, tomatoes, peppers and pepper juice. Pulse until smooth, then add the oil and pulse until creamy.

The sauce can be served immediately, but is better the next day, as it benefits from being given some time for the flavors to meld.
Notes
*Some better grocers sell roasted yellow tomatoes, otherwise, toss small yellow tomatoes in oil oil with a bit of thyme and a pinch of Kosher salt and bake at 275 for 2 ½ to 3 hours.
Nutrition
Calories:
53
kcal
|
Carbohydrates:
1
g
|
Fat:
5
g
|
Sodium:
95
mg
|
Potassium:
24
mg
|
Vitamin A:
55
IU
|
Vitamin C:
2.4
mg
|
Calcium:
11
mg
|
Iron:
0.3
mg