Lasagna is a perfect meal for the holiday season.  A large steaming pan fresh out of the oven will warm even the biggest humbug's heart.  If you are afraid to make this dish, or have had less than stellar results in the past, put aside those concerns.  With the help of Barilla, detectible lasagna is easier than ever to make, especially with their no-boil lasagne noodles and quality sauces.  If your "old school" and still want to use the wavy noodles, they have those too.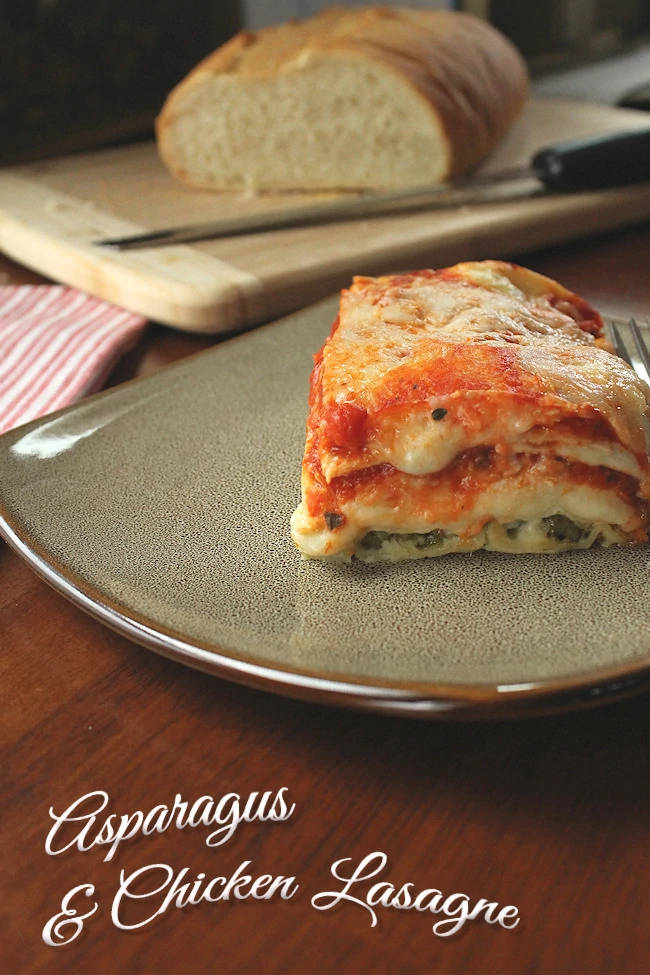 I've made lasagna innumerable times, but always used ricotta cheese as a primary filling.  I was aware that authentic Italian lasagne generally uses a bechamel sauce (milk gravy)  instead, but honestly it didn't sound as good to me and I stuck with my trusty tub of ricotta... until today that is.  I found a recipe for Lasagne with Asparagus and Mushroom Sauce, on Barilla.com that appealed to me, and decided it was high time I made a real Italian Lasagne.  I jotted the ingredients I needed on a slip of paper and headed out to the grocer.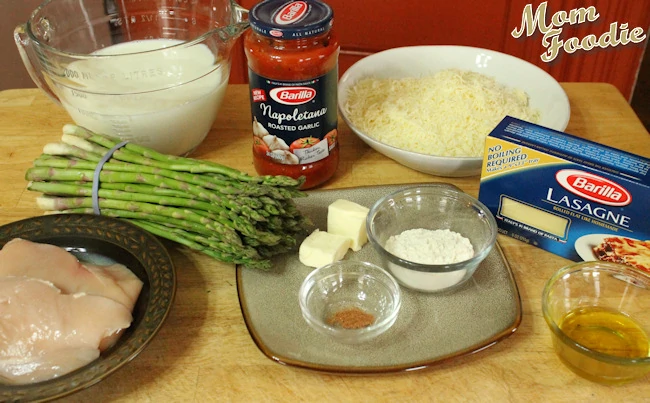 Once I got to the store I soon realized that  I had to make a few alterations to the recipe.  The Barilla Montanara - Mushroom & Garlic Sauce was not in stock, so I bought a jar of Barilla Napoletano - Roasted Garlic Sauce .  I contemplated using fresh mushrooms to bring them back in the recipe, but I liked the idea of adding chicken better.  The Fontina cheese was also quite pricey, and the packaging options were not ideal, so I opted for a couple 8 oz. bags of shredded Italian blend cheese (Fontina, Mozzarella, Provolone, Romano, Asagio & Parmesan).  Swapping the cheese saved me bout $10, and kept the dish budget-friendly for families (around $2 a serving).  The chicken lasagna recipe was no longer quite what I started with, but it was similar enough to pay homage to the original anyway.

The bechamel sauce made the chicken lasagna moister than one made with ricotta (important when working with a lean meat like this), and I found it to be just as flavorful.  I will be making it like this more often now.  Check out the authentic selections developed by their team of chefs on Barilla's Lasagne Recipe Page (including the recipe this one  is based on). There is bound to be one that would really appeal to your family.
No feeling this ambitious? Jump over to my Lazy Ravioli Lasagna recipe. It is simple to make, yet delicious.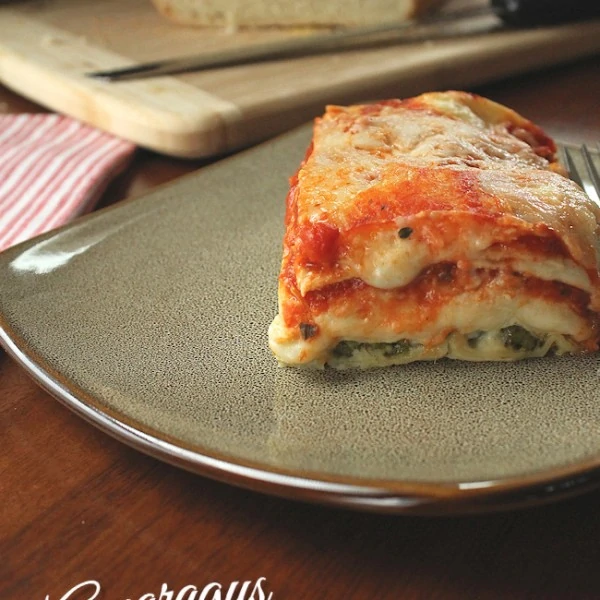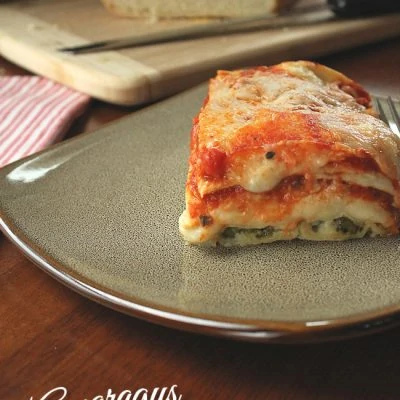 Ingredients
1

box Barilla Lasagne Oven Ready

1

jar Barilla Napoletana - Roasted Garlic Sauce

2

tablespoons

Butter

⅓

cup

Flour

⅛

teaspoon

Nutmeg

4

cups

Milk

1

pound

Asparagus

¾-1

lb

chicken breast

fresh thyme

1 ½

tablespoon

Extra Virgin Olive Oil

16

oz

shredded Italian Cheese blend

look for one that includes Fontina, Parmesan & Mozzarella
Instructions
Preheat oven to 375°f.

Trim about 1 inch from bottoms of asparagus spears discard, place in lasagna pan and toss with a little olive oil and Kosher salt. Roast until tender. Remove from pan and set aside.

Melt butter in a saucepan over medium heat. Add flour, salt and nutmeg stir 1 minute. Gradually stir in milk. Cook until sauce thickens and bubbles, stirring constantly. Continue cooking 1 more minute set aside.

Saute the chicken in a little olive oil with a generous pinch of thyme, salt and pepper.

Spread 1 cup of white sauce in 9x13-inch baking dish top with 4 lasagne sheets, then spread on another layer on top of noodles.

Top with the asparagus spears, ⅓ of the cheese, 1 cup roasted garlic sauce. Top with 4 lasagne sheets, 1 cup sauce, then chicken and ⅓ of cheese.

Top with 4 lasagne sheets, remaining garlic sauce, remaining white sauce, and remaining cheese.

Cover with foil bake 35 minutes. Uncover and bake 10 more minutes (I like crispy cheese).

Remove from oven let stand 15 minutes before cutting.
(You know that last instruction to let it cool, this yummy but not so pretty plate is what happens if are impatient and don't. Yeah, I sometimes lack patience...lol)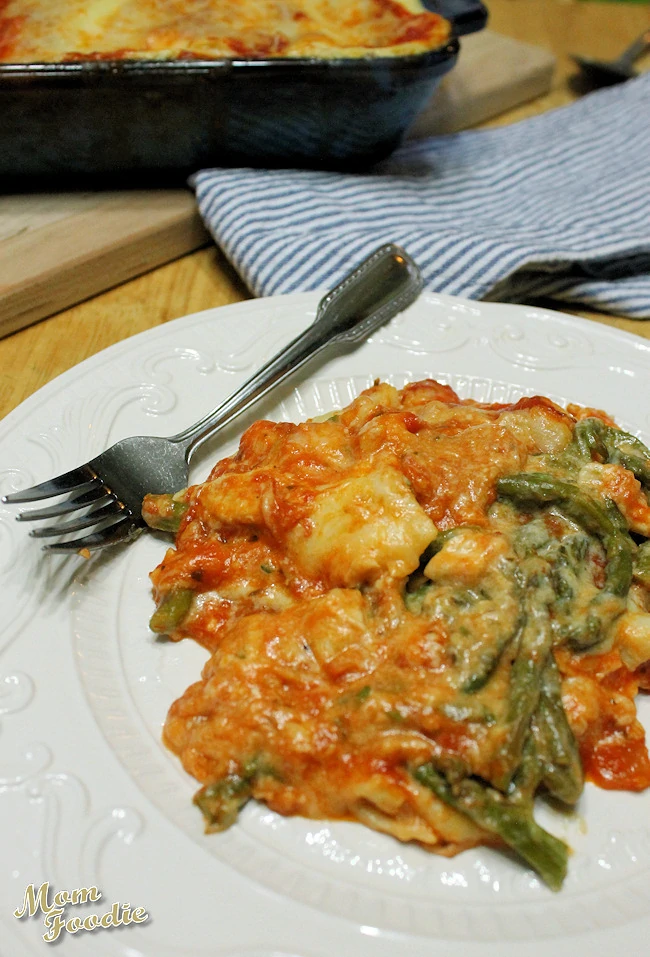 Disclaimer: Barilla partnered in support of this campaign. Barilla compensated me for participation in this campaign. However, all thoughts and opinions are my own.