When choosing plants for bathrooms there are many factors to consider. While moisture is readily available, light is often limited. Some bathrooms are even windowless. Beyond how well a plant will survive in the environment air purifying plants are some of the best choices for bathrooms, due to the chemicals that tend to get used in there. Below, I help you select the best bathroom plants for your needs,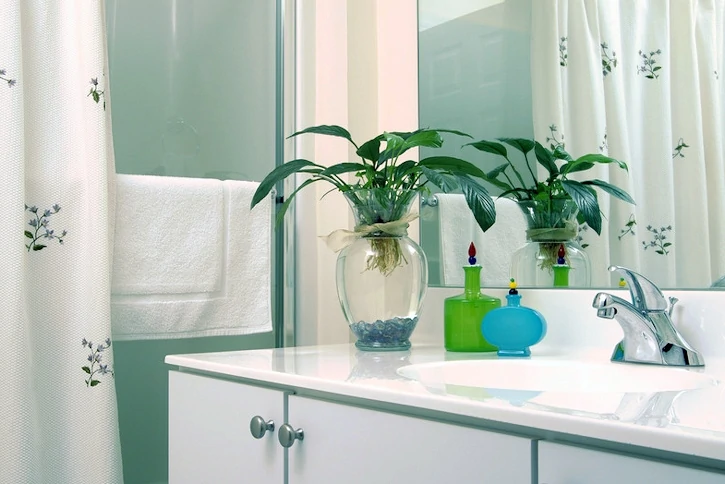 Best Plants for Bathrooms
A lot has been said about the benefits that come with keeping houseplants, especially when it comes to their ability to naturally filter toxins out of the air in our homes. Most of us keep our houseplants where we, and our guests, can easily enjoy them-- the common rooms of the home. However, the bathroom is the one room in the house that can benefit the most from having a houseplant call it home. Bathrooms are home to the highest concentration of toxins because its where we use a large number of concentrated chemical cleaners to disinfect on a regular basis.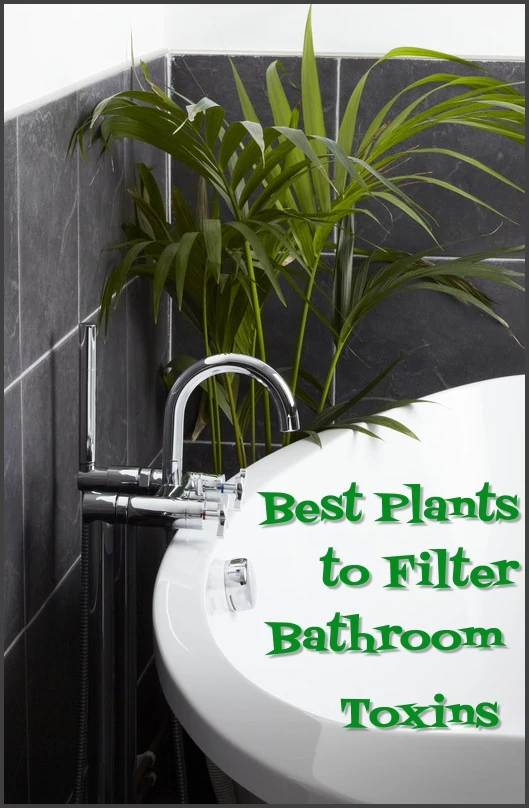 Pinched for Time? Simply Grab this Air Filtering Collection of Plants for your Bathroom! Easy Peasy
It includes 4 out of 6 of the plants featured in this article.
&
 Collection of the Four Best Clean Air Plants for Your Home in Four Inch Pots
6 Best Air Purifying Plants for Bathroom
Here are the best air purifying bathroom plants to filter out the toxins that are fouling in the air in your bathroom. Because bathrooms are often moist and steamy, you want a plant that can tolerate those conditions, and thankfully most can. Low light plants are also good choices for most bathrooms.
Costa Farms Peace Lily (Spathiphyllum) in 6" Diameter Pot

Peace Lily
The Peace Lily
is a very graceful and elegant houseplant, best potted in a small planter
that makes it easy to keep on a bathroom counter. Peace Lilies are considered to be one of the best air filtering plants around and they love the moist air that is created while showering. Expect tall broad leaves and delicate white flowers that have an exotic look to them.
Brussel's Money Tree Bonsai - Small - (Indoor)
Money Tree
I actually have a few money tree plants
around my house. They typically have attractive braided trunks with long deep green leaves. Money trees are hardly houseplants and perfect for a bathroom environment, since they require little light, are great air purifying plants and are less prone to pests and disease than many other common bathroom plants.
 Sansevieria Laurentii in Pot

Snake Plant
The Snake Plant
is also commonly known as a Twister or Mother in Law's Tongue, all very unique names. This sticky plant is best potted and kept on the floor because it can grow to be very large in size. In the bathroom it can be used to quickly filter out any chemical toxins that have been left behind after a thorough cleaning. The Snake Plant does not produce any flowers, but its thick leaves are very distinctive and colorful.
 Hirt's Victorian Parlor Palm - Chamaedorea - 6" Pot

Bamboo Palm
If you have a dark, windowless bathroom, a Bamboo Palm
can be added to help clean the air. This is a large palm, so you need to be able to have a large space for it in the bathroom, but it can be tucked into most corners and survive with minimal care. In a low light bathroom it probably will not flower, but if it does get the minimum amount of light necessary it can flower and produce berries.
GERBERA DAISY - MIDI SPECIAL MIXTURE - 4 PLANTS - STARTER PLUGS - LIVE PLANTS

Gerbera Daisy
For something super cheery and whimsical, try adding a Gerbera Daisy
to the bathroom counter. Gerbera Daisies soak up toxins faster than most plants and the steam in the bathroom appeals to them enough that they will thrive in the closed room environment. Keep this plant potted and on the countertop where the sunlight can reach it.
 Golden Pothos in Pot
 Marble Queen Devil's Ivy - Pothos - Epipremnum - 4" Pot - Easy to Grow
Golden Pothos
For a hanging basket variety, try Golden Pothos
plant which is a vine that resembles ivy but is much more succulent in appearance. This plant is often considered one of the top 5 air filtering plants available to you and because it can be hung higher up it is considered one of the easiest to grow. This plant will not produce flowers, but the leaves and vine is so thick that it makes up for flowers with foliage.
Bathroom Plants Safe for Cats and Dogs?
I reader requested I add pet safety information in this post. As a cat owner myself, I thought that was a great suggestion. Here is the info concerning the suggestions I have made. In many cases plants can be made inaccessible to dogs and they are less likely to be interested in houseplants (mine never cared about them). I would definitely not have any of the toxic plants in a house with cats. My cats love chomping on my money tree plant.
Safe for Cats and Dogs 
bamboo palm
money tree
gerber daisy
Toxic if chewed by pets
snake plant
peace lily
golden pothos
If you are considering a plant not on my list you can check if it is safe for pets on the ASPCA website.