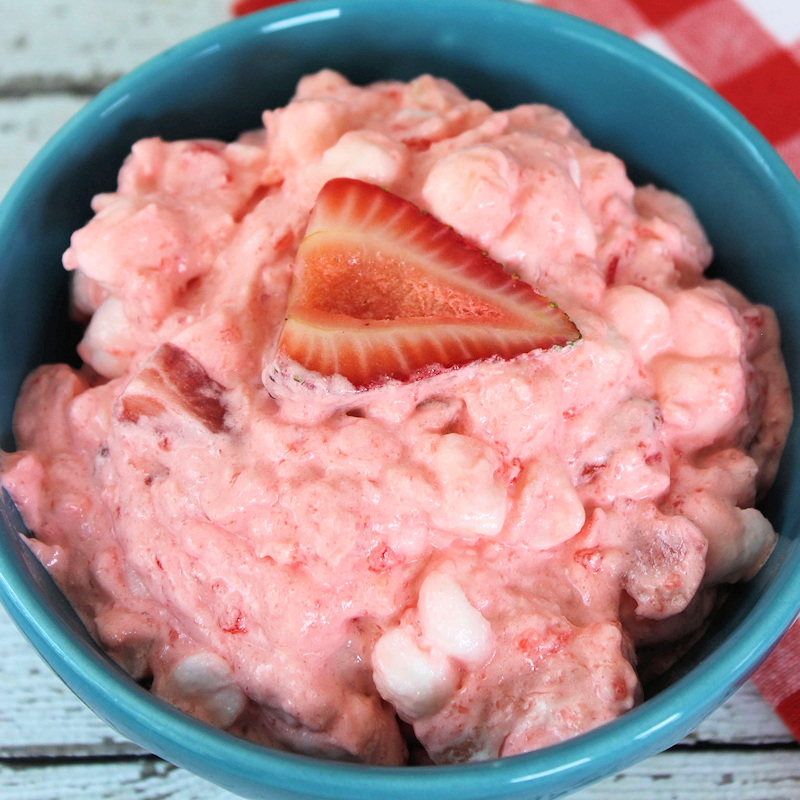 A classic Strawberry Jello Salad Recipe.  Strawberry Fluff Salad is the perfect easy dessert to bring to parties, picnics, and potlucks.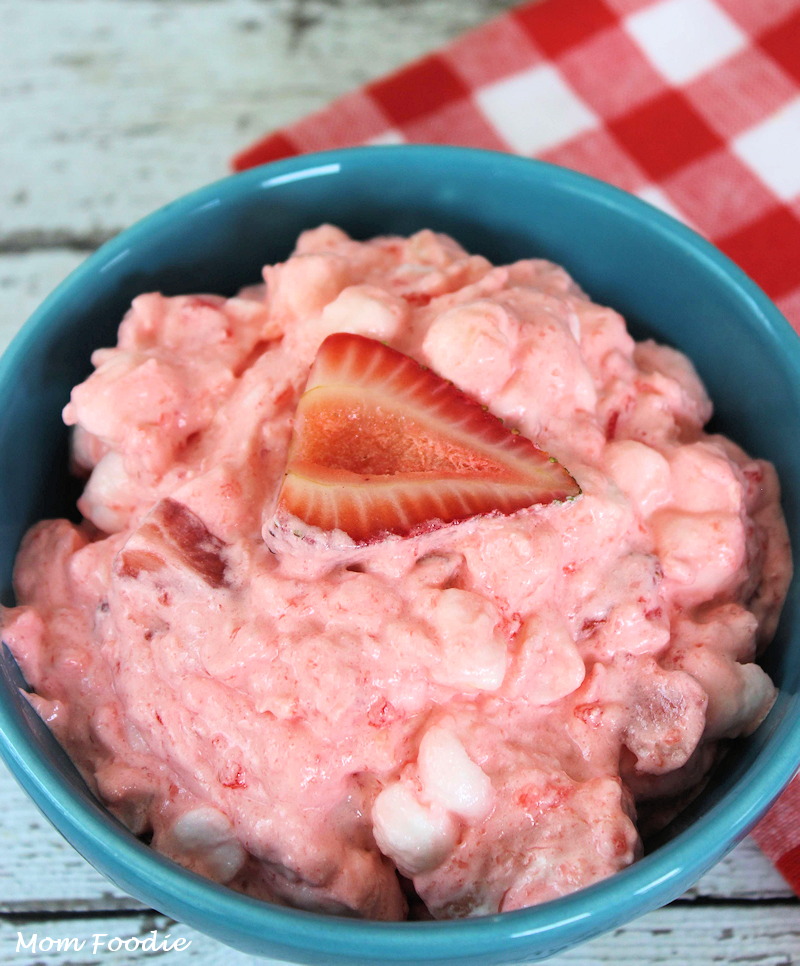 Enjoy sharing Strawberry Fluff Salad at your next gathering.
Strawberry Fluff Salad
I thought this Strawberry Fluff Jello Salad looked fun, and I know many of you have no qualms about using boxed puddings and Cool Whip (I do realize I have more time available for this stuff than many of you).  Honestly, though I'm a bit too make-it-from-scratch uppity to make a fluff salad myself, I would totally eat it at a party, so when the opportunity presented itself to share this fun and easy strawberry jello salad recipe with you, I was happy to do so.  Give the people what they want I say and one of my best friends is in love with this jello salad recipe…lol.
The strawberry fluff salad sure does look good.  I can almost smell the strawberries and marshmallow through the picture.  Maybe I'm not too uppity to make this fun and refreshing strawberry fluff dessert.  I really want some now 😉
Strawberry Jello Salad Recipe: Making
This is a quick visual walk-through showing how to make this strawberry fluff jello salad. Full recipe below.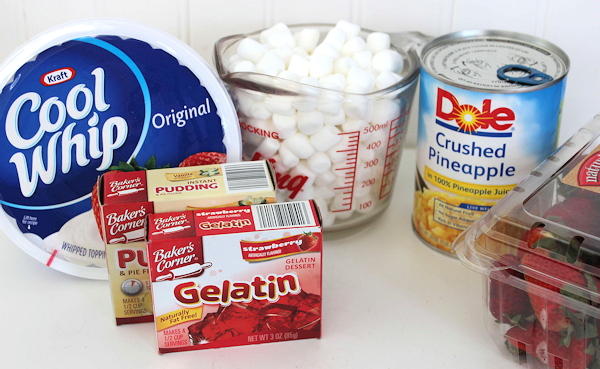 Here are all the ingredients you will need to make the strawberry fluff salad.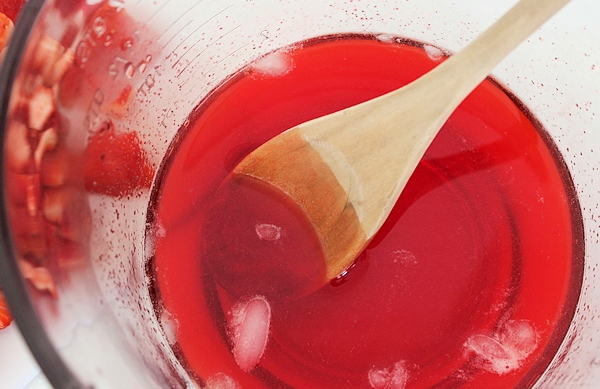 In one bowl, prepare the strawberry jello.


In a separate large bowl mix pineapple and vanilla pudding. Then add strawberries, cool whip and mini marshmallows and mix well.
Finally, break up the jello and stir it into the rest of the strawberry fluff salad.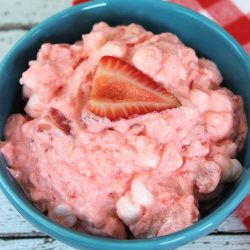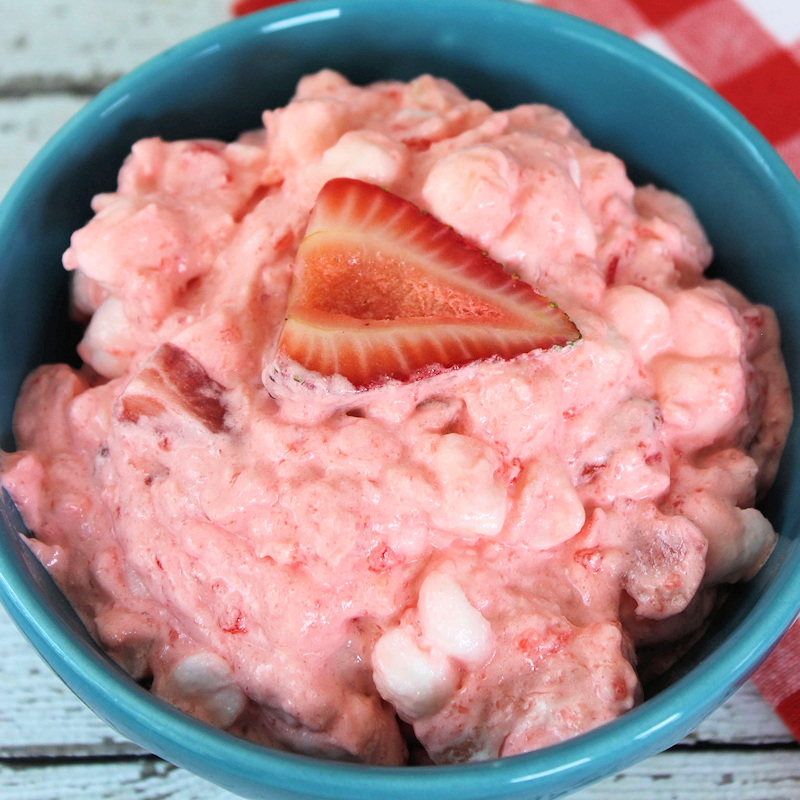 Strawberry Fluff Salad: Strawberry Jello Salad Recipe
Strawberry Fluff Salad is a fun and easy Strawberry Jello salad recipe that is perfect to bring to parties and potlucks. The pink fluff is of course great for an easy Valentine's dessert too.
Ingredients
3

ounce

strawberry jello gelatin

(small box)

1

cup

boiling water

1

cup

crushed Ice

20

oz

Crushed Pineapple

3

oz

Instant Vanilla Pudding

(small box)

16

oz

Strawberries

trimmed and sliced

4

cup

Mini Marshmallows

8

oz

thawed Cool Whip
Instructions
Add contents of the gelatin package to a medium bowl.

Stir in boiling water with the jello until dissolved.

Pour crushed ice into the bowl and stir until the ice has melted.

Place into refrigerator for 10 minutes or until it begins to set.

Pour crushed pineapple and juices along with vanilla pudding into a large bowl. Stir to combine.

Add the strawberries, mini marshmallows and cool whip. Mix well.

Use a spoon to break up the strawberry jello and add it to the Cool Whip mixture.

Stir it in to combine.

Cover and refrigerate for at least one hour before serving.
Nutrition Facts
Strawberry Fluff Salad: Strawberry Jello Salad Recipe
Amount Per Serving
Calories 130
% Daily Value*
Cholesterol 2mg 1%
Sodium 73mg 3%
Potassium 102mg 3%
Total Carbohydrates 31g 10%
Protein 1g 2%
* Percent Daily Values are based on a 2000 calorie diet.