No room for a tree in your home? These beautiful Christmas trees for small spaces, will put you and your guests into the festive spirit.  They are unique alternative solutions when a traditional holiday tree just won't fit.  These space saving decorations are also great as secondary trees.  Even if you have tons of room at your house these attractive and innovative small space Christmas trees are so cool, you may want one anyway.
One way to solve the space issue and still have a Holiday tree, is to go flat.  These two "wall-huggers" are incredibly stylish and have virtually no footprint.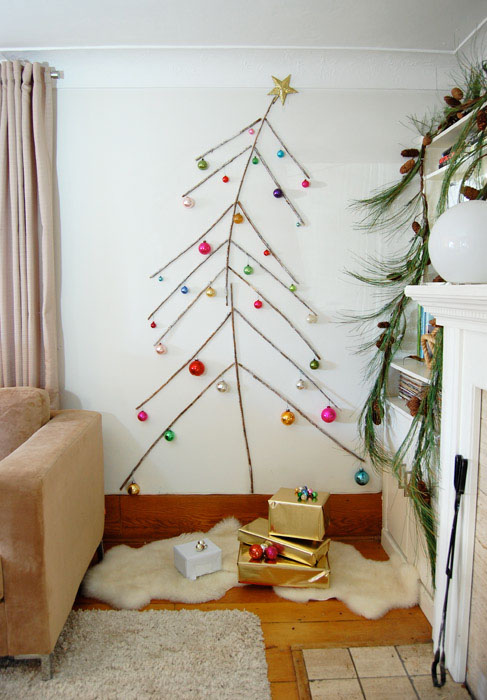 The DIY Flat Twig Christmas Tree doesn't take up any space.  All you need is an open wall.  It has a hip, sort of Charlie Brownish vibe to it (don't ask me how those two go together, it just sort of came to me) See here for detailed DIY instructions for this fun holiday project.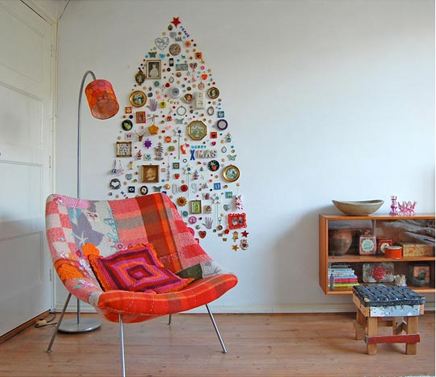 Take a bunch of little knick-knacks and cards and create a wall tree.  This has the added benefit, of nostalgia and is great for those who would miss having unique ornaments.
Of course you could always simply go small.  The two solutions below pack a ton of holiday style, despite their miniscule size.
This sapling in a vintage holiday cookie tin is simple sublime.  It is perfect for those who love a vintage look.  This blog is loaded with great holiday ideas.  A must see. Hannah Jarmerende Jul (Charming Christmas)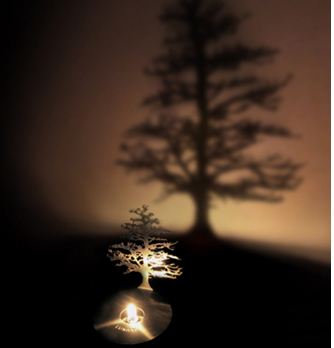 This little oil lamp casts the shadow of a tree on your wall (Lumen Tree Oil Lamp). Christmas clean-up has never been easier...lol.
Our third option, is suspension.  Sometimes hanging things is a space saver.  These two lovely "trees" make the best of available space.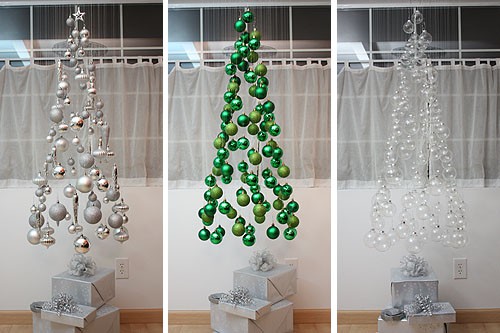 This DIY mobile tree from Not Martha is perfect for anyone who needs all the floor space they can get.  Her instructions are very thorough, and as you can see the results are stunning.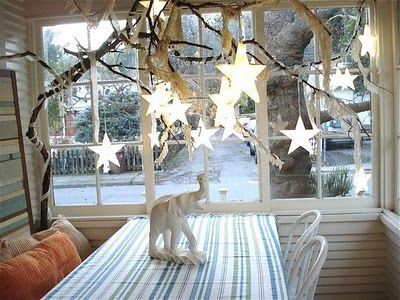 I love the clever usage of fallen branches to create a chandelier like effect over the table.  Certainly a great use of space, and inexpensive too. Just swap out that tablecloth for something more festive and you are ready to roll. (Apartment Therapy)