This easy Coquito recipe will quickly become a family holiday tradition!
Cocquito is a thick and creamy coconut rum drink with warm spices hailing from Puerto Rico. The delicious holiday drink is becoming more and more popular in the continental United States in recent years (and not just with Puerto Ricans), as so many others realize they love coquito too!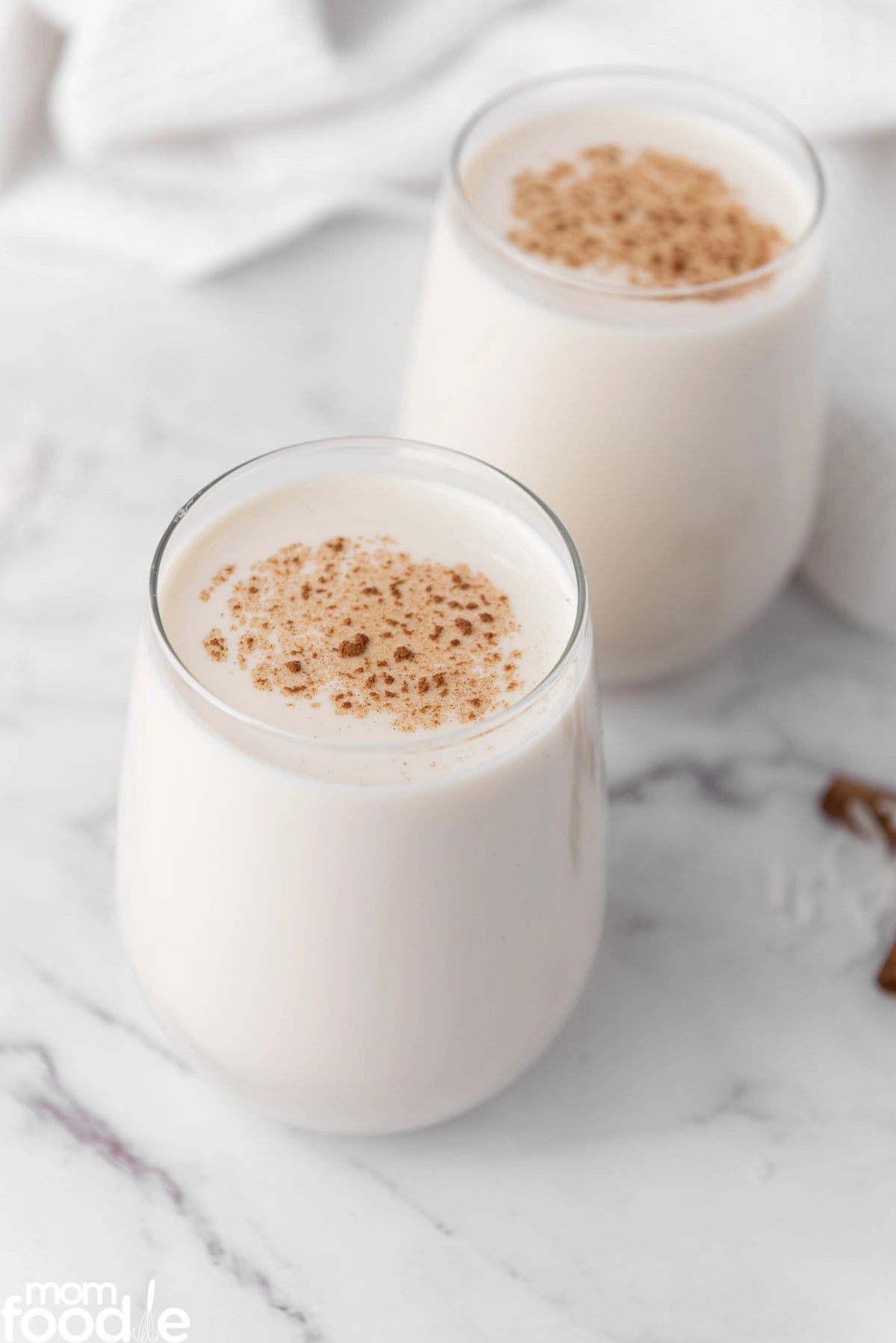 What is Coquito?
Coquito is a popular Puerto Rican cocktail which translates to "Little Coconut" in Spanish. Coquito is similar to and often compared to American eggnog but with coconut cream and Puerto Rican rum, hence it is often referred to as Puerto Rican eggnog although it contains no eggs.
The drink is popular during the holiday season. This Puerto Rican coconut eggnog is traditionally served for Christmas eve (Nochebuena), but has become common to serve on Christmas day and Thanksgiving as well.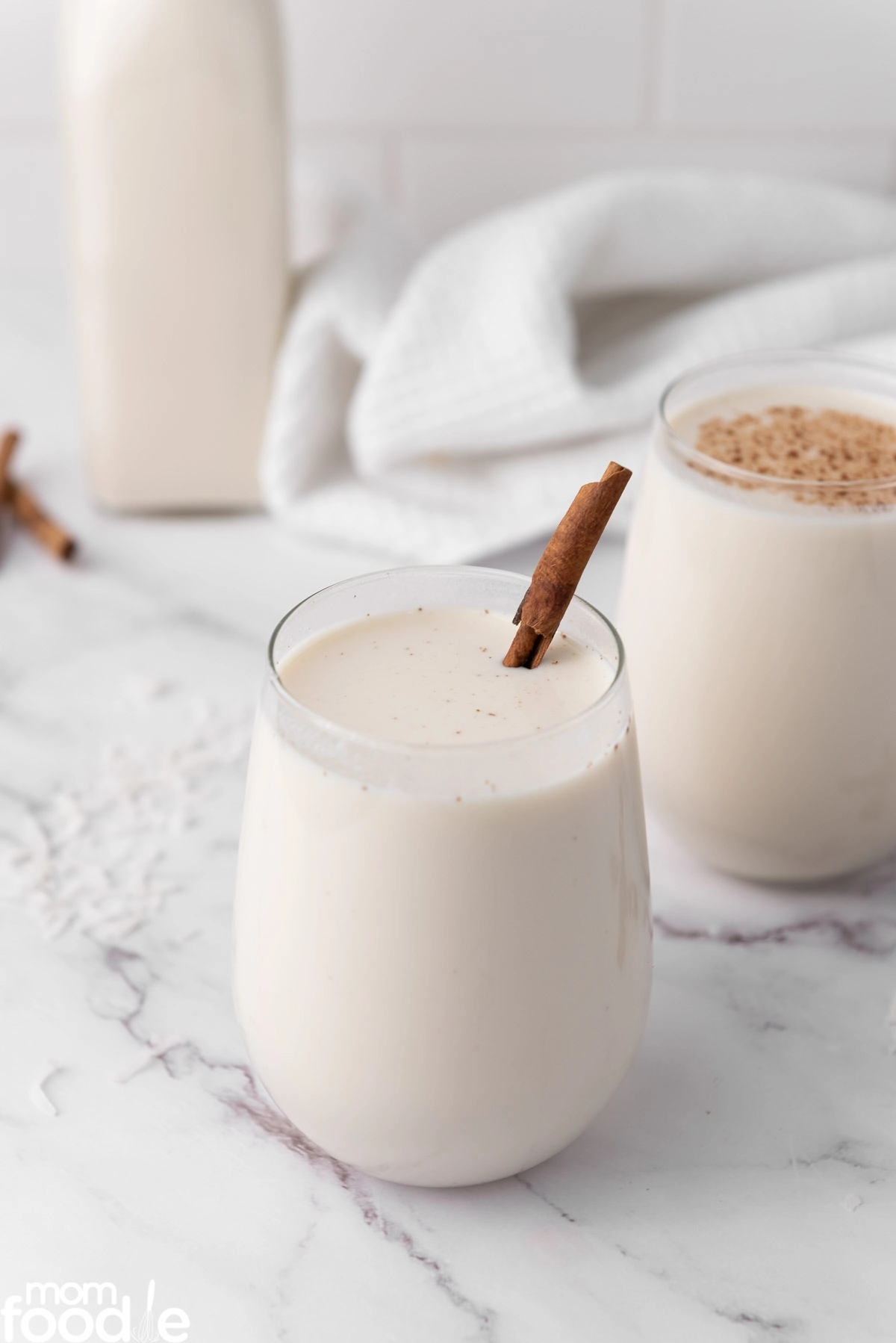 This festive Christmas dessert cocktail can be served alone or with holiday treats such as Eggnog Bundt Cake, Chocolate Shortbread Cookies, Christmas Thumbprint Cookies, Eggnog Bread Pudding or my Gingerbread Pie Recipe.
How to Make Coquito
Making this Puerto Rican Coquito recipe is really quite easy. Follow along here, or jump down to the printable recipe card if you like. You might want to consider doubling the recipe to make a big batch, since it also makes a nice gift to share.
The recipe makes 8 servings of about 1 cup each.
Prep Time: 5 minutes | Cook Time: 15 minutes | Chill Time: 30 minutes
Coquito Ingredients:
Here are all the ingredients needed to make this creamy cocktail with tropical flavor: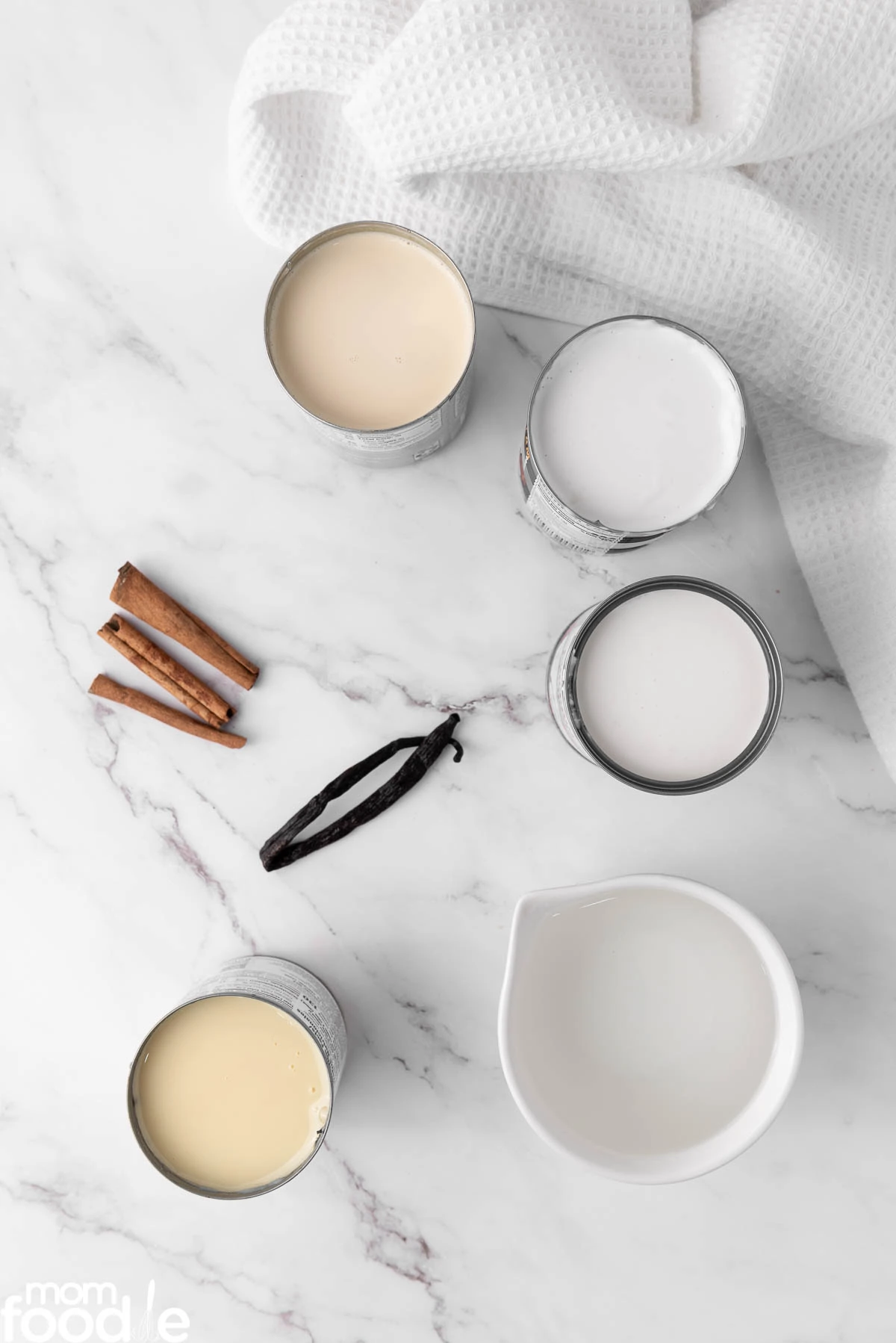 1 can (14 oz.) sweetened condensed milk
1 can (12 oz.) evaporated milk
1 can (13.5 oz.) coconut milk
1 can (15 oz.) cream of coconut (such as Coco Lopez)
1 vanilla bean (or 1 teaspoon of pure vanilla extract)
3 cinnamon sticks (or a teaspoon of ground cinnamon)
1 - 1½ cup white Puerto Rican rum (depending on how strong you like it)
If you really want to blast the coconut flavor use a coconut flavored rum in place of the regular white rum.
Instructions: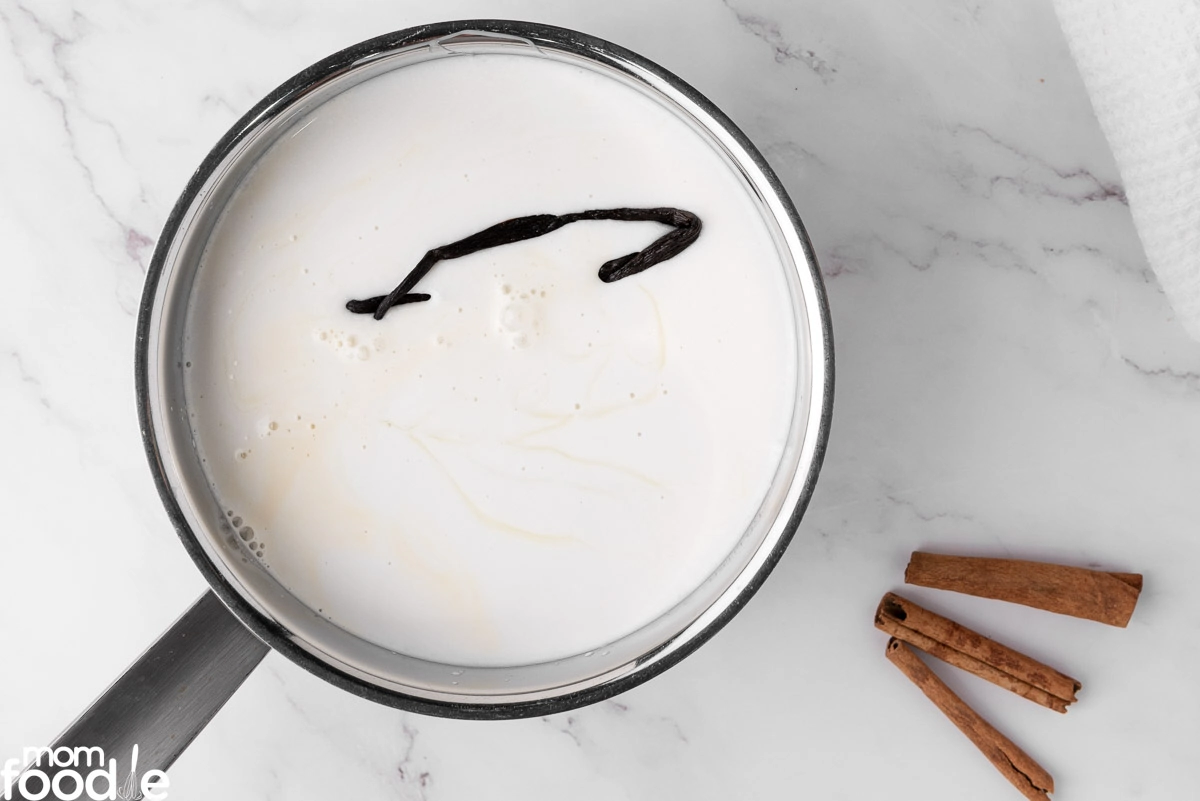 In a medium-sized pan, add the condensed milk, evaporated milk, canned coconut milk, coconut cream, vanilla bean and cinnamon. Bring to a boil on low to medium heat. (This gives it time to let the vanilla and cinnamon infuse)
Once it starts boiling, remove from heat and let it cool off for at least 30 minutes.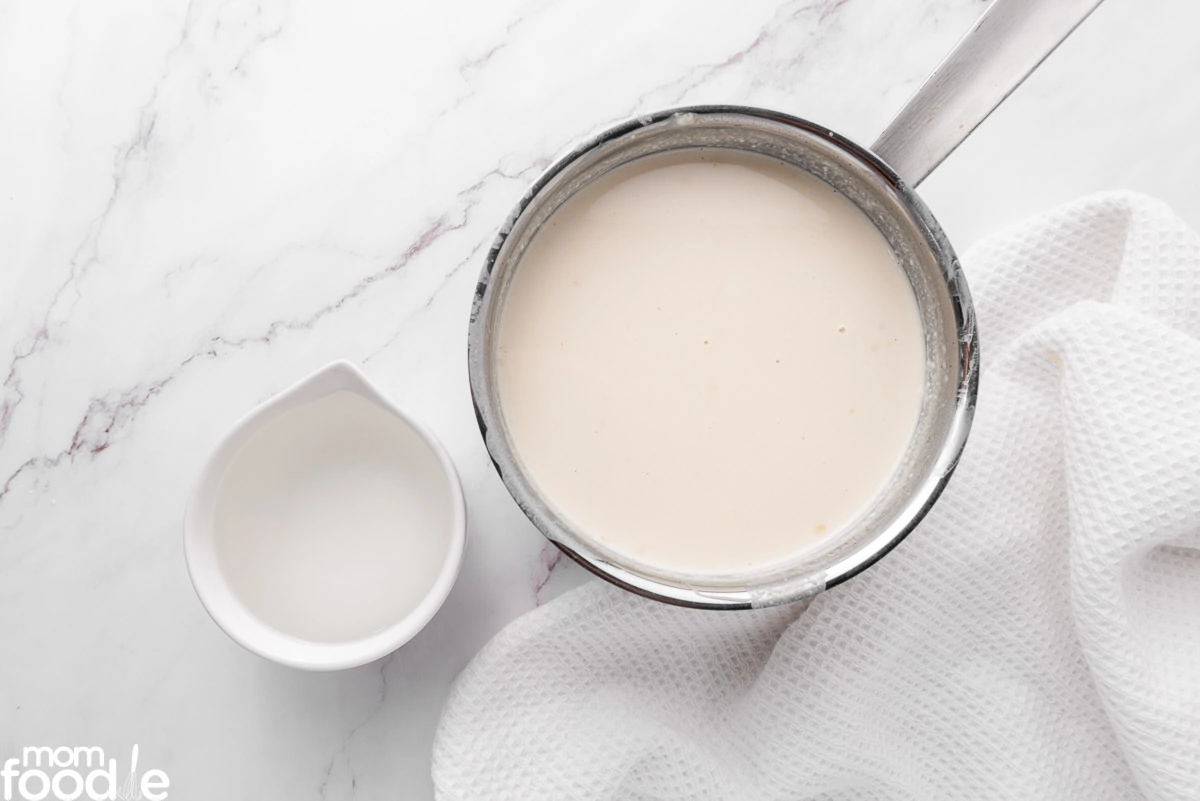 Once cooled completely, remove the vanilla bean and cinnamon sticks from the mixture, then add the rum. Stir in until well combined.
Pour into a large pitcher and place in the refrigerator for serving once cold or store for later.
The creamy beverage is served chilled. Ice is not recommended.
Storing
Store coquito by pouring into glass bottles, large glass jar or an airtight container, and sealing. The beverage will last in the fridge for up to 4 days.
When serving bottled coquito, give it a good shake before pouring in case of settling.
Variations
While this is a pretty standard recipe, there are a few changes or optional ingredients to create the best coquito recipe for you.
Use spiced rum or dark rum. Just keep in mind the resulting Coquito will not be as pure white as the beverage pictured here.
Add a star anise or two before bringing the coconut eggnog to a boil.
Add more rum to your taste.
Make Chocolate Coquito by adding a ¼ cup of unsweetened cocoa powder to the milk mixture and pulse in a blender before cooking in your saucepan.
While Coquito doesn't traditionally contain eggs, you can whisk in some raw egg yolks before cooking if you really want to.
If serving for Thanksgiving or during the fall, you make prefer to use some Pumpkin Pie Spice rather than the cinnamon.
Coquito without Rum
If you have guests that don't drink alcohol, Simply add a cup of coconut milk in place of the rum for a non alcoholic version. A little rum extract can give the the virgin Coquito some delicious rum flavor if you want, but without the alcohol.
What is the Difference Between Coquito and Eggnog?
Although Coquito is often referred to as a type of eggnog, it typically does not contain any eggs at all (though some do add them). It is thick because the cream of coconut and canned milks in it are thick.

With traditional eggnog, milk, cream sugar and yolks are carefully simmered until the concoction thickens up like a custard. While rum can be added, brandy is most popular.  Cognac or  whiskey are other common choices.
Can I use coconut water in this?
No. It will not be thick enough.
How Long Does Coquito Last?
The beverage will last for up to 4 days in the fridge in well sealed container.
What could be better with a glass of Coquito than some coconut cookies. Make a batch of Almond Joy Cookies, Coconut Macaroons or Samoas Cookies to go with the creamy beverage!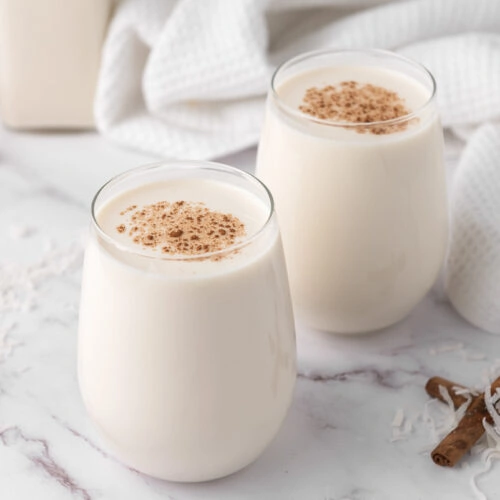 Coquito
This authentic Coquito, Puerto Rican Eggnog recipe is easy to make and a must have festive drink for the holiday season.
Print
Pin
Rate
Ingredients
14

ounce

can sweetened condensed milk

12

ounce

can evaporated milk

13.5

ounce

can coconut milk

15

ounce

can cream of coconut

1

vanilla bean

or a teaspoon of vanilla extract

3

cinnamon sticks

1

cup

white rum
Instructions
In a medium-sized pan, add the condensed milk, evaporated milk, coconut milk, cream of coconut, vanilla bean, cinnamon sticks. on low to medium heat.

Place on a burner set to low-medium heat and bring to a gentle boil. Once it starts boiling, remove from heat and let it cool off for at least 30 minutes. (This gives it time to let the vanilla and cinnamon infuse)

Once fully cooled, remove the vanilla bean and cinnamon sticks, and add the rum. Stir in until well combined and pour over in a bottle, and store in the fridge for up to 4 days.

Serve cold, with a cinnamon stick garnish or sprinkle of ground cinnamon or grated fresh nutmeg.
Notes
Nutrition calculated based on 1 cup of light rum. Add another ½ cup if you prefer a stronger rum taste.
Nutrition
Calories:
631
kcal
|
Carbohydrates:
72
g
|
Protein:
8
g
|
Fat:
28
g
|
Saturated Fat:
23
g
|
Polyunsaturated Fat:
0.4
g
|
Monounsaturated Fat:
3
g
|
Cholesterol:
29
mg
|
Sodium:
142
mg
|
Potassium:
445
mg
|
Fiber:
4
g
|
Sugar:
68
g
|
Vitamin A:
238
IU
|
Vitamin C:
3
mg
|
Calcium:
273
mg
|
Iron:
1
mg