Selecting the best plants for a trellis or arch is essential for achieving the effect you are looking for in your garden. Here are a few great choices to consider.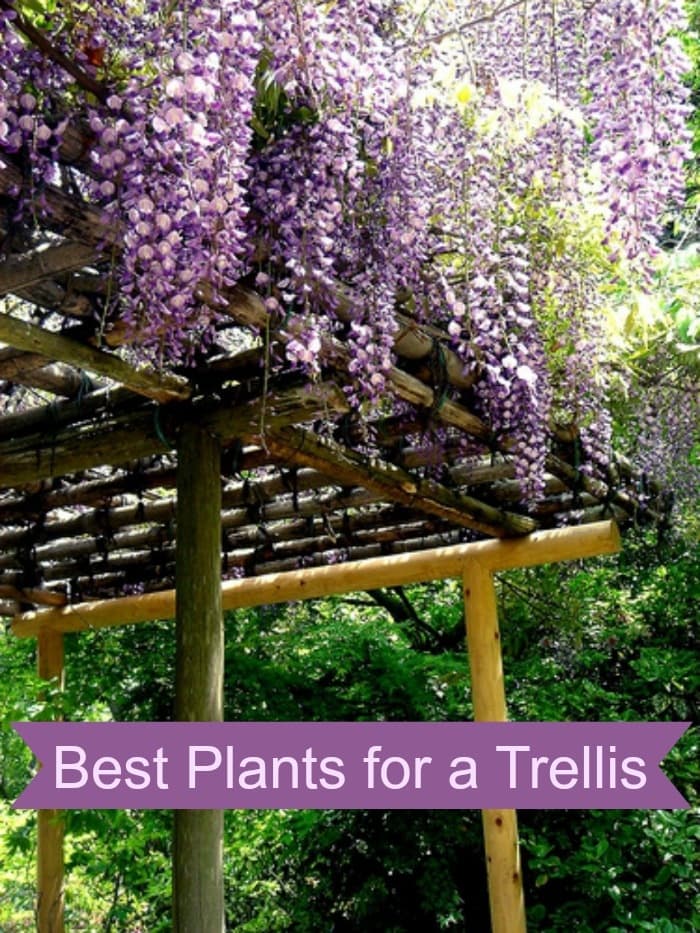 When selecting the best plants for a trellis, it is important to consider the natural habits of the plant.  Vining plants are by far the easiest to train on a trellis.  A vining plant sends out runners and can easily attach to any surface as their tendrils have little sticky hairs that enable them to grab on. One thing to remember about plants that can grow this way is that most can get out of control quickly and take over an entire area. Be especially cautious of growing vining plants up the side of your home as they can do a lot of damage or even bring on bug infestations. If you have a vining plant growing up your fence or wall, make sure to inform your neighbors so they can monitor it's intrusion.  It is also wise to either offer to tend the overgrowth or at least let them know they can feel free to crop it back.
Dura-Trel 11174 Winchester Trellis, White
1.Go Steel Garden Arch, 8' High x 5'2" Wide, Garden Arbor for Various Climbing Plant, Outdoor Garden Lawn Backyard Gazebo
Backyard Discovery Cedar Pergola 12' by 10'
Growing plants up a trellis can be a lot of fun as sometimes you wonder just how far they will reach. You can attach a trellis to the back fence or wall or have one in the middle of your flower or vegetable garden. You can even build a standalone structure and have plants grow over it with a beautiful patio set underneath, perfect for entertaining. For those that are on the back wall, there are a few plants that do quite well. Ivy is a great choice for trellising, and the variegated varieties add visual interest as well. If you like soft purple flowers check out Snail Vine 
or for a bolder purple flower, Morning Glory
. I love Black-Eyed Susan vine
with its vibrant orange flowers.
Vigna Phaesolus Caracalla, Lavender Snail Vine, 5 rare seeds, vigorous bloomer
Moonflower Duo, Lavender & White Moonflower Seeds (Ipomoea alba / turbinata) Open Pollinated Seeds by Seed Needs
Outsidepride Thunbergia Orange - 100 Seeds
Some of best vining plants for a trellis are also the most fragrant ones found in the garden. Honeysuckle
and jasmine
are two of the most intensely fragrant flowers that love life on a trellis. You can grow these up a wall, an arbor, or in the middle of the garden on a wooden trellis. Climbing roses
 (see our article on Best Climbing Roses for an Arch or Trellis) also are quite fragrant and grow beautifully up over an arch or walkway. Climbing roses come in many different colors from white, to soft pink, to fiery red. Climbing garden tea roses have the most beautiful scent and the showiest blooms on a trellis. Wisteria
& clematis
  grow very well on trellises as they love to spread out, and are easily trained.
Native Coral Honeysuckle (Lonicera sempervirens)
BLUE MOON WISTERIA VINE - FRAGRANT FOOT LONG FLOWERS - ATTRACTS HUMMINGBIRDS - 2 - YEAR PLANT
Arabian Jasmine Plant - Grand Duke of Tuscany - Fragrant - 4" Pot
2 Roots Clematis, Little Duckling,(Bare Root/rhizome),-flowered Vine,Now Shipping !
There are a few fruits and vegetables that love to grow up a trellis and that are fun to grow as well. Grapes
and blackberries
grow very well on trellises as do tomatoes and peas. Any plant from the squash family can be trained up a trellis, but just remember that they produce heavy fruit so you will need a trellis that can hold them up. Great though for those gardeners that need to grow vertically as they have might have smaller garden areas to work with.
1 RELIANCE Seedless Grape Vine - 2 Year ORGANIC Grown Plant - Ready for Spring Planting
VELCRO Brand - 45' x ½" Adjustable Plant Ties For Gardens and Gardening with Cutter - Green
Blackberry "Sweetie-Pie" Plants (4 Plants)
Some plants that grow up a trellis will need to be fastened to it with flower tape
or ties
.  You can also guide a plant's vines or stems around the trellis in the direction that you want it to grow. You will have to keep doing it every few days to make sure the plant is growing where you would like it to.
Have fun and try different plants to see what works best in your garden, one trellis at a time.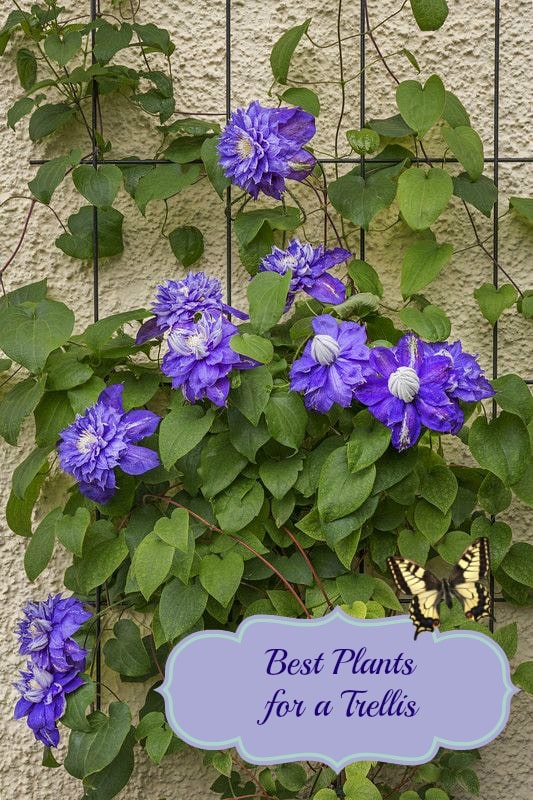 More Gardening Fun
Best Roses to Use in an Archway or Trellis
What To Compost and What Not to Compost