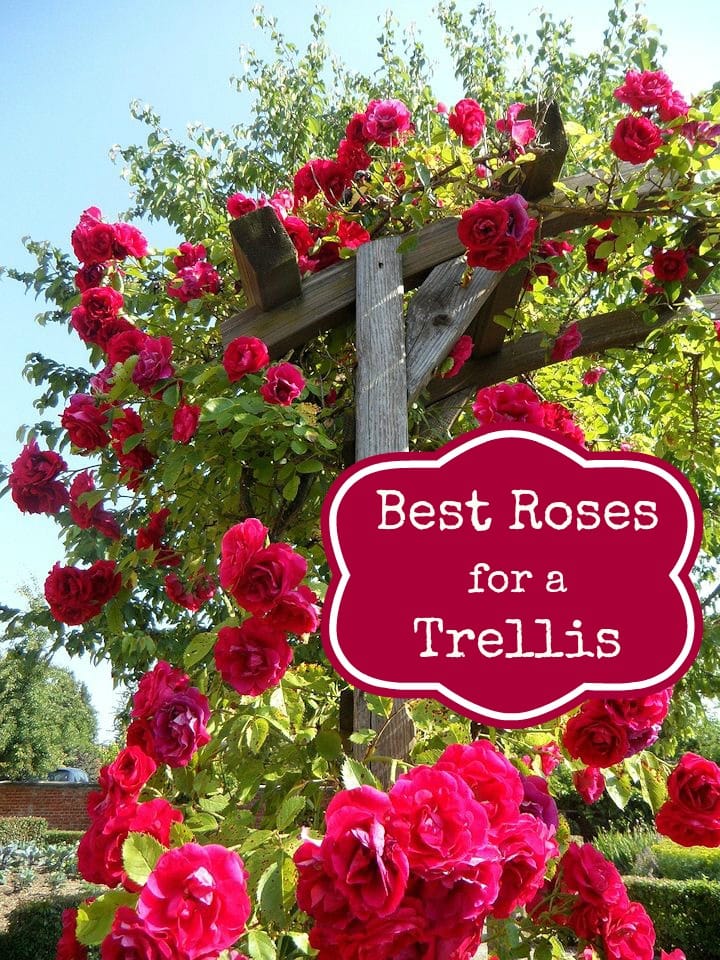 Just about all gardeners love growing roses and enjoying the beauty and fragrance of their blooms. Adding a trellis or archway to your garden adds height and character to your garden.  Covering it with climbing roses is  another chance to add flowers and even bring a new type of rose plant into the garden. There are so many rose varieties, even when it comes to just those that are considered climbing roses, but with a trellis or archway you will really want something that is carefree and low maintenance.
Try any one of these climbing rose choices to plant and train up an archway or trellis. Each variety has something different to offer and can be used in a variety of growing situations that really help you make the most impact in your garden.
Best Roses to Use in an Archway or Trellis
Red Cascade
Red Cascade
is a favorite of gardeners because it is so low maintenance and easy to deal with that many just plant it and forget about it till it needs pruning back or shows signs of problems. Its color and blooms always attract attention, they are a bright and bold red, and the vines can grow for ages leaving tiny roses behind in its path. Plant one Red Cascade at the base of an archway, or one on either side for faster filling in.
Climbing Cecile
Climbing Cecile
produces blush pink roses, with just enough color not to be considered white or ivory. The flowers on this vine are in miniature, but as a whole the plant produces more flowers per inch than most other climbing rose varieties. For a plant that is bushier, with plenty of foliage to cover up any space, this is your best choice. Climbing Cecile can become very heavy though, so make sure that you have a trellis or archway that is able to support it and all its foliage when it is in full bloom and mature.

Reve d'Or
This yellow blooming climbing rose variety is great for archways that are set overhead for viewing purposes. The roses on this vine shoot out and away from the rest of the plant, giving flowers a hanging or drooping look, which is a beautiful touch. Use the Reve d'Or climbing rose
near any seating areas, outdoor living spaces or anywhere that people can enjoy its blooms up close. The best part, this cimber does not just bloom once and fade away, but blooms multiple times well into the fall months.
American Pillar
If you are looking for a climbing rose that can be severely trained to wrap and wind its way around a specific path, the American Pillar
variety is for you. This rose is very agreeable to unique spaces and growing specifications, and its bright pink flowers don't disappoint any.  This is a single bloom variety, though the flowers tend to cluster and create giant masses that make flowers look much larger than they actually are.  Select this rose if you are looking for something that will stick to one space and is subtle in its appearance without giving up the benefits of beauty or fragrance.
More Lovely Roses for Your Trellis or Arbor
 Lady Banks White Climbing Rose – 2-3 Feet Tall – Full Gallon Pot
 Lady Banks Yellow Climbing Rose – Live Plant – Quart Pot
 Climbing Rose Plant, Joseph's Coat, Orange & Yellow, Nice 6-10″ Tall Rose Potted Plant, Bush
 All Ablaze Red Climbing Rose – Live Plant – 10 Inch Pot
Rose Arches
Giantex Garden Arch Metal Rose Steel Garden Arbor Decoration Climbing Plant Outdoor Garden Rose Arch
OUTOUR 4-Sided Birdcage Shape Metal Gazebo Trellis Arch Wrought Iron Outdoor Garden Arch Arbor Arbour Gazebo Pavilion Plants Stand Plants Rack for Climbing Vines & Flowers