Black Cat Halloween Bark is a fun Halloween candy for all ages and it is so easy to make!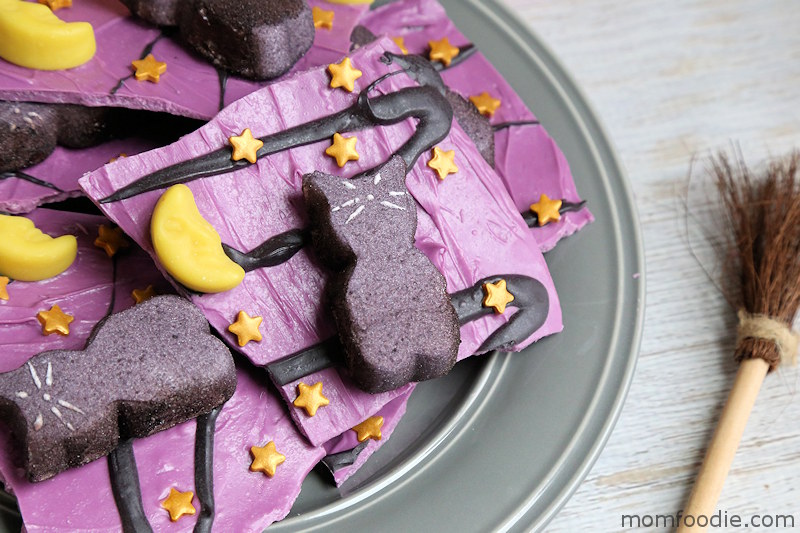 Black Cat Halloween Bark: Making
Making this Halloween bark is easy. Just spread out out melted candy melts over parchment as the base and drizzle contrasting color over it.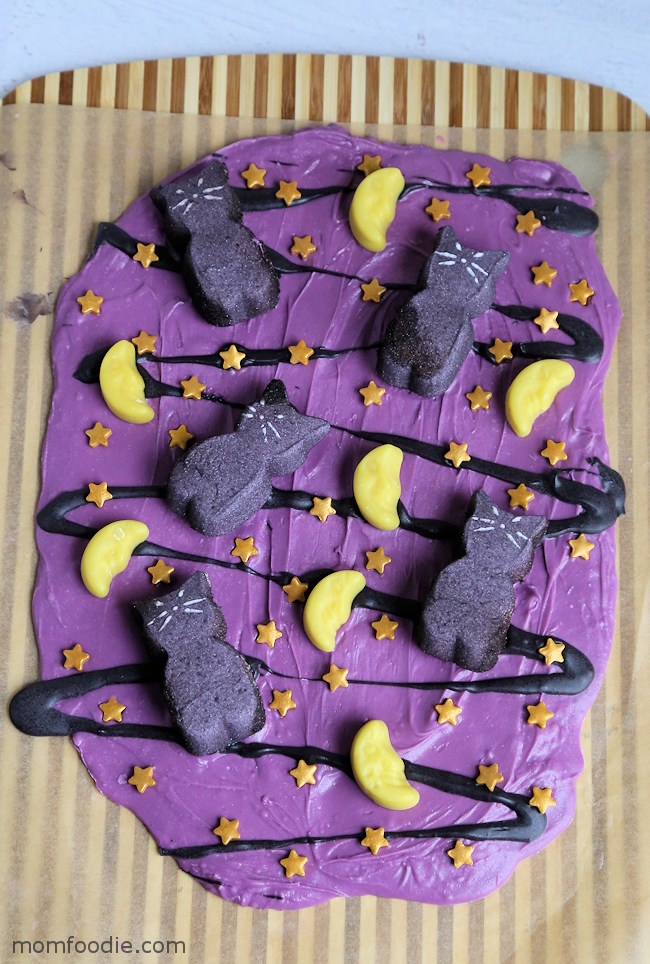 Then top with Peeps marshmallow cats
, Brach's candy moons
and Wilton candy star sprinkles
.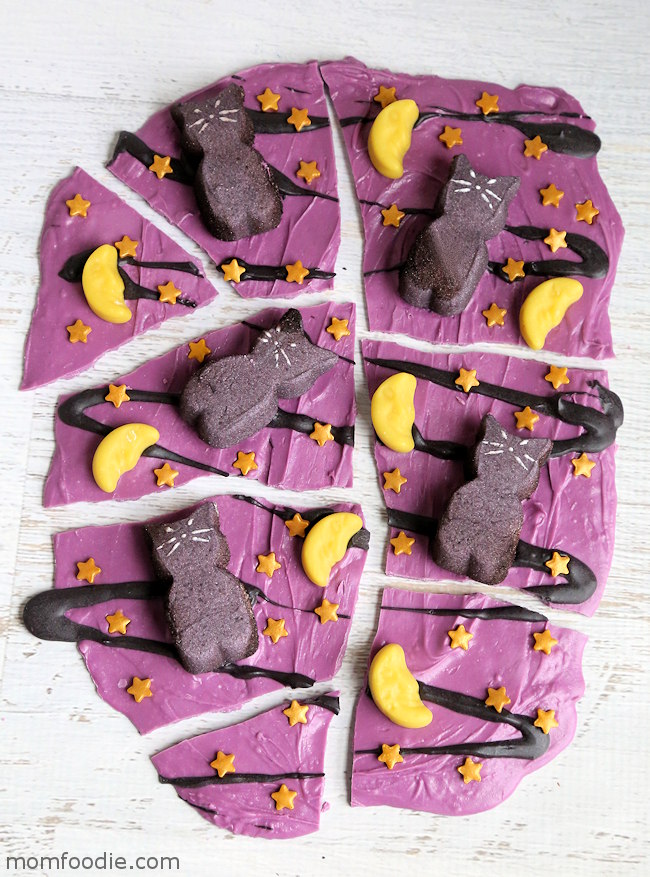 Once cool, break it up into random shapes. I did try and get a cat with a moon together on as many as I could.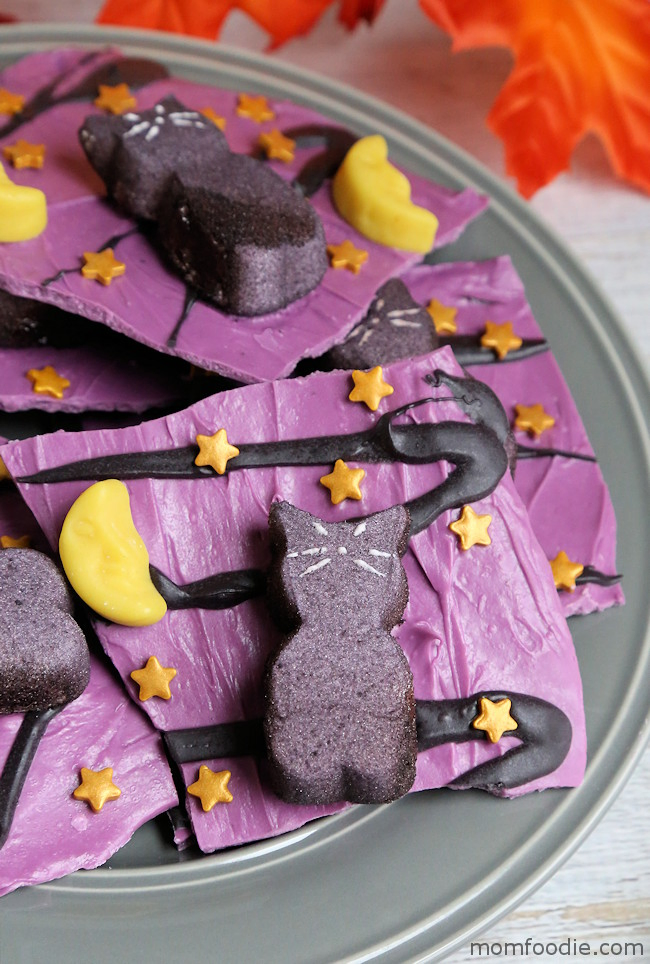 They can be left out for a day or two, but should be sealed in an airtight bag or container to avoid dust and the marshmallow cats drying out if any longer.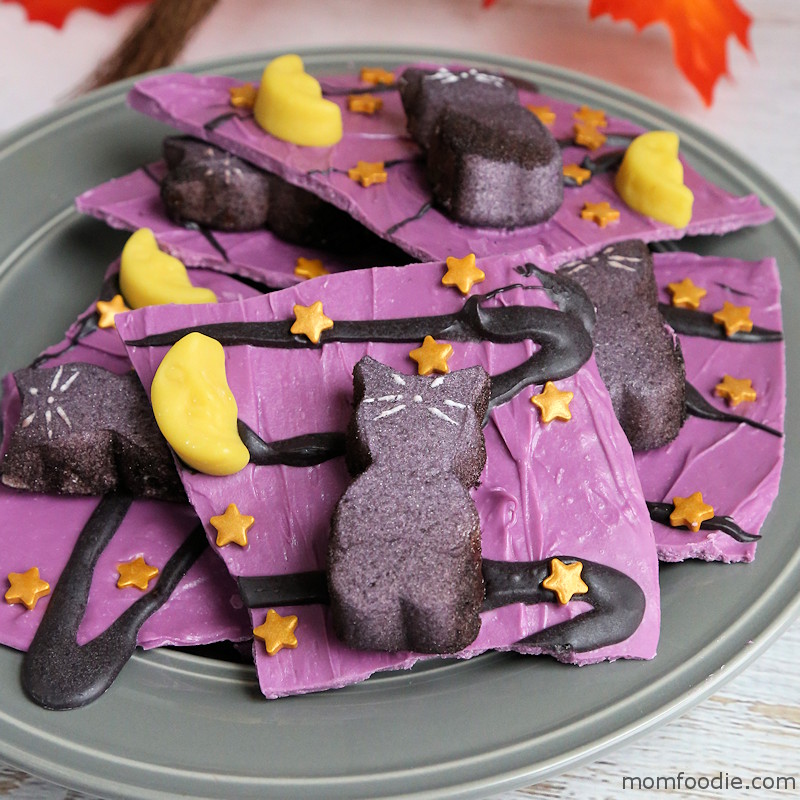 This Halloween bark is great for a not-so-scary party. It would also be nice to serve to Wiccan friends.
While you are in a candy bark making mood, why not try your hand at my  Halloween Ghost Bark too.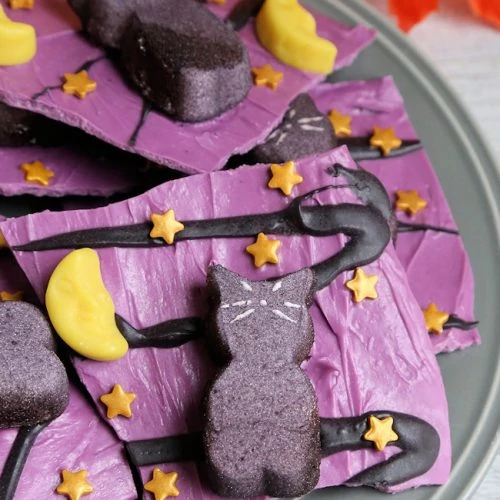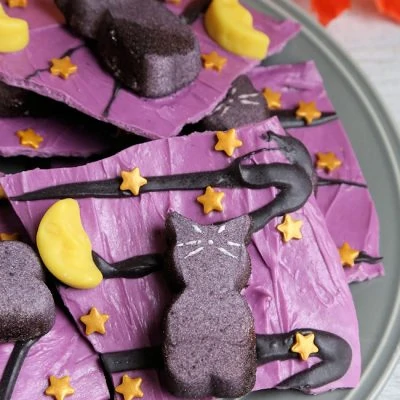 Ingredients
3-5

Peeps Spooky Cats

12

oz

bag purple candy melts

, I used Wilton lavender

2

oz

black candy melts

Wilton edible black spray paint

(a few mists)

candy moons

, from Brach's Spooky Shapes

Wilton Gold Candy Star Sprinkles
Instructions
Separate your Peeps cats, then give the white exposed sides a quick mist of the edible spray paint. Set aside.

Place a piece of parchment on a large cutting board or baking sheet.

Melt the bag of purple candies in a glass measuring cup or small bowl. Use the defrost setting on your microwave to slow the process and avoid overheating the candy melts. Stir every 20 seconds until there are only small pieces left. Then take the container out and stir until those last bits dissolve. Spread the candy out on parchment. ⅛ to ¼ inch thick.

Melt the black candy as well, Due to smaller volume this will go much faster. Use rubber/silicone spatula to scrape melted candy into a plastic sandwich snip off a corner and make a line swaying back and forth over the purple candy surface.

Apply the Peeps cats, then moons and finally stars. Set aside to cool or place in refrigerator to harden faster. Once firm, crack into serving size pieces.