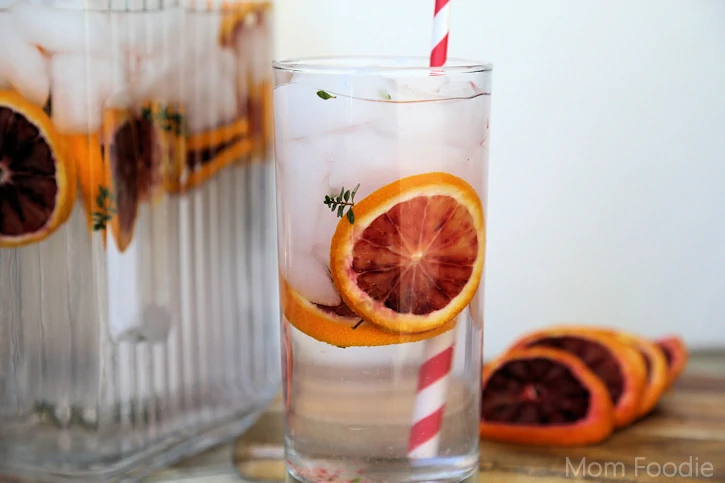 Spa waters are an excellent way to hydrate while helping your body absorb a few extra nutrients.  The great thing is, despite the fancy name spa waters are ridiculously easy to make. This Blood Orange Thyme Spa Water Recipe is an excellent example.  It is simply fresh sliced blood oranges, mixed into ice water, along with a few sprigs of fresh lightly bruised thyme.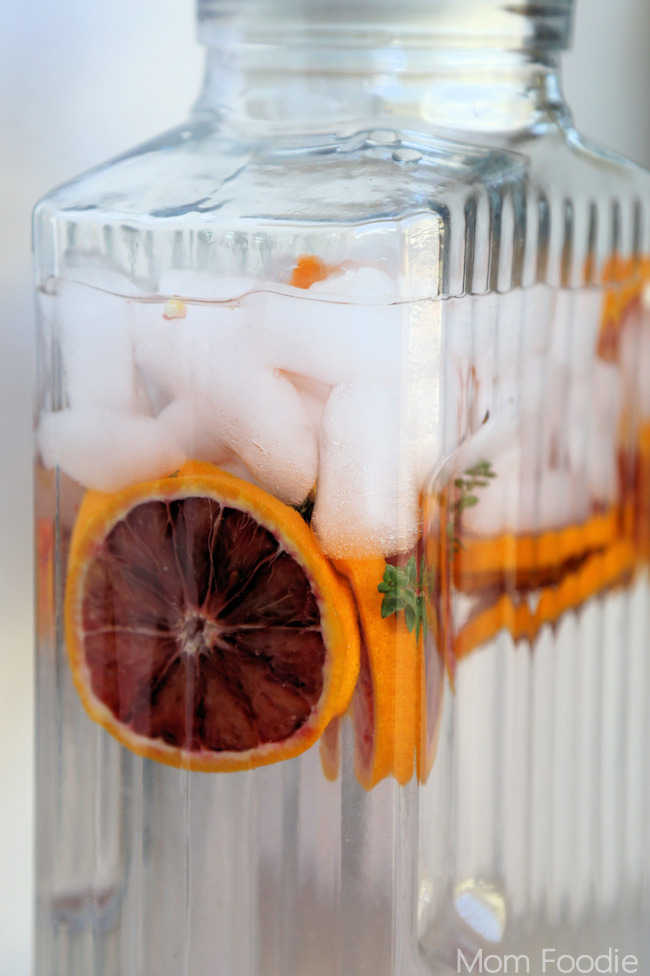 The trick to making spa waters is to find complimentary flavors.  A successful spa water remains subtle, with just enough taste to enhance the pure water.  The ingredients should not just be harmonious in flavor, but also lend health benefits to the beverage as well. The result is a refreshing and healthful way to cut the boredom of drinking the recommended daily allowance of water.
Why Blood Orange and Thyme Spa Water?
You may be wondering why I chose these two particular ingredients for my spa water.  Allow me to fill you in on my reasoning in choosing blood oranges and thyme (recipe below).
Blood Orange Nutritional Benefits
First, let me assure you blood oranges are not some sort of mutant GMO freak fruit.  They have been around  for a very long time and are a natural mutation of the orange.  Blood oranges are nutritionally sort of a "Super Orange".  They contain all the health properties of the typical orange, but that red hue comes from anthocyanins, the same antioxidant that causes berries and wine to be considered superfoods.  The blood orange has also shown promising results in improving liver health.
I often purchase Moro blood oranges, which are deeper red and taste like an orange with a bit of red grapefruit and a splash of raspberry.  Some of the other varieties are sweeter in taste.
Health Benefits of Thyme
Thyme is noted for a slew of health benefits.  Here are just a few:
The herb has a stimulating effect on the metabolism.
It is also a good source of mood-boosting carvacrol.
Thyme is known to be a diuretic, so helpful in detoxifying the body and weight loss.
It kills yeast, overgrowth of which is a growing problem in our society.
Thyme has been shown to reduced blood pressure in  lab rats
So, as you can see the combination of blood orange and thyme could be an excellent aid in gently detoxifying the body.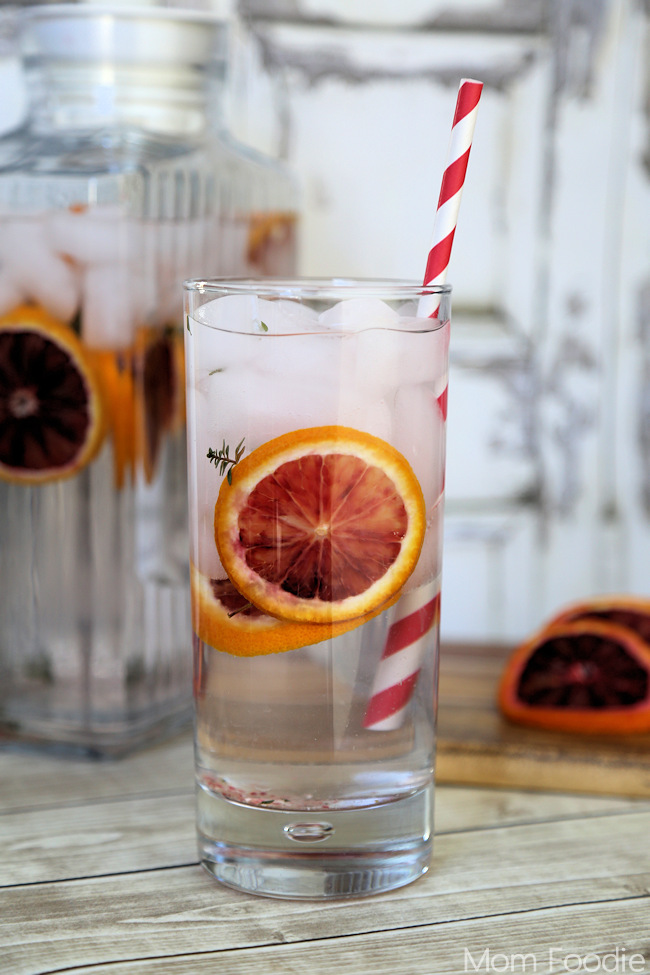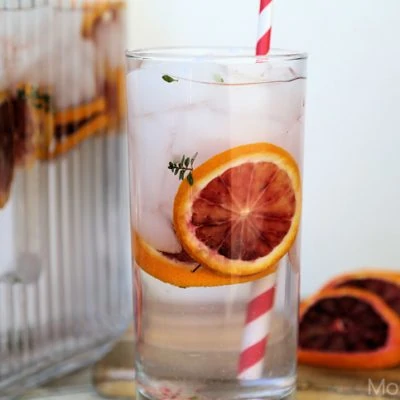 Ingredients
1 ½

quarts

filtered water

2

fresh blood oranges

6-7

small sprigs of thyme

I prefer lemon thyme

ice
Instructions
Fill a 2 qt pitcher with 1 ½ quarts of water.

Wash the blood oranges, and slice. Drop into the water (squeeze a couple of slices to ensure you get a nice flavor).

Bruise the thyme and add to water.

Top off with ice and stir. Serve.
Notes
The fruit can steep overnight, but should be removed if the water won't be finished within a day. Spa water with fruit removed can be stored in the refrigerator for up to three days.
Nutrition
Calories:
3
kcal
|
Sodium:
11
mg
|
Potassium:
7
mg
|
Vitamin A:
10
IU
|
Vitamin C:
1.7
mg
|
Calcium:
9
mg