It's time to handle the everlasting battle folks- juicing vs. blending. While both are delicious and nutritious, they have their own set of health benefits associated with their consumption. There is definitely a clear winner though when it comes to evaluating the nutritional benefits associated.
Keep reading to discover everything you need to know to decide...   is it better to juice or blend?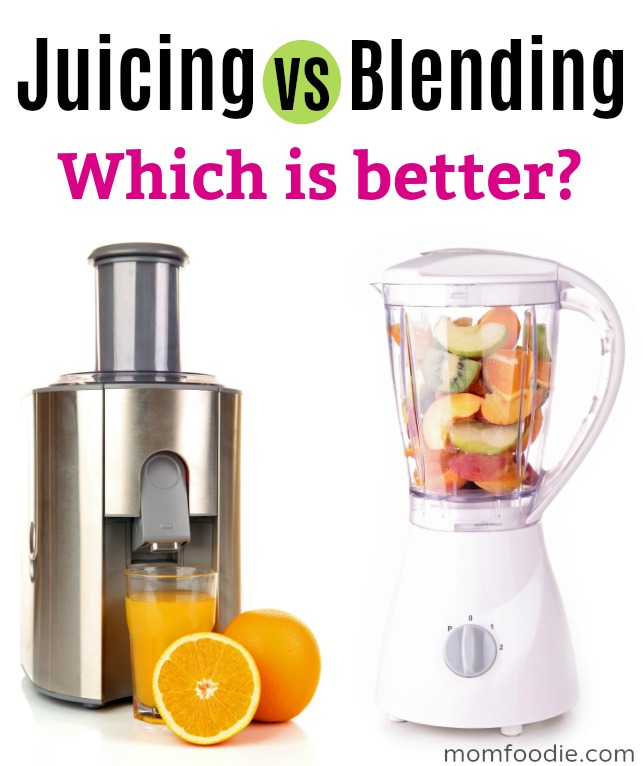 Difference Between Juicing and Blending
Apart from the obvious fact that juices and smoothies require different equipment, there are several other differences between the two.
Juices are prepared using a juicer, which tends to squeeze out the juice and extracts from the pulp. Juices are basically the watery extracts of fruits or veggies that remove the fiber. The indigestible fiber can of course be retrieved and added to cooking rather than discarded, but that is an extra step.

Smoothies, on the other hand, usually contain the entire fruit or veggie- including the skin, and contain loads of fiber. A blender literally pulverizes the ingredients that are added to it, and leaves the pulp inside the smoothie. Including the fiber helps avoid blood sugar spikes  and makes you feel full longer.
Juicing vs Blending - Pros and Cons
A lot of people tend to believe that juices are unhealthy as opposed to smoothies, but that's not entirely true. While smoothies do have an upper hand when it comes fiber content, fruit and vegetables juices do give your body many nutrients.
During juicing, the part that's left behind is the fiber no doubt, but that's insoluble fiber. The juice that's extracted still contains soluble fiber, which is extremely beneficial for your digestive system.  It also acts as a prebiotic that supports healthy gut function.
Smoothies tend to contain both the fibers, and are definitely the better option for maintaining steady blood sugar levels and aiding weight loss.
Juices are healthy too though and a great way to get kids to eat the fruits and vegetables they need each day.
No matter what you choose to drink- a juice or a smoothie, remember that they both are healthy.  Either are a good way to increase your fruit and vegetable intake and thereby boost your nutritional intake.
Tips to Juice or Blend Right
If you've decided to jump on the juicing or blending bandwagon, here's a little extra help your way! Follow these tips to take things up a notch! You will soon have a natural energy boosting drink to enjoy.
Those green smoothies may seem not-so-appealing, but adding them doesn't actually make your smoothie taste that bad. Greens like kale, cabbage, parsley, and spinach don't  have a strong taste, so when you combine them with citrus fruits or lime, you will barely notice the flavor in a smoothie. The same is true of green juices.

If you're juicing, make sure you add vegetables that have high water content such as cucumbers or celery.

If you're trying to make a smoothie less pulpy, you can add some coconut water to it.

Add some ground flax or chia seeds to the blender when making smoothies, for an extra nutritional boost.

Also keep in mind that exposure to air and light tends to destroy the nutrients, so once you're done preparing your juice or smoothie, have it within 15 minutes.  
Smoothie Recipes
Keto Smoothie (Cranberry)
Juicing Recipes