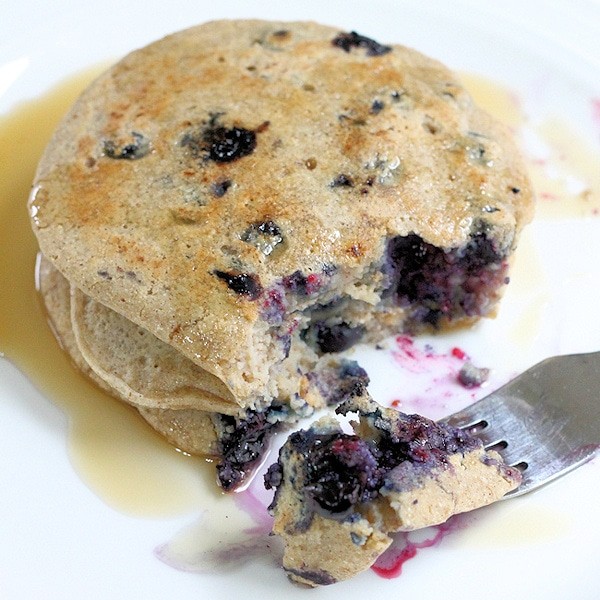 This Blueberry Oatmeal Pancakes recipe is gluten free, low in calories and packed with heart-healthy soluble fiber from oats and antioxidants from blueberries (see here for info on benefits of oatmeal). A serving of these blueberry oatmeal pancakes is only around 170 calories, so you could actually top a stack with a 1/2 tbs of butter AND a tbs of maple syrup, and still be under 300 calories. BTW, I only put a tablespoon of maple syrup (52 calories) on the pancakes in my photos. It goes further than you might think.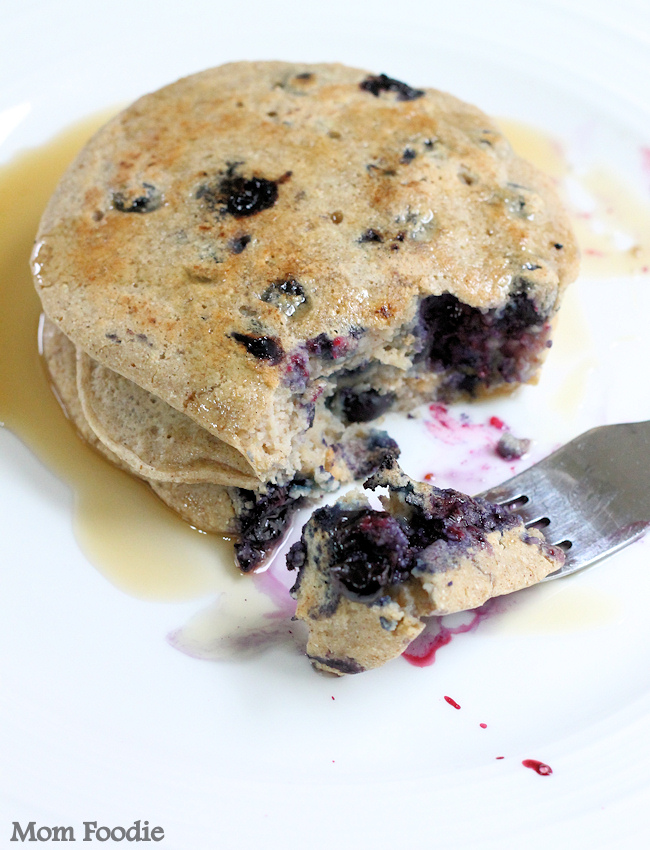 These blueberry oatmeal pancakes are actually closer to the cousin of common pancakes called griddle cakes.  They are a little smaller than many people make pancakes these days, but three of them make an ample serving, while still giving the satisfying stacked effect.  Of course, you can always make them larger if you prefer.
Blueberry Oatmeal Pancakes Recipe: Making them Gluten-Free
Oats are naturally gluten-free, but due to modern farming and processing methods, make sure the ones you buy are clearly marked as gluten-free.  The remaining ingredients in this pancakes recipe are typically gluten-free.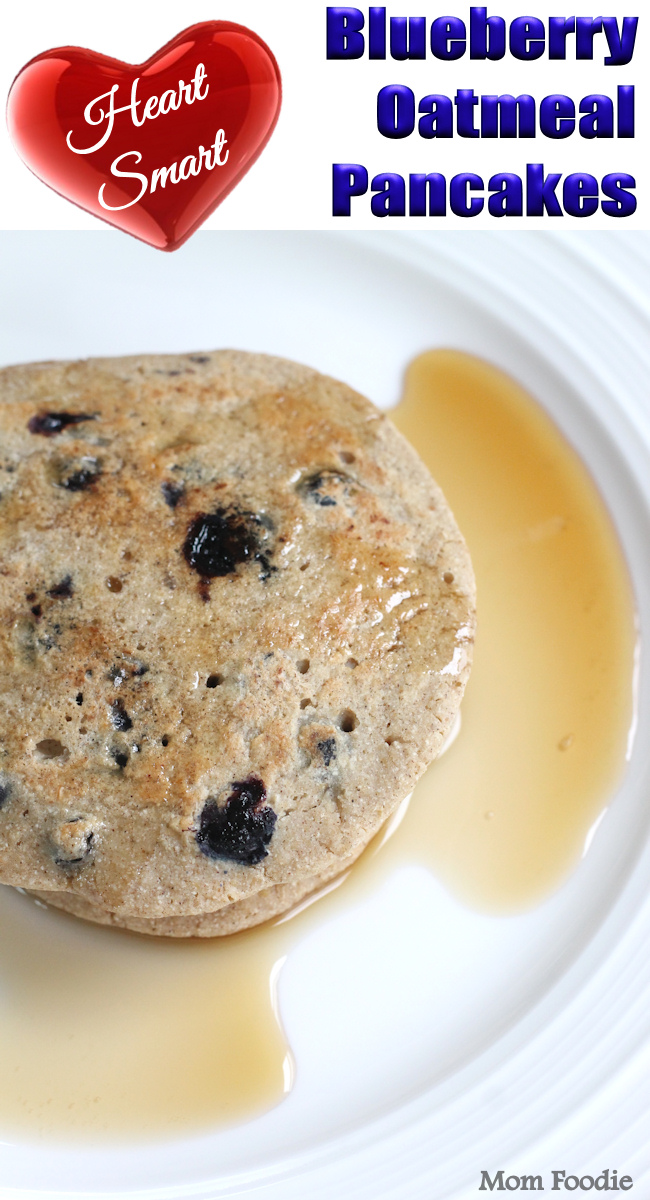 Print
Blueberry Oatmeal Pancakes Recipe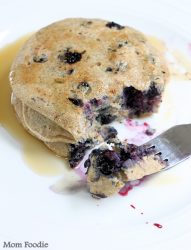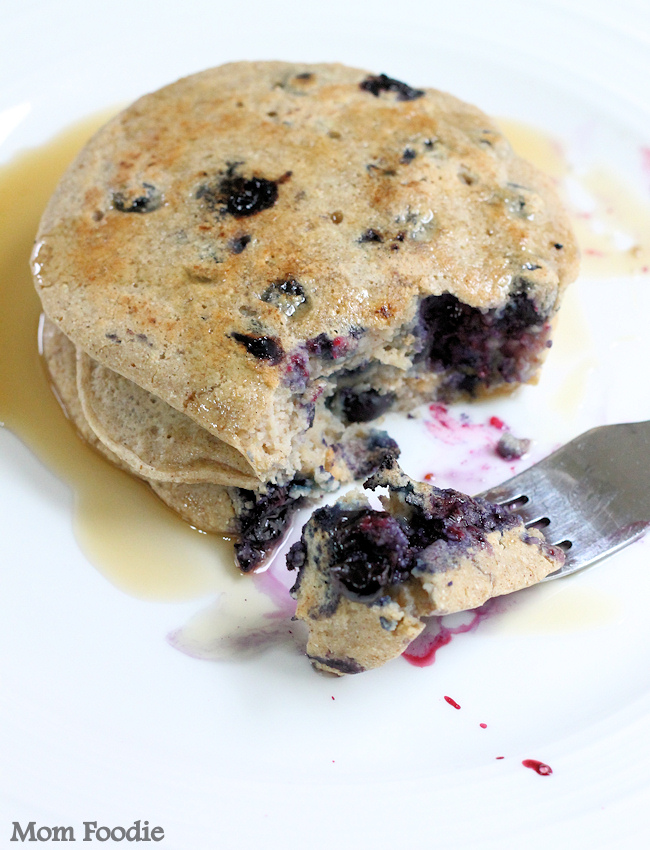 A gluten free blueberry oatmeal pancakes recipe. Heart healthy too.
Author:

Robin Gagnon

Prep Time:

6 mins

Cook Time:

10 mins

Total Time:

16 minutes

Yield:

4

Category:

Entree

Cuisine:

American
Ingredients
1 cup old fashion oats*
1/4 cup coconut flour
2 tsp baking powder
1/2 tsp Kosher salt
1/2 tsp cinnamon
1 1/2 tsp stevia (3 packets)
1 egg
1 3/4 cups unsweetened vanilla almond milk (using other milk is fine, just adjust calories and add a 1/2 tsp vanilla extract)
1 cup fresh blueberries
Instructions
Pulse the oats in food processor until flour-like in consistency.
Add the coconut flour, baking powder, salt, cinnamon and stevia. Pulse to mix.
Whisk together milk and egg in a batter bowl, add the flour mixture, and stir well.
Once thoroughly mixed, fold in the blueberries, until evenly distributed.
Put a lightly oiled or non stick skillet treated with cooking spray over med to slightly over medium heat. Once a drop of water sizzles, you are ready for the pancakes.
Scoop a 1/4 cup of batter for each pancake. Wait until bubbled up in middle and drying at edges before flipping.
Flip and cook about 2 more minutes on that side.
Stack three of these small blueberry oatmeal pancakes as a serving.
Notes
*to ensure gluten-free results, purchase Gluten-free certified oats (standard or quick are fine)
Nutrition
Calories:

169

Fat:

5

Carbohydrates:

27

Fiber:

7

Protein:

7