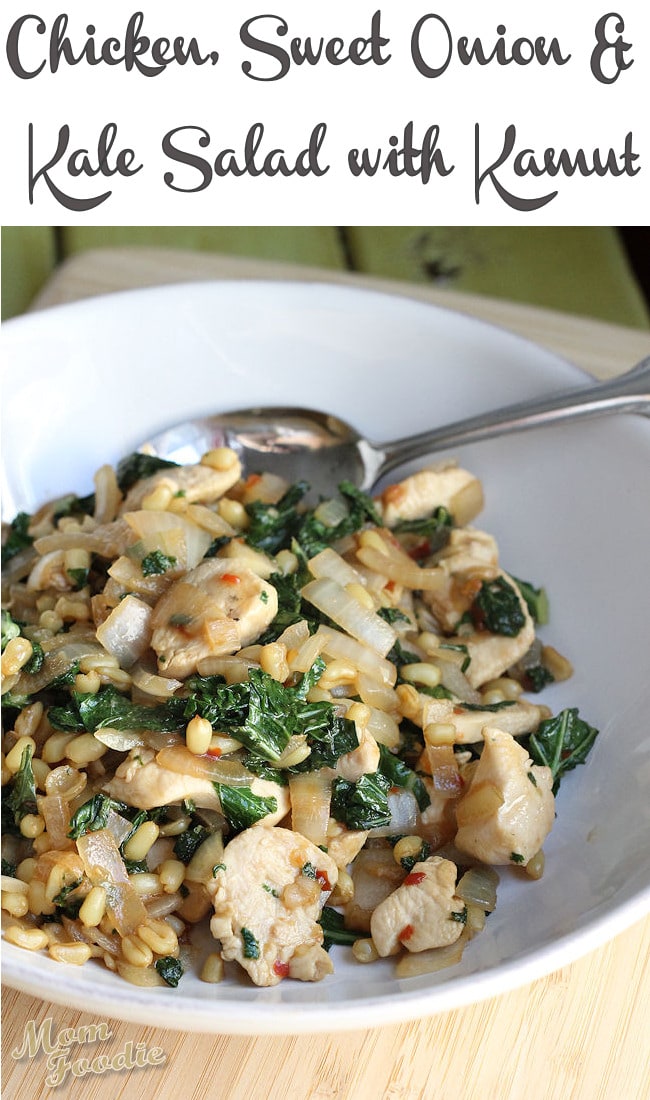 This Chicken and Kale Salad was my lunch yesterday.  Sweet onions and Kamut (an ancient strain of wheat,  Yes, I have a preference in wheat berries, and this is it), round out the flavor and texture of the plate, while providing healthy complex carbohydrates.  I already had Kamut precooked in my fridge, so this was a quick hot salad to toss together.  I guess you could call it a stir fry it you prefer, but I don't prefer 😉
I noshed this plate right down, the tangy dressing was light enough not to over power the primary ingredients, but present enough to add a delightful freshness to the dish. Well, that's my not-so-humble opinion...lol.
The recipe below is for a single serving, just double or multiply as needed.  It was a filling serving, so err toward a little less, if in doubt.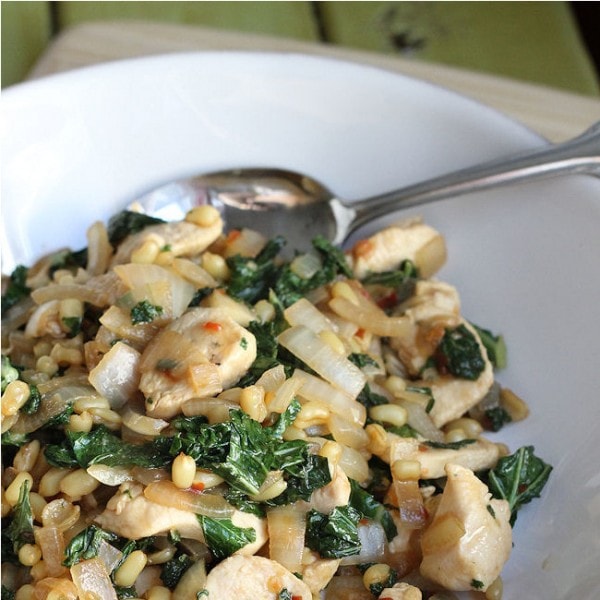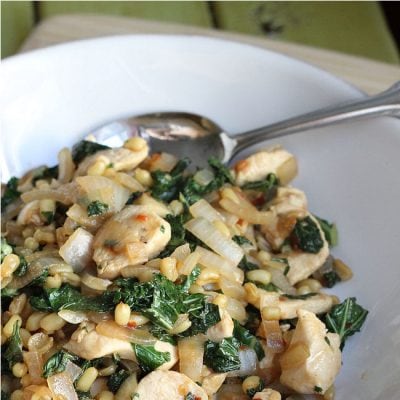 Ingredients
drizzle of olive oil

or non-stick cooking spray

1 ½

cups

chopped vidalia onion

garlic clove

crushed/minced

4

oz

boneless chicken breast

sliced into bite sized pieces

1

cup

chopped curly kale

½

cup

cooked Kamut

if you can't find Kamut, substitute with wheat berries you can find
Dressing
1 ½

tbs

fresh lemon juice

1

tbs

low sodium soy sauce

1

teaspoon

sesame oil

1

teaspoon

Sambal Oelek

Ground Chili Paste

¼

teaspoon

Stevia

½ a packet
Instructions
Whisk dressing ingredients together and set aside.

Drizzle a small amount of oil in pan over med heat.

Add onions and garlic. Saute until slightly soft, then add chicken & Kale.

Saute until chicken is just shy of cooked.

Add Kamut, and saute about 1 more minute.

Add dressing stir to coat, then take of burner.

Serve warm.
Nutrition
Calories:
400
kcal
|
Carbohydrates:
54
g
|
Protein:
36
g
|
Fat:
8
g
|
Sodium:
810
mg
|
Fiber:
8
g