Compensation for this article was provided by Clorox. The opinions expressed here are my own.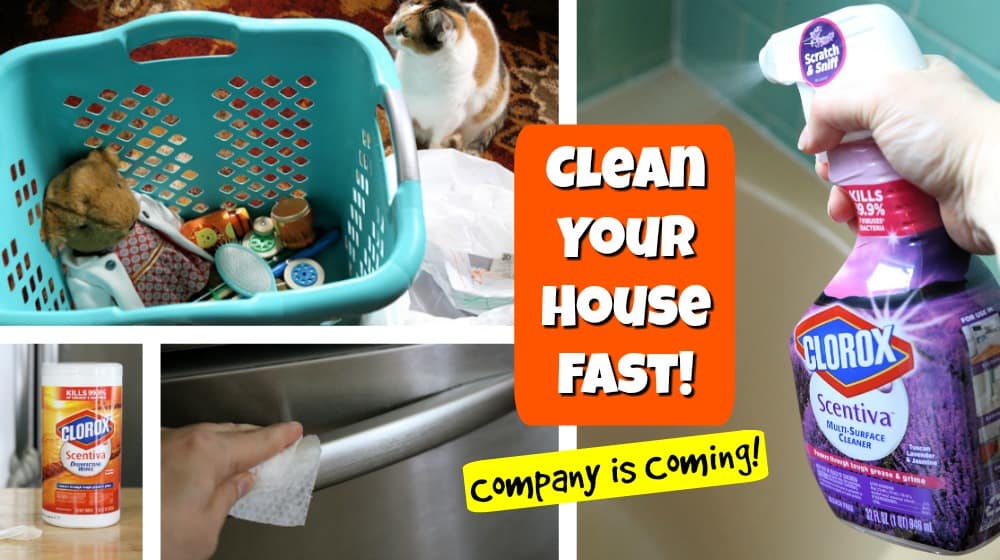 Today, I have some quick house cleaning tips to help when you need to clean your house fast, due to unexpected guests about to drop by. At least these days, they call while on the road, rather than just showing up on the doorstep like unexpected company did when I was a kid. Even a short forewarning window is a huge plus. I fully admit, my house is rarely guest ready without warning. You would think working from home would make upkeep easier, personally I've found the opposite is true.
Having a game plan for these moments is essential. I don't know about you, but I prefer my company to have the illusion my house was tidy when they called.  Although, I will of course run around my house in a furious cleaning frenzy the second I get off the phone, I'd prefer to keep that to myself. These quick house cleaning tips will tackle both the unsightliness and odors of a messy house… yet, keep the dirty little secret.
Clean Your House Fast with these Quick House Cleaning Tips
Here is the basic game plan to clean your house fast.  The goal is for the house to both look and smell clean.  If the kids or spouse are home, enlist their help. You can handle it on your own if need be though.  We've got this.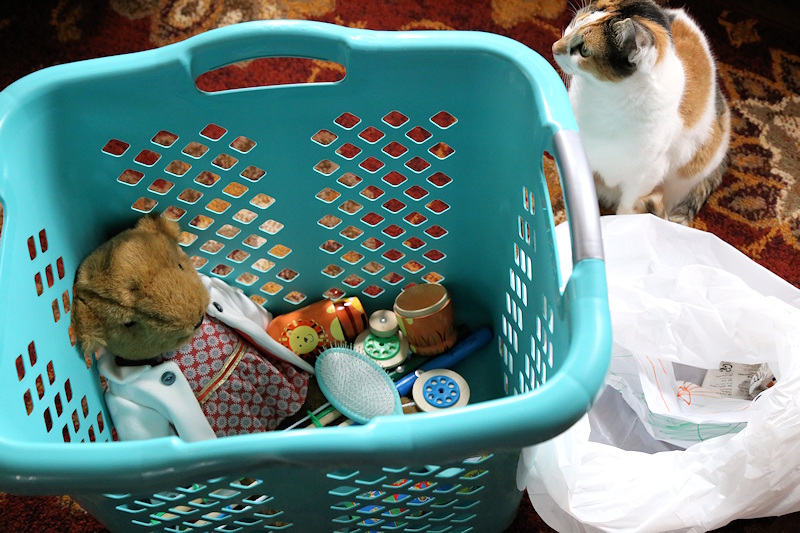 Stash & Trash
Immediately grab an empty laundry basket or storage tub and a trash bag. Focus on the rooms guests are likely to spend time in. Go through each room and toss whatever can't be easily put away in the basket, while throwing any trash in the bag. Stash the basket away in a closet or bedroom to be sorted later.
Blast the Kitchen & Bath
These areas are in constant use, so typically need a little spruce up even in an otherwise tidy home. They are also the most likely to harbor unpleasant odors.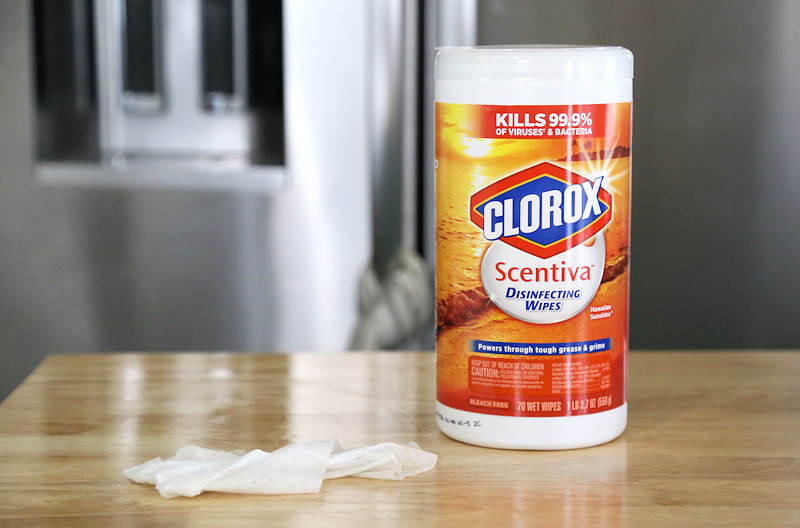 Quick Kitchen Clean-up
Give any messy counters and appliances a speedy wipe down with Clorox® Scentiva™ spray or wipes. They not only clean and disinfect, but also smell wonderful.
Quickly sweep or damp mop the floor if needed.
Any unwashed dishes can be

stashed in the dishwasher if you don't have time to wash them.  There is always the classic, "hide the dirty dishes in the oven if necessary." 

I've never done that one myself. I'd probably forget they were in there and turn the oven on.
If the trash needs emptying do that.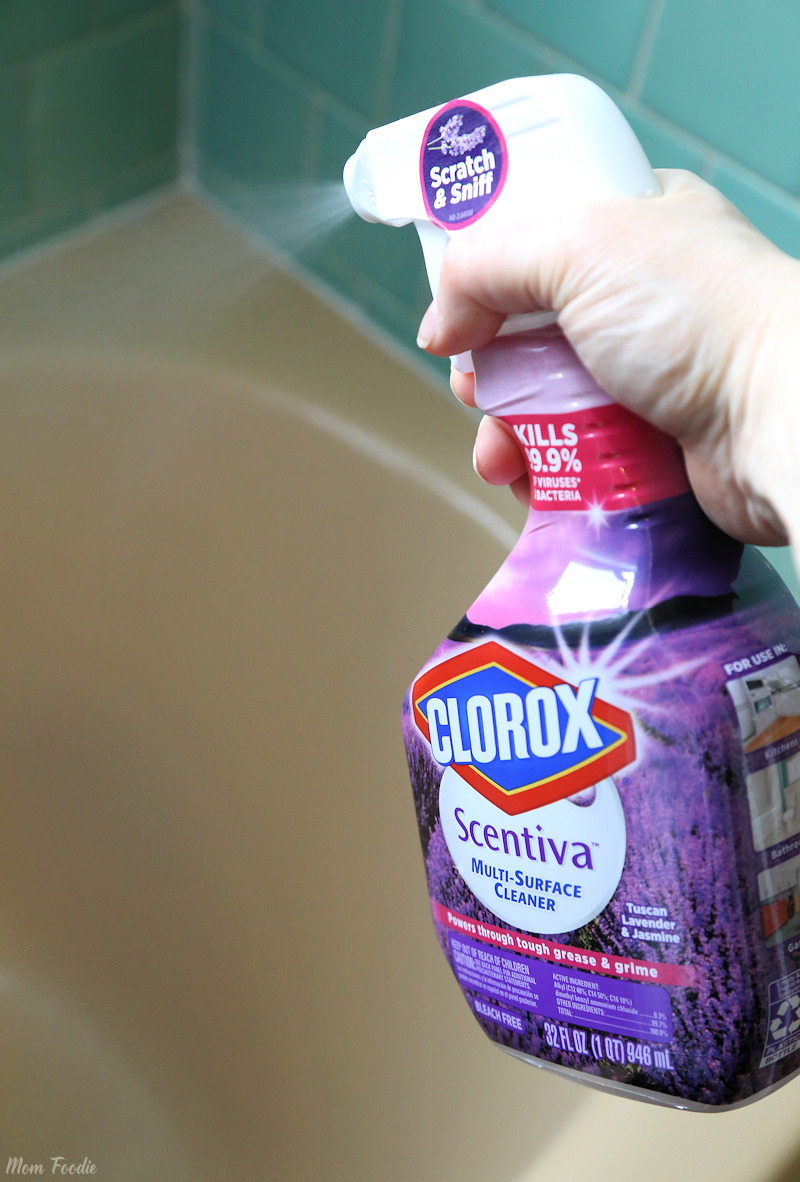 Spruce-up the Bath
For now, only worry about the bathroom guests use.
Pull the shower curtain or door closed.
Spray down visible surfaces with Clorox® Scentiva™.  Wipe down paying closest attention to the sink, particularly the faucet hardware.
Brush the toilet and wipe down. Scentiva™ wipes are great for this.
Give the floor a quick wipe down or damp mop if needed.
Empty the trash if needed.
Tackling Living Area
Vacuum floors and any crumbs off furniture.
Sort or store any stray items you missed in the "Stash & Trash" phase.
Swipe down furniture surfaces with Scentiva wipes.
If it's evening, dim the lights.
Grand Finale
Put something casual, but more presentable on and start to wind down.
Do a final walk through. Spiff up a few things and put on a pot of coffee.
Greet your guests.
Free Printable Fast Cleaning Checklist
This fast cleaning checklist might come in handy to have posted inside a cabinet or other hidden spot.  Great to keep teens on track with the cleaning task at hand.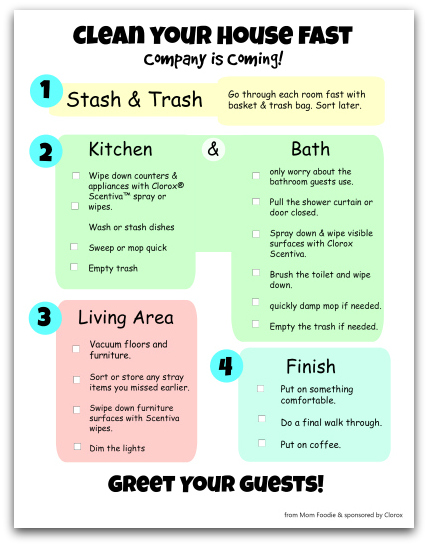 Fast Cleaning Checklist (printable pdf)
Clorox® Scentiva™
New Clorox® Scentiva™ products are a blessing when you need to clean your house fast. They clean, disinfect and deodorize all in one step! We no longer have to choose between a product that disinfects and one that smells great. These multi-purpose cleaners come in both a spray and convenient wipes in two lovely scents: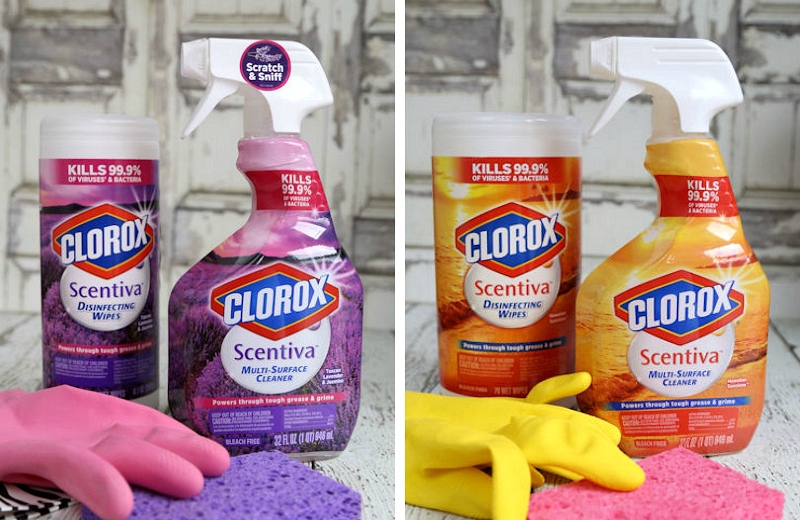 Clorox® Scentiva™ Tuscan Lavender & Jasmine
The scents of lavender and jasmine are blended with crisp juicy fruits, roses and hyacinth. Notes of musk, sandalwood and vanilla complete the elegant fragrance of this cleaner. This scent seems relaxing to me, so I'm using it in my living room, bedrooms and bathroom.
Clorox® Scentiva™ Hawaiian Sunshine
An exotic blend of tropical fruits and hibiscus flower. A fun scent and perfect for summer. This will be my go-to in the kitchen during barbecue season and I've already tossed a container of the wipes in my SUV.
I hope you liked my quick house cleaning tips.  Learn more about Clorox products, get tips for cleaning your home and laundry as well as coupons at Clorox.com