White vinegar is a fantastic, non-toxic product that is a wonderful cleaning product which is all natural, inexpensive and it won't hurt your pets and kids. Using white vinegar with other natural products can help you clean just about anything in your house!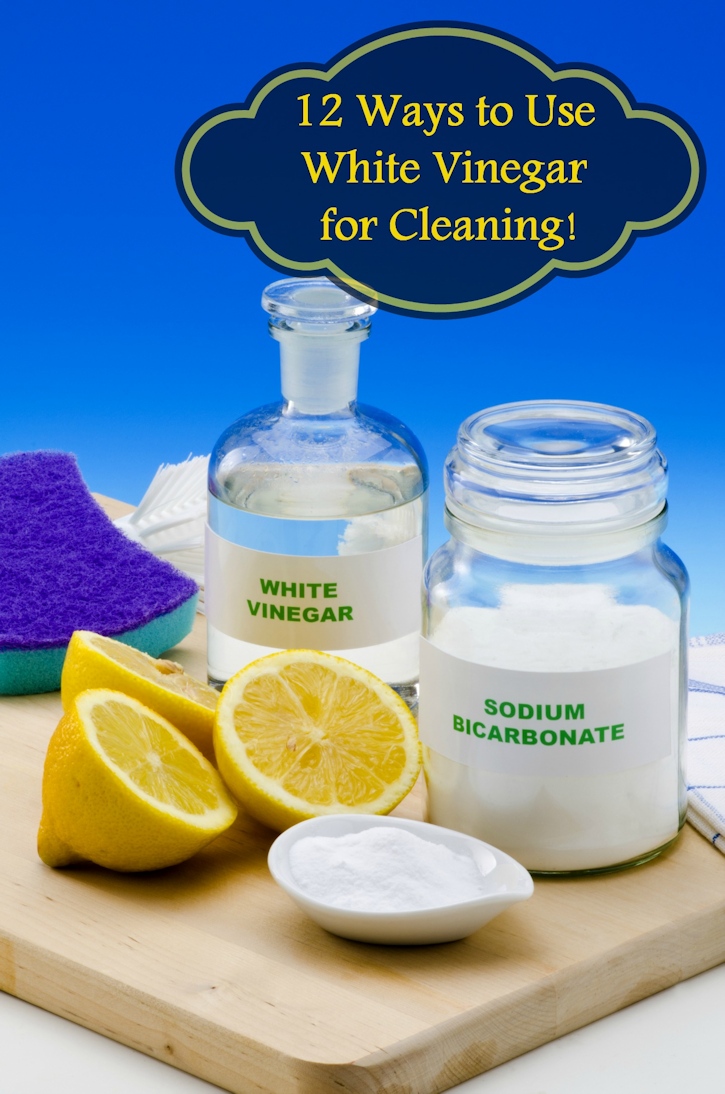 Ways to Use White Vinegar for Cleaning
1.  Disinfectant wipes are always great to have on hand to clean up little messes, especially if you have children or pets! Make your own disinfectant wipes at
home using one of these two ideas:
• If you want to cut back on paper waste take squares of cloth like from an old t shirt. Use an old disinfectant wipe container to store your homemade wipes.
Cut the cloth into squares and put then in the container. Mix 1 cup water, 1 1/2 Tbsp white vinegar, 1/2 Tbsp dish soap, and 9 drops of lemon essential oil.
Adding the dish soap and essential oil helps to cover up the smell of the vinegar and leaves a fresh clean scent. After you use the rag just toss it in the laundry.
• If you want something you can just toss after you use it try paper towels. If you get the select a size type of paper towels they are the perfect size.
Take the paper towel roll and carefully using a SHARP knife cut it in half. mix the 1 cup water, 1 1/2 Tbsp white vinegar, 1/2 Tbsp dish soap, and 9 drops of
lemon essential oil in the old disinfectant wipe container. Put the paper towels in the container after about 20 min turn the container upside down and let it sit
for another 15 to 20 minutes. After it sits turn it right side up and open it. The cardboard roll in the center should pull out easily after soaking. Once you
pull it out you should be able to easily find the end of the center paper towel and pull it up thought the lid of the disinfectant container.
2. The worse part of cleaning windows is the struggle to get the streak free. Now with this simple recipe you can have streak free windows! Just mix 1/4 cup
white vinegar, 1 Tablespoon cornstarch, 1/4 cup rubbing alcohol and 2 cups water. Mix in a it all in a spray bottle (be sure to label it so you remember what is
in in for the future). Shake well each time before spraying, you don't know the cornstarch to clog the sprayer. Spray on mirrors and windows and wipe off for a
streak free clean!
3. For a wonderful rinse aid in your dishwasher just pour a little white vinegar into a dishwasher safe cup and place it on the top rack of your dishwasher.
You only need a small amount. Run the dishwasher as you normally would.
4. Do you ever forget about the laundry in the washer only to find it in there all smelly? I think most of us have a time or two. Try adding 1/4-1/2 cup white
vinegar and running the rinse cycle it is a natural odor neutralizer.
5. White vinegar can make a wonderful all purpose cleaner. The smell however can be not so pleasant. To make a wonderful clean smelling white vinegar all
purpose cleaner try this. Put some orange peels (or other citrus peels) in a glass container, sprinkle some salt on the orange peels and let them sit for about
30 minutes. The salt will help pull some of the oils out of the peels and will make your cleaning solution stronger. Add the white vinegar to the jar and let it
sit for a few days. The longer you let it sit the better. Finally pour the liquid into a spray bottle and you have a great all natural all purpose cleaner with a
wonderful citrus smell.
6. Create an odor eliminating spray using white vinegar and some essential oil. Fill a spray bottle almost all the way to the top with white vinegar then add
about 10 to 15 drops of your favorite essential oil like lavender or lemon. Put the sprayer lid on the bottle and shake it up. Vinegar is a natural disinfectant
and destroys the odor while the essential oil will give you a nice fresh clean scent.
7. Is there a funky smell coming from your kitchen sink or garbage disposal? Pour one cup of white vinegar down the drain. Let sit for about an hour then rinse
with water for a few minutes.
8. With kids or pets in the house carpet stains are almost inevitable. Clean them with a spray mixture made of 50% water and 50% white vinegar. Spray it on the
stain and allow it to sit and soak into the carpet for 2 to 5 minutes. Blot the stained area with a clean towel or sponge to extract the mixture from the carpet.
Another mixture to try is 1 tsp. white vinegar, 1 tsp clear dish soap, and 1 cup of warm water. Spray it on the stain and allow it to sit and soak into the carpet
for 2 to 5 minutes. Blot the stained area with a clean towel or sponge to extract the mixture from the carpet.
9. Clean up that soap scum by mixing 4 parts white vinegar with 1 part salt. Next dip a rag into the mixture and rub away all that nasty built-up soap scum in
your kitchen and bathroom sinks. You can also spray undiluted white vinegar on your shower doors and wipe dry with paper towels or a soft rag.
10. Clean your washing machine by running and empty load and adding a cup of white vinegar to the water.
11. Clothing stains like ketchup, jelly or wine can be hard to deal with. Try rubbing white vinegar right on the stain with a soft cloth. Then just stick your
clothes in the washing machine and run it as you normally would.
12. Toilet stains are just nasty. Try spraying some white vinegar in your toilet bowl and letting it sit for about 2 minutes. Then, take the toilet brush and
scrub those stains away.