I have found some fantastic free Christmas printable paper craft projects on the web.  I decided to share some of my favorites with you.  Just the thing for a chilly day, inside with the kids.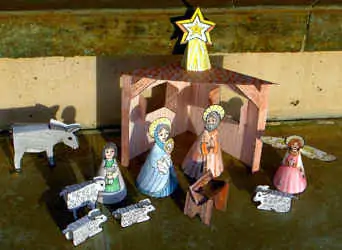 ScrapbookScrapbook.com has a wonderful Nativity project, for you to do with your kids.  Just print, cut-out, color and assemble.  When completed you will have a nice 3-D scene to display.  Here is a link to make your own.  You can see more views of the completed nativity set there, as well. https://bit.ly/41kTmG
I also found a printable reindeer and sleigh.  The reindeer look a little big for the sleigh, in my opinion, but you could always print it at 75% or something. It would make a great decoration for the wall of a hall or stairway, since 8 or so reindeer would stretch out a ways.  https://kidscraftzone.com/post/Santas-Printable-Sled-and-Reindeer.aspx
Speaking of reindeer, you have to check out this little Christmas reindeer box project.  It is adorable. http://mollymoocrafts.com/free-printables-reindeer-treat-box/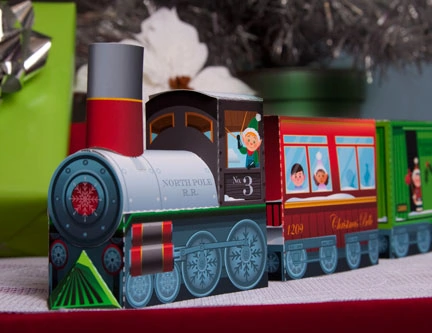 Disney's Family Fun, also has a great holiday train.  You just print, cut and assemble.  It would be cute displayed under the tree with your gifts, and the kids will love doing it.
They also have an incredibly cute tiny elf shelf sitter, that you can assemble with the kids. https://bit.ly/4JSbgU
.

Don't overlook origami, when doing holiday paper crafts with your children.  Origami-Fun.com has a photo list of origami projects, including cranes, flowers and stars.  These would be lovely on the Christmas tree,  as package decorations or as gifts for your child to give.  https://www.origami-fun.com/printable-origami.html
Origami-Club.com  includes simple to follow video snippets, showing you how to do holiday origami projects.  Just select the picture of the project that interests you, and you will be given the option to see the instructional diagram or video.  I personally preferred the videos.  The link I have given leads to Christmas specific projects, but there are plenty of  other projects available on the site.  I am a bit of a traditionalist myself.  The cranes are my favorite.  This site also has some great holiday printable patterns, to make your own Christmas origami papers.  https://www.origami-club.com/en/xmas/index.html
These are my favorite free holiday paper craft projects for kids (and adults), that are all readily available online.  If you know of some great free paper craft printables or instructions accessible on the web, please share them with us.  I will be doing a separate post for coloring pages, so please don't include those,  just crafts or printables,  that can be made into something beyond a simple colored page.
.