This is a sponsored post written by me on behalf of Tender & True Pet Nutrition. All opinions are 100% mine.
Since we love our kitties and I was in a crafty mood, I recently decided to make some DIY cat toys for our furry friends. I am not making the kitties wait until the holiday to get their gifts, but with Christmas coming up I did like the idea that at least some of the cat toys strewn around my parlor would be festive. I ended out creating a simple Jingle Bells design for the homemade cat toys.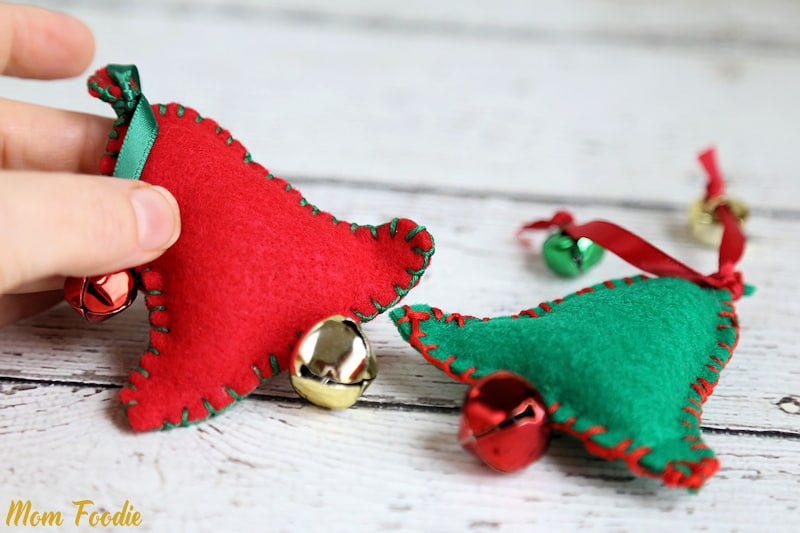 DIY Cat Toys: Making
The Jingle Bells DIY cat toys are nice and noisy from the bells and stuffed with catnip infused cotton balls. Despite me buying out half the crafts store picking up felt for this little project, I wanted the toys to be easy and inexpensive to make and not require someone to have a big craft stash.  No special craft skills are needed for these made with love cat toys.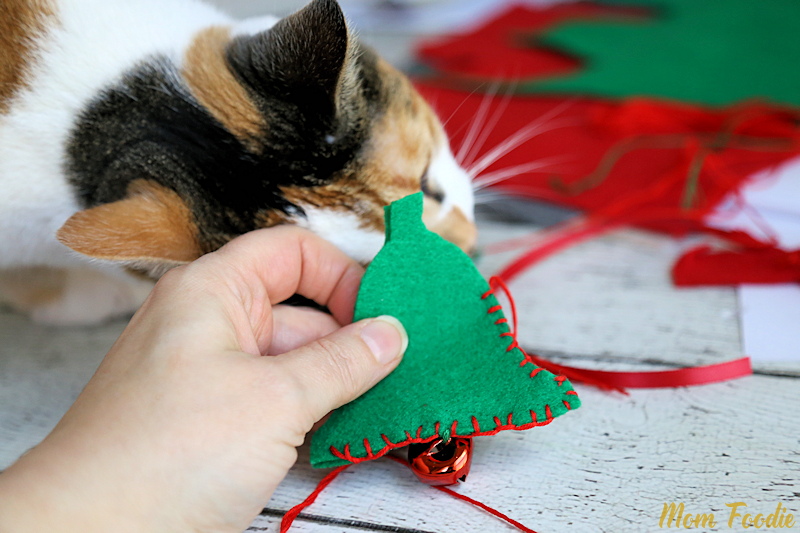 The only difficulty I had making these simple DIY cat toys was trying to sew them while Frisky kept nuzzling me. Yes, I love you too… now go play…lol.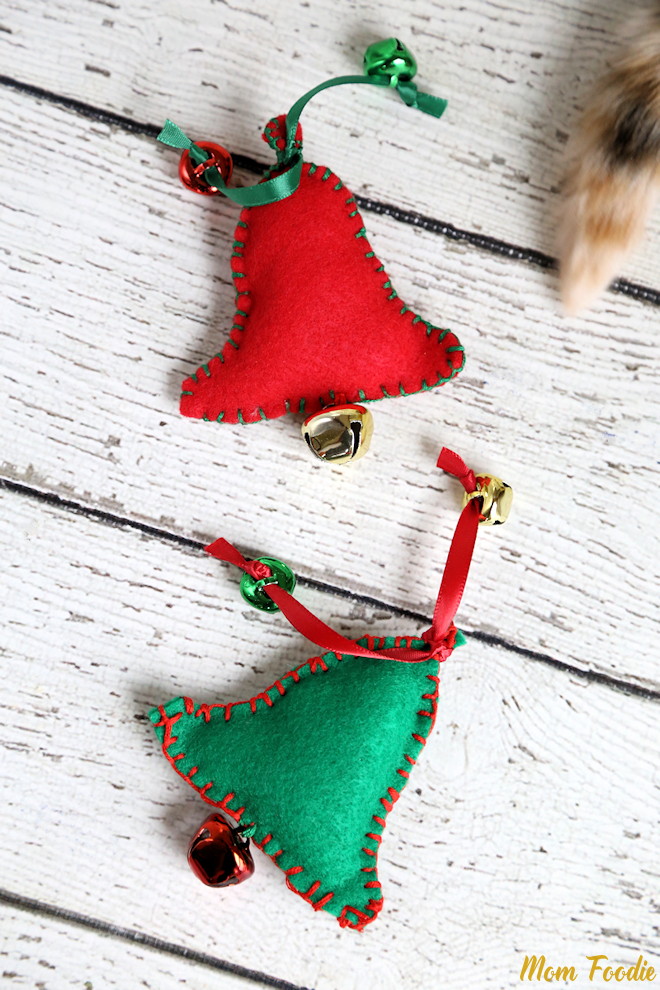 DIY Cat Toys: Christmas Jingle Bells
Show your cats how much you love them, with these easy to make DIY cat toys. Supplies:
1-2 pieces of felt
embroidery floss
cotton balls (or stuffing)
1 large and 2 small jingle bells for each toy
narrow fabric ribbon
catnip
Tools:
tapestry/embroidery needle
scissors
printer and paper to make copy of pattern
Directions:
Print a copy of the Free Pattern  >> Jingle Bells Cat Toy Pattern
Cut two bells for each toy.
Use a simple blanket stitch to sew up sides of the toy, leaving a space a couple of inches wide to stuff the toy.
Sew large bell on bottom, insert some catnip in a few of the cotton balls and stuff the toy, then stitch the rest to close.
Tie ribbon on top of bell, slide on small jingle bells and knot the ends so they don't come off.
Gift to your beloved cats.
Show Your Love Every Day
While it is nice to do something special for our pets on holidays, showing our love everyday is even more important and the best way to do that is with a quality nutritious diet. I've only been a kitty mom for a few years now, but I see it as essential to feed my cats a proper diet for them, not one loaded with fillers and such. Why would anyone feed cats corn?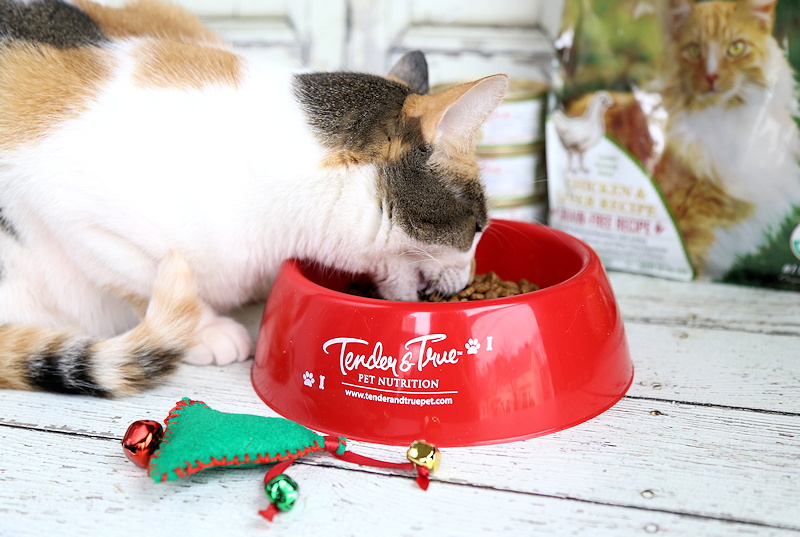 Tender & True Pet Superfood
Our cats, Kiki and Frisky,  have been enjoying organic chicken and liver Tender & True dry cat food since the spring. I recently introduced them to the canned food from the brand as well… and they love that too. Knowing the food they are eating is nutritionally balanced in the right ratios for them, made from top quality ingredients with no artificial preservatives, antibiotics or fillers like corn and soy, makes me feel good about serving it to them. Tender & True is also thoughtful about the creatures who are protein sources for their pet foods, using only humanely raised animals and sustainably sourced seafood in their products.
All varieties of Tender & True pet food are available in both a cat or dog version, with both dry and canned options.
Organic Chicken & Liver
Organic Turkey & Liver
Ocean Whitefish & Potato (sustainable)
Chicken & Brown Rice (antibiotic-free)
Turkey & Brown Rice (antibiotic-free)
*USDA organic – means it's certified to be 95% organic. First USDA certified dry pet food and one of only a few pet foods on the market with a full line of USDA certified products. **Humanely raised – GAP certified (global animal partnership) – poultry is certified humanely raised; Only full line of GAP Certified organic pet food on the market ***certified sustainable seafood – all the fish comes from MSC certified fisheries