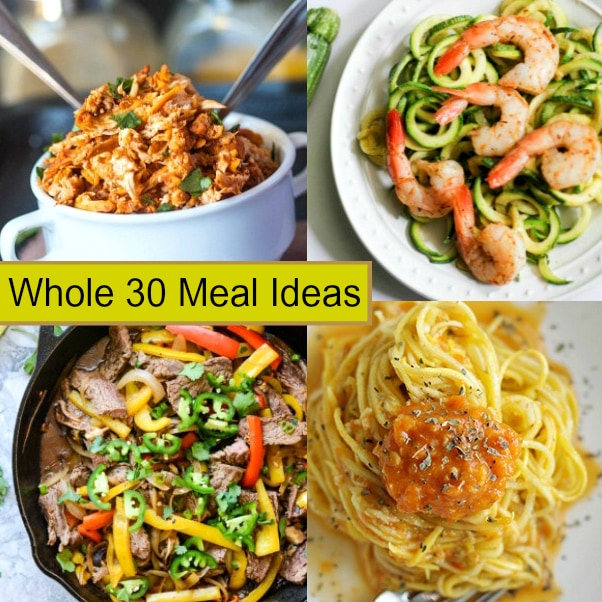 A collection of delicious Whole 30 meal ideas to make the succeeding at the Whole 30 diet plan so much easier.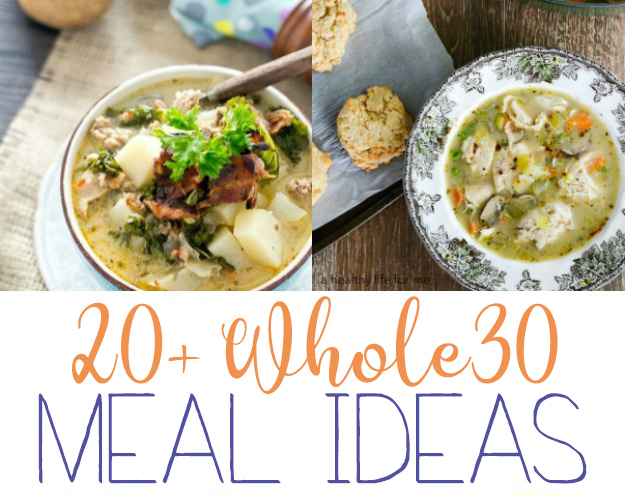 The Whole 30 Diet Plan
If you aren't so sure what  the Whole 30 diet plan is (Whole30), but have heard positive things about the results it produces, let me get you a quick overview. Following a Whole 30 diet plan acts to rest your metabolism. By dumping processed foods and those that cause inflammation your digestive system and hormones fall into balance… something they may not have been for many years. The commitment as the name indicates is for 30 days, but many dieters choose to continue or at least stay mostly on the plan once the 30 days are up, once they realize how much better they feel.


I hope this collection of Whole 30 meal ideas helps you attain success with this wonderful high nutrient diet.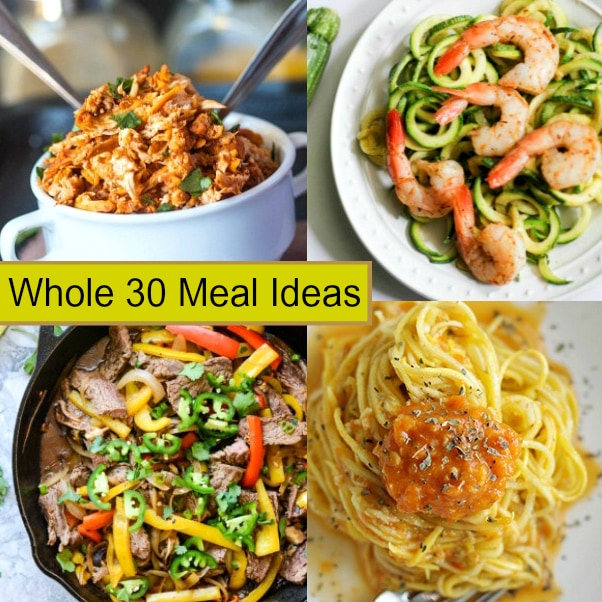 Whole 30 Meal Ideas
These Whole 30 meal ideas are easy and delicious to add to your meal plan.  I hope you enjoy!
Whole30 Paleo Pizza Potato Skins – Jay's Baking Me Crazy
Paleo Sweet Potato Waffle Breakfast Sandwich – Fit Mitten Kitchen
One-Pan Balsamic Chicken Veggie Bake – The Real Food Dietitians
Paleo Zuppa Toscana – Taste of Lizzy T's
Whole30 Paleo Mongolian Beef – A Saucy Kitchen
Thai Yellow Curry Turkey Meatballs – Fashionable Foods
Whole 30 Red Pepper Pesto with Squash Noodles – Creative Green Living
Whole 30 Slow Cooker Chicken Thighs with Butternut Squash and Spinach-Mom Foodie
Easy Paleo Whole30 Korean Beef Bowls – Jay's Baking Me Crazy
Whole30 Pulled Tandoori Chicken – The Big Man's World

Paleo and Whole30 Chicken Piccata – Noshastic
Creamy and Smoky Chipotle Pork Chops – Wholesomelicious
Paleo Balance Bowl – Little Bits of Real Food and Real Talk
Shrimp Scampi Zoodles – Pink When
Paleo Buffalo Chicken Casserole – Paleo Scaleo
Paleo Lettuce Wrap Tacos – Thank You Honey Blog
Gluten-Free Dairy-free Creamy Sun-dried Tomato Chicken – My Natural Family
Paleo Roasted Cauliflower and Garlic Soup – Cooking with Curls
Paleo Skillet Beef Fajitas (gluten free and Whole30) – A Healthy Home Life

Easy Whole30 Taco Soup – The Movement Menu
Paleo Low-Carb Pork Egg Roll in a Bowl – Peace Love and Low Carb
Grilled Salmon with Avocado Salsa – The Cookie Rookie
Paleo Chicken and Dumplings – A Healthy Life For Me
These are just a few of the wonderful Whole 30 meal ideas available.  So many more Whole 30 recipes
can be found both online and in printed and digital Whole30 cookbooks
.