This is a sponsored post written by me on behalf of The Home Depot.
On April Fool's Day, I showed you some of the things I wanted to accomplish in my outdoor space this spring.  You may well have thought me a fool to try and tackle as much as I planned by myself, but I've managed to make some pretty good progress in the past 4 weeks.  While I've been featuring the container flower garden project, there has been a lot more going on around here, and still much to finish.

One of the first things I did was remove the nasty looking chain link fence my ex and I had put up around my daughter's play area.  It was no longer needed, and I love the openness this has brought back to the yard.   The removal should make maintaining the lawn easier, which needs a lot of work too.  The first thing I need to tackle is some lawn mower maintenance.  I was going to take it in to be serviced, but have decided to DIY this too.  Home Depot actually has project guides for both maintaining your lawn mower and sharpening mower blades (I think I will just get a replacement blade this time.)  I also need to put down some grub killer, while digging out garden beds I came across a ton of these loathsome grass root eating creatures.

Speaking of garden beds, I made some additions to my flower gardens.  I extended the side garden as I had planned, and placed the DIY Shade Container Garden I made using the Thriller Filler Spiller technique that Home Depot suggests there as a focal point.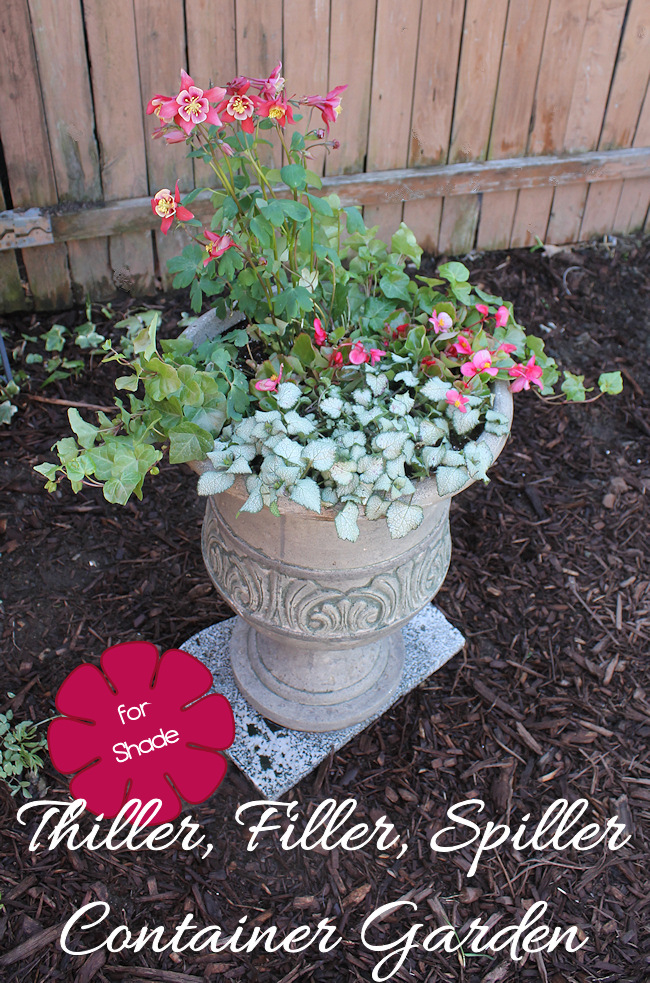 The planter has adjusted well to the new spot, and once some of the other plants start to fill in, the corner will really come together.

I still need to add a short decorative garden fence to avoid my dog's fondness for lying in my day lilies, add a few more plants and a little more mulch.  I also need to fix the stockade fence and re-stain it too, before the plants get much bigger.

Here is the new flower garden I put in this week.  While I would have preferred to surround this with pavers, that just wasn't in my budget.  Lucky for me, I discovered that I had this heavy duty plastic edging in my garage from a few years ago.  Technically, this is meant to be put in almost flush to the ground, but I put it in buried about half way, creating a shallow raised bed. This made it easier to create a level garden, on a not so level lawn.  The same edging is still available at Home Depot in 20 ft & 60 ft lengths.  It is an affordable option for those on a small budget.
I'll be picking up mulch and a few colorful new flowers at Home Depot soon.  Including a small rock garden section to feature succulents is something I'd also like to do with this, but color and butterfly attraction will be the primary focus here, since this is right on the side of my gazebo.
Of all the work and additions I've made outside this year, by far the most successful and worthwhile was one of the easiest.  As I had mentioned at the start of the month, my daughter's last swing had broken, and she was rather sad about it.  She and I went to Home Depot and picked up a replacement swing.  The old one had a hard plastic seat, whereas this one in a durable but flexible material.  I opted to get the one with the covered chains to avoid finger pinches.  She ADORES this new swing, and really goes to town on it.  Her motor control issues made the old swing a struggle for her, as you can see, she isn't struggling with this one at all.  I'll probably have to replace the set next year, but in the meantime she is one happy child.
What outdoor projects are you working on this spring?  Are you planning some fun outdoor improvements this year?
It's home improvement time, and The Home Depot has everything you need to #DigIn for Spring. No matter what projects you want to tackle, they have great values on all you need. They're ready to help you with renovation ideas and expert advice, too.
Get over $300 in email exclusive savings each year, sneak peeks on new products, monthly lawn & garden ideas for your region and access to The Home Depot's gardening experts. Click here to join the world's largest garden community today! Or go to https://gardenclub.homedepot.com/ to see some of the many benefits of membership.
This is a sponsored post written by me on behalf of The Home Depot.