If you are trying to plan how to conserve water in the garden these tips can make the difference between a successful planting season vs. a poor one.  Water efficient gardening will also save you a good deal of money on your water bill, not to mention being beneficial for the environment.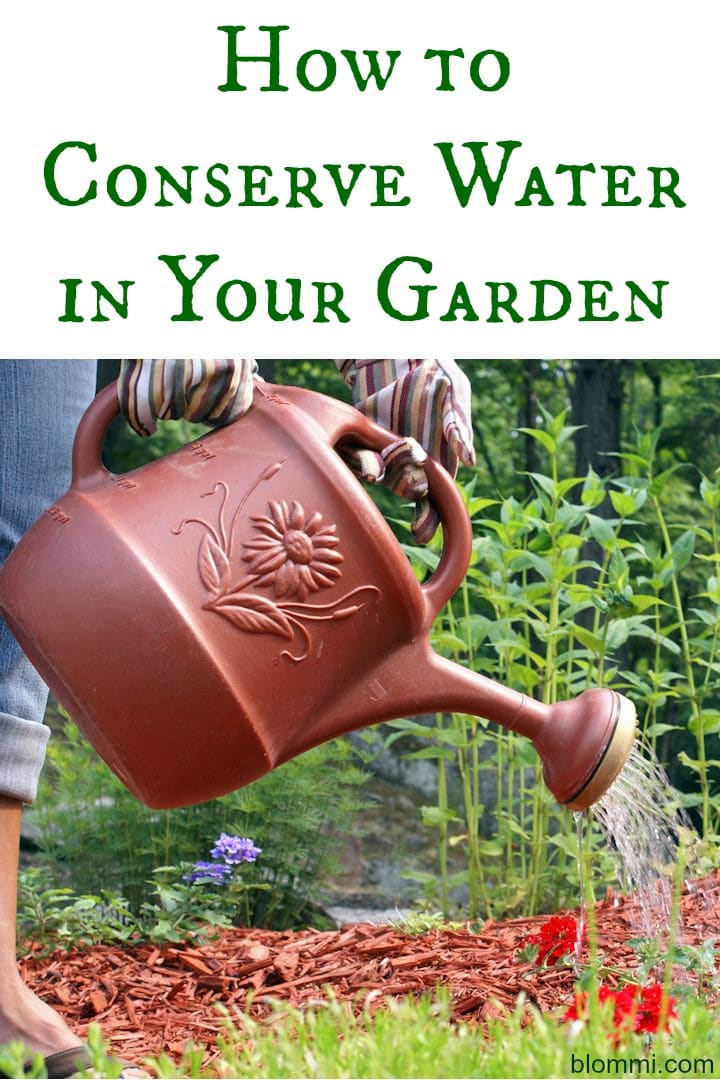 5 Tips for Water Efficient Gardening
It is important to consider conserving water when designing a garden. These water efficient gardening tips will help.
Sectioning out the Garden for Smart Water Usage
Sectioning out the garden according to water needs, is not only a smart way to reduce waste, but makes other garden maintenance easier as well.  Choosing plants for your design which are either native to your area or have low water needs is also helpful.  Many herbs and perennials tend to be easier care and require less watering than annual plants.
Smart Use of Hardscaping for Water Efficiency
When installing walkways and other breaks in the garden, try and keep water conservation in mind. Hardscaped areas (ie. pavers, gravel), will not compete with your garden plants for resources, as a lawn area will and obviously don't require watering. These features can even be angled to help direct water flow toward higher water need garden areas. You may also want to consider installing a few rain barrels
to catch water from your gutters.  Some are actually quite attractive and reduce your need to use drinkable water in the garden.
Water Conserving Trees and Shrubs
If adding a tree or large shrub makes sense in your water efficient garden plans, then you really should consider adding one.  The shade they provide will help reduce evaporation.  Of course, keep in mind the sun needs of the types of plants you want to grow, before adding a shade element.
Focus on Retaining Soil Moisture
Retaining the Moisture already present in a garden is a smart way to start conserving water. One of your best friends in combating water evaporation is a thick layer of mulch.  It will also help keep weeds at bay, who compete with your plants for precious resources.  While mulching with biodegradable materials such is wood chips is common, living mulches, like moss or low growing ground covers work wonderfully as well.  I've had excellent success with moss in a semi-shaded garden on my property. Including plenty of organic matter in your garden soil is another great way to retain moisture.  This can be done with compost, or you can add purchased water retaining granules.
Efficient Watering of the Garden
Keep in mind How and When to Water - Water from the soil line (such as through drip irrigation
), rather than spraying from above is a more water efficient method.  This gets all the water where the roots are, and reduces evaporation.  Watering slowly, deeply and with less frequency is the best way to build drought tolerance and encourages plants with deeper roots which are hardier overall.  Mornings and early evenings are the best time to water your garden.  Watering during the heat of midday will increase both evaporation and leaf burn.  Evening watering is my preferred time to water.  It gives plenty of time for the water to seep in and be absorbed during the cooler hours of the night.
I hope these simple tips help you with understand how to conserve water in the garden better and assist you in reducing your overall garden water requirements.   Best of luck with your gardening adventures this season.