I'm an avid gardener, so I was pretty happy when I was sent a pair of Jollys Garden clogs to review.    Jollys clogs are German made and available for men,  women and children.  They have a classic style, which has a slight heel, as well as, a  fashion  style that just has some lift to it.  Both styles are available both with open and closed heel.  Water resistant clogs are available in a wide selection of solid colors.  Patterned clogs are also available, and called "picture clogs".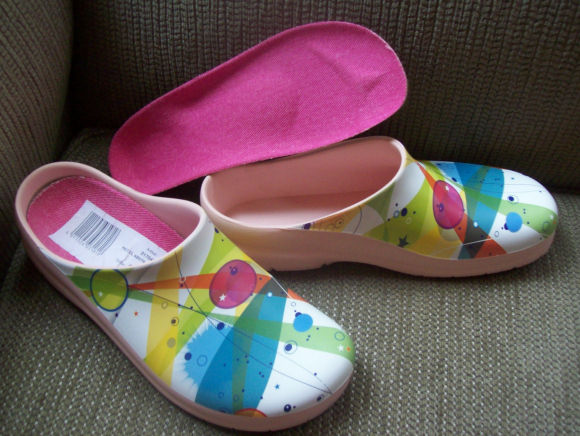 Garden Clogs
I found the picture clogs to be quite lovely, and selected a pair in the "abstract" pattern.  The sizing guide mentioned that customers with wide feet should go up a size.  I'm an 8 ½ wide, so I went with a size 9 (39 european).  I should have gone with a 10.  The clogs were tight and I considered contacting the company for exchange, but decided to be a nice daughter and pass the pretty clogs along to my mother.
They fit her just fine, and where I enjoy gardening, she is completely dedicated.  She also has had some foot problems, and the high quality inserts in these clogs have been helpful to her.  As you can see in the picture above, the insoles are made to shape to the foot and provide good support.  She reports the Jollys go great with jeans and she has worn them even when not doing yard work.
Some of the Great Features of these Garden Shoes
These German made clogs are constructed of 100% CFC-free Polyurethane foam, making them light, flexible and very durable.  The anatomically molded comfort insoles are molded from cork and latex, then covered with long-wearing cotton fabric.  These removable inserts are both washable and replaceable.  Extra insoles can be ordered right off the website.
These clogs are great for any atmosphere that other shoes just can't handle.  Their comfort durability and ease of cleaning make them a great work shoe.  I have known a few cooks and chefs who wear them.  Jollys are designed without crevices and seams to trap dirt & grime.  Simply take out the insole and wash them down. Insoles can even be washed in a washing machine, set on gentle cycle, then air dried.

While this review has focused more on the women's clogs, be sure to check out the men's clogs. A pair of garden clogs would make a great Father's Day gift.  Make note, if you need to make a return or size exchange, unworn clogs can be returned within 30 days, without problem.
More Garden Clog Options
Here are a few more garden shoe options that might interest you.
Garden Clogs for Women
Some lovely easy to clean choices for the ladies.
Garden Shoes for Men
Durable waterproof clogs for the guys.
Garden Clogs for Kids
Fun water resistant gardening shoes for kids. They are great for the beach too.