This shade container flower garden is now the focal point of the most recent extension of my flower gardens.  The corner it is in is shaded by 6 ft stockade fence on the southern and western sides.  Around the summer solstice it will get direct sun for a few hours a day, otherwise  barely any.  I wanted a container flower garden that would really stand out and add some color and interest to this drab shady corner.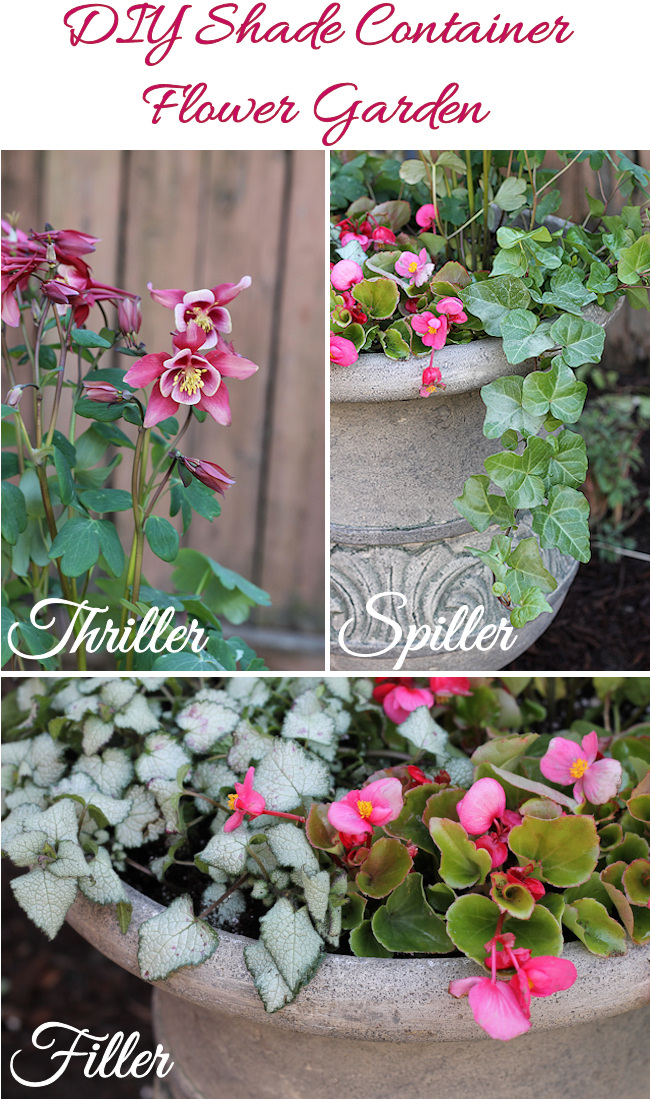 Shade container garden featuring: Columbine, Ivy, Dead Nettle & Begonia
This is a sponsored post written by me on behalf of The Home Depot.
To achieve the look I wanted, I chose a lovely cement-look urn garden planter from Home Depot. The planter adds nice height to the container garden (21 ½" tall) and compliments other features in my flower gardens. I also utilized the Thriller, Filler, Spiller technique shown on The Home Depot Garden Club page to help me select and assemble my shade container garden.  The basic idea behind the technique is to feature a tall dramatic plant (Thriller), surrounded by some bushy mid-height plants (Filler) and a draping plant which will hang over the side of the pot (Spiller).
Even though it is still a little early in the planting season here in Southern New England, the plant selection was pretty good, and much more should be pouring in over the next couple weeks.  I was having a little trouble finding a shade friendly plant to spill over the edge of my planter, then I remembered the big selection of houseplants Home Depot has in the enclosed area of the garden department.  I've often used an interesting houseplant as an annual in my garden.  They are great options for shade and part sun containers, since many popular ones don't need a ton of sun.  I chose some nice green ivy, which is actually an outdoor perennial in my zone.  The variegated ivy  which had taken over a good portion of one of my gardens started out as a small houseplant just like this one.
I chose this spiffy 21 and a half inch garden urn for the shade container garden.  I went with the MiracleGro Moisture Control potting mix suggested by Home Depot for container gardening.  I opted to get the  big 64 qt bag rather than one of the smaller ones, since it was only $4 more than the 32 qt bag and I have other planters hanging around that need to be filled as well.  I often forget to water enough in the dog days of summer, so this potting mix may make the difference between plants surviving or not.
If you are planting for full sun there are plenty of options for spiller plants.  They had some nice variegated vinca in stock.  I may be going back to get some for other planters.
Here are the plants I selected that day. Columbine, Dead Nettle, Ivy, Begonia and Rununculus (this last one is not for the container, it needs lots of sun, but was just too pretty to pass up).
This columbine while called red, is more of a deep pink in my eyes.  The yellow centers pop nicely, and while tall enough to handle the "Thriller" position, it is not so much so to be likely to topple after a good rain. (perennial)
Despite having the unattractive name "Spotted Dead Nettle", this is quite a lovely plant.  The leaves have a silvery iridescent sheen to them, which will really pop in this shady corner.  It will function as a filler plant at first, but may end out acting as a spiller as it becomes more established.  It will get purple flowers too. (perennial)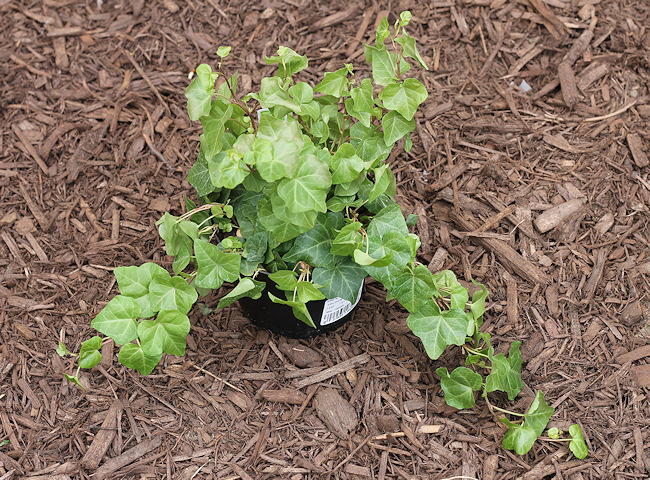 As I've already mentioned this ivy I purchased in the Home Depot houseplant section will be going into the outdoor shade container garden.  Don't overlook some of the fun combinations you can put together, especially with vivid annual flowering plants that are often prolific bloomers, contrasting with the interesting leaves of some houseplants. (perennial)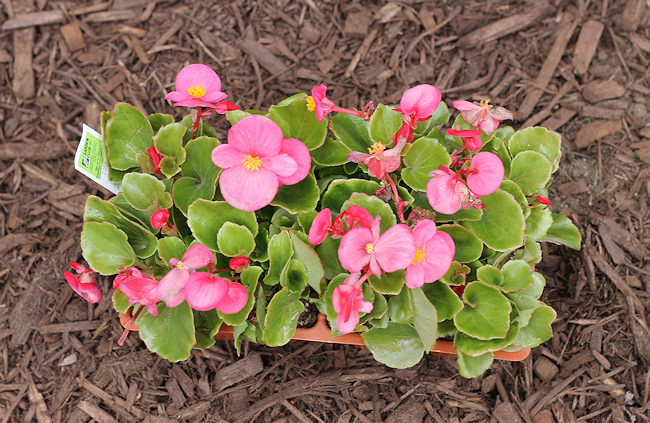 I don't know why I've always turned away from begonias, but I have.  This time the pink seemed just what I needed with the silvery leaves of the dead nettle and the deep pinkish red of the columbine.    They will be a filler plant. (annual)
Once you have gathered all your supplies: garden planter, gravel (optional), potting soil, and Thriller, Filler Spiller plants, the assembly of the container flower garden itself, only takes a few minutes.
Why not assemble my shade  container flower garden along with me.  I'll also share a few tips and shade plant suggestions during the process too.  It's all in this short video I put together this afternoon.

Note: I mentioned hostas while discussing spiller plants in the video, but was just bringing them up in general.  Hostas leaves would work as a filler, and their tall floral spikes would work as a thriller.  Since they flower later in the season they would be good with a spring flowering thriller, since the hosta could stand-in once the other flowers had gone by.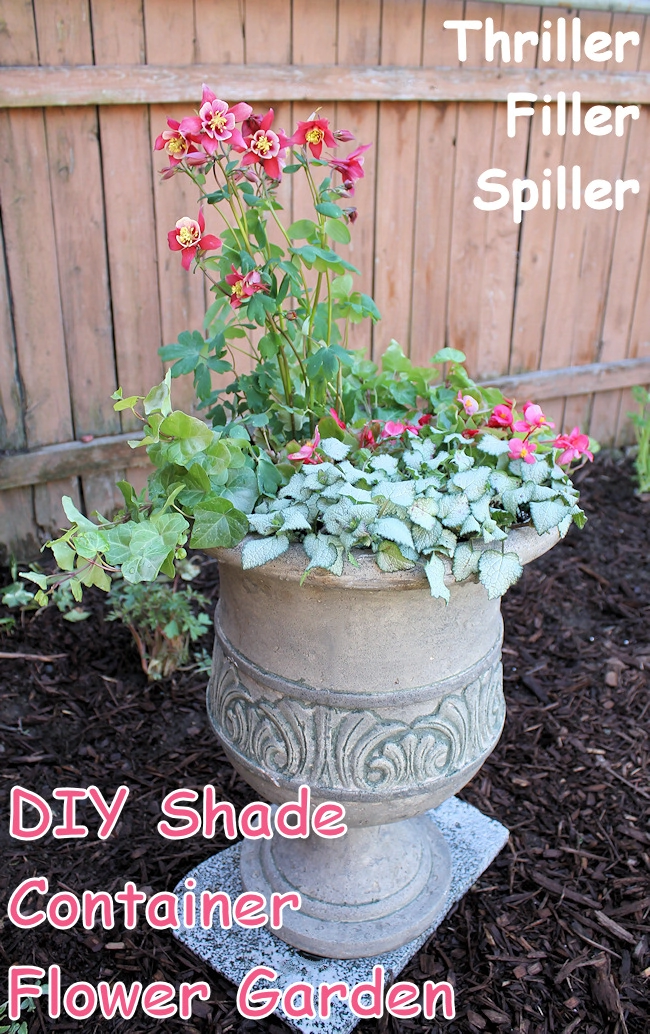 It's home improvement time, and The Home Depot has everything you need to #DigIn for Spring. No matter what projects you want to tackle, they have great values on all you need. They're ready to help you with renovation ideas and expert advice, too.
Get over $300 in email exclusive savings each year, sneak peeks on new products, monthly lawn & garden ideas for your region and access to The Home Depot's gardening experts.  Join the world's largest garden community today! Go to https://gardenclub.homedepot.com/ to see some of the many benefits of membership.
This is a sponsored post written by me on behalf of The Home Depot.