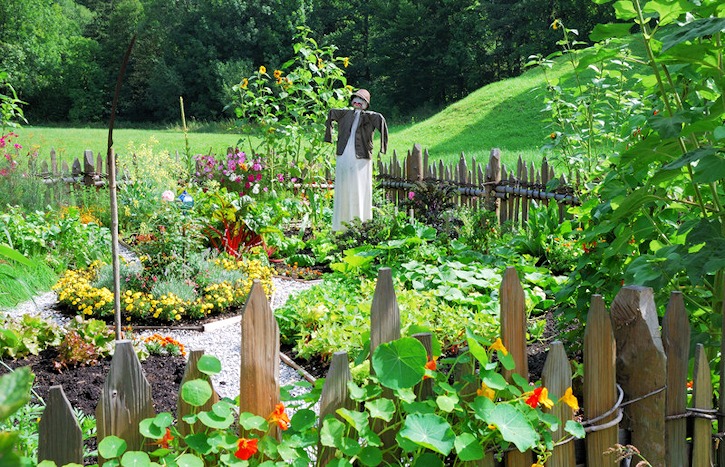 Growing vegetables in the middle of a flower garden might seem strange to some, but with a little planning they can actually grow very well together. We have become very used to dividing up the types of plants that we grow, keeping vegetables in a dedicated vegetable garden and segregating flower planting to decorative beds. When it comes down to it though, all plants have their own sort of beauty... why not harness that?
If you are interested in growing vegetables in your flower garden, give it a whirl.  I've had decent success myself.  The first year we were in our house, I hadn't put in a vegetable plot yet, but we harvested a pretty decent tomato crop from the plants nested in my annual flower bed. There are no rules or guidelines to follow, but there are some things that you can do or provide for both that will keep all your plants happy.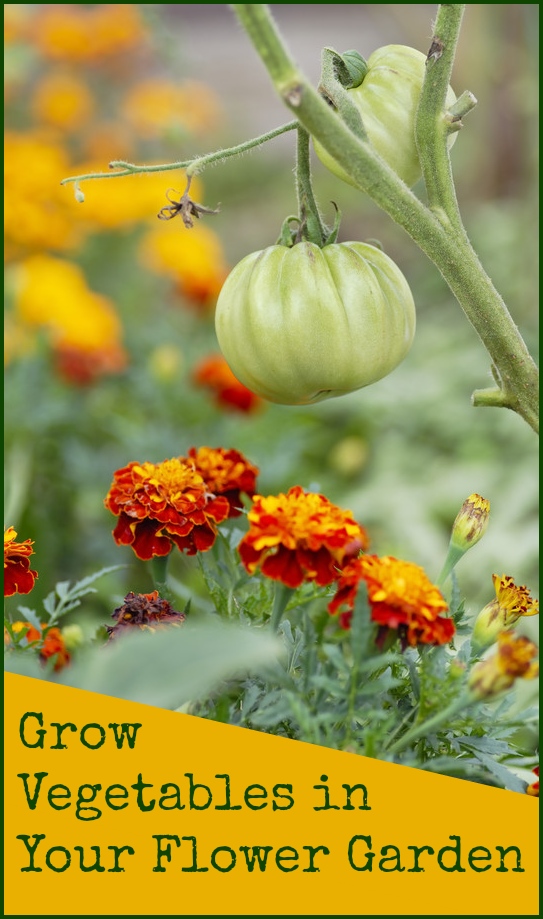 Planning A Combined Garden
Whether you have planted your flower garden already or are just beginning to plan it out, it is a good idea to look over the space that you have available to add some vegetables. All plants have growing requirements when it comes to space needed above and below the soil and you have to be able to meet these needs with both your flowers and vegetables.  Look at all the space available, if there is space in the back and an empty fence, a vine or tall grower would be the best option. If a border is needed, a low growing edible would be the best choice.

Great Vegetables for Flower Gardens
Just about any edible plant can be added to a flower garden, but some do much better than others and look great too. Green lettuces and cabbage are two of the most popular edibles to include in flower gardens. They are compact and low growing, so they make great borders and space fillers. To top off their appeal, both come in a wide variety of colors so they add even more interest to an already flourishing garden.
Patio tomatoes and other compact tomato varieties can mix in well with mix in well with flowers, especially in a visually busy garden.  Just be mindful, that if the tomato is crowded it will produce less fruit for you.  Colorful hot peppers and Japanese eggplant are among my favorite vegetables to integrate into a flower garden.  They are quite lovely in themselves, particularly when they set fruit.  Of course don't forget to include some marigolds or nasturtiums in  the garden, they team well with vegetables, add tons of color and their peppery blossoms are wonderful in salads.

Vegetables that grow on vines are also a great idea in the flower garden. They can be used to add vertical interest to the garden and use up space that is often neglected or overlooked. Try green beans, sweet peas or a cucumber vine, all of which will flourish but not overtake a flower garden. Edible herbs can add color, flowers and often a great fragrance to your flower garden. Flowering chamomile, thyme and lavender fit in well with manicured flower gardens that are part of the landscaping.

Create a Balance
In order for flowers and vegetables to work together in the same garden, you need to create a balance between the two in the same way you create balance between your flowering plants. If you have a flower that has vibrant flowers or bright foliage, choose a simple edible to plant next to it. If you have fragrant, but less interesting flowers in a corner, use bright edibles to add interest to that spot. Where there are low growing or flowers or the same height in a bed, draw the eyes up with an edible plant covering a trellis.

Provide for Flowers and Vegetables
We all know that flowers and vegetables require different amounts of sunshine, water and space so it is very important that any edible added to your flower garden has these needs met. Edible plants going into a flower garden also need to thrive and still be able to create their fruit after several weeks. Only plant full sun edibles in full sun gardens, and make sure that the flowering plants that are in the garden are also full sun lovers. Vines and low growers should only be added where other flowers are not already occupying space. Vegetables are aggressive growers and will out compete daintier flowers.
Most importantly, get creative with all your garden beds and bring the veggies out of the corner plot.