Non-toxic DIY Toy Surprise Inside Golden Egg Bath Bombs that your kids will love. Perfect for easter or anytime of year (think Willie Wonka).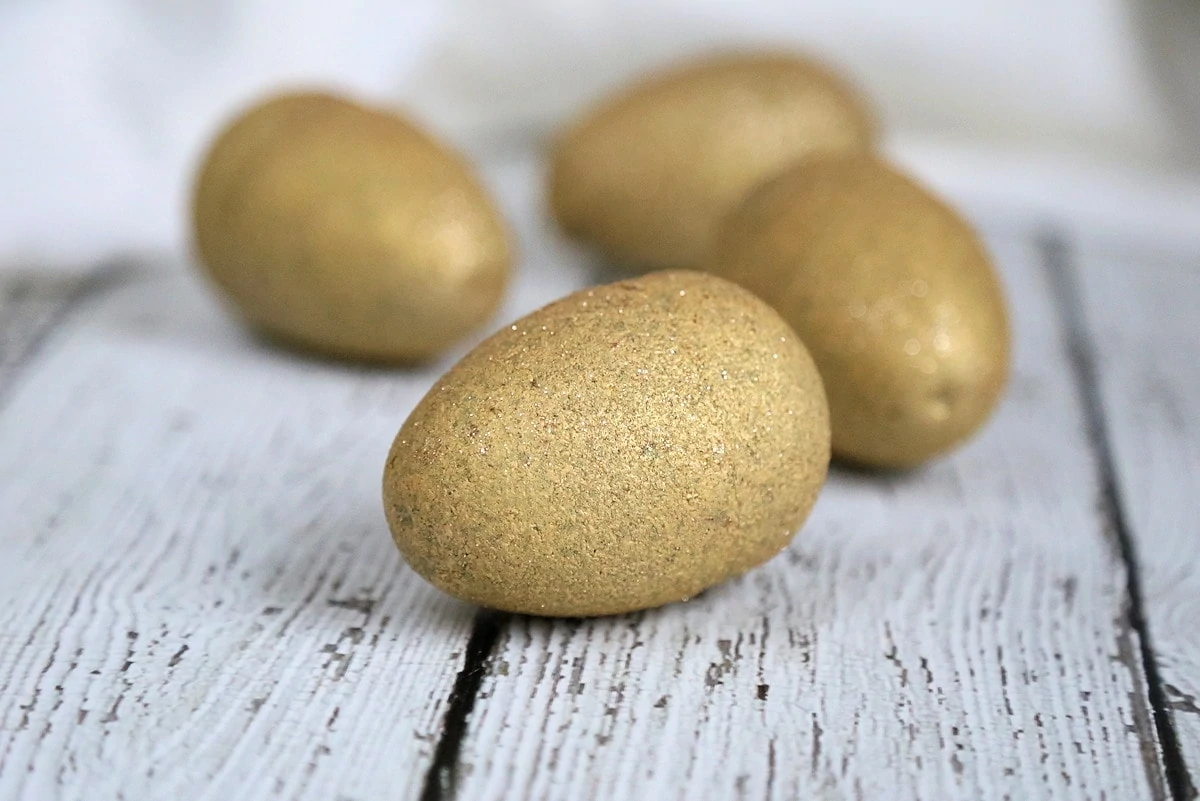 These DIY Toy Surprise Inside Golden Egg Bath Bombs are a little craft project I came up with to satisfy my little girl's love of Surprise Inside treats.  Rather than coming in candy the little toys come in nicely scented Golden Egg bath bombs. I would rather encourage a pleasant bathtime experience than her indulgence in empty calories.  She absolutely adores these sparkling gold toy surprise bath bombs!
One great benefit making these >> I  know she won't get a bunch of duplicate toys since I'm buying the toys and making the surprise packaging myself. Less expensive and way cooler 😀
DIY Toy Surprise Inside Golden Egg Bath Bombs: Making
Making Toy Surprise Inside Golden Egg Bath Bombs is an easy project. It does have a few steps (If you are happy with unpainted toy surprise bath bombs, by all means skip that step).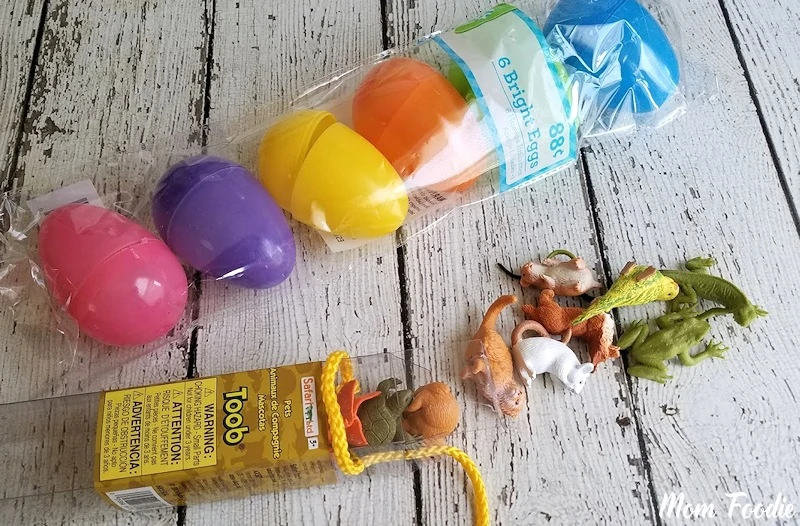 Other than the bath bomb ingredients you need larger egg molds that you are sure will fit the toys without squishing.  You want ample room around the toy within the bath bomb. I used Toob animals
in my daughter's Golden Eggs.  In particular I selected the "Pets" package
, since the creatures seemed more compact than some of the animals/character in the other sets did and they are similar to the animals she was getting out of the pricey Yowie toy surprise inside chocolates
I had been buying her previously.
For your convenience here are the exact toys I used along with cool decorated plastic eggs in the correct size (I got the eggs pictured above at a local Walmart in the Easter section).
 Safari Ltd Pets TOOB
 Joyin Toy 36 PCs Jumbo Plastic Printed Bright Easter Eggs, Over 3'' tall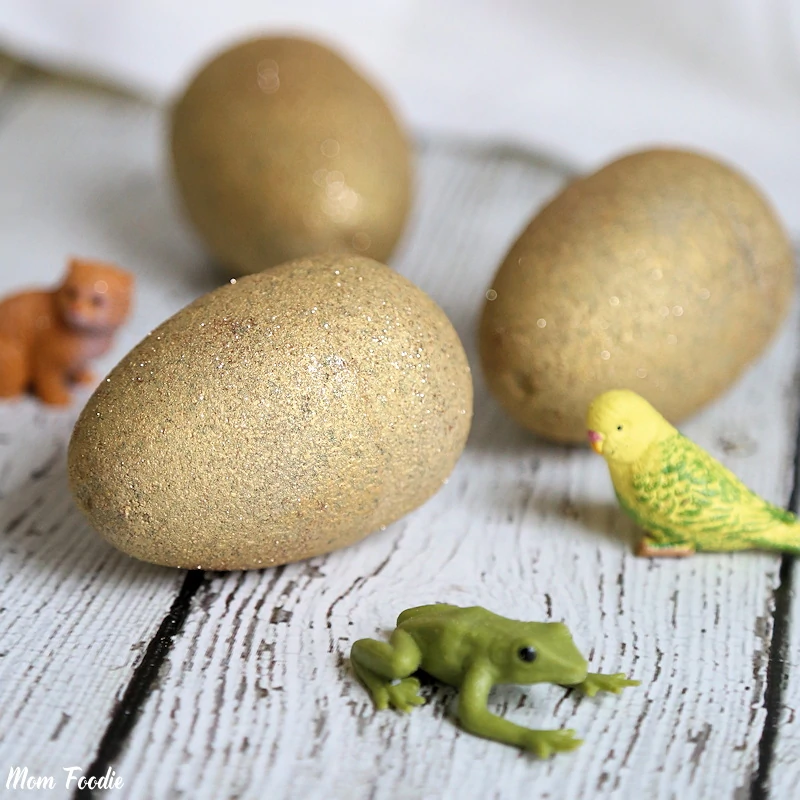 While buying plastic eggs with toys
in them already is certainly a great convenience, I like the quality of the Toob
creatures. They are worthy of being collected. I've promised my daughter a special shelf for them.
Creating the Golden Color on Toy Surprise Bath Bombs
These golden egg bath bombs
are the same Gold Bth Bo non-toxic because they are covered with edible gold spray paint
. The toy surprise inside bath bombs are then lightly dusted with gold cosmetic glitter
. The bath bomb mixture is tinted purple.  This color is a nice base for gold spray, creating a realistic tone.  If the bomb itself is too light or bright the gold will look more yellow fake.  Purple, blue or most other darker shades make a nice base for the edible gold paint. I do prefer purple though.
 Wilton Gold Color Mist
 45 Colors Nail Art Make Up Body Glitter Shimmer Dust Powder Decoration
Toy Surprise Inside Golden Egg Bath Bomb Reveal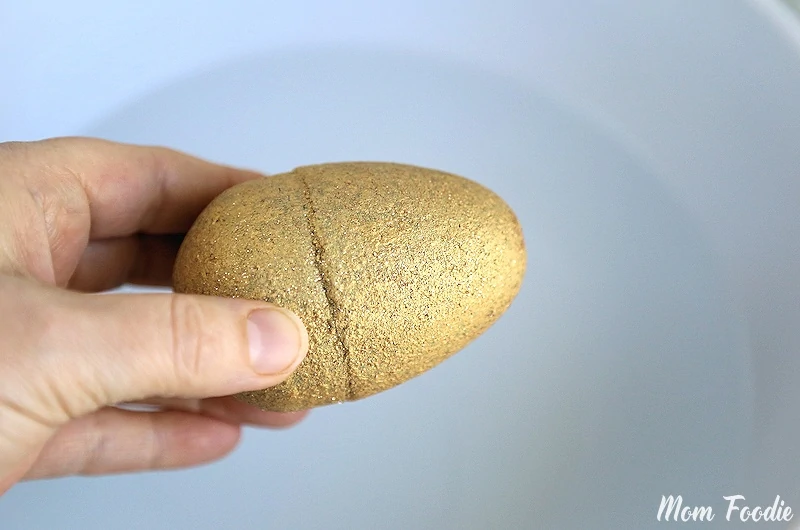 Big sparkly Golden Egg bath bomb with toy surprise inside. Let's open it.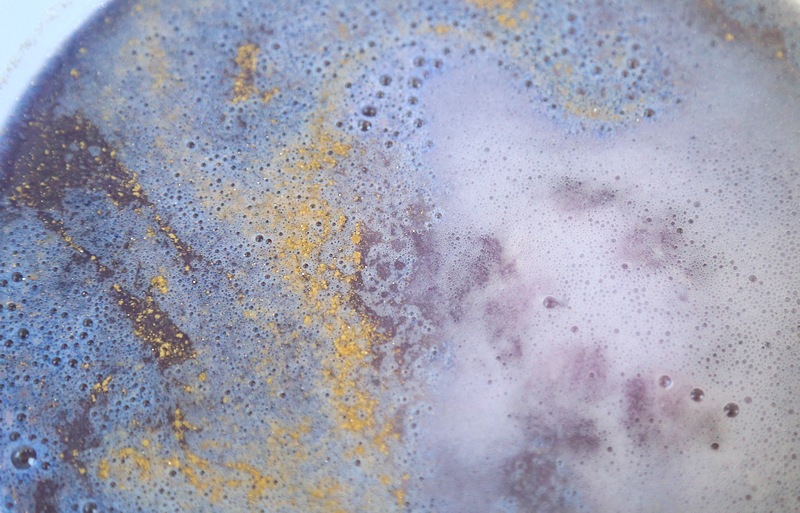 Colors the water purple and blue with flecks of gold. The water will not be this dark in a bath. This was dissolved in a large basin.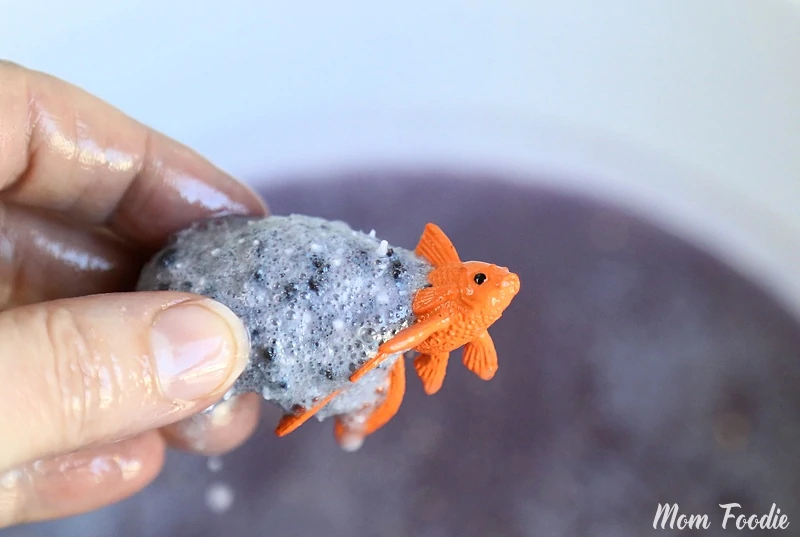 A goldfish toy is revealed. Bathtime fun and a new toy!
Grab the Bath Bomb Ingredients you May Be Missing Now
Ajent Citric Acid 100% Pure Food Grade Non-GMO (Approved for Organic Foods) 1 Pound
Viva Naturals Fractionated Coconut Oil, 16 oz
6 Food Color US Cake Supply by Chefmaster Liqua-Gel Paste Cake Food Coloring Set - The 6 Most Popular Colors in 0.75 fl. oz. (20ml) Bottles
Plant Therapy Lavender Essential Oil. 100% Pure, Undiluted, Therapeutic Grade. 10 ml (⅓ oz).
Plant Therapy Sweet Orange Essential Oil. 100% Pure, Undiluted, Therapeutic Grade. 10 ml (⅓ oz).
Natural Epsom Salt (Original) 16oz
Bob's Red Mill Baking Soda, 16 Ounce
Bob's Red Mill Corn Starch, 22 Ounce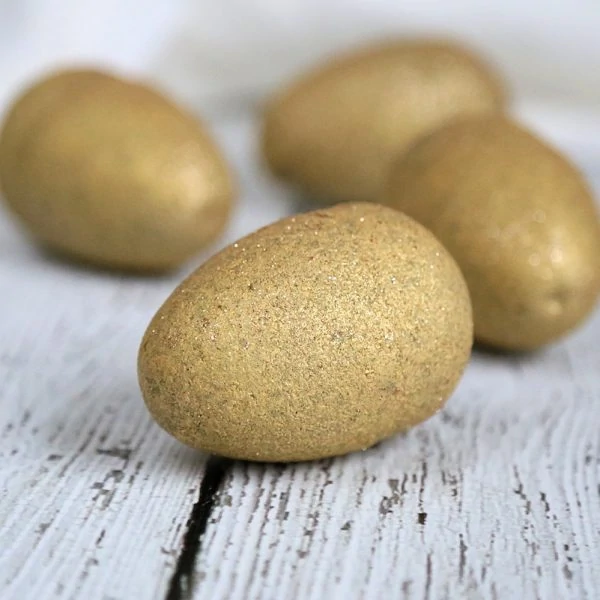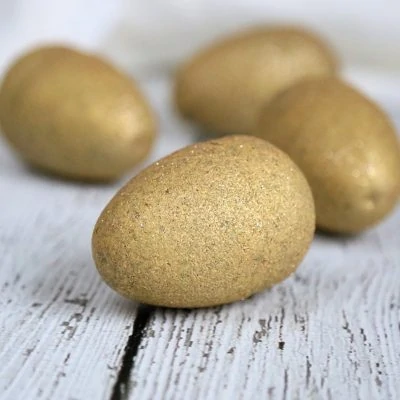 Print Recipe
Toy Surprise Inside Golden Egg Bath Bombs
Ingredients
1

cup

baking soda

½

cup

citric acid

½

cup

cornstarch

¼

cup

epsom salts

2

tbs

fractionated coconut oil

or almond oil

¼

teaspoon

kids safe essential oil*

1

tbs

water

purple gel food coloring

other deep color is OK, but I think the purple works best
Supplies for Toy Surprise Inside Golden Egg Bath Bombs
large plastic egg molds/candy holders

small toys that easily fit inside the eggs

I used Toob pets

1-2

cans of Wilton edible Gold Color Spray

¼-1/2

teaspoon

gold cosmetic glitter

very fine glitter
Instructions
Mix together the dry ingredients for bath bombs, then add the oil, essential oil and water. Take care to whisk quickly as you add the water so it can blend in before causing much reaction.

Add the purple gel food coloring. Stir in well, and repeat until mixture is a medium to deep purple. It doesn't have to be too dark, but helps make the gold over it look more realistic.

Fill each side of a plastic egg candy holder with the bath bomb mixture, then insert a toy on larger side of egg.. Press down around the toy and opposite side to ensure the mold is well packed, then add more. Press down, once sides are full add an extra scoop on each side and press firmly together. Set the bath bomb filled molds aside to set for about ½ an hour, then remove to dry out for about another hour before painting (longer is fine).

Once the purple egg bath bombs are dry, take a can of Wilton edible gold paint shake well and mist on the bath bombs. It will take a number of coats to fully cover the egg with gold paint. While the spray is still wet sprinkle on some gold cosmetic glitter to add more glisten to the Golden Egg bath bombs.

The Toy Surprise Inside Golden Egg Bath Bombs should be left to dry overnight before sealing in airtight container or using.
Notes
* lavender, orange and lemongrass are three I use in my daughter's bath bombs and are generally considered safe for kids
More Fun Easter Bath Bombs