Earthquake Cake is a delicious cake recipe that everyone will love. While not quite a dump cake, it is almost as easy to make. If you love chocolate and easy baking recipes, this dessert is for you.
It also features a rich cream cheese swirl layer, pecans and coconut! I have included a full visual guide to making the Earthquake cake recipe for you. So have no fear, you've got this!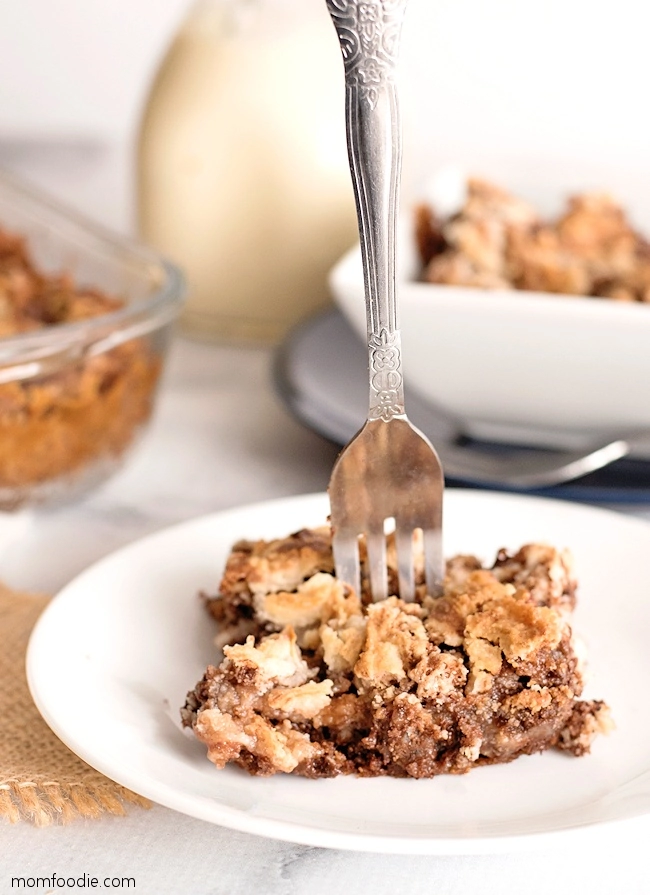 Earthquake Cake: A Fun Chocolate Cream Cheese Cake
Earthquake cake is a rich and gooey chocolate cake loaded up with coconut, pecans, chocolate chips. There is also a scrumptious cheesecake layer that creates a swirling frosting within the cake and the cracks and crevices that give the dessert it's name. Despite all that going the cake is super easy to make, thanks in part to the help of chocolate cake boxed mix.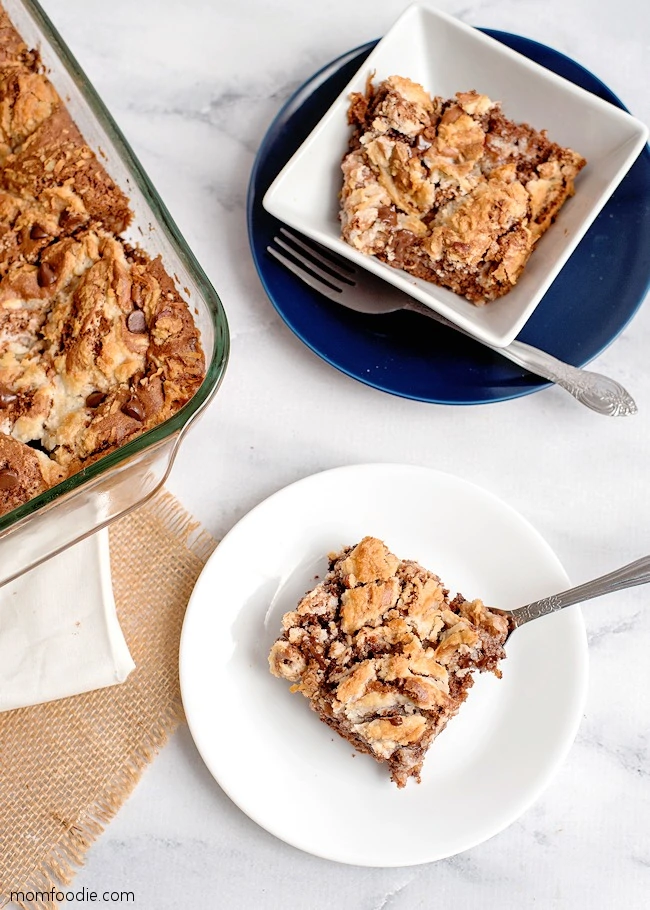 The German Chocolate Earthquake cake has several layers that create the fun effect of the cake, which require a few extra steps. No worries, I have pictures to ensure you don't miss anything and get great results the first time!
Why is it called an earthquake cake?
This is one of those classic recipes that's passed down from grandmothers to mothers to children. But after making and tasting this scrumptious chocolate cake, I think I know why they call it an earthquake cake.
When you look at it, it looks like an earthquake disrupted the cake! All the layers are mixed in together. It's kind of a mess compared to other layered cakes.
But the beauty is in the mess.
How to Make Earthquake Cake
There is the visual walkthrough of the process of making the Earthquake Cake. No worries, this is an easy cake recipe. Full printable recipe below.
Chocolate Earthquake Cake Ingredients
Here are all the ingredients you will need to make this fun cake.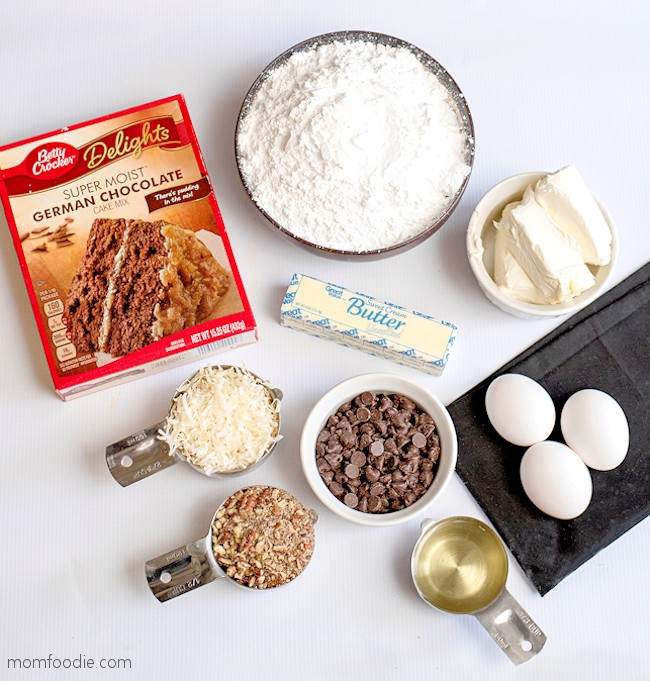 German chocolate cake mix, devil's food cake mix or chocolate fudge cake mix (for deeper chocolate flavor)
Vegetable oil
Eggs
Unsweetened shredded coconut flakes
Chocolate Chips (semi-sweet or use white chocolate chips if you prefer)
Chopped pecans (use other nuts, such as walnuts or almonds if you prefer)
package Cream cheese, softened
Butter
Powdered Sugar
vanilla extract (optional)
Supplies: 9 x 13-inch pan and nonstick cooking spray
Directions
First, preheat your oven to 350 degrees F.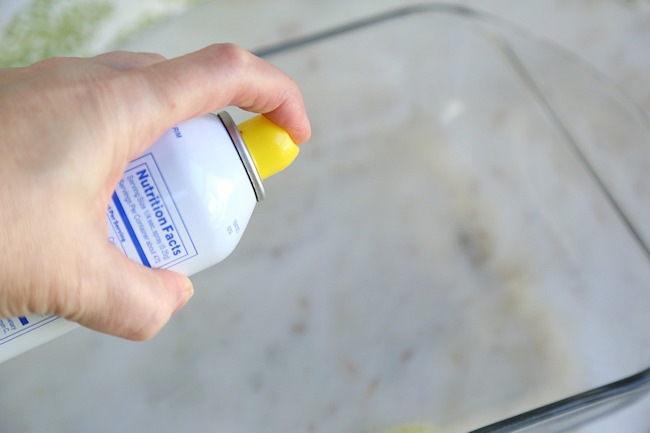 Coat the interior of a 9 x 13 baking pan with cooking spray.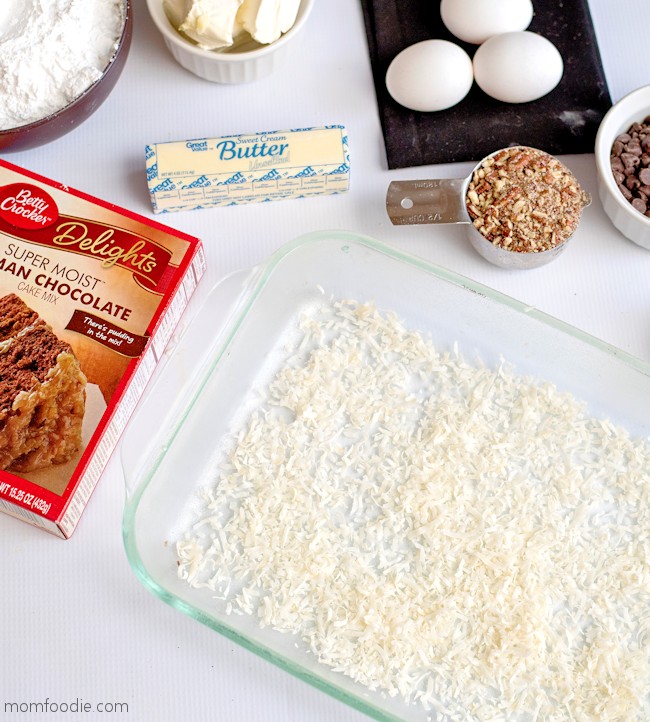 The first layer to add is flaked coconut. Spread it across the bottom of the baking dish.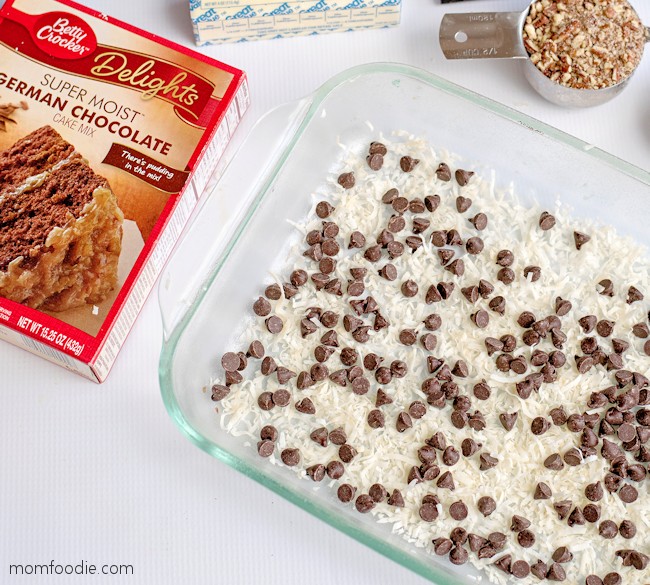 Sprinkle chocolate chips over the coconut layer. Then distribute the chopped pecans the same way.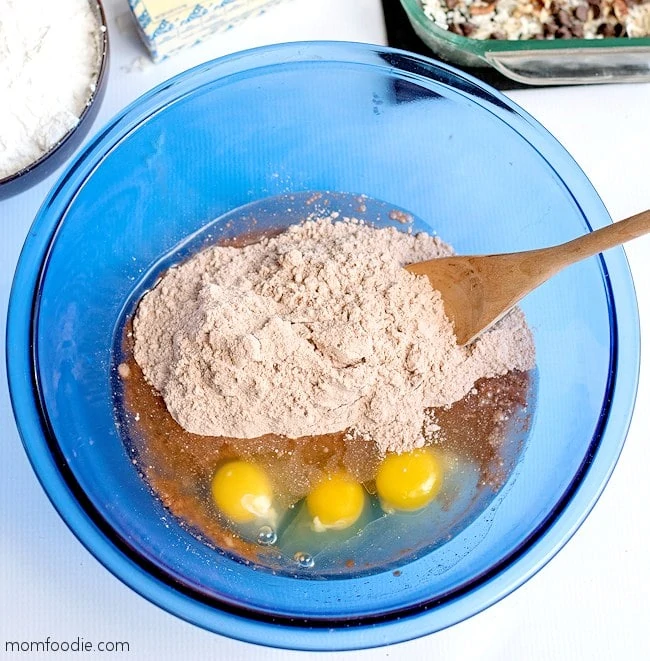 Pour cake mix in a large bowl combine with the oil, eggs, and water.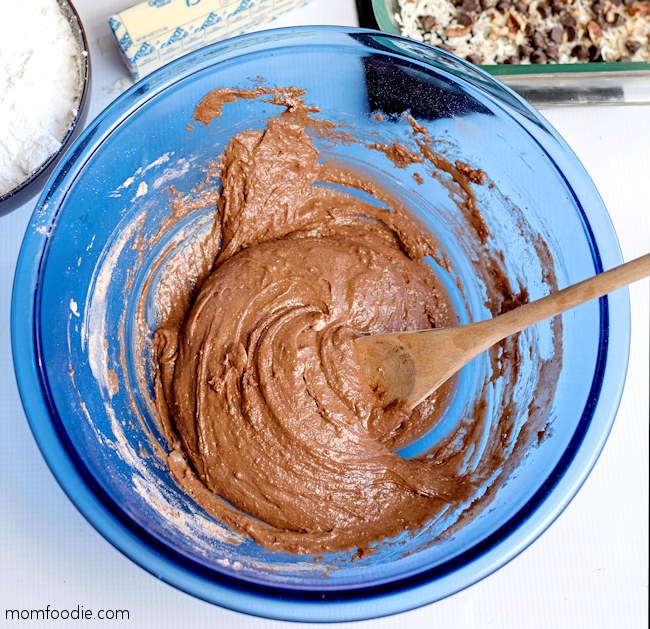 Mix to prepare the cake batter.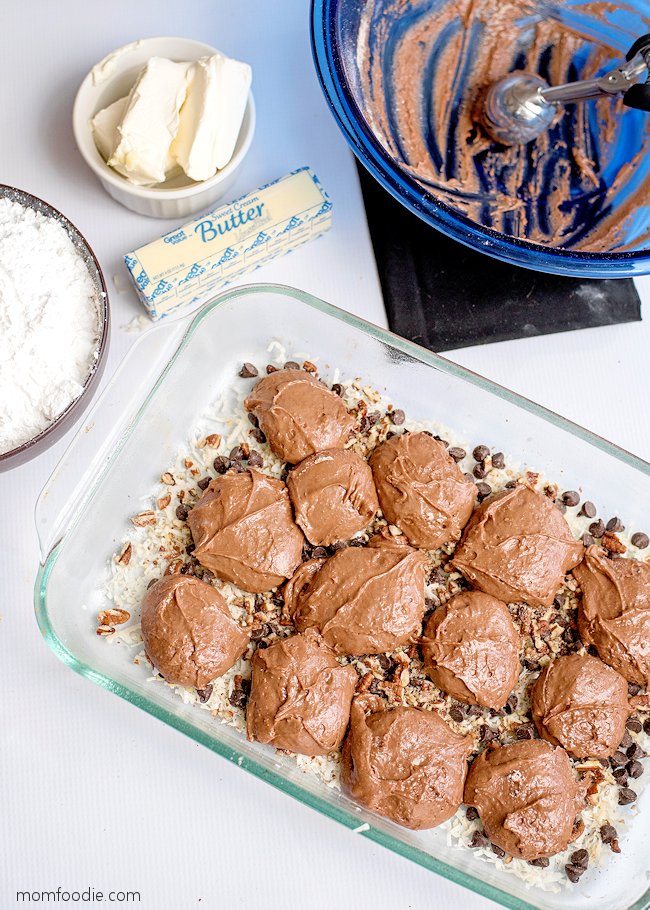 Add the batter to the cake pan in evenly distributed dollops across the surface over the pecan layer.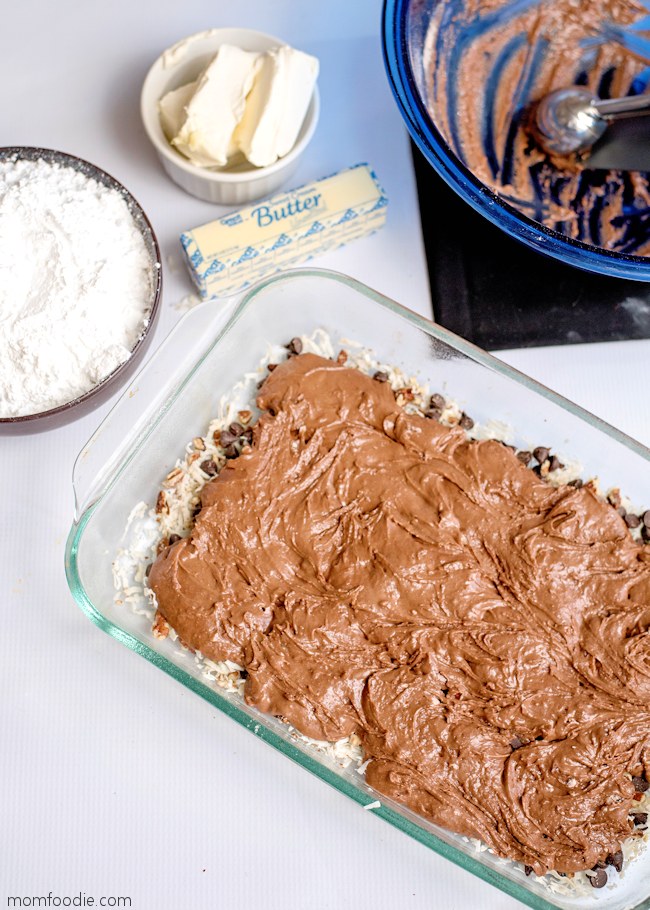 Then spread the cake batter out with an oiled spatula, butter knife or spoon.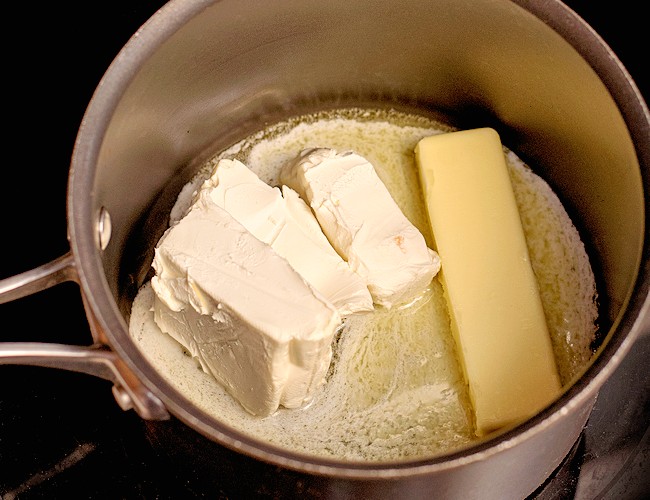 Next, melt the butter and cream cheese together in a small saucepan to make cream cheese filling/topping. Add vanilla to cream cheese mixture if using.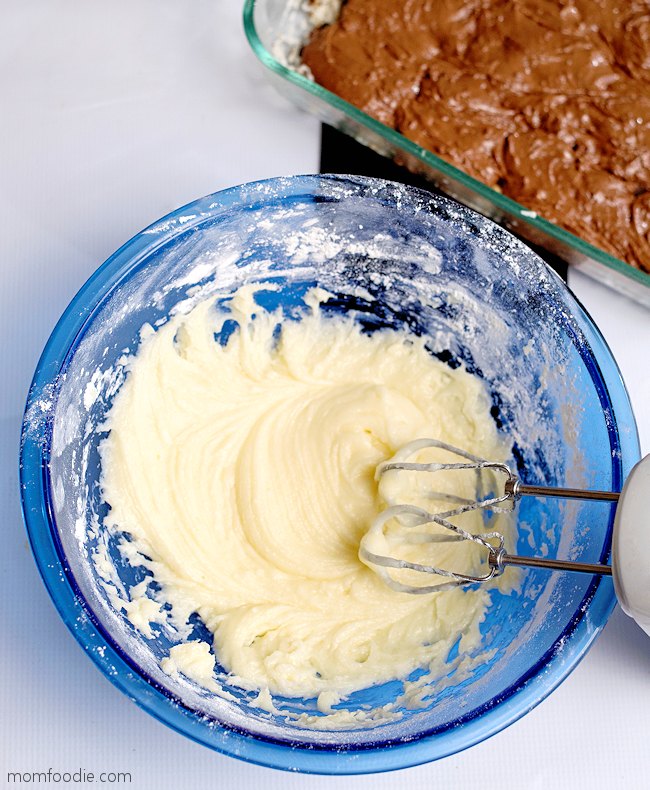 Beat the powdered sugar into the melted butter cream cheese with a hand mixer until smooth to create cream cheese frosting.
Yes, you can use a stand mixer or beat it with a whisk if you have the endurance.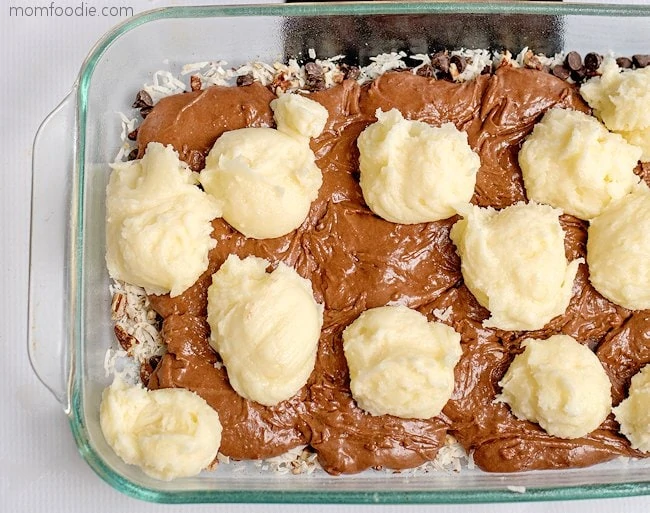 Scoop on dollops of cream cheese frosting on top of the cake batter... in well-dispersed dollops.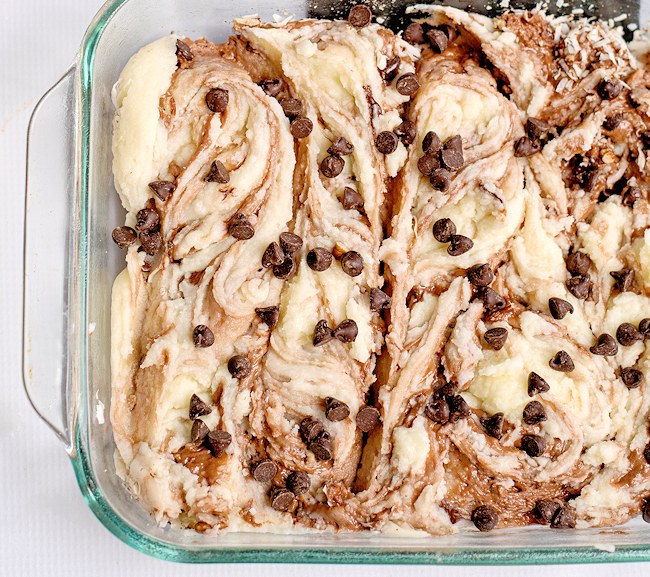 Then swirl the batter around with a chopstick or a butter knife.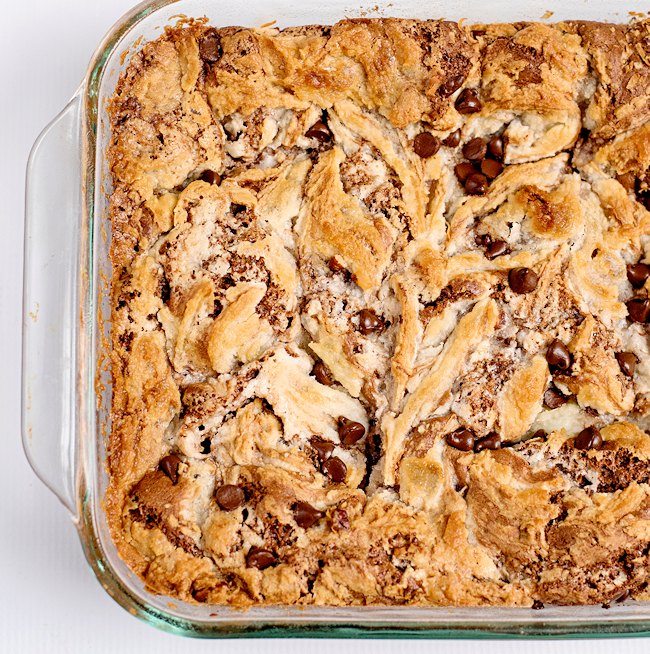 Place in preheated oven and bake for about 40 minutes. The cake is fully when a pick pulls free of uncooked German chocolate cake batter.
Cool before serving or get some out warm and serve like a dump cake with a scoop of vanilla ice cream or whipped cream on top. Speaking of dump cakes, if you like this dessert, you will probably like my Oreo dump cake recipe too!
Variations on the Recipe
Here are a few simple twists to the recipe you may enjoy.
Make a peanut butter earthquake cake by adding chopped peanut butter cups, peanut butter chips and mixing some peanut butter into the cream cheese filling.
Use a fudge or Devil's food cake mix, for a slight flavor change in this decadent chocolate cake.
Store Leftovers
It is important to store leftover Earthquake Cake in the refrigerator, due to it's cream cheese layer which is prone to quick spoilage at room temperature.
Fridge: Once the cake is fully cooled, either cover the pan with plastic wrap or preferably cut into slices are seal up in an airtight container or plastic baggies. It will last for 4-5 days.
Freezer: For longer term storage, well sealed cake will last in the freezer for up to 3 months.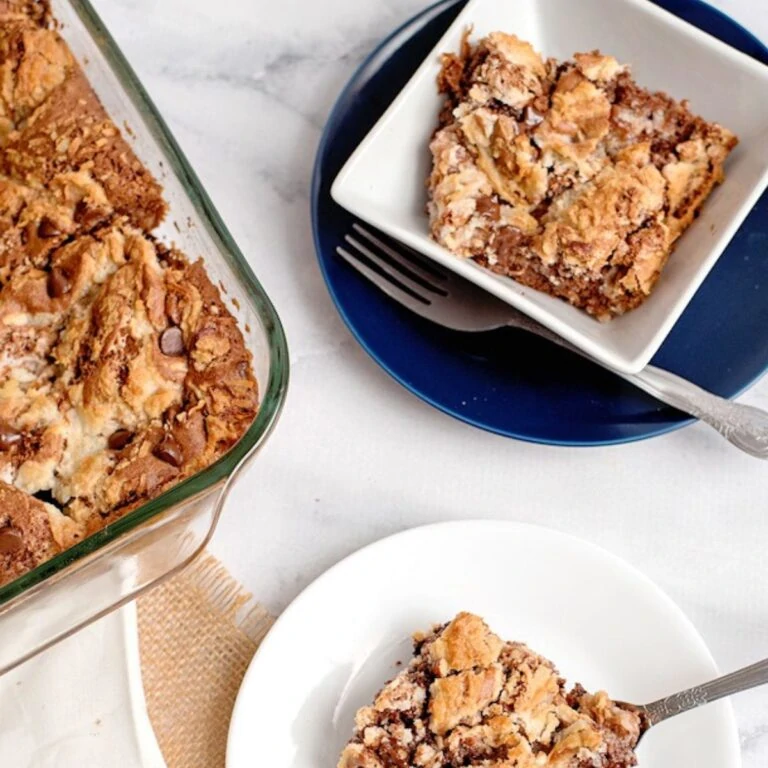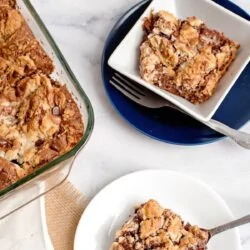 Earthquake Cake
This Earthquake Cake recipe makes a delicious cake with cream cheese filling, coconut and pecans. This rich cake is super easy to make!
Print
Pin
Rate
Equipment
9 x 13 inch baking dish preferably a glass pan
Ingredients
1

box of German chocolate cake mix

fudge, regular chocolate or devils food cake mix could also be used in the recipe

⅓

cup

vegetable oil

3

large eggs

1

cup

water

⅔

cup

unsweetened coconut

⅔

cup

semi sweet chocolate chips

or white chocolate chips

½

cup

chopped pecans

½

cup

unsalted butter

(one stick)

8

ounces

cream cheese

3 ½

cups

powdered sugar

1

teaspoon

vanilla extract

*optional
Instructions
Preheat the oven to 350 degrees and coat the inside of a 9x13 pan with a non-stick spray.

Start by layering the coconut, chocolate chips and pecans on the bottom of your prepared pan. Set aside.

In a large bowl, mix together the cake mix, oil, eggs and water until combined.

Pour the cake mix batter over the top of your layers in the pan and lightly spread around.

In a small saucepan, melt the butter and cream cheese on the stove top.

Pour the butter and cream cheese mixture into a large bowl. Add the powdered sugar (and vanilla if you are using it). Using an electric mixer, mix together the powdered sugar and butter until a creamy consistency has been reached.

Spoon the cream cheese mixture over the top of the cake batter layer in your pan. Then, swirl a knife around the cake pan to create a swirling pattern between the cream cheese and cake mix. Don't mix too much, just enough to combine the two with a pretty pattern.

Bake the earthquake cake for 35-40 minutes. Cool completely before cutting if you want clean slices. It can also be served warm with a scoop of ice cream on top!
Nutrition
Calories:
611
kcal
|
Carbohydrates:
69
g
|
Protein:
6
g
|
Fat:
37
g
|
Saturated Fat:
20
g
|
Cholesterol:
82
mg
|
Sodium:
378
mg
|
Potassium:
261
mg
|
Fiber:
2
g
|
Sugar:
52
g
|
Vitamin A:
555
IU
|
Vitamin C:
0.1
mg
|
Calcium:
92
mg
|
Iron:
2.8
mg