If you love bagels, this homemade everything bagel recipe is a must make! There is no need to visit your local bagel shop or grocery store when you can make fresh bagels right in your own kitchen!
While I topped these delicious homemade bagels with everything seasoning mix, you can just as easily use the homemade bagel recipe to make plain bagels or sprinkle on a different topping of your choice. These New York style chewy bagels are sure to be a treat no matter how you dress them! You may never get store bought bagels again.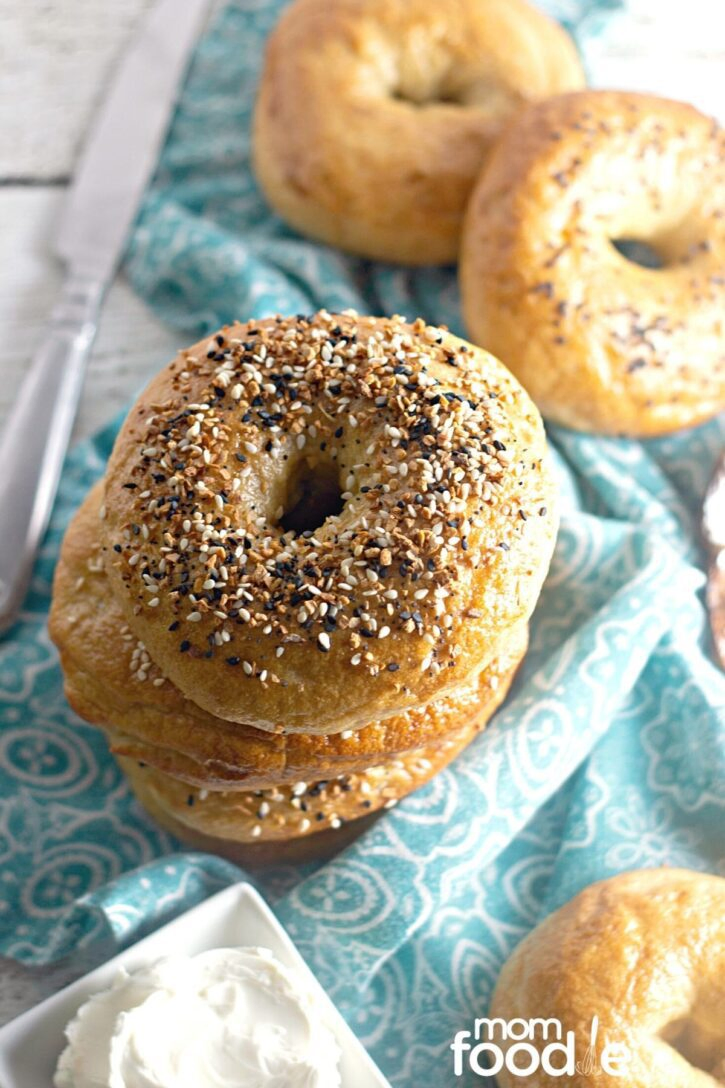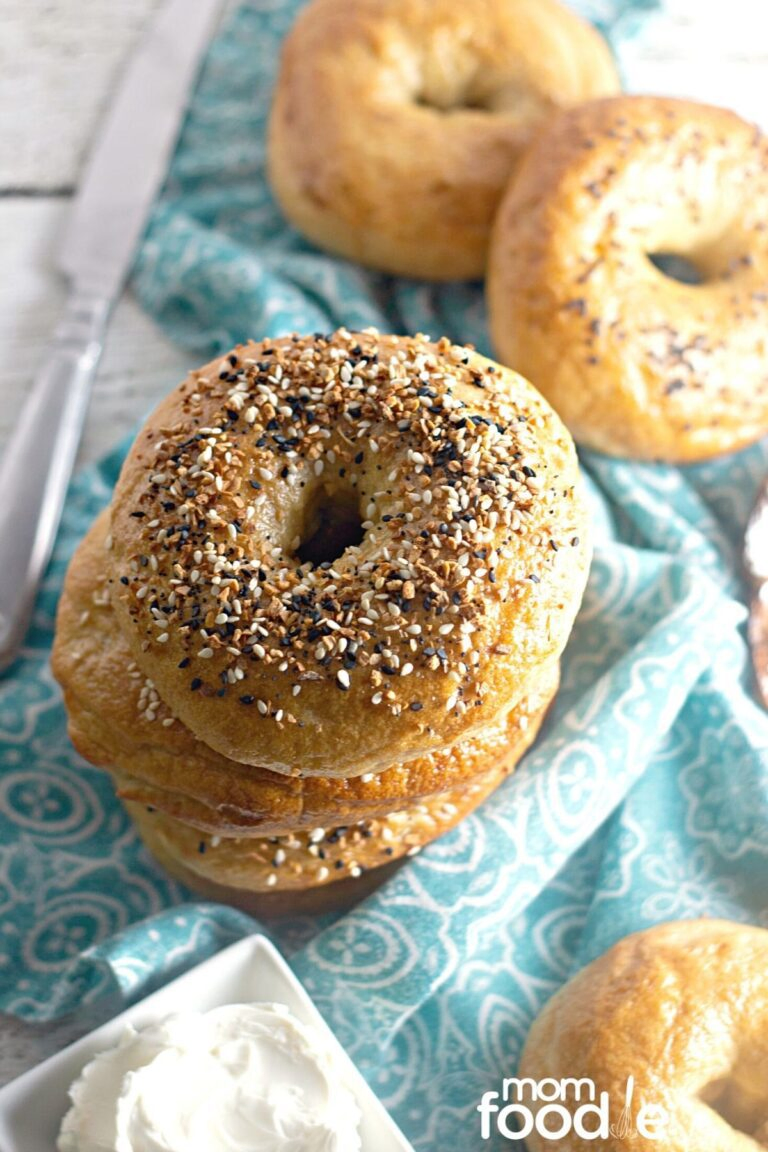 If this is your first time making real bagels don't be intimidated by the need to boil before baking. You've got this!
The boiling gives bagels their iconic chewy texture and outer crust. Pretzels are also boiled before baking.
How to Make Homemade Bagels
Let's make some homemade everything bagels! Of course, you can also use this recipe to make other varieties as well. The resulting New York style bagels are sure to be a hit, no matter what you top them with.
Recipe Makes 8 bagels
Prep time: 30 minutes
Rise time: 60-90 minutes
Boil time: 8 minutes total
Bake time: 25 minutes
Ingredients needed
active dry yeast
water
sugar
bread flour
salt
molasses
oil
honey
large egg
Everything bagel seasoning mix, or topping of choice such as sea salt, roasted garlic or seeds
Preparation
There are several steps to making bagels, make sure to follow along.
Making Bagel Dough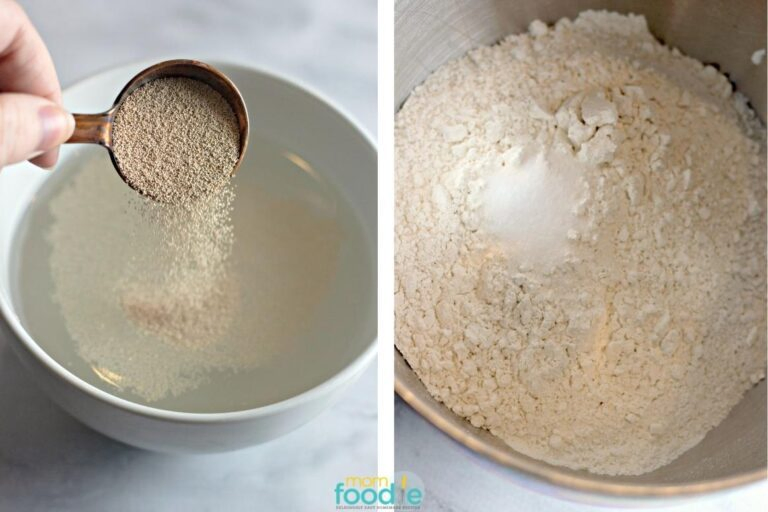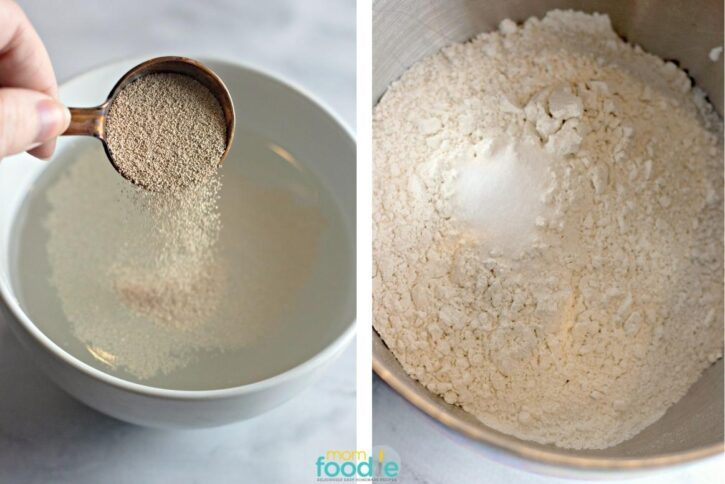 Start with 1 ½ cups of warm water ( about 110 degrees Fahrenheit) in a small bowl. Mix in the yeast and sugar. Set aside until it looks frothy (about 5 minutes).
Combine the flour and salt. Then add the yeast water and molasses to the flour mixture and mix well. A stand mixer with a dough hook attachment is ideal for this.
Knead the Dough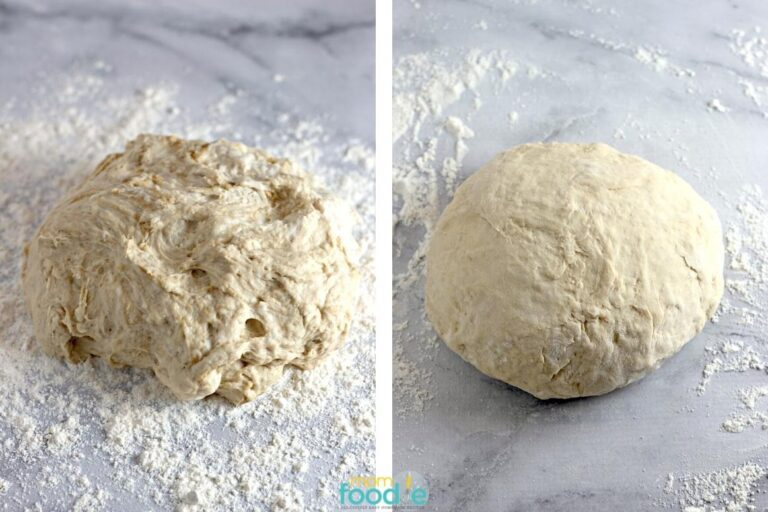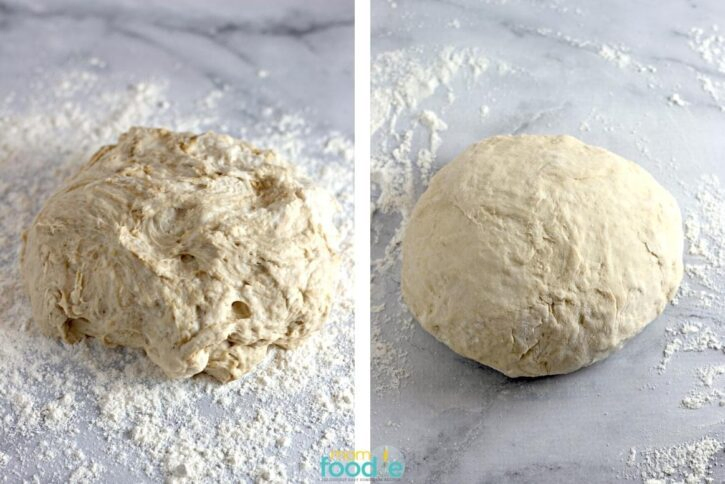 Place this bagel dough on a floured clean surface to knead. Knead using a folding circular motion. It will take about five minutes of kneading to create a smooth ball of dough.
Rising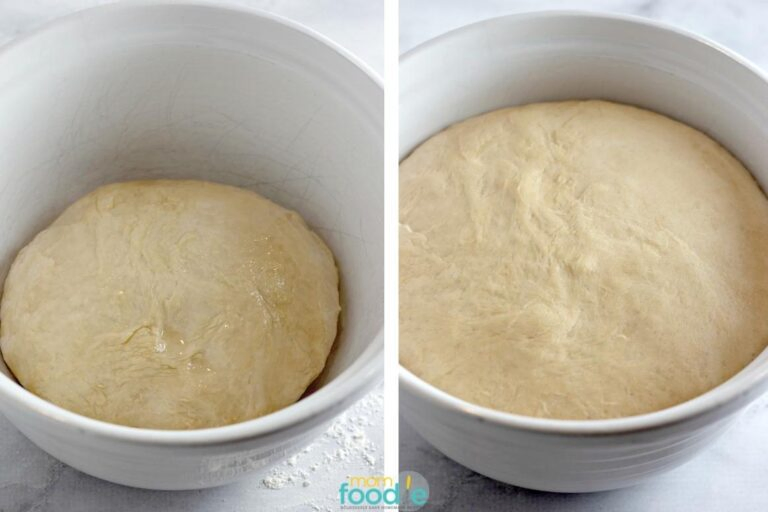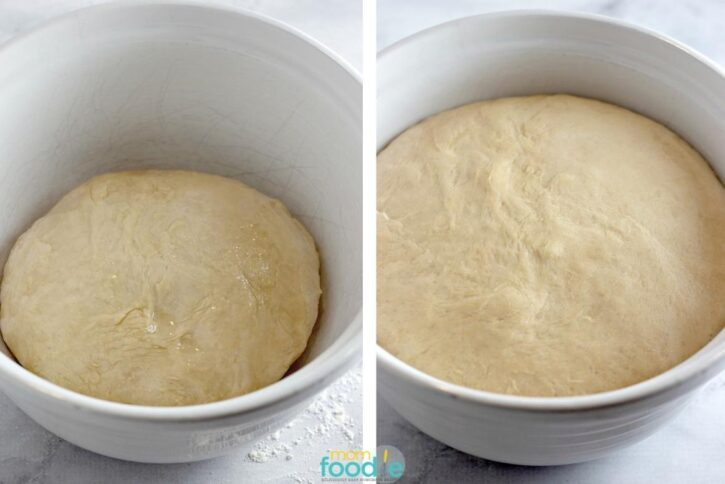 Coat the inside of a large bowl with olive oil (nonstick spray or oil of choice) lightly coating the dough itself is fine as well. Cover with plastic wrap or a towel and set in a warm spot to allow dough rise.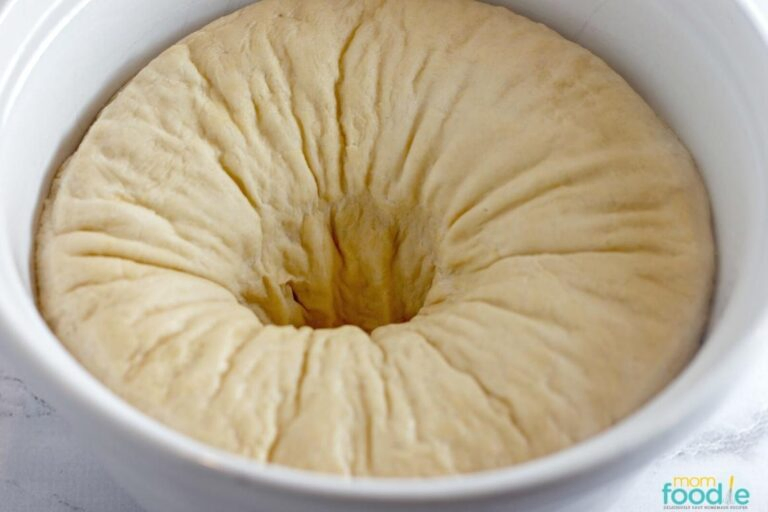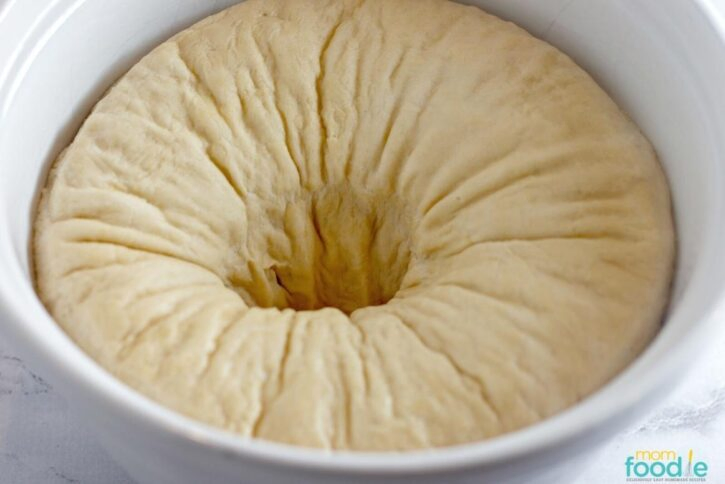 Once doubled in size (60-90 minutes, many factors can effect rise time) punch the dough down.
Shape the Bagels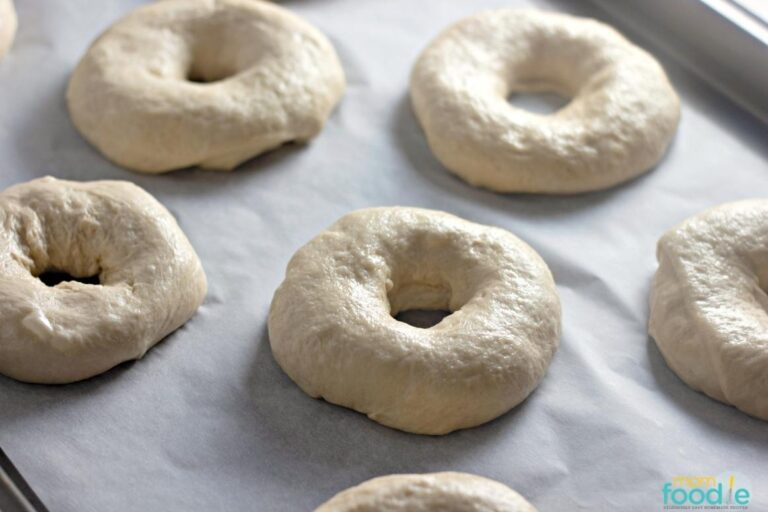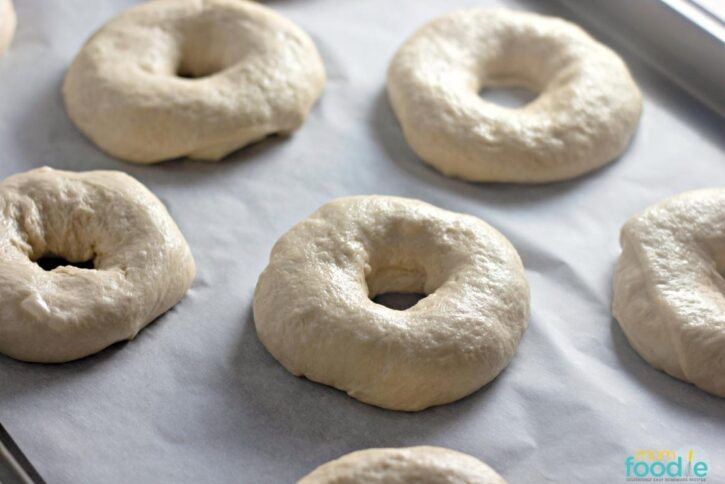 Divide the bagel dough into 8 equal pieces and form each into a ball. Poke an index finger in center of each ball of dough and stretch to form a hole in the middle, roughly 2 inches wide. Place them on large baking sheets lined with parchment.
Boil the Bagels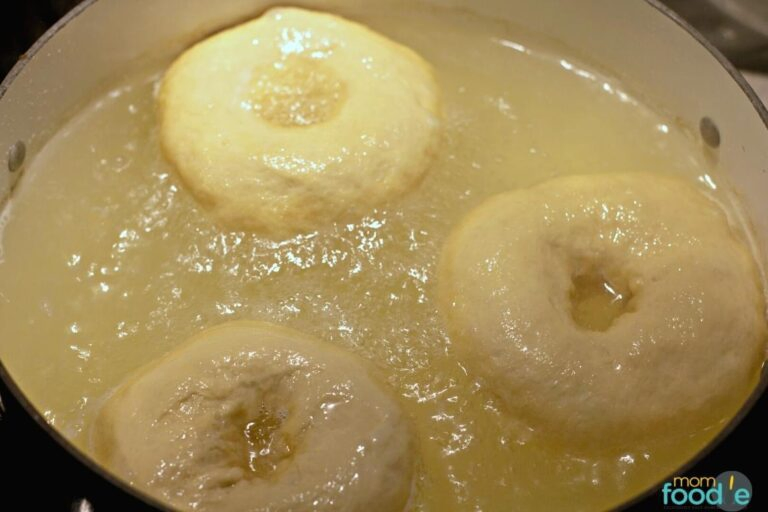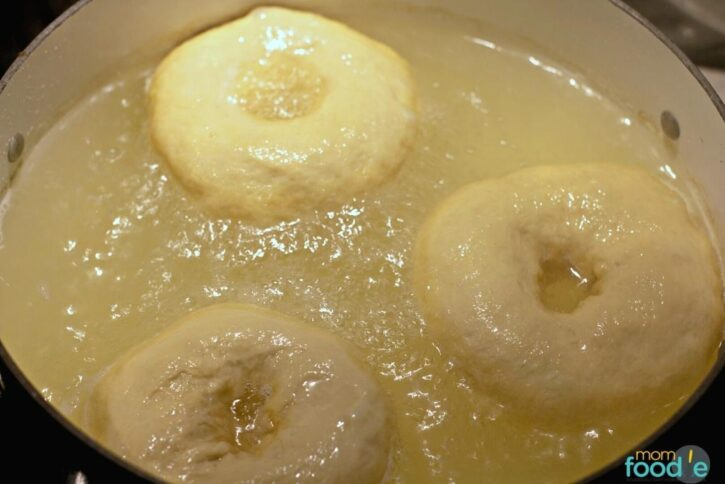 Fill a large pot about 2 inches of deep with water and place over high heat. Whisk in the honey and whisk until dissolved. Once the water comes to a boil, reduce to medium high heat.
Now the shaped bagels are placed in a boiling water bath in small batches. Make sure to keep enough room between each bagel, so they don't stick. Flip after 1 minute, boil for another minute then fish each out with a slotted spoon. Return the boiled rings to the lined baking trays.
Baking Bagels
Preheat the oven to 425 degrees Fahrenheit.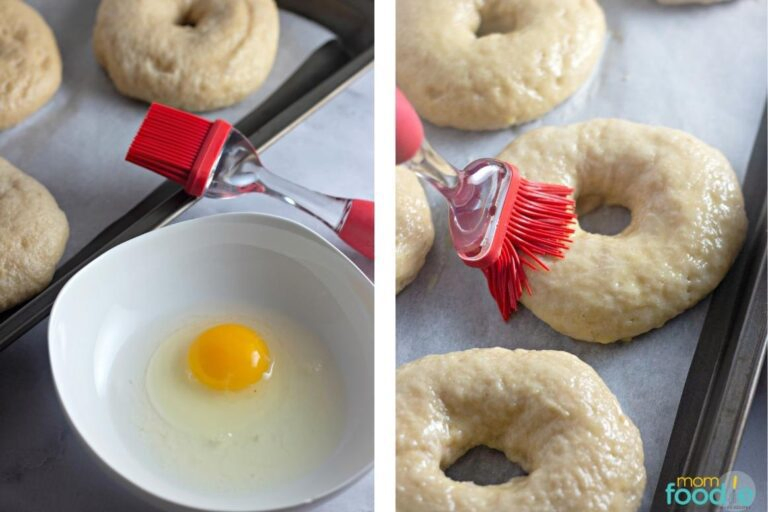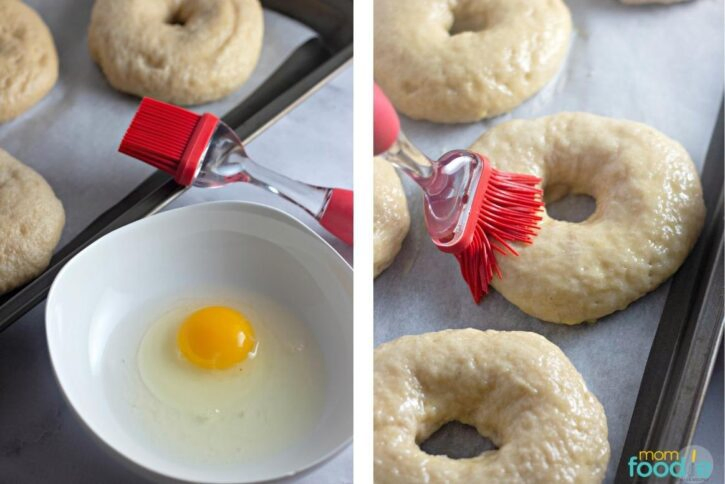 Beat an egg to create an egg wash and baste the bagels with it.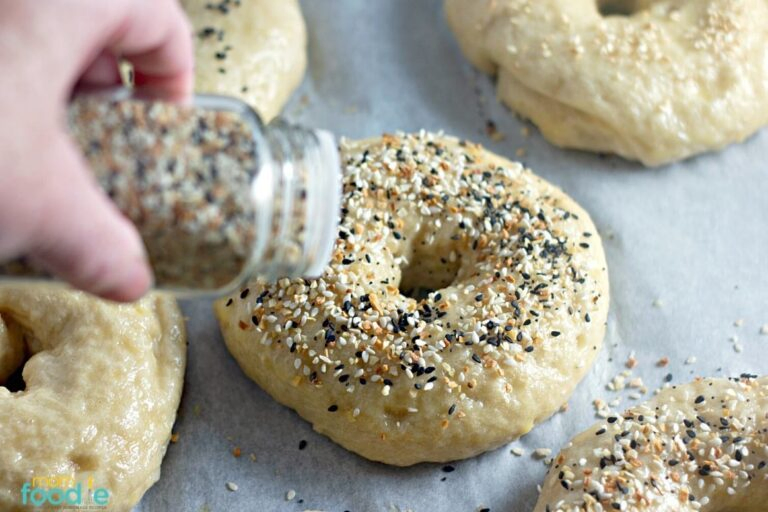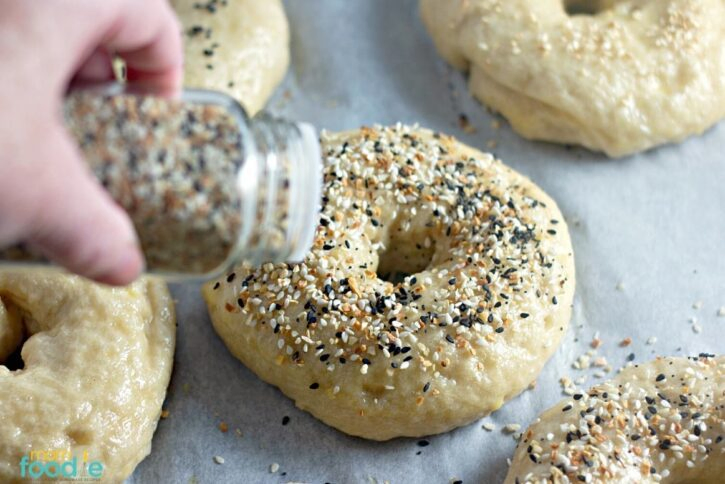 Top each with seasoning of choice. Leave some plain bagels too if you prefer.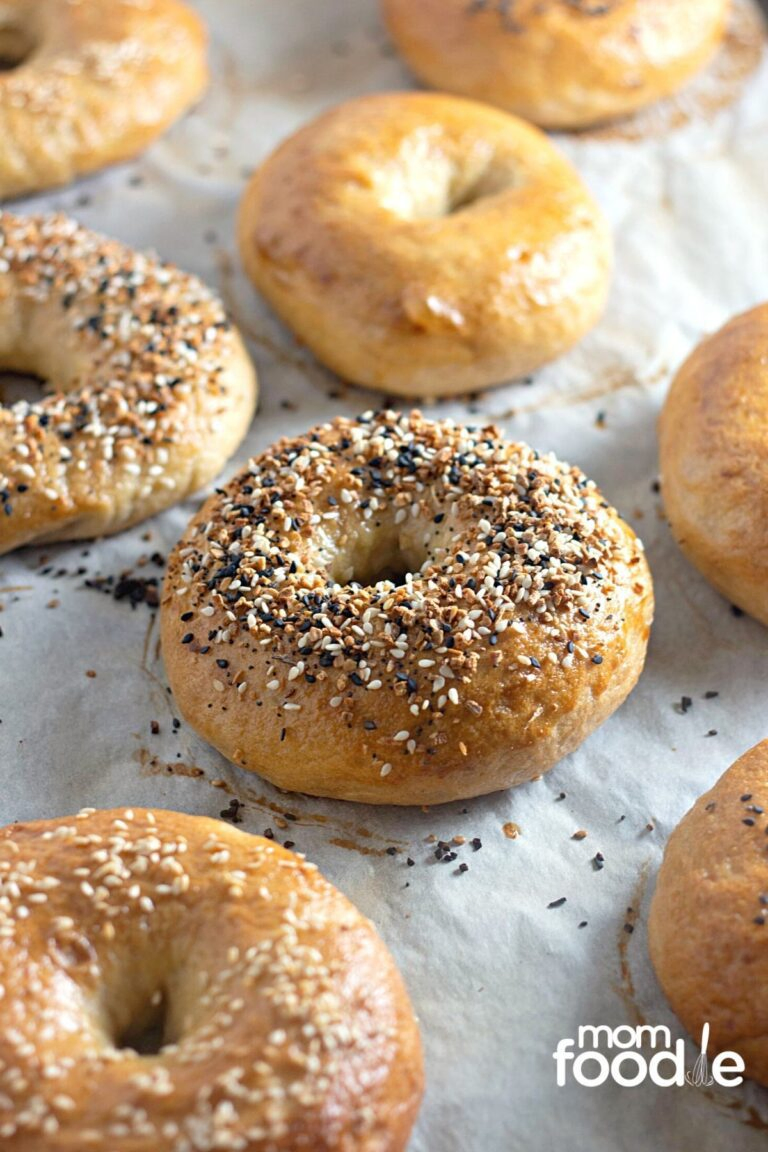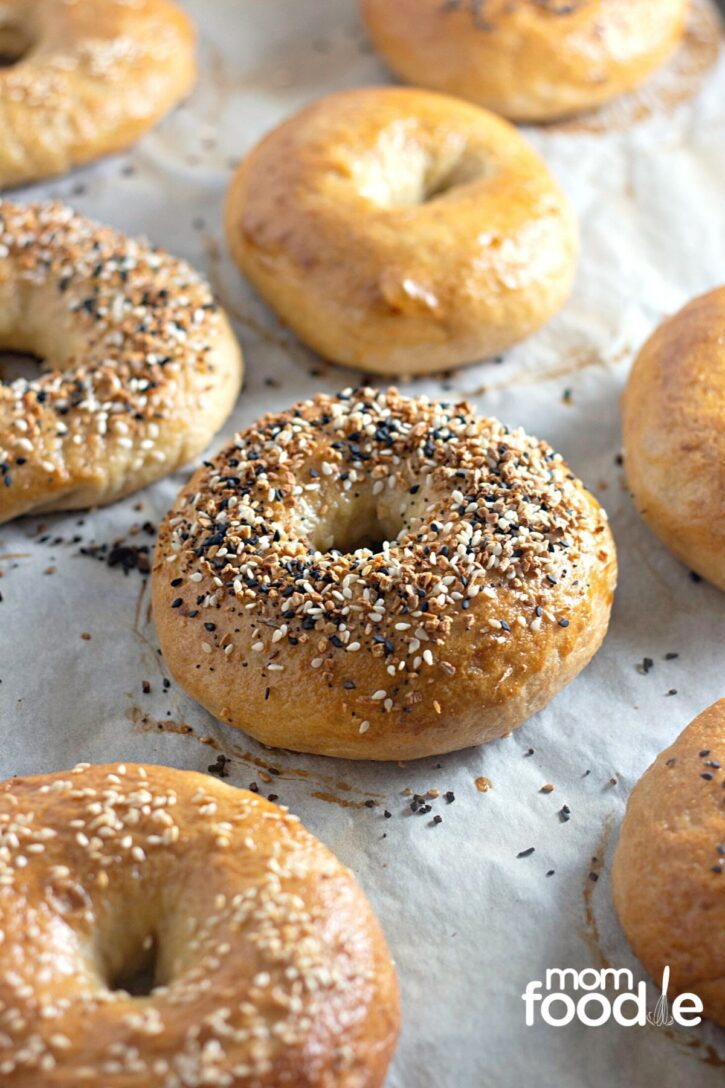 Bake for 25 minutes until deep golden brown. Allow the bagels to cool on a wire rack for a few minutes, then slice to serve or toast.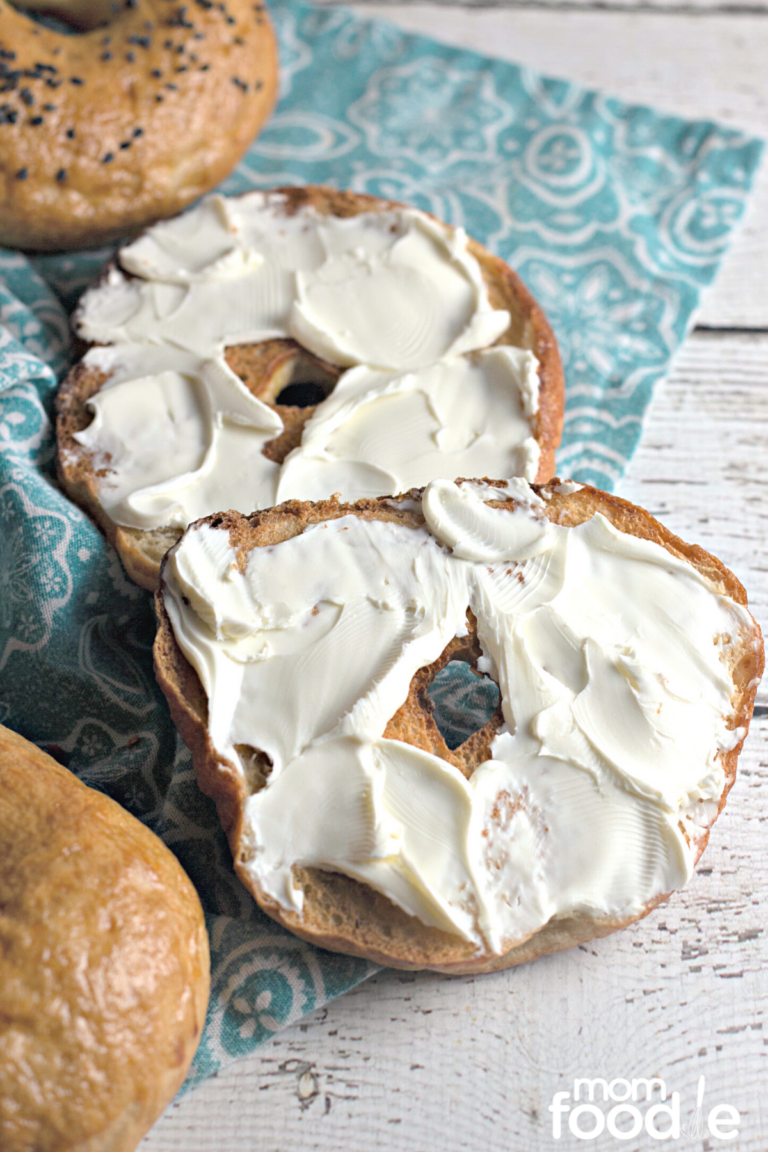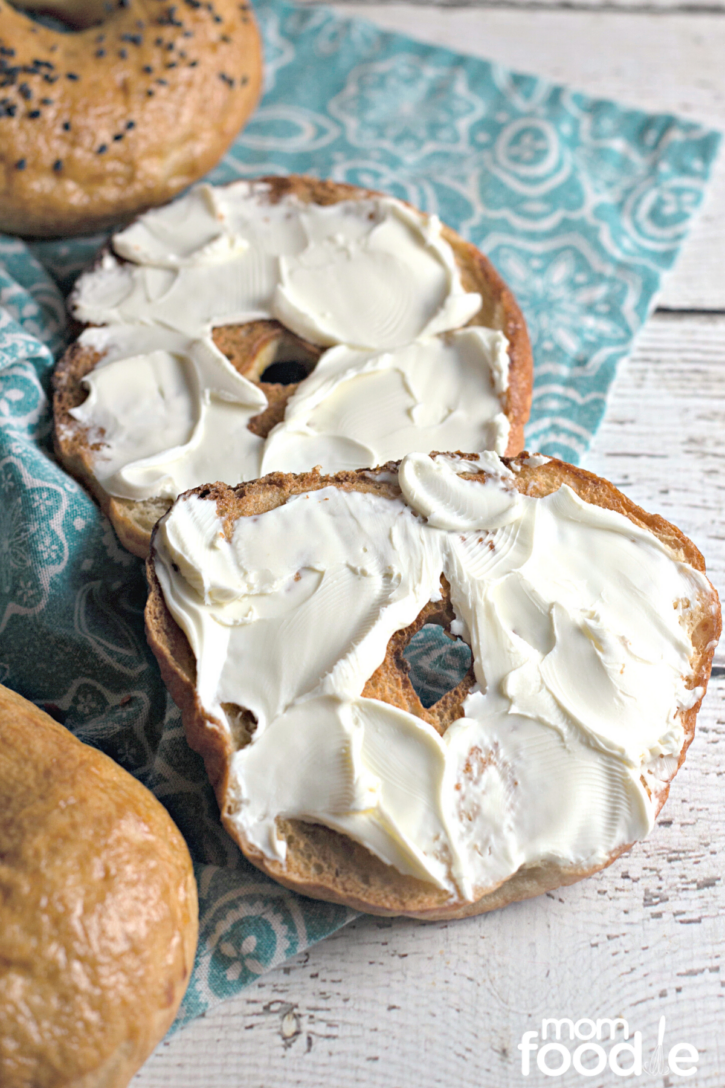 Slather with cream cheese or butter and enjoy. These savory bagels make the ultimate avocado toast too!
How to Make Everything Bagel Seasoning Mix
While the seasoning is widely available these days, it is easy to mix your own. Here is how to make a quick batch for your homemade everything bagels, if you prefer not to use store bought.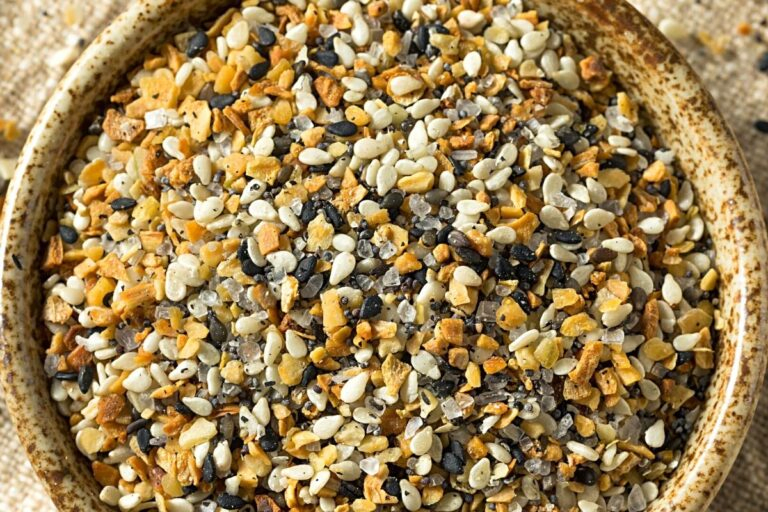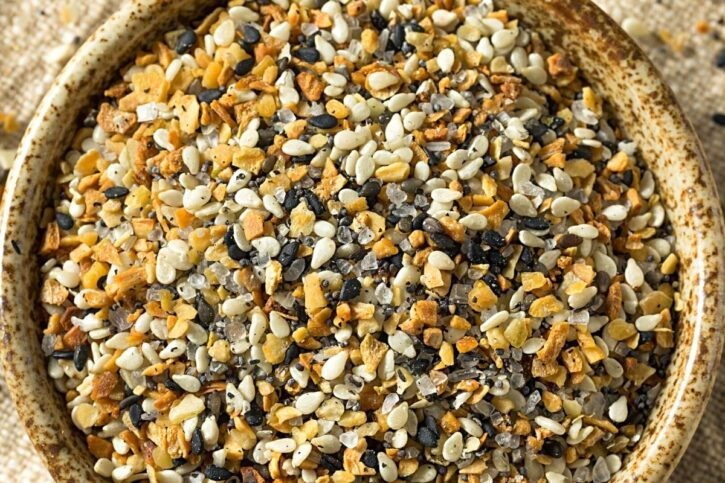 1 tablespoon sesame seeds (white or mix of white and black sesame seeds)
1 tablespoon poppy seeds
2 teaspoons dried minced onion
1 ½ teaspoons dried minced garlic
½ teaspoon coarse salt (such as Kosher or sea salt)
Simply mix together. Store any leftover in an airtight jar.
Why Bagels are Boiled
Good bagels are always boiled before baking. Adding honey to the water bath helps the bagels reach a deep golden brown color and perhaps a bit more crispness on the outside.
Good Flour is a Must
Just like when you want to make a nice quality loaf, bread flour is a must! It contains more protein and gluten that all-purpose flour. This is essential for having that delightful chewy bagel inside. I do not recommend using all-purpose flour for bagel making, or any bread making for that matter.
Storing Homemade Bagels
Store  homemade everything bagels in an airtight container in the refrigerator for up to 3 days, or slice each place in a plastic bag to freeze for up to 2 months. There are no preservative in your bagels so leaving them out at room temperature longer than 2-3 days is not advised.
If you enjoyed making this bakery breakfast food, try your hand at some apple oatmeal muffins, homemade English muffins or perhaps my Starbucks Banana Bread recipe. I also have an old fashioned raised donut recipe, that is sure to keep you out of an overpriced coffee shop line.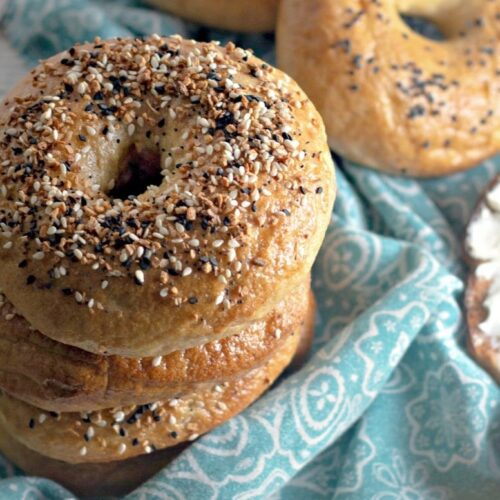 Everything Bagels Recipe
These homemade bagels are chewy and delicious topped with Everything seasoning or whatever you like! Includes seasoning recipe.
Print
Pin
Rate
Ingredients
1 ½

cups

plus 1 tablespoon water

divided (plus water for boiling the bagels)

1

teaspoon

granulated sugar

2 ¼

teaspoons

active dry yeast

.25 ounce 1 package

4

cups

bread flour

plus additional for kneading

1

teaspoon

salt

1

tablespoon

molasses

or  barley malt syrup

1

tablespoon

vegetable oil

or other mild flavored oil for greasing the bowl

3

tablespoons

honey

1

egg

Everything bagel seasoning mix

such as Trader Joe's (or make your own below)
Homemade Everything Bagel Seasoning
2

tablespoons

sesame seeds

(white or mix of white and black sesame seeds)

2

tablespoons

poppy seeds

1 ½

tablespoons

dried minced onion

1

tablespoon

dried minced garlic

1

teaspoon

coarse salt

such as Kosher or sea salt
Instructions
Heat 1 ½ cups of water to 110 degrees Fahrenheit. Pour the water into a small bowl. Add the sugar and yeast to the warm water; mix together then set aside for 5 minutes until frothy.

In a large mixing bowl, whisk together the 4 cups of bread flour and the 1 teaspoon salt. Add the yeast mixture and molasses. Beat with an electric mixer (a stand mixer is preferable) until the dough comes together into a ball.

Turn the dough out onto a floured surface and knead until smooth, about 5 minutes.

Grease a large bowl generously with 1 tablespoon oil. Place the dough into the bowl, turning once to coat the top with oil. Cover the bowl with a clean kitchen towel then set aside in a warm place to rise for 60-90 minutes until doubled.

Punch the dough down, then divide the dough into 8 equal pieces. Roll each piece of dough into a smooth ball. Use your index finger to poke a hole into the center of a dough ball, then stretch and shape it into a large hole, approximately 2 inches in diameter. Repeat this process with each dough ball until you have 8 bagels. Place the bagels on a lined baking sheet, cover with a clean kitchen towel, and set aside to rest while you move on to the next step.

Fill a large pot with water to about 2 inches of depth. Add 3 tablespoons of honey and whisk to combine. Bring the water to boil over high heat. Reduce the heat to medium high. Boil the bagels in small batches for 1 minute on each side, removing with a slotted spoon.

Preheat the oven to 425 degrees Fahrenheit.

Line a large baking sheet (or two smaller baking sheets) with parchment paper. Place the bagels on the parchment paper with at least 1 inch of space between each bagel.

In a small bowl, whisk together 1 egg with 1 tablespoon of water to make an egg wash. Use a pastry brush to brush the egg wash on the top and sides of each bagel. Top the bagels with the toppings of your choice, or leave plain.

Bake the bagels at 425 degrees for 25 minutes until deep golden brown.

Cool the bagels slightly then slice and serve, or toast and serve.

Store bagels in an airtight container in the refrigerator for up to 3 days, or slice and freeze for up to 2 months.
Notes
Omit or substitute the poppy seeds, if you or someone eating the bagels is drug tested for their employment. The seeds can cause a false positive reading.
Nutrition
Serving:
1
bagel
|
Calories:
293
kcal
|
Carbohydrates:
56
g
|
Protein:
10
g
|
Fat:
4
g
|
Saturated Fat:
2
g
|
Trans Fat:
1
g
|
Cholesterol:
20
mg
|
Sodium:
303
mg
|
Potassium:
143
mg
|
Fiber:
2
g
|
Sugar:
9
g
|
Vitamin A:
31
IU
|
Vitamin C:
1
mg
|
Calcium:
19
mg
|
Iron:
1
mg