Fried plantains can actually be made two ways Fried Sweet Plantains known as Maduros and Fried Green Plantains called Tostones.  Here I am making sweet plantains.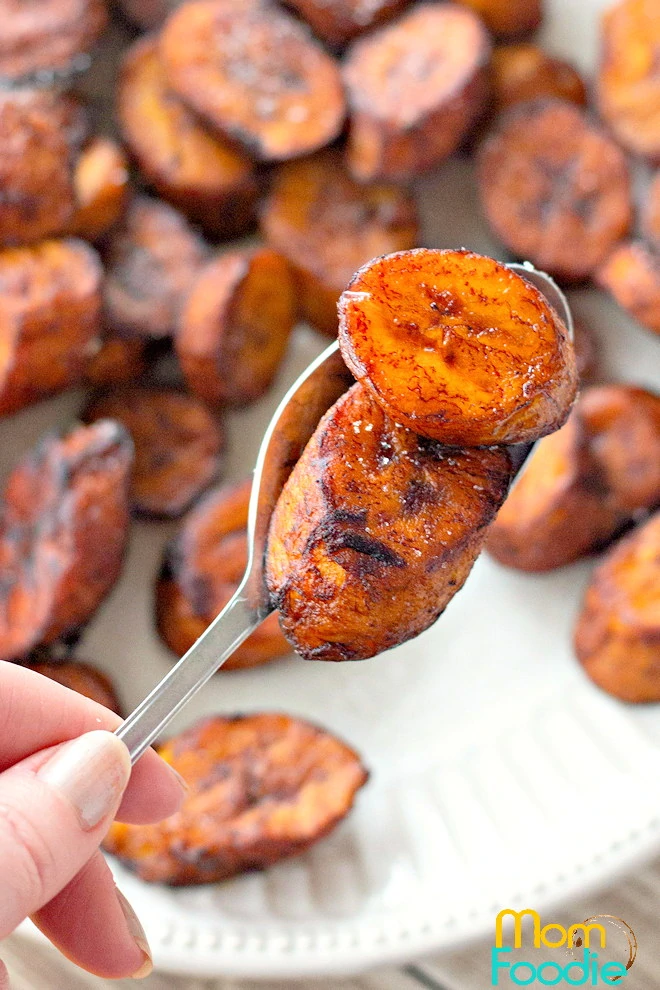 Fried Plantains
Eating plantains is very common in Latin American countries. Cooked plantains are served along with many dishes. Fried Sweet Plantains (platano maduro frito) are particularly popular in Latin cuisine.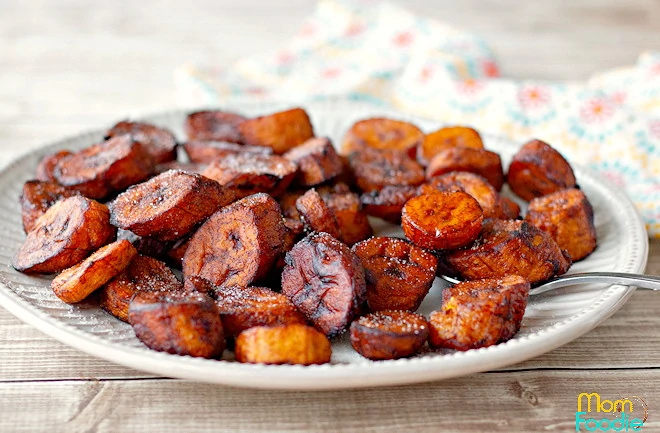 Plantains
Cooking bananas are generally referred to as plantains. They are a reliable all-season staple food in many parts of the world. They are a staple in much of Africa, the Caribbean islands, Central America, and parts of South America, so is common in cuisines of those regions.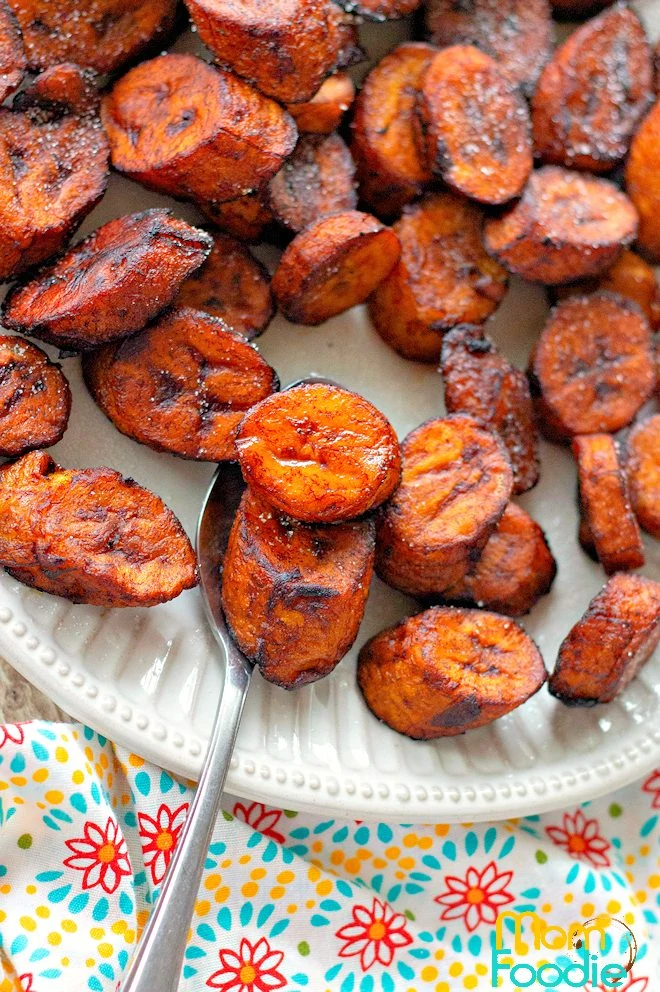 When are plantains ripe enough to fry?
You may be wondering...  what does a ripe plantain look like?  Being able to tell if a plantain is ripe is essential to making great fried plantains.  No worries, it is quite easy. If yours are not ripe enough set them aside in a paper bag to ripen.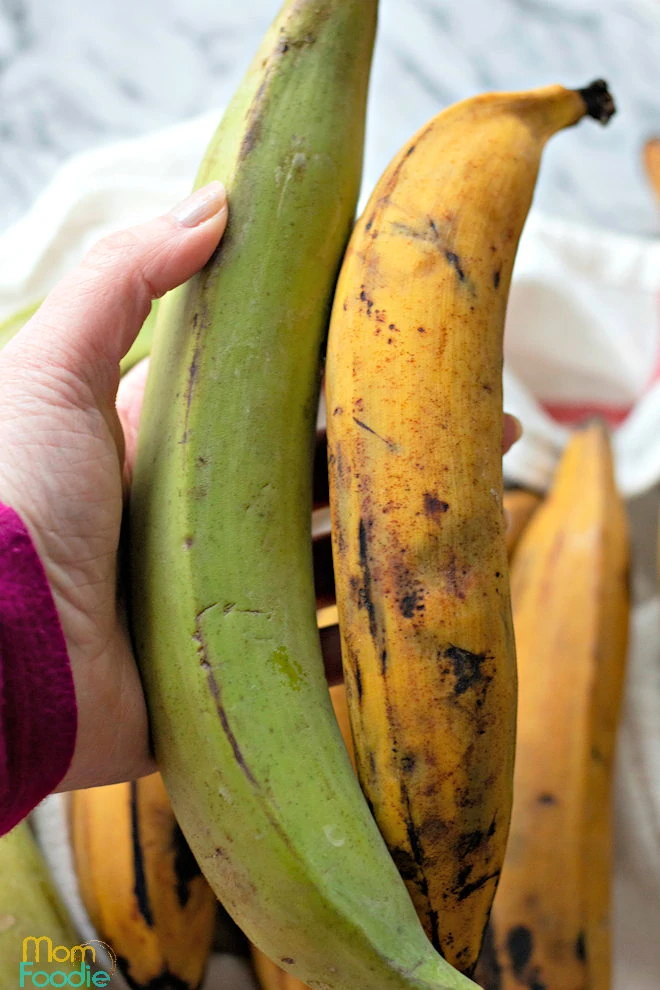 Ripe Plantains
Yellow plantains with brown spots are generally the best for frying. Just like a banana, the plantain gets sweeter as it goes from green to yellow and eventually completely black. When they are like the plantain above they are considered ripe and at the ideal texture and sweetness for frying. Fried ripe plantains are called Maduros.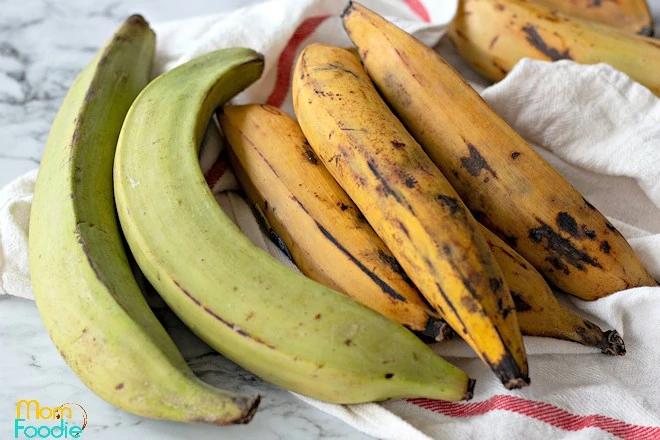 Green Plantains
Green plantains are starchy like a potato, rather than sweet. They are not quite as popular as the ripe plantains for frying and go by an entirely different name when they are, Tostones. Tostones are usually salted when served. Think potato rather than banana when pairing this side dish with a main course or dip.
Black Plantains
When a plantain turns black it hasn't spoiled, it is still edible. This is the plantain at it's sweetest stage. A black plantain has a soft, mushy, sticky texture and strong fragrance. It starts to small similar to a banana with hints of vanilla. If still semi firm they may be able to be pan fried with brown sugar. The darkest of the plantains may be eaten raw (about the only time they can be). These plantains with fully black skin are typically baked rather than fried. They also make great additions to baked goods, just as you would with bananas.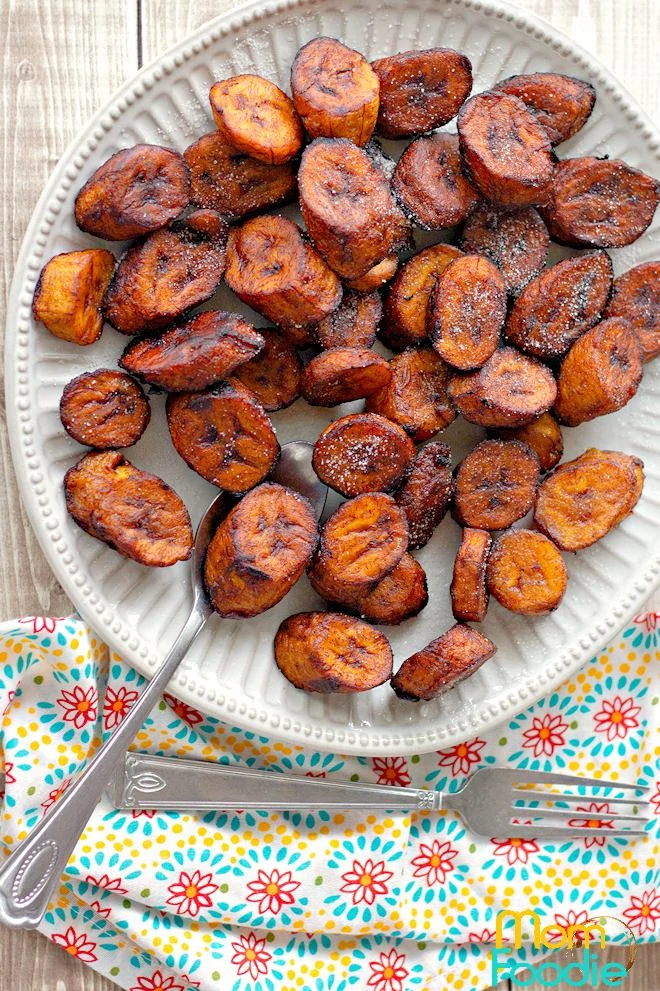 How to Fry Plantains
Cooking plantains in this manner is straight forward, but I've added a few pictures and tips to ensure you get good results your first time making them. Printable recipe card below.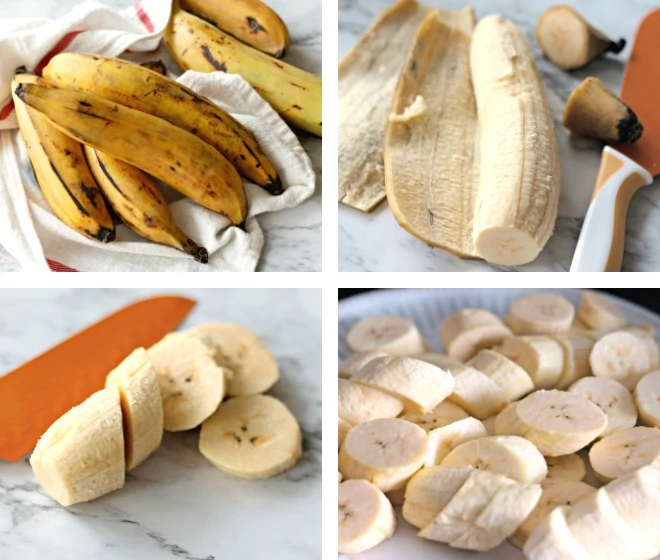 Peel and cut the plantains into ¾ to 1 inch thick slices (as shown above).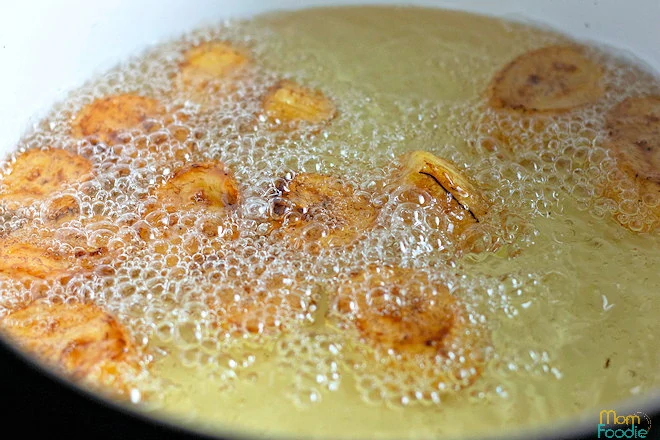 Place a large skillet over medium high heat and fill about an inch and a half deep with cooking oil. Heat oil to about 350 degrees.  To test without thermometer, drop one slice of plantain in first. It should bubble vigorously, but the oil should not smoke, reduce heat if it does.  If temperature seems right, add plantains.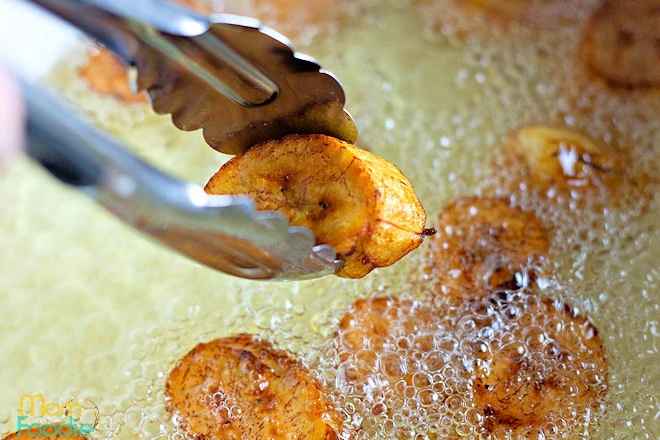 Fry until golden brown. Remove the fried plantains to a wire cooling rack over paper towels. Many suggest placing the pieces directly on the paper towels, but they have a tendency to stick and allowing them to drain on rack has better air flow.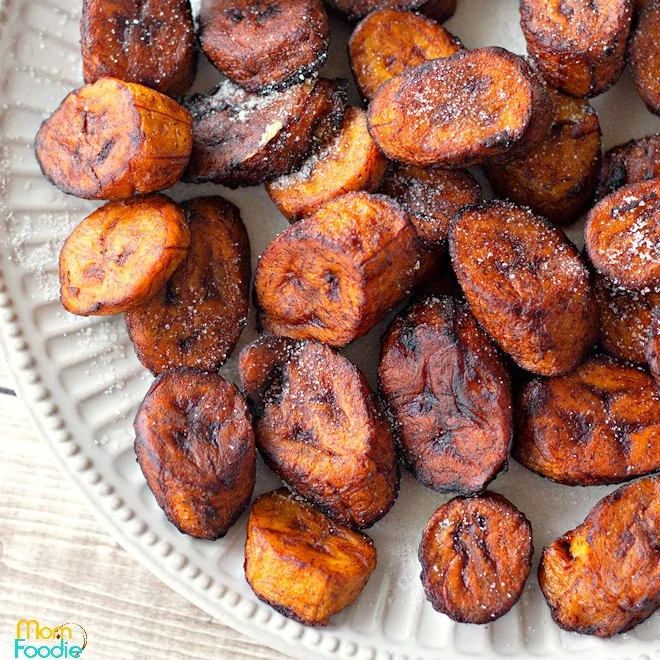 After the fried plantains have drained and cooled slightly on the rack, move to a plate where they are sprinkled with salt or sugar to serve.
Can they be fried in less oil?
Yes, many pan fry plantains in more like a ¼ to a ½ inch of oil and cook turning the plantain slices after a few minutes per side.
My Pan-fried Sweet Potatoes Recipe is somewhat similar to this, if you are not ready to approach plantains. I've also pan fried Butternut squash with great results.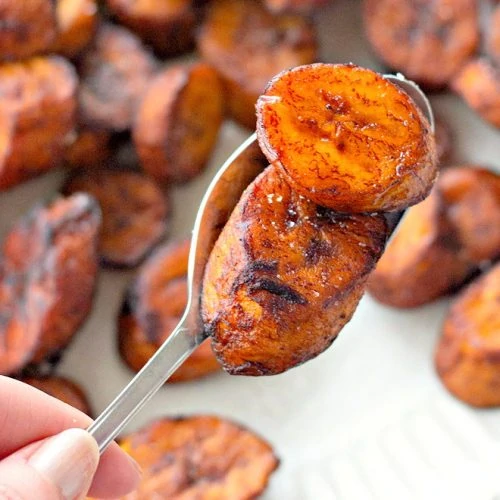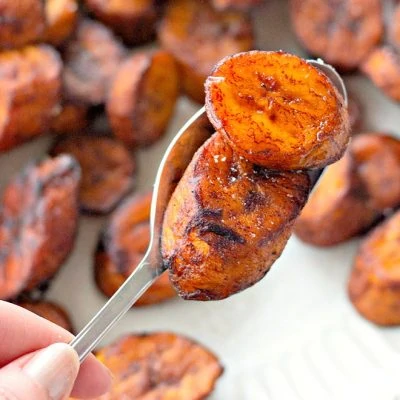 Fried Sweet Plantains
Fried plantains from ripe sweet plantains.
Print
Pin
Rate
Ingredients
4

large very ripe plantains

the more brown, the better!

Vegetable oil for frying – enough to fill a large pot to 1 ½ inch depth

sugar or salt

optional topping
Instructions
Use a sharp knife to trim the ends off of the plantains then cut a slit down the side of the plantain and peel off the skin. Slice the peeled plantains diagonally into 1 inch thick pieces.

Add vegetable oil to a large pot to 1 ½ inches in depth, then heat oil on the stove over medium-high to about 350 degrees F. Test the oil by adding one plantain slice and if the oil bubbles vigorously, it is ready.

Fry the plantains in small batches until golden brown, then remove from the oil with a metal slotted spoon or tongs and sprinkle with a little sugar if desired. Allow the plantains to cool on a baking rack (do not use paper towels as the plantains will stick to them). Serve warm.
Notes
Nutrition calculated based on 2 tbs of oil remaining (may be less). No sugar or Salt calculated, since those are optional.
As always nutrition data is an estimate.
Nutrition
Calories:
184
kcal
|
Carbohydrates:
38
g
|
Protein:
1
g
|
Fat:
4
g
|
Saturated Fat:
3
g
|
Cholesterol:
0
mg
|
Sodium:
4
mg
|
Potassium:
595
mg
|
Fiber:
2
g
|
Sugar:
17
g
|
Vitamin A:
1345
IU
|
Vitamin C:
21.9
mg
|
Calcium:
4
mg
|
Iron:
0.7
mg