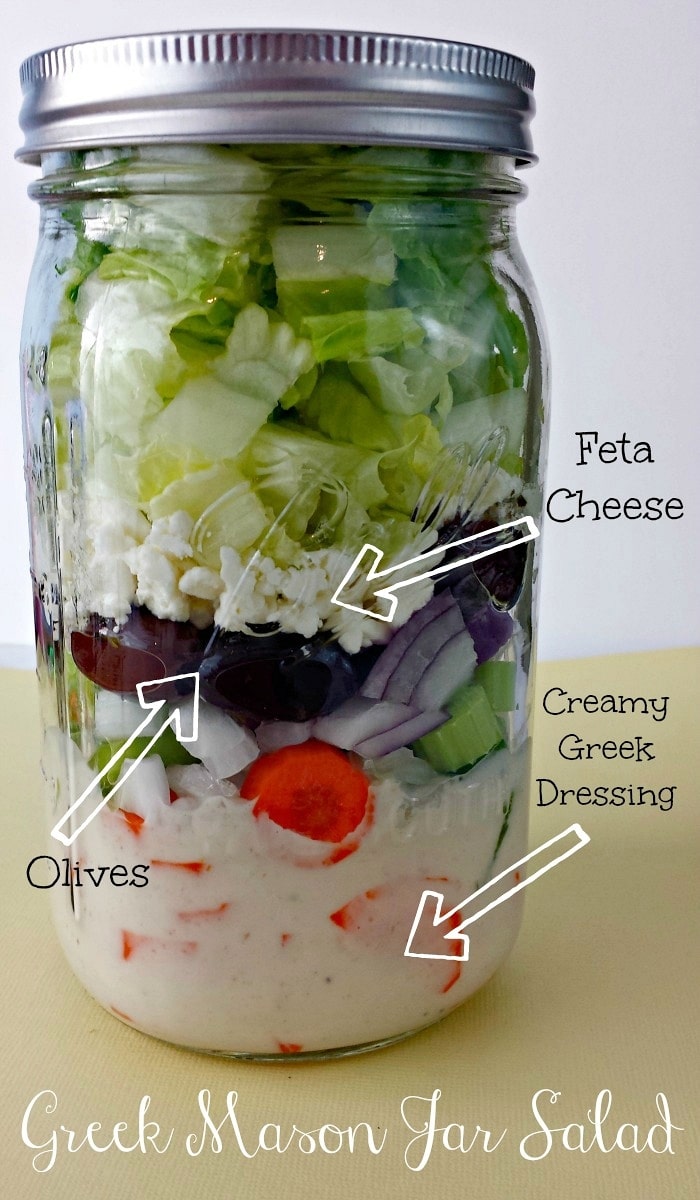 This Greek Salad in a Mason Jar is just one example of a delicious salad you can pack in a jar.  Jar packed salads offer ideal freshness and make for easy packed lunches.  Instructions for this Greek salad are below, along with tips on assembling your own special jarred salads.  The method is simple.  Change things up to suit your personal preferences in salads.
Greek Salad Ingredients
1 quart size Mason Jar
2-4 tablespoons Creamy Greek Dressing
¼ cup each chopped carrots, cucumbers, celery and red onion
6-8 Kalamata olives, pitted
¼ cup feta cheese, crumbled
1 tablespoon pine nuts
2 cups Romaine lettuce

How to Pack a Salad in a Jar
Packing a salad in a canning jar is an easy way to plan lunches for the week without a lot of work, or worrying about soggy salad and drippy dressing.  Wide mouthed pint and quart sized canning jars work best.
Here's how to layer your salad, with specifics on packing a Greek Salad in a Jar:
Step 1:
Add 1-4 tablespoons of dressing to the bottom of your jar (depending on jar size and personal preference).  Creamy dressings work best and for this we used Creamy Greek dressing.
Step 2:
Add your hard vegetables such as cucumbers, peppers, onions, carrots, cooked beets, etc.  In this salad, we used carrots, onions, and cucumbers.
Step 3:
Add any pastas, beans or grains such as chickpeas.  In this salad, we used Kalamata olives.
Step 4:
Cheese and proteins come next, but this is best only if you plan to consume the salad within 24 hours. Chicken, hardboiled eggs, tunafish, and tofu all work well.  In this salad, we used feta cheese.
Step 5:
Softer fruits and vegetables such as tomatoes or strawberries come next, though you'll want to skip these if you're packing ahead of a whole week, and just add them the day you plan to eat.
Step 6:
Add any nuts or seeds next.  Pecans, almonds, walnuts and sunflower seeds all work great. In this salad, we used a handful of pine nuts.
Step 7:
Finally, fill the rest of the jar with chopped greens and screw the lid on.
If you follow these steps, your salads will stay fresh and crisp for 5 days!  To eat, just shake the salad into a bowl and toss with a fork if needed to dress the rest of the greens.
Enjoy!