Enjoy healthy low carb spaghetti and meatballs with this recipe. There are 13 net carbs per serving in this grain-free veggie loaded meal and under 200 calories! Cauliflower bread crumbs keep the meatballs moist and grain-free. The zucchini noodles stand in as a low carb alternative to wheat pasta. Jar sauce without added sugars keep the recipe manageable while keeping it healthy and lower in carbohydrates.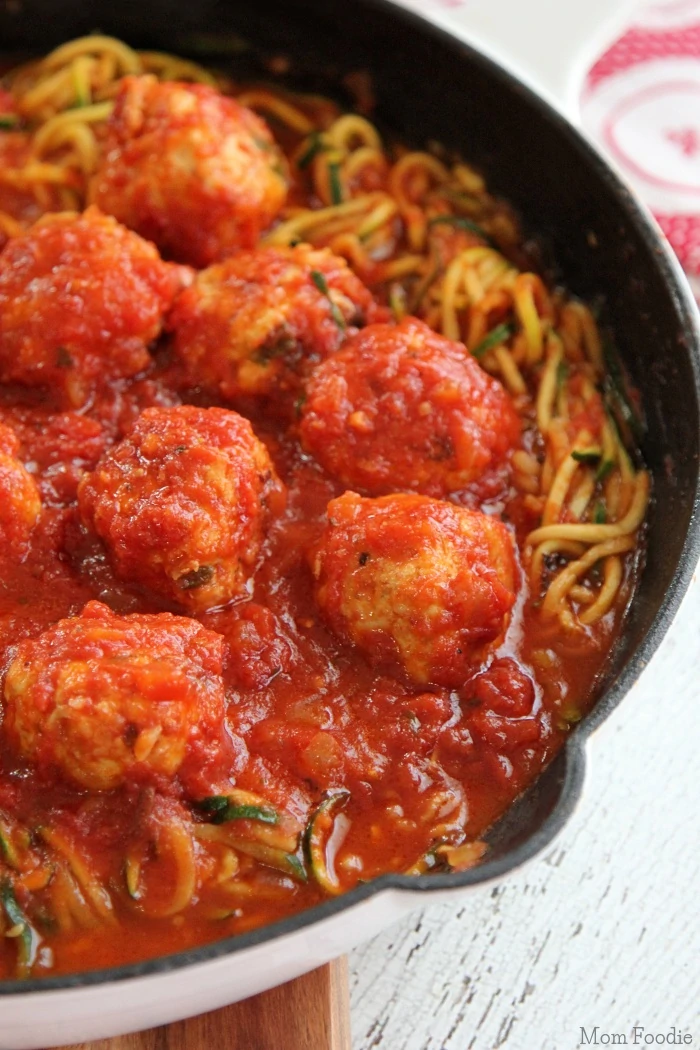 Recently, I've reduced carbohydrates and sugar in my diet, and am focusing on eating foods that are more natural and nutrient packed.  This Healthy Spaghetti and Meatballs recipe has quickly become a staple for me.  It is very satisfying, delicious and has great texture, while being a low calorie meal.  It is also gluten-free, grain-free nut-free, dairy-free and relatively low in fat.
If you look at all the ingredients in the whole dish, everything is lean meat, vegetables, a little olive oil and herbs and seasonings.  It did take a bit of trial and error to get lean meat (I used a 99% lean ground turkey) to make tender meatballs, but as soon as a switched to using my "cauliflower breadcrumbs" (a little trick I've been using in  recipes for a few years now), the texture issues dissolved away.  I was able to keep carbs down by selecting a lower carb sauce without added sugars. This Marinara only has 5 grams of carbohydrate.  Delicious sauce does not need added sweeteners.
Making Healthy Low Carb Spaghetti and Meatballs
Here is a quick visual walk-through of the process of making my low carb Spaghetti and Meatballs (full recipe below).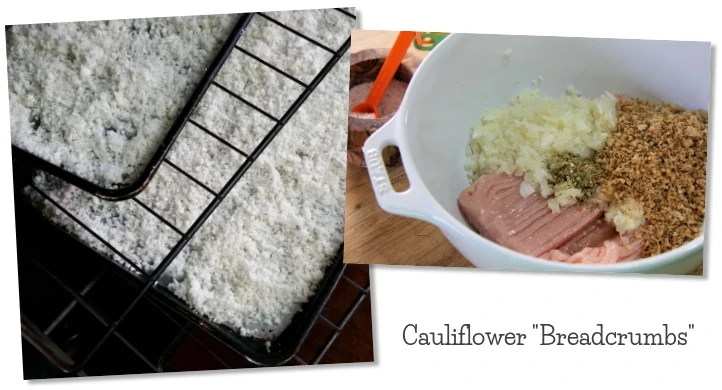 My secret to keeping a lean meatball tender is a bit of extra sauteed sweet onion and the use of cauliflower breadcrumbs.  While the crumbs are very easy to make.  Just pulse florets in food processor, then bake on low temperature, to dry them out and bring out their best flavor.
(A dehydrator could have made this step a bit easier.)
After the crumbs are ready, mix together the healthy meatball ingredients and form golf ball sizes meatballs.  Pan fry.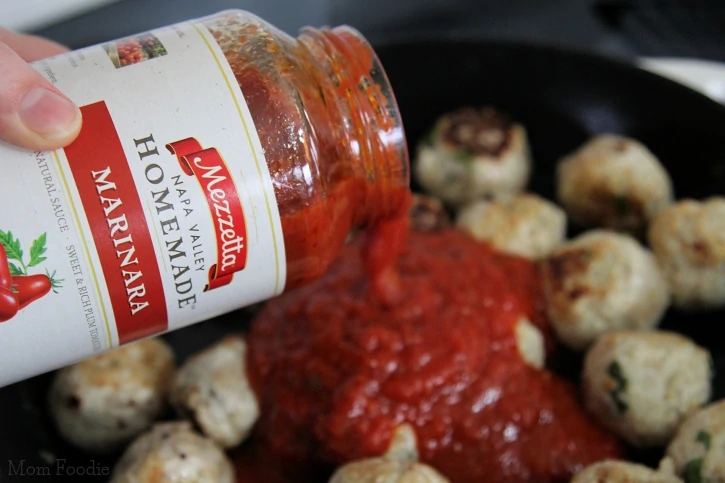 Pour in a jar of no sugar added marinara and a little water. Simmer.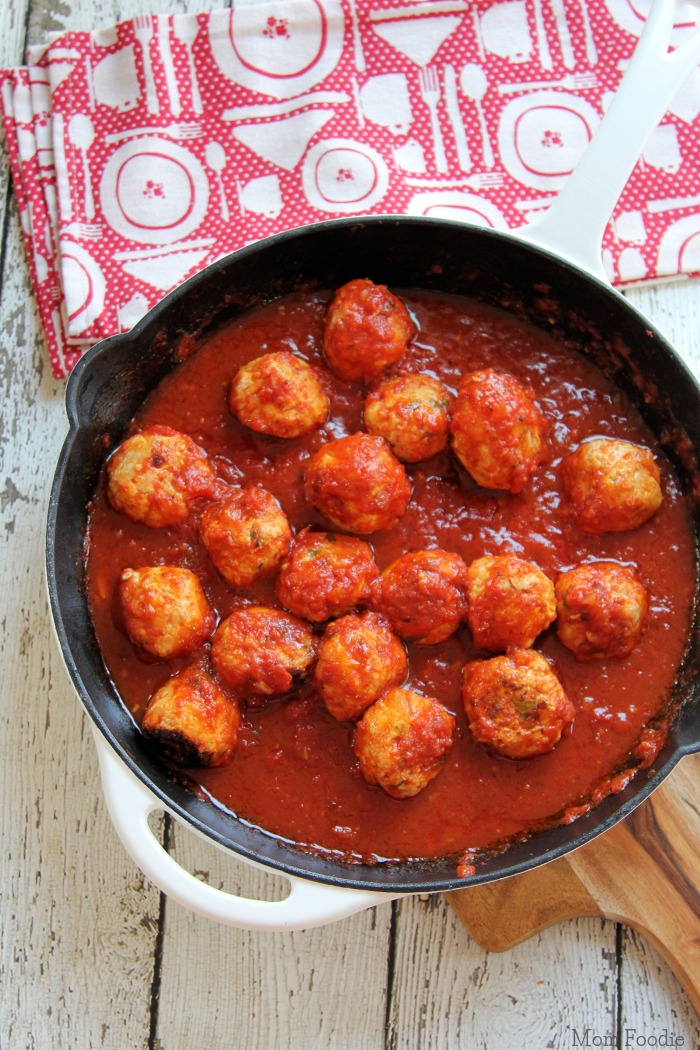 You could stop here, and just enjoy the meatballs, but I like to make zucchini noodles to serve as my healthy low-carb spaghetti.

The spiralized zucchini squash is cooked right in the pan with some of the sauce.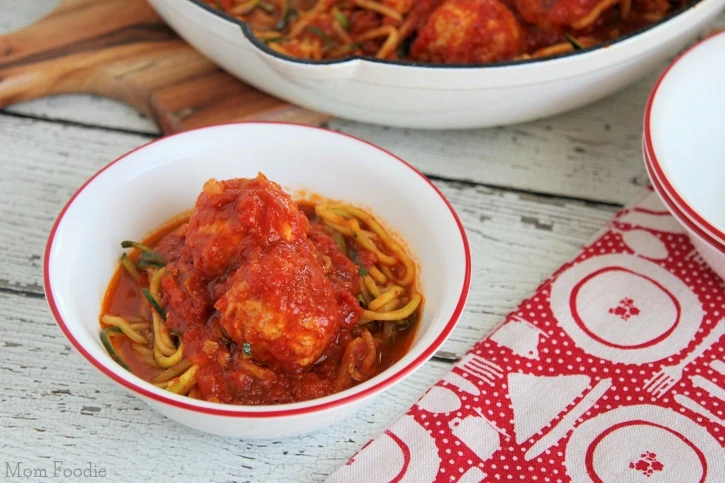 The healthy spaghetti and meatballs are ready to enjoy.  I used 3 meatballs and ⅙th of the zucchini noodles as a standard portion, but 2 of these meatballs are usually enough for me.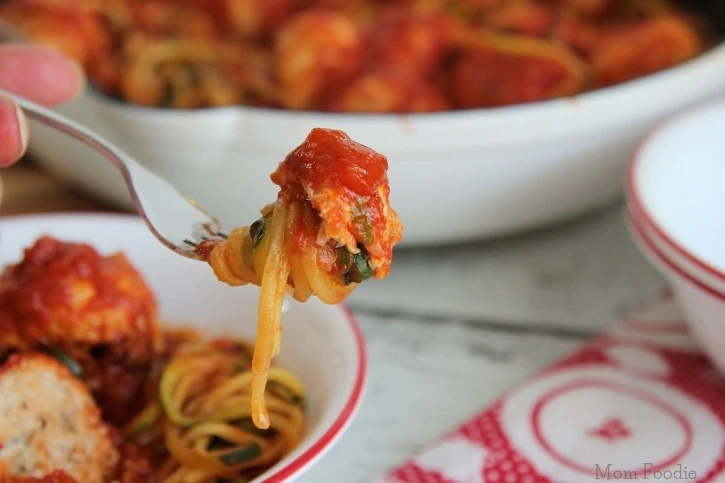 While this is not a magical diet recipe, I am happy with the results I am getting so far and recipes such as this have been a big part of what is helping me succeed.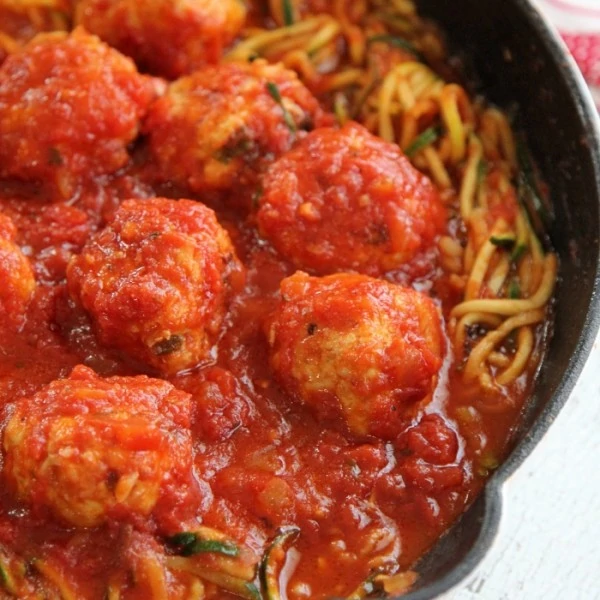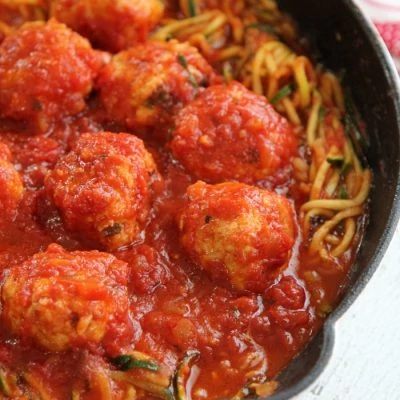 Low carb Spaghetti and Meatballs : Healthy Grain-free Recipe
Print
Pin
Rate
Ingredients
1

small head of cauliflower

breadcrumb substitute

1

sweet onion

peeled and diced

1

tbs

olive oil

1 teaspoon + 2 tsp

1

clove

of garlic

minced

1

pound

lean ground turkey

I used 99% lean, feel free to substitute any lean ground meat you prefer

1

egg white

1

tbs

chopped fresh basil

½

teaspoon

Kosher or Sea salt

½

teaspoon

salt free seasoning of choice

1

jar

Marinara (5 net grams carb maximum)

, I used Mezzetta Napa Valley Homemade Marinara sauce

4-6

zucchini squash
Instructions
Making "Breadcrumbs"
Preheat oven to 275 degrees.

Cut off cauliflower florets, and pulse in food processor until broken into small crumb-like pieces.

Spread on baking sheets and bake for 40 minutes-an hour. Toss around in sheet pan frequently so "crumbs" dry and roast evenly. When done they will be like slightly damp bread crumbs and lightly browned.
Making Meatballs
Lightly saute onion and garlic in 1 teaspoon of olive oil, then place in large mixing bowl.

Add the cauliflower "breadcrumbs", ground turkey, egg white, basil, salt, and seasoning. Mix with your hands until well blended.

Form 18 meatballs, just a little smaller than a golf ball. Put remaining 2 tbs oil in 12" skillet over medium-high heat. Drop meatballs into hot skillet and flip after lightly browned on one side. Turn until majority of meatball surface is lightly browned, yet center is not cooked.

Tilt pan to pool oil. Use a paper towel to soak up pooled oil.

Add a jar of Mezzetta Napa Valley Homemade Marinara sauce and ¼ cup water. Spoon sauce over any uncovered portion of meatballs. Reduce heat to low-medium and simmer uncovered for 30-40 minutes.

Use spiralizer to make zucchini noodles. Remove meatballs from pan leaving most of the sauce in pan. Put the zucchini noodles in pan and increase heat to medium high. Stir noodles to coat with sauce and ensure even cooking. They should be done in about 6 minutes* (cooked, but not mushy).

Serve with meatballs.
Notes
volume of zucchini noodles in pan will reduce by about half.
Select a low sodium sauce to lower the high sodium content listed in the nutrition info. The software calculates based on standard sauce. As you can see in images I made this very "saucy" it can easily be reduced by a ¼ or a ⅓ with good results.
Nutritional information is an estimate. Numbers will vary by portion size, brands etc. T
Nutrition
Serving:
3
meatballs and ⅙ noodles
|
Calories:
199
kcal
|
Carbohydrates:
18
g
|
Protein:
23
g
|
Fat:
4
g
|
Saturated Fat:
0
g
|
Cholesterol:
41
mg
|
Sodium:
758
mg
|
Potassium:
1299
mg
|
Fiber:
5
g
|
Sugar:
12
g
|
Vitamin A:
785
IU
|
Vitamin C:
80.4
mg
|
Calcium:
70
mg
|
Iron:
2.8
mg