This Hello Kitty Birthday Cake post brought to you by Bakery Crafts. All opinions are 100% mine.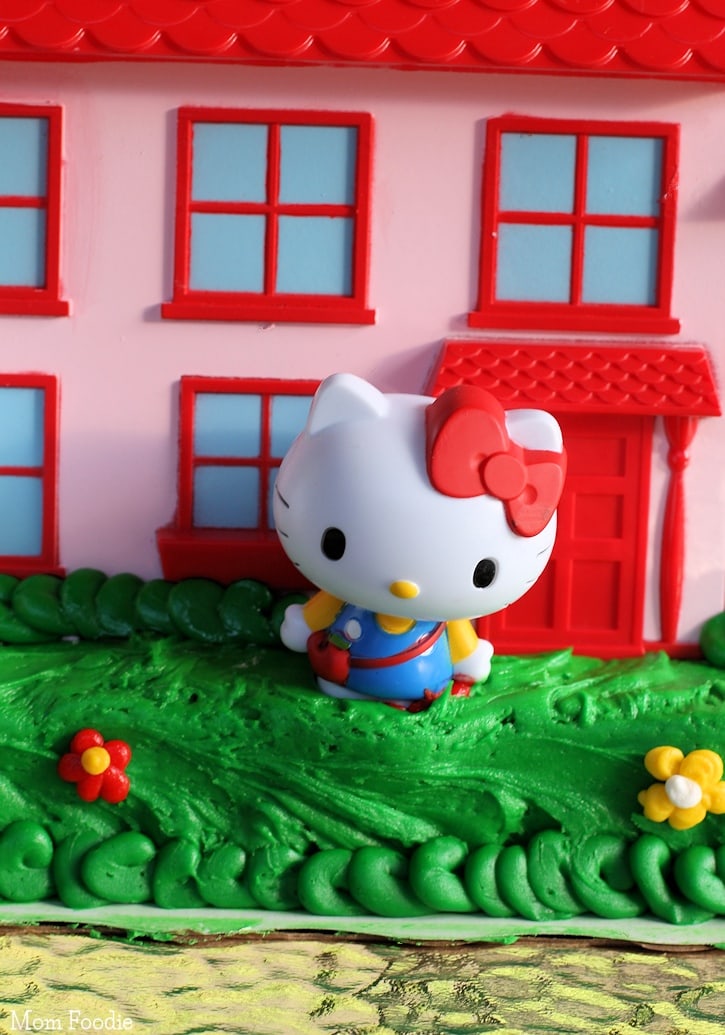 Lil' Foodie (my daughter) isn't really into that many characters, but she does love Hello Kitty stuff. It must be something about the cuteness of the character that appeals to her. So a Hello Kitty Birthday Cake seemed a no-brainer as the feature of her small belated birthday celebration. You see, on her actual birthday Lil' Foodie was quite ill. She had fought off a fever by that point, but was still very tired and was sleeping a lot. Due to medical issues on each side of the family in recent months, the celebration would be a small one this year. She got a new outdoor play set for her birthday, so the party would be a simple outdoor set-up. A cool cake was a must, since we had a lot of responsibility to carry.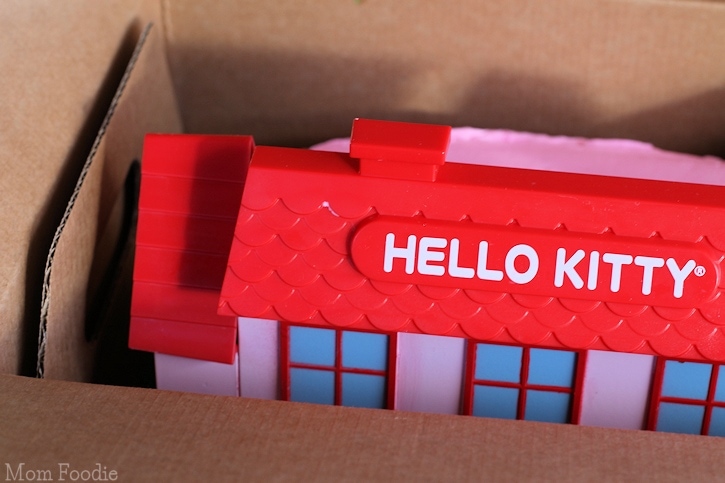 Now while I fancy myself a foodie, I have no delusions about my cake decorating skills (or should I say lack thereof). This was something better left in more capable hands. I ordered the cake at the nearest Walmart bakery, and picked it up a couple days later. They use Bakery Crafts Cake Kits to create their cakes, and have many more options besides Hello Kitty.  The cake came nicely boxed, and was not only easy to carry out, but it was also quite easy to unbox the cake.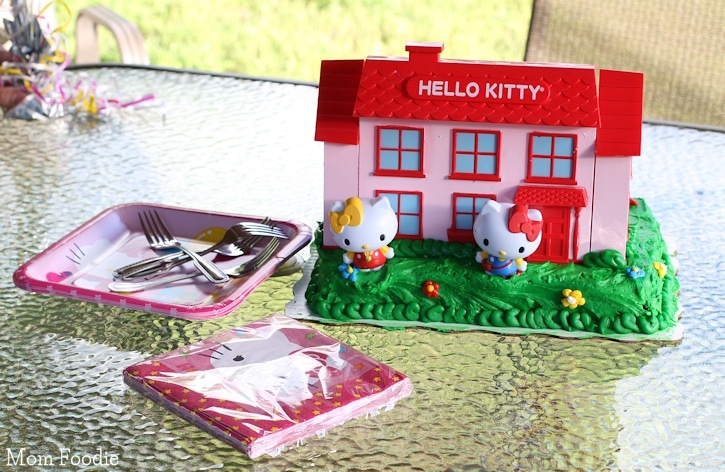 We set the cake up in the gazebo, along with some Hello Kitty plates & napkins, and a bouquet of helium balloons. While there is a good amount of frosting decorations on this Hello Kitty Bakery Crafts cake, the house is a plastic cake casing and the kitties are removable plastic characters too. It takes so much worry out of damaging the cake, or the softening of frosting on hot summer days.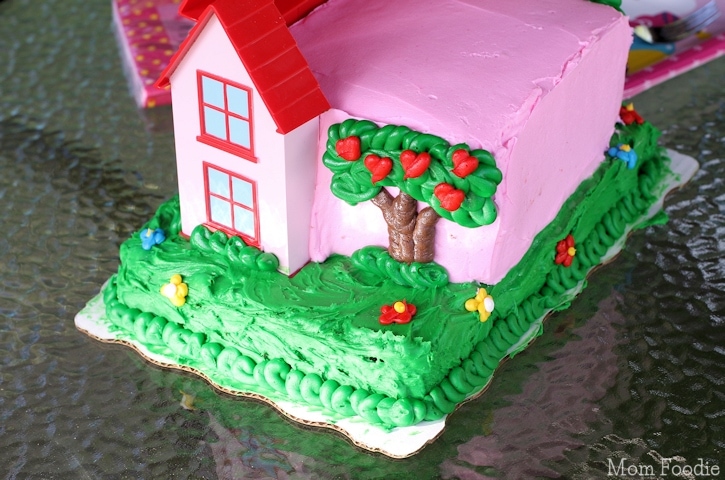 Here you can see how the casing wraps around part of the cake, and how the cake itself is dressed up with trees and flowers. We were very pleased with this cute and colorful, no fuss cake. The particular cake we went with can serve far more people than we had present, but it was just too cute to pass up. ... but does what I think really matter? What did Lil' Foodie think of her birthday cake?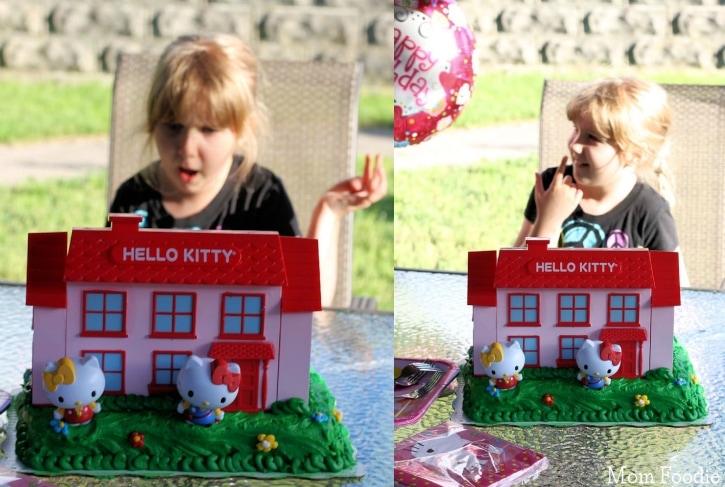 Yes, it was a winner.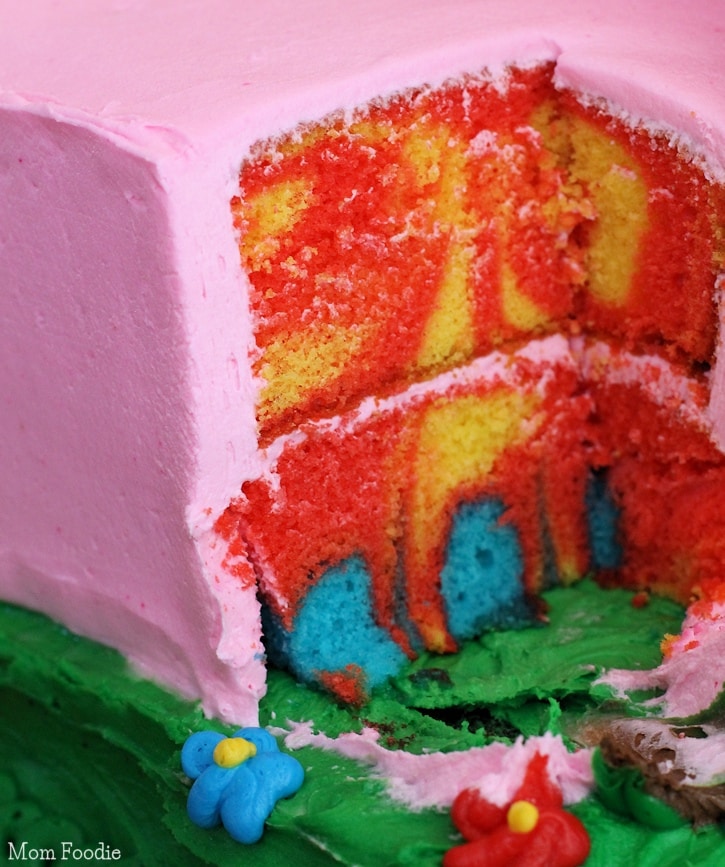 I ordered it with the top part as tie-dye cake, which looks really wild when it's cut. The bottom cake was chocolate, because the rest of us like chocolate a whole lot.  We all found the cake to be nice and moist.  Of course, Lil' Foodies favorite part was eating the pink frosting.
After enjoying some cake, she tried out her new play set, which her father had just finished assembling.  I've got to say, the Hello Kitty cake really made the party.  I will definitely be getting character theme cakes from them again in the future.  Luckily, they are conveniently available at Walmarts with bakeries and many grocery store bakeries as well.  I picked mine up at Walmart, so I was able to grab the plates and napkins there too.
The cake I selected can serve up to 48 people, but there were several smaller options, as well as cupcakes (I just fell in love with the house one).