While the benefits of bone broth are numerous it can be quite pricey to purchase and takes a very long time to make using traditional methods. Making this Instant Pot bone broth recipe is easy, inexpensive and requires far less time. With pressure cooking, you can have organic bone broth ready in just a couple hours at a small fraction of the cost of ready made.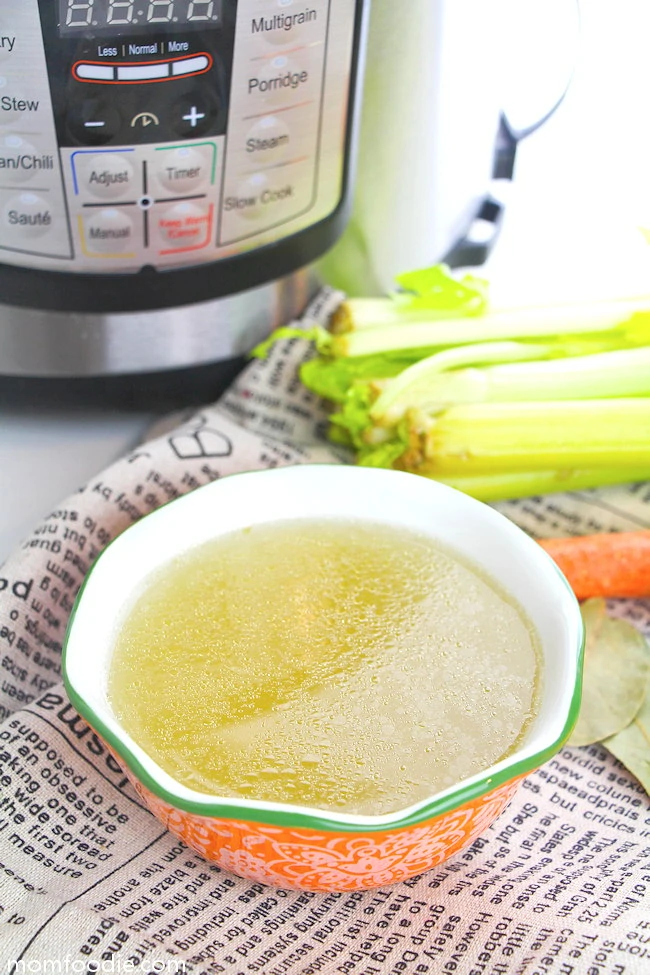 What is Bone Broth?
Bone broth differs from standard broth and stock in that it is long simmered from bones and connective tissue. The long cooking process breaks down the connective tissue and releases nutrients from the bones and marrow.  Regular broth is often flavored from meat or is simmered from bones but for a considerably shorter time, so the beneficial elements don't fully develop.
Bone broth is frequently used in alkaline and Keto recipes. It is a smart addition to other diets also, since it is a great way to add nutrients with minimal calories.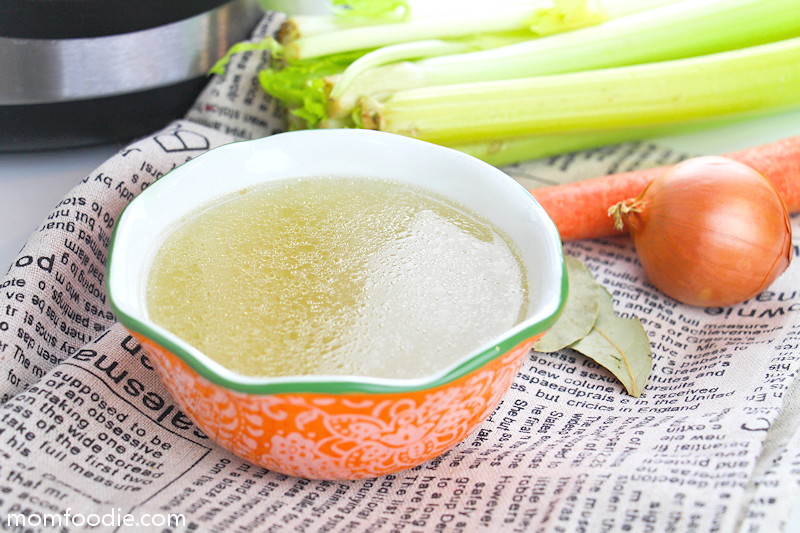 Benefits of Bone Broth
The dissolved connective tissues in bone broth provide much needed collagen, protein and gelatin for our bodies. The simmered bones release essential amino acids and minerals into the broth.
A few of the benefits of bone broth are:
Bone broth is often used for those on ketogenic diets to alleviate the symptoms of Keto Flu.
Those on an alkaline diet find it benefits them in maintaining acidity balance.
Adding the broth to your diet is great for hair, skin, teeth, and nails.
The collagen and gelatin aids in maintaining joint health.
Bone broth is purported to alleviate leaky gut.
The amino acids assist in quickening the pace of healing.
Instant Pot Bone Broth
Making bone broth in an Instant Pot greatly reduces the amount of time it takes to harvest the beneficial elements from the bones and cartilage. It can be made in just two hours rather than 10, but if you are not in a rush, adding another hour to the cooking time will ensure you get all the nutrients out.
Here is a simple visual guide to making chicken bone broth in an electric pressure cooker. The full Instant Pot Bone Broth recipe can be found on the printable recipe card below.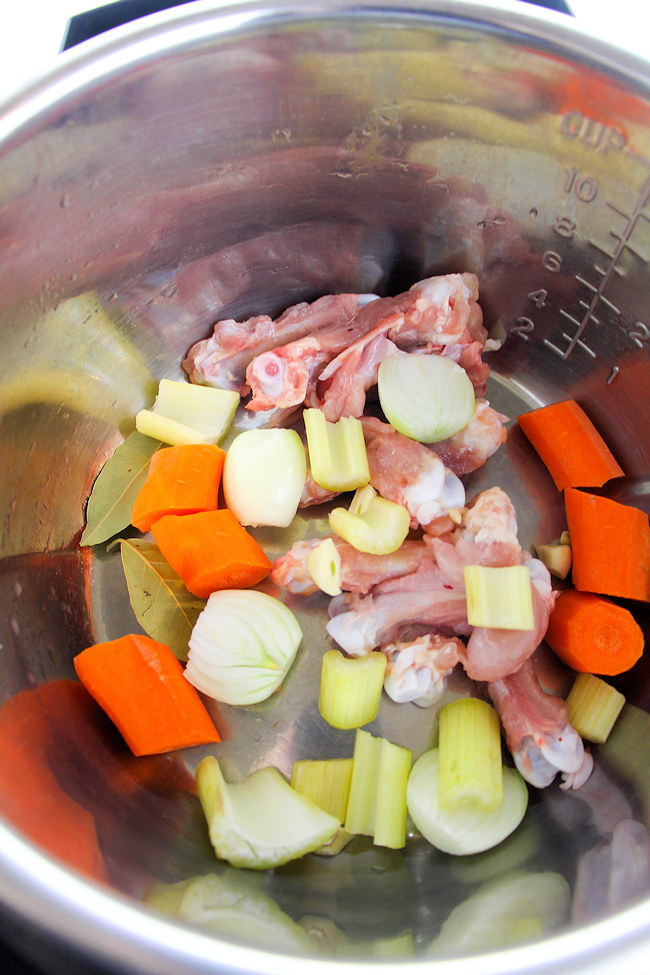 First add the bones, veggies, and bay leaves. Feel free to saute them a bit for richer flavor, but it isn't necessary.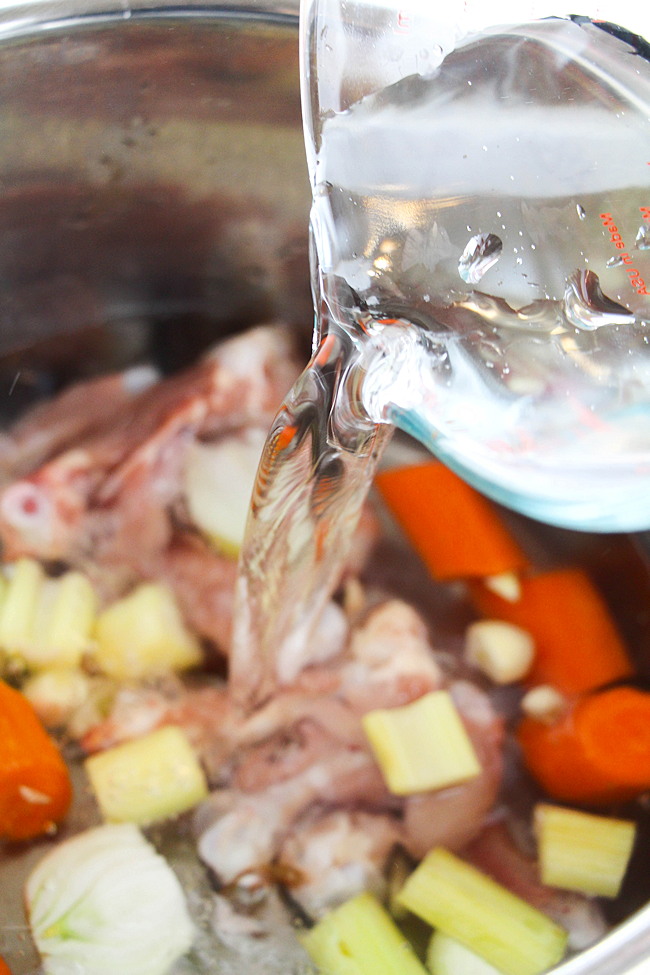 Pour in the water. Close and cook on the soup-stew setting for 2 hours (up to 3 if you want).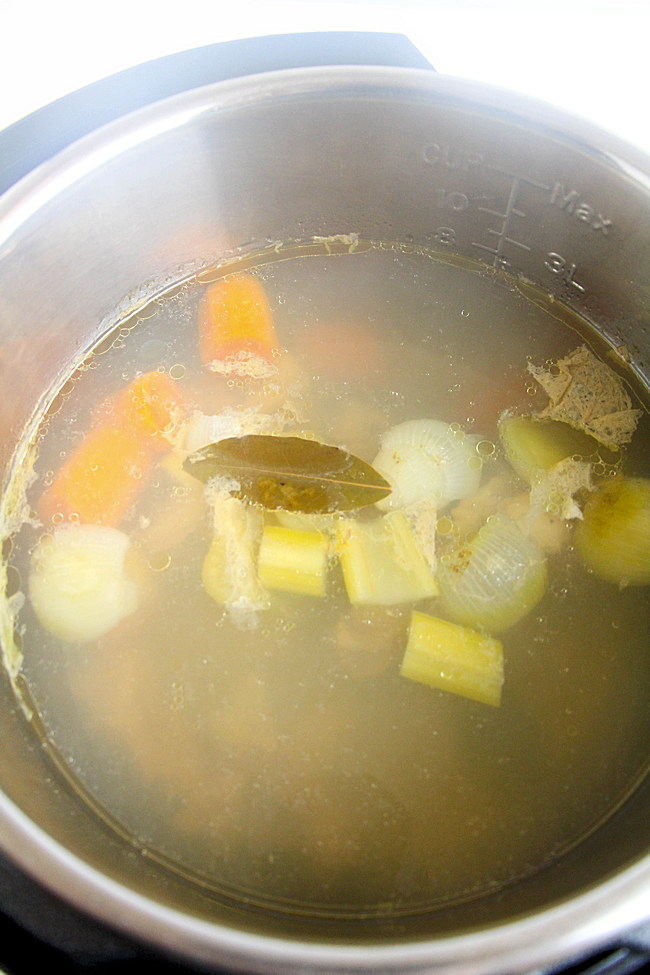 Use natural release, then strain the bone broth.
Season and use as a broth to sip or use in recipes like my Pumpkin Orzo.
How long will homemade bone broth last?
Store the broth in mason jars to refrigerate for up to 4 days or bag for freezing (up to a year).
Time Saving Tip:
Purchase an organic rotisserie chicken. Serve for dinner or make a batch of Keto Chicken Salad, then use the bones to make this Instant Pot Broth.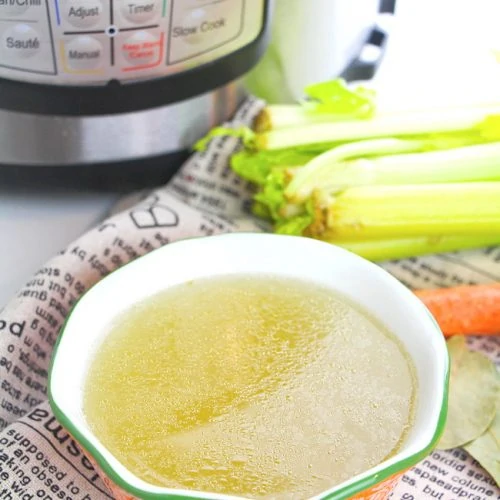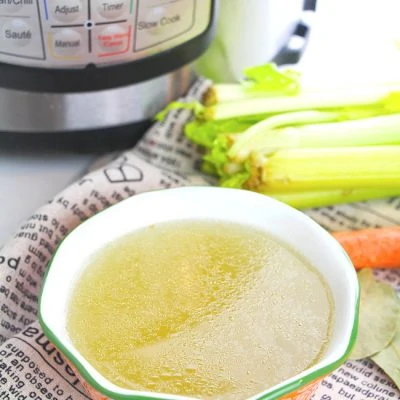 Instant Pot Bone Broth Recipe
Chicken bone broth recipe prepared in the Instant Pot electric pressure cooker. This takes much less time than traditional methods.
Print
Pin
Rate
Ingredients
6

+ chicken bones

2

bay leaves

1

carrot

chopped

1

celery stalk

chopped

1-2

onions

quartered

sea salt to taste

8

cups

water
Instructions
Chop up your veggies and place in the Instant Pot.

If you want, you can saute the veggies for a few minutes with a bit of oil using the Saute setting on your IP. This will result in a more flavorful broth, but it will be darker/murkier in color.

If you want your broth seasoned, apply the seasoning to the chicken bones.

Add the bones and bay leaves, then fill your IP about ¾ of the way full with water.

Secure the lid and select the "Soup/Stew" setting and increase time to 120 minutes.

Natural release.

Carefully strain the broth by pouring it through a sieve/strainer to remove the vegetables and bones. The meat can be removed from the bones and used in soup, and veggies will be perfectly cooked!

Makes about 8 cups of broth.
Notes
Beef bone broth can be made the same way.
Nutrition info on this is a bit off. I estimate it will be about 5 calories per serving and protein and nutrients derived from the bones won't tally in my software. 
Sodium is based on using 1 teaspoon of sea salt.
Nutrition
Calories:
2
kcal
|
Carbohydrates:
0
g
|
Protein:
0
g
|
Fat:
0
g
|
Saturated Fat:
0
g
|
Cholesterol:
0
mg
|
Sodium:
153
mg
|
Potassium:
9
mg
|
Fiber:
0
g
|
Sugar:
0
g
|
Vitamin A:
10
IU
|
Vitamin C:
0.2
mg
|
Calcium:
5
mg