This Keto chicken salad recipe has all the flavor of a deli salad but without the carbs. It is actually a low carb copycat of the Willow Tree chicken salad recipe.
Willow Tree is a favorite chicken salad in delis around our area, but it has way too much sugar in it for someone on a ketogenic diet.
I am very happy with the result. The easy keto recipe is great whether you are on one of the low carb diet meal plans or not. Everyone will like it.
The simple keto recipe is perfect for those doing weekly meal prep. The salad stores easily and is very versatile to take to work or school.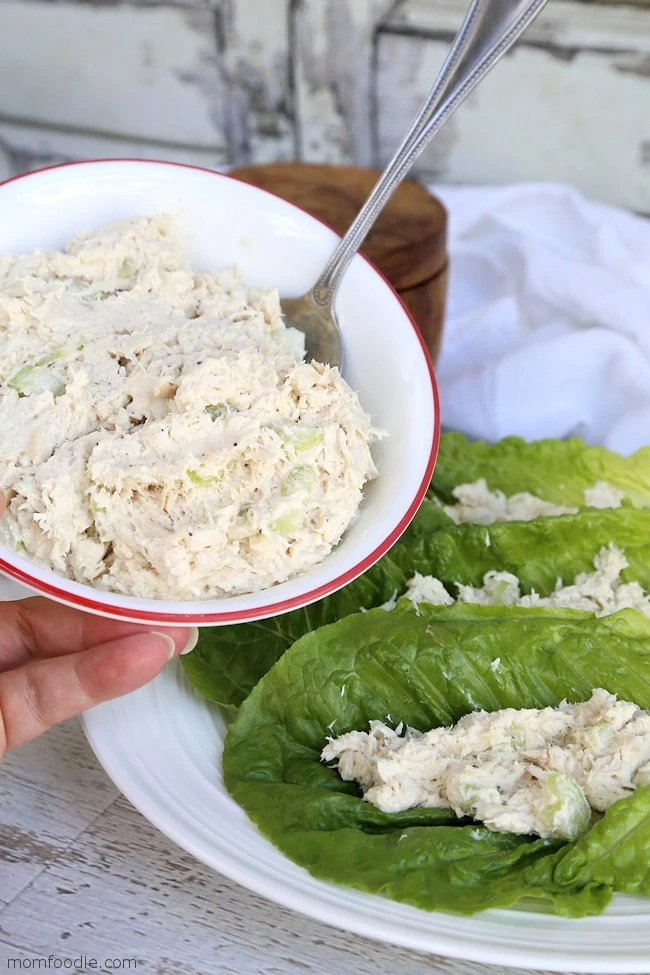 Best Keto Chicken Salad
Finding a keto-friendly chicken salad in a deli can be challenging. Most have added sugar. So far, the Whole Foods basic white meat chicken salad is the only one I have found locally that is low carb enough for keto.
I do like a slight sweetness to my chicken salad and am very fussy about texture. Running into even a small piece of gristle turns me right off. So, I decided to make my own, with zero net carbs. Check nutrition facts below for more information.
The easy keto recipe is perfect for making lettuce wraps! It's a great addition to use in any keto meal plan too.
You can even make a sandwich if you use a keto bread choice such as cloud bread.
How Many Carbs in Chicken Salad?
As I have mentioned above this recipe is for a no carb version, but the nutrition data for store bought chicken salad can be surprising... and not in a good way if you are on a low carb or keto diet.
When I looked up deli versions, I found most fell in the 2-6 carbs per serving range (more if fruit or nuts were added). While this may not seem like a lot, it does add up. I would rather use the carbs on veggies myself.
No worries. Just a few smart ingredient choices and maybe a low carb addition from the variation list below and you will have the best keto version for you.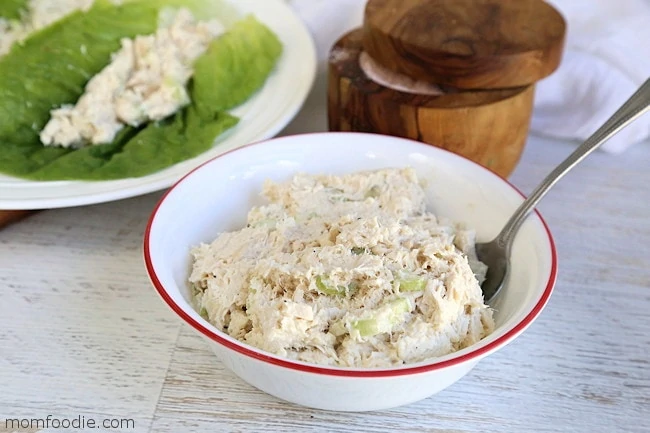 Willow Tree Chicken Salad Recipe (Low Carb Keto Copycat)
Honestly, it has been awhile since I actually had Willow Tree due to the sugar in it. This is pretty close in flavor to the original though and has zero net carbs!
I kept the recipe simple, just shredded chicken breast and minced celery in a simply seasoned dressing. While you can use any carb free mayonnaise in the dressing, I prefer an avocado oil based mayo.  It is loaded with healthy fats!
The sweetness in my version comes from a natural zero calorie sweetener (stevia + erythritol) rather than sugar. I grabbed a roasted organic chicken from the deli to provide the white meat for the low carb chicken salad recipe.
As an added bonus, the bones can be used to make my Instant Pot Chicken Bone Broth recipe.
How to Make Keto Chicken Salad
Here is a visual walk through of the preparation of the easy low carb recipe. Full print recipe can be found below. It is adjustable by number of servings you wish to make also.
Prep time 10 minutes / total time 10 minutes
What you need
3

 

cups

 

rotisserie chicken white meat

 

,chopped or shredded (roughly 2 large cooked chicken breast pieces)

½

 

cup

 

celery

diced
Keto Dressing Ingredients
1

 

tablespoon

 

apple cider vinegar

1

 

teaspoon

 

natural zero calorie sweetener

 stevia*, monkfruit, erythritol (2 packets if you buy the individual servings) NOTE: If using the highly concentrated stevia powder use the little ⅛ teaspoon scoop that typically comes in it and add more if needed that stuff is STRONG.

⅔

 

cup

 

mayonnaise

 (make sure it is zero carbs) Avocado oil based is ideal.

½

 

teaspoon

 

Salt-free seasoning

 

, Mrs. Dash original or equivalent

sea salt and pepper to taste
Preparing the Salad (Visual)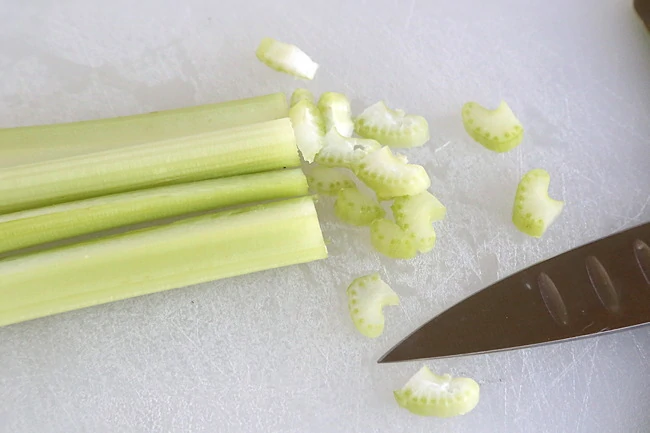 First, you will need to chop up the roast chicken breasts and mince the celery stalks.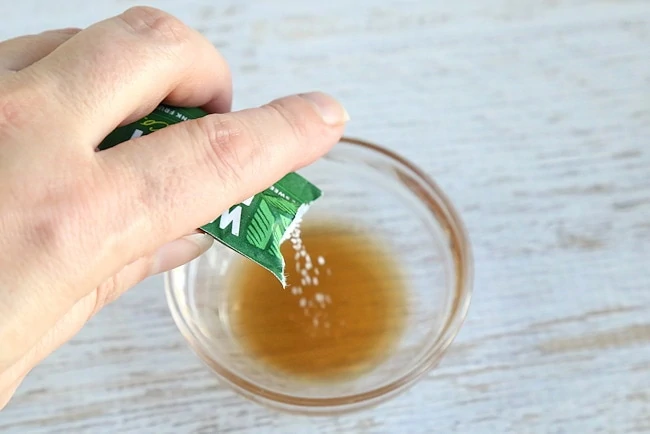 I like to mix the stevia sweetener into my apple cider vinegar to help dissolve it a little before it gets added to the rest of the dressing.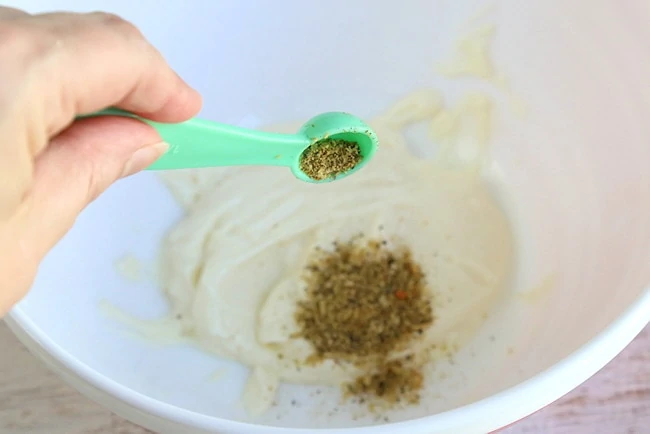 Mix salt free seasoning in with mayonnaise. Check your mayonnaise label to ensure it has no carbs in it.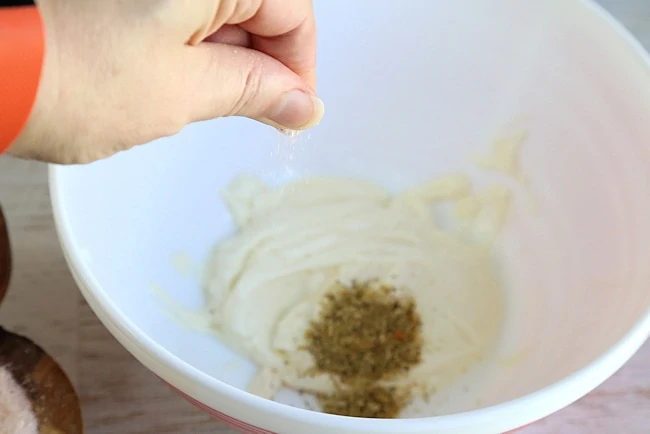 Season with sea salt and fresh ground black pepper.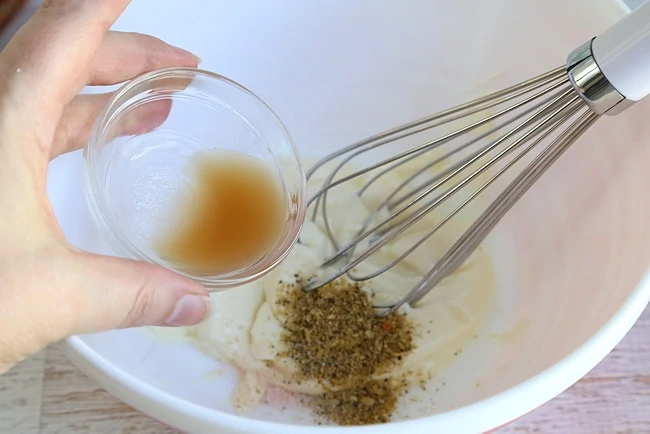 Add the vinegar and zero carb sweetener.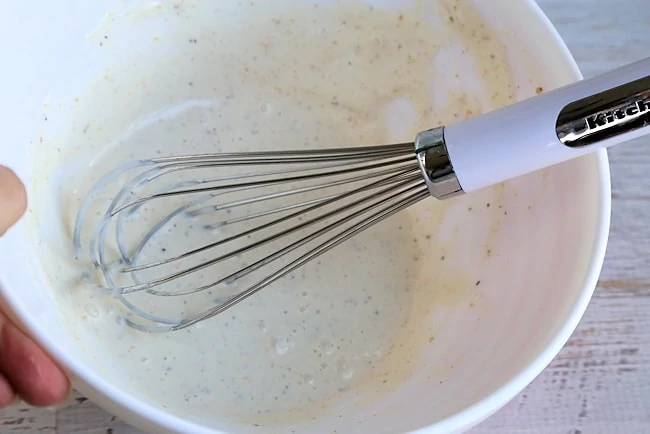 Whisk the no carb dressing together well.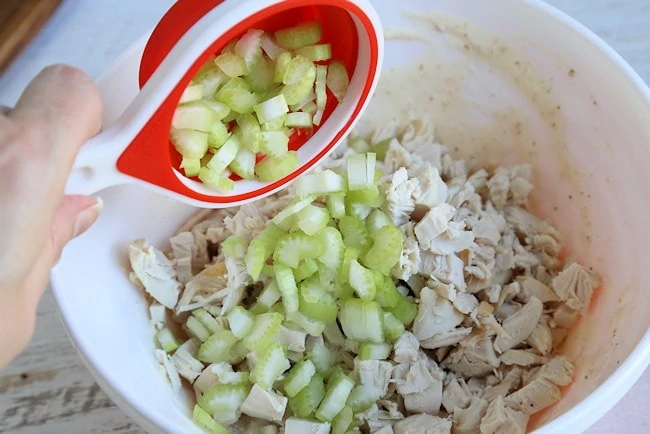 Toss in the shredded or chopped chicken breast and diced celery.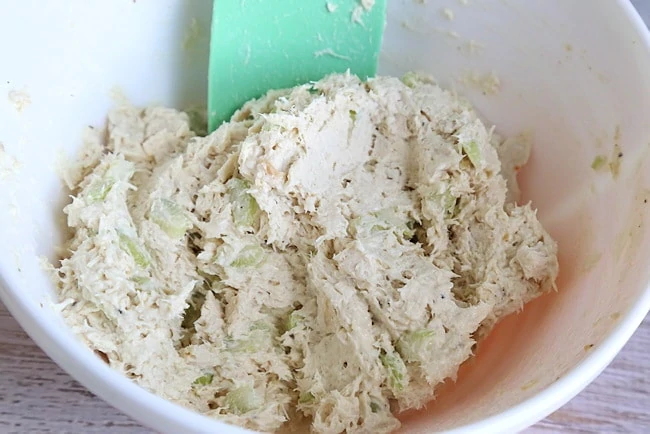 Mix it up well and the salad is ready to enjoy.
How to Serve the Keto Chicken Salad
I often just put a small scoop in a little bowl along with a few chunks of sharp cheese and some pickles as a low carb snack.
Of course, it is also perfect rolled up in crunchy lettuce leaves. Low carb Cloud bread is also a good option.
When I have ripe avocados on hand, I like to serve a scoop of the salad in a half of one for lunch too.
... or just team it with a couple of your favorite keto side dishes and dig in!
When I really want the comfort food fix of a traditional style chicken salad sandwich, I make it on really low carb bread. My favorite keto bread is the Aldi Zero Carb Wheat (or Multigrain).  Yes, I know wheat is not allowed on a perfect Keto diet. Sometimes I break rules and that bread frequently keeps me from falling off low carb dieting. 
Wrap a scoop up in a low carb tortilla with cheese and a pickle.  It's a quick and easy way to make this high protein keto salad into a low carb lunch. Teaming it with my Keto Asian Cucumber salad or low carb broccoli salad are great choices too.
Variations
This is a pretty basic salad recipe. There are all sorts of yummy easy keto additions you can mix in with the chopped or shredded chicken. Try some out next time you make a batch.
chopped pecans, walnut, or slivered almonds
crumbled bacon
poppy seeds
crumbled feta cheese
chopped fresh dill or basil
extra mayo
Dijon mustard
even dried cranberries if you can find unsweetened ones
Some add plain Greek Yogurt. While I agree that it is a healthy option and good for many low carb diets, mayo makes more sense for actual keto dieters. Select a mayonnaise with healthy fats in it.
How long will this homemade chicken salad last?
Like most deli salads, it will last 3-5 days in an airtight container when refrigerated.  If left at room temperature for over 2 hours it should be tossed though, to avoid illness.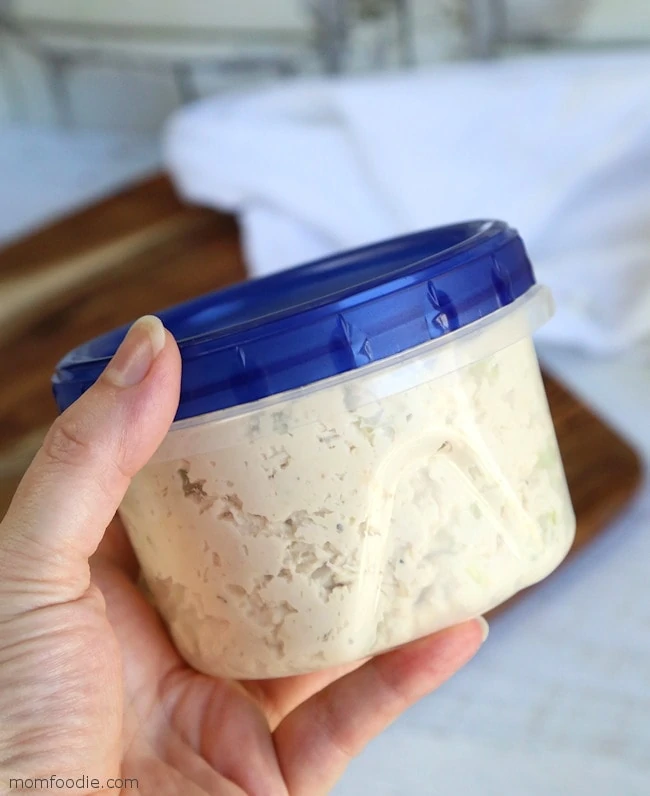 Can I freeze this?
I don't advise freezing this keto chicken salad. The celery will not hold up well to freezing and the dressing may break down in thawing.  You could dice or shred some salad chicken and freeze that to make preparation easy when you thaw that out.
For another zero carb keto-friendly salad try my Egg Salad with Dill.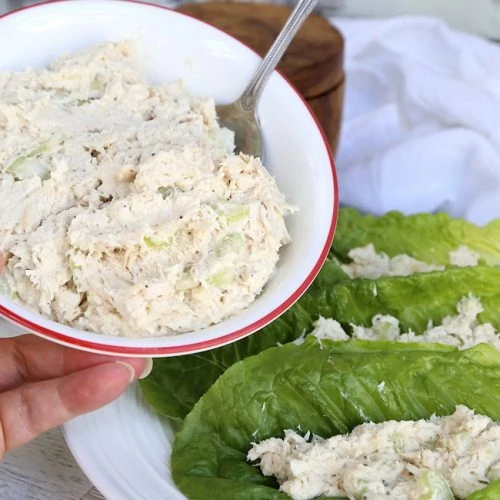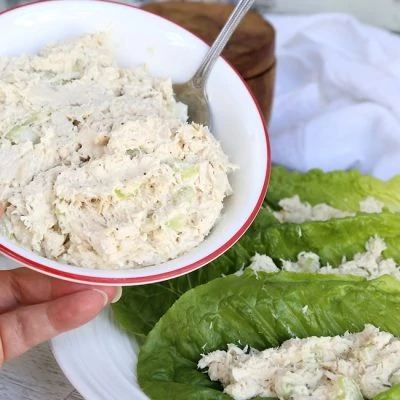 Keto Chicken Salad Recipe
A low carb chicken salad recipe appropriate for the keto diet plan. A very tasty carb free recipe based on the deli favorite.
Print
Pin
Rate
Servings:
8
approx. ¼ cup
Ingredients
3

cups

rotisserie chicken white meat

,chopped (roughly 2 breasts)

½

cup

celery

chopped
Keto Dressing
1

tablespoon

apple cider vinegar

1

teaspoon

natural zero calorie sweetener

stevia, monkfruit, erythritol (2 packets if you buy the individual servings)

⅔

cup

mayonnaise

(make sure it is zero carbs)

½

teaspoon

Salt-free seasoning

, Mrs. Dash original or equivalent

sea salt and pepper to taste
Instructions
Chop the chicken breasts and celery, if you haven't already.

Pour the sweetener into the apple cider vinegar to dissolve.

Add the salt free seasoning to the mayonnaise in a large bowl.

Season with sea salt and pepper as well.

Add the sweetened vinegar.

Whisk the chicken salad dressing well.

Add the chopped chicken and the celery to the bowl with dressing.

Mix the Keto chicken salad well. Serve and enjoy.
Notes
Notes: Feel free to add some chopped nuts to your chicken salad. While not carb free, they are still reasonable and a healthy addition to the salad. Skip the dried cranberries though.
Nutrition
Calories:
214
kcal
|
Carbohydrates:
0
g
|
Protein:
16
g
|
Fat:
15
g
|
Saturated Fat:
2
g
|
Cholesterol:
52
mg
|
Sodium:
162
mg
|
Potassium:
150
mg
|
Fiber:
0
g
|
Sugar:
0
g
|
Vitamin A:
50
IU
|
Vitamin C:
0.2
mg
|
Calcium:
12
mg
|
Iron:
0.6
mg
More Keto Recipes
Here are a few more easy keto recipes you may like. Keeping foods varied and interesting helps you stay on track with your low carb diet plan.