Kimochis means feelings in Japanese
Many young children are overwhelmed by the emotions they feel and struggle with expressing them properly.  Kimochis
were designed to provide a fun way to guide kids, toward acceptable ways to express themselves.  Each adorable plush doll has a pocket to hold small pillows representing different feelings, which children can utilize to help express themselves.
Meet the characters:
Cloud:  tends to be a little moody and unpredictable. Cloud
 comes with the emotions happy, sad and mad.  This doll can be especially helpful to children who have a hard time controlling their emotions
Huggtopus: is a boisterous and happy go lucky character, who often overwhelms her friends with her boundless energy and big hugs.  She comes with the happy, silly and frustrated emotions.  Huggtopus
can be helpful to children who are working on the concept of personal space and boundaries.
Bug: is frightened by change.  She is accompanied by the happy, brave and left out feelings pillows.  Bug
can be a reassuring friend for children who have difficulties with transitions and unfamiliar situations.
Cat: loves to be the boss.  She comes with the happy, cranky and curious emotion pillows.  Cat
makes the perfect learning companion for kids who tend to get a bit bossy with their playmates.
In addition to the doll and 3 starter emotions, each Kimochi also comes with a small guide book to assist parents in utilizing the toy, to help their children appropriately communicate their feelings.  It includes lessons and activities developed by nationally renowned child communication expert, Ellen Pritchard Doge (M.Ed. CCC-SLP).
We were sent the Huggtopus for review, and although it took my daughter a little while to warm up to, she now enjoys popping the emotions pillows in Huggs mouth, and occasionally gives her hugs and carries her around.  My daughter although autistic is a big hugger and is beginning to show signs of future boundary issues, so Huggs is a good fit for her.  I have also been using the emotions pillows with her individually, to make sure she has a grasp of what each one represents, so that so can start using them to let me know how she is starting to feel prior to it being an issue.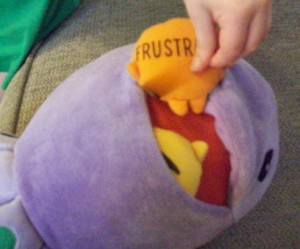 I would suggest Kimochis both for normally developing children and those who face developmental struggles.  There are so many ways to utilize these dolls that they not only work for both groups, but can be utilized over a span of several years.  While they are wonderful social and emotional developmental toys to share with your children, let's not forget, they are also darn cute.
The Kimochis dolls are available online at Kimochis.com and Amazon
.  Additional feelings pillows are also available there and come in packs of 5 (4 preprinted, and one blank so you can make your own).
 Disclaimer: While I received a sample doll for the purpose of review, the opinions presented here are my own and no monetary compensation was given.