These marinated labneh balls are made from homemade labneh, rolled in spices and packed in olive oil. It is a simple Middle Eastern delicacy well worth making yourself.
With this recipe you will make your own labneh cheese, shape and season it, then pack in oil.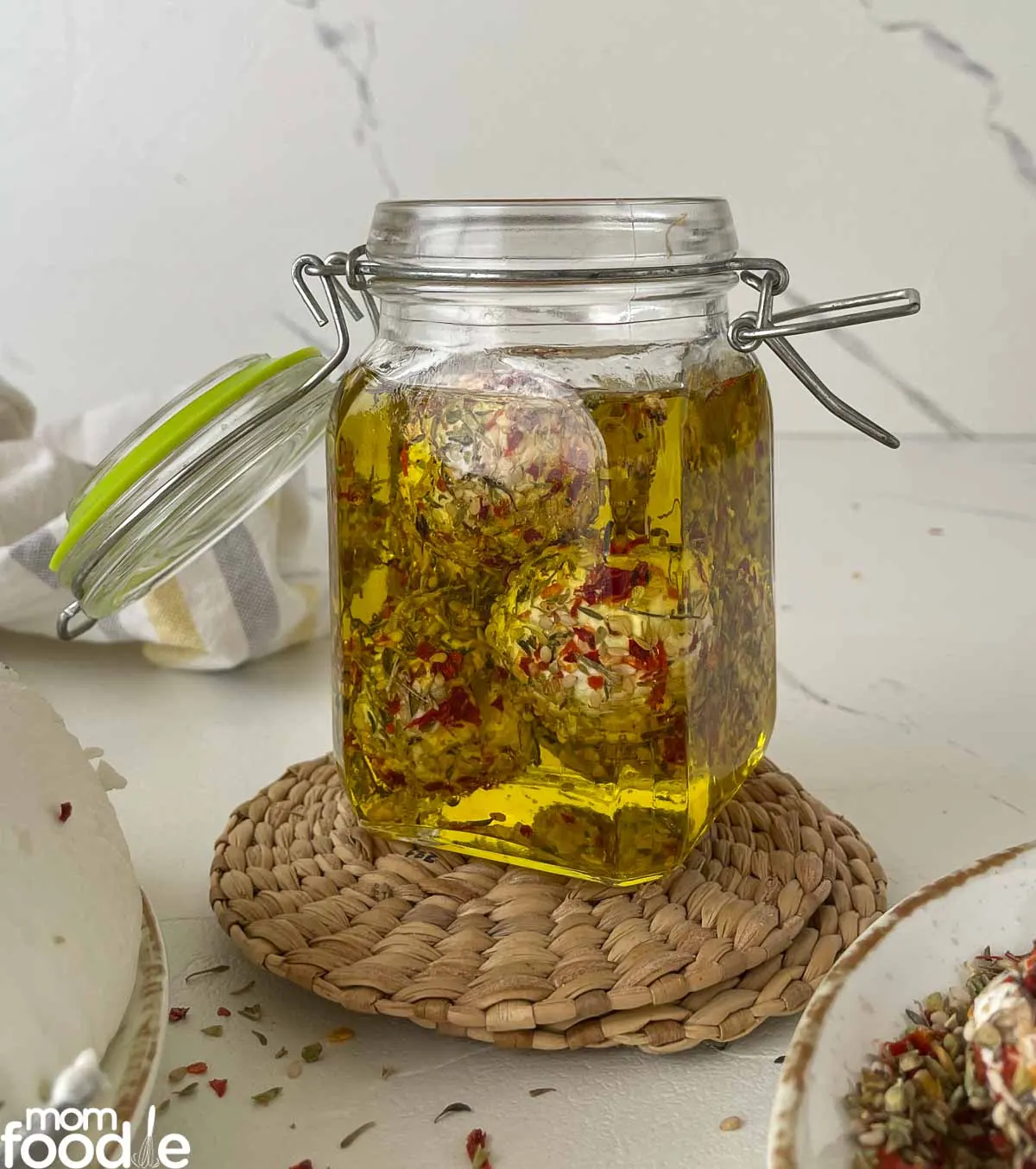 What is Labneh?
Labneh could be described as a yogurt cheese. It is a type of strained yogurt with a texture similar to cream cheese, that is popular in the Middle East. It is made by straining Greek-style yogurt through cheesecloth or a fine sieve for several hours, until it becomes thick and creamy.
Labneh has a slightly tangy flavor and can be used as a dip, spread, or topping for savory dishes. It can also be served with honey or other sweet toppings as a dessert.
Of course, labneh is also served as balls.
Homemade Labneh
Before we prepare the labneh balls, we have to discuss how to make labneh itself. It is a simple process requiring just two ingredients, but it does take some time, about 48 hours. Cheesecloth and string will also be needed.
2 cups Greek yogurt (Greek style yogurt is used because it has already been strained once, other plain yogurt will take longer to strain)
½ teaspoon salt
Making Labneh
Start by mixing the salt into the Greek yogurt.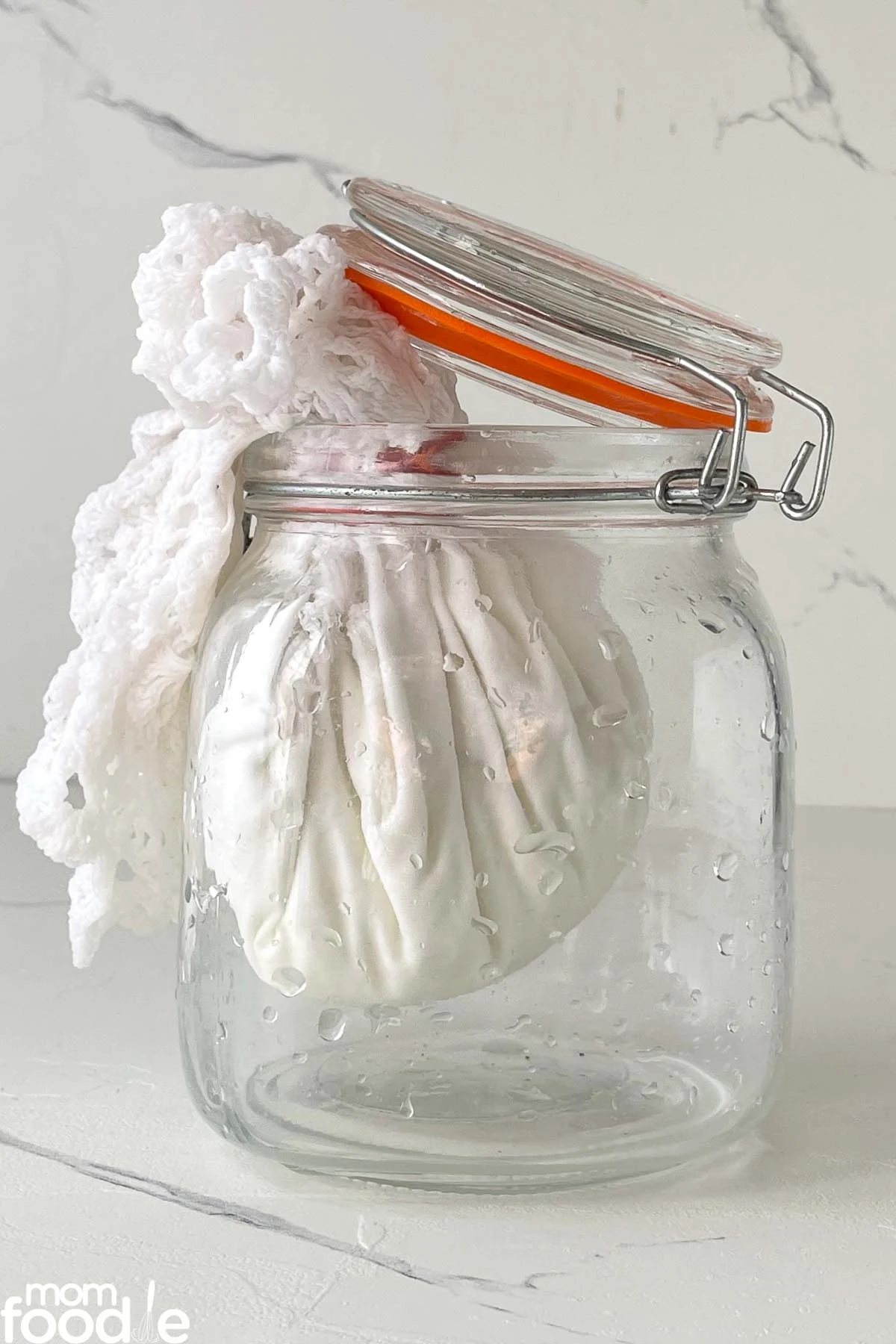 Tie the yogurt in a couple layers of cheesecloth and suspend in a large jar or over a bowl or pan to catch liquid draining. Alternately you can put the wrapped yogurt in a shallow bowl or rimmed dish and place a weight on top such as an enameled cast iron pan to press out liquid.
Leave the yogurt to strain for 48 hours in the refrigerator.
Once well drained extra thick, squeeze out any excess liquid whey from the strained yogurt, unwrap and place the labneh in a fresh bowl.
How to Make Marinated Labneh Balls
Homemade labneh is easily made into these delicious labneh balls. You will need a batch of the creamy labneh.
1 teaspoon oregano
1 teaspoon thyme
1 teaspoon crushed red pepper flakes
2 tablespoon sesame
1 cup extra virgin olive oil
Directions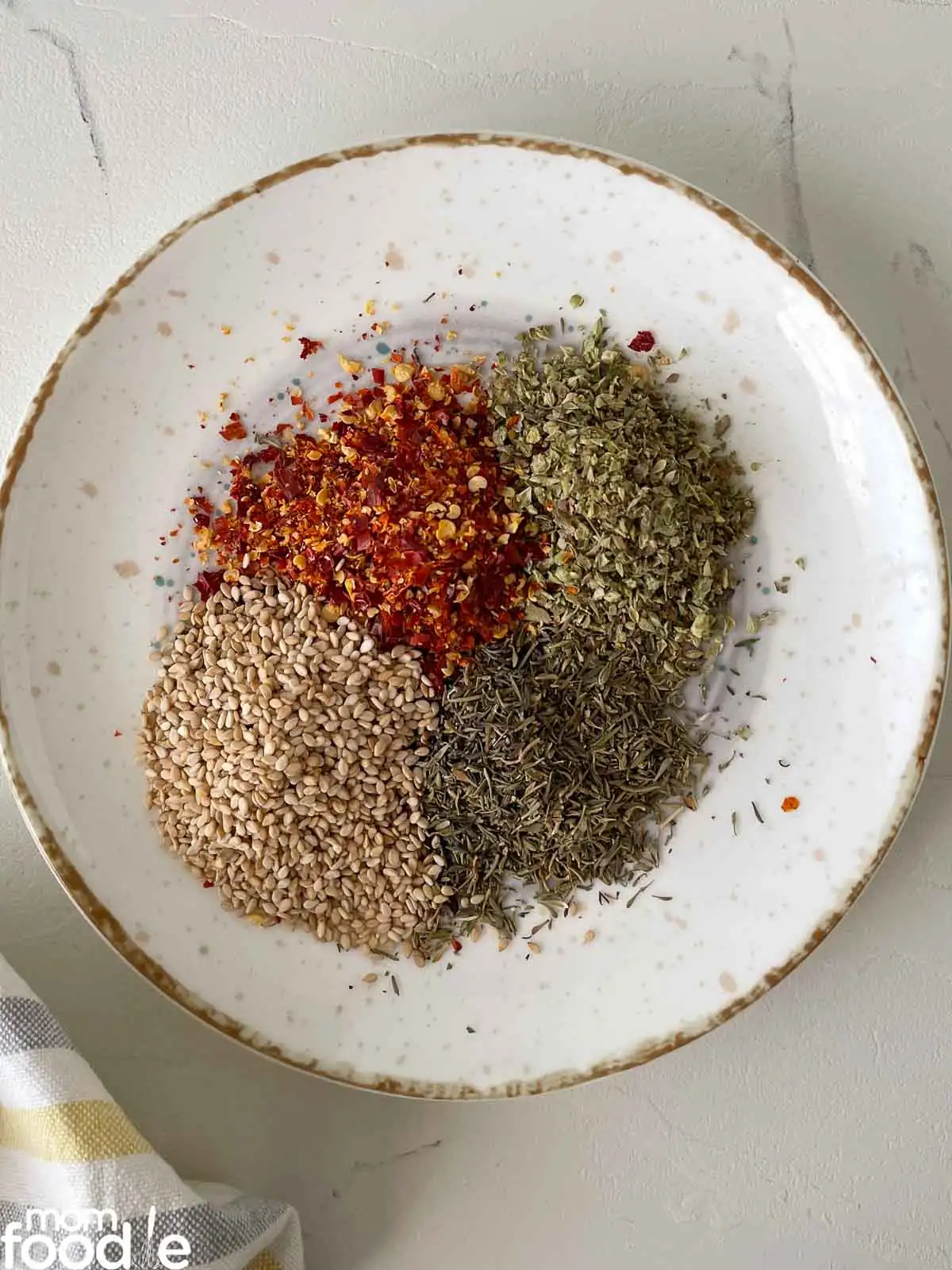 Mix together oregano, thyme, chili flakes and sesame seeds to create the coating mixture.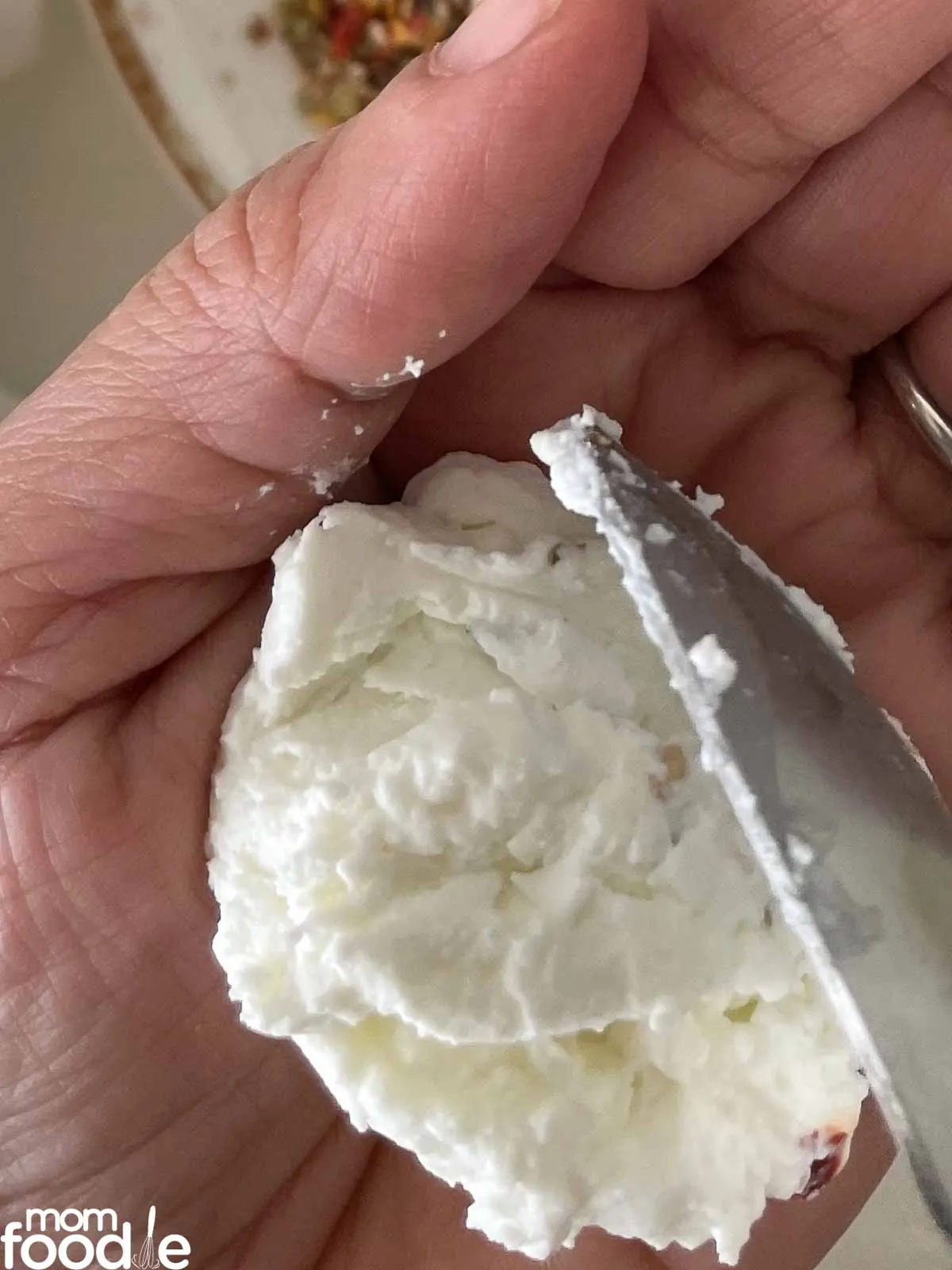 Scoop up a small wad of the labneh (2-3 tablespoons) and form a small ball out of it.
Tip: Wet hands or coat hands with olive oil to make rolling the soft cheese easier.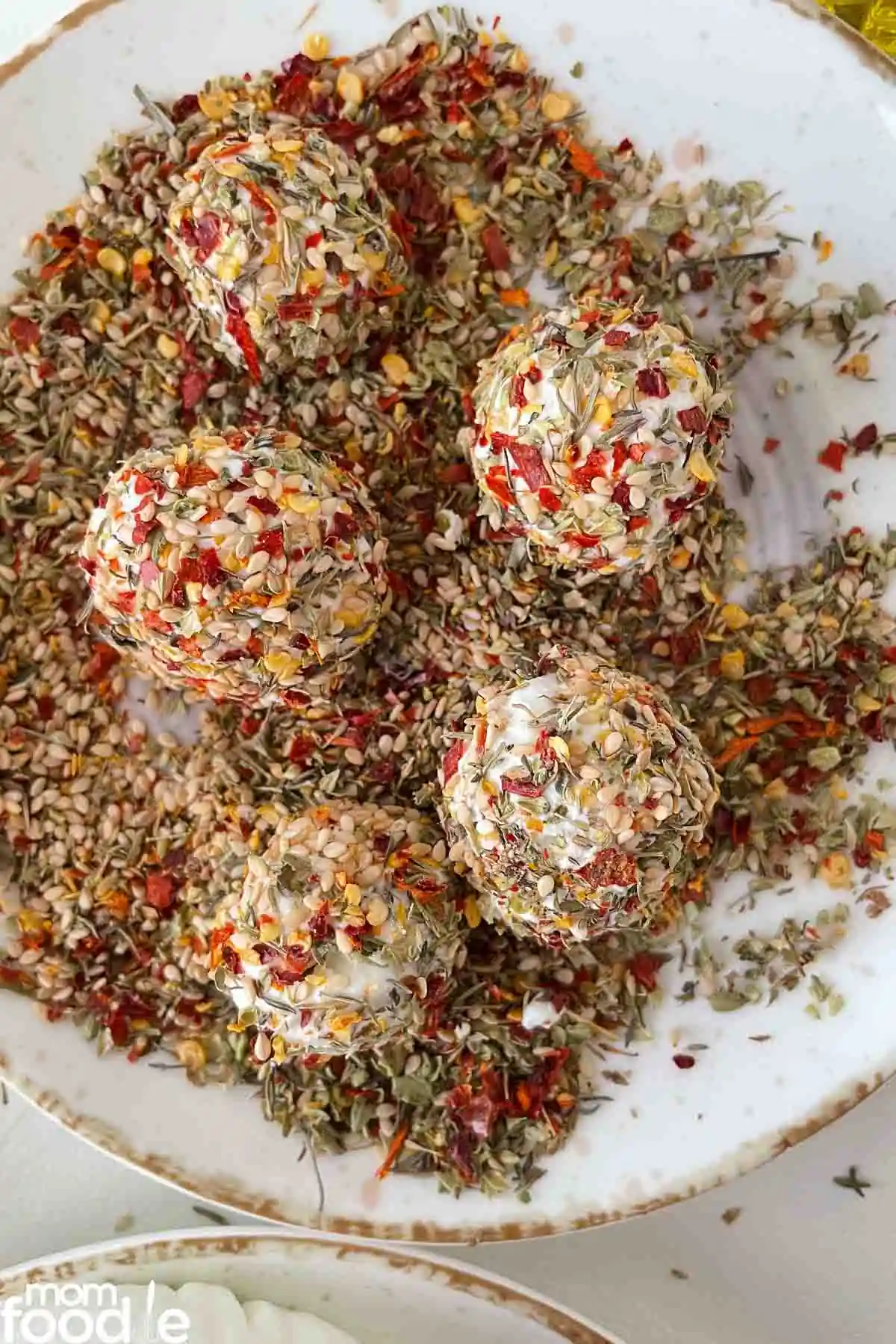 Roll each labneh ball in the spice mixture. Repeat until all the labneh is transformed into spiced balls.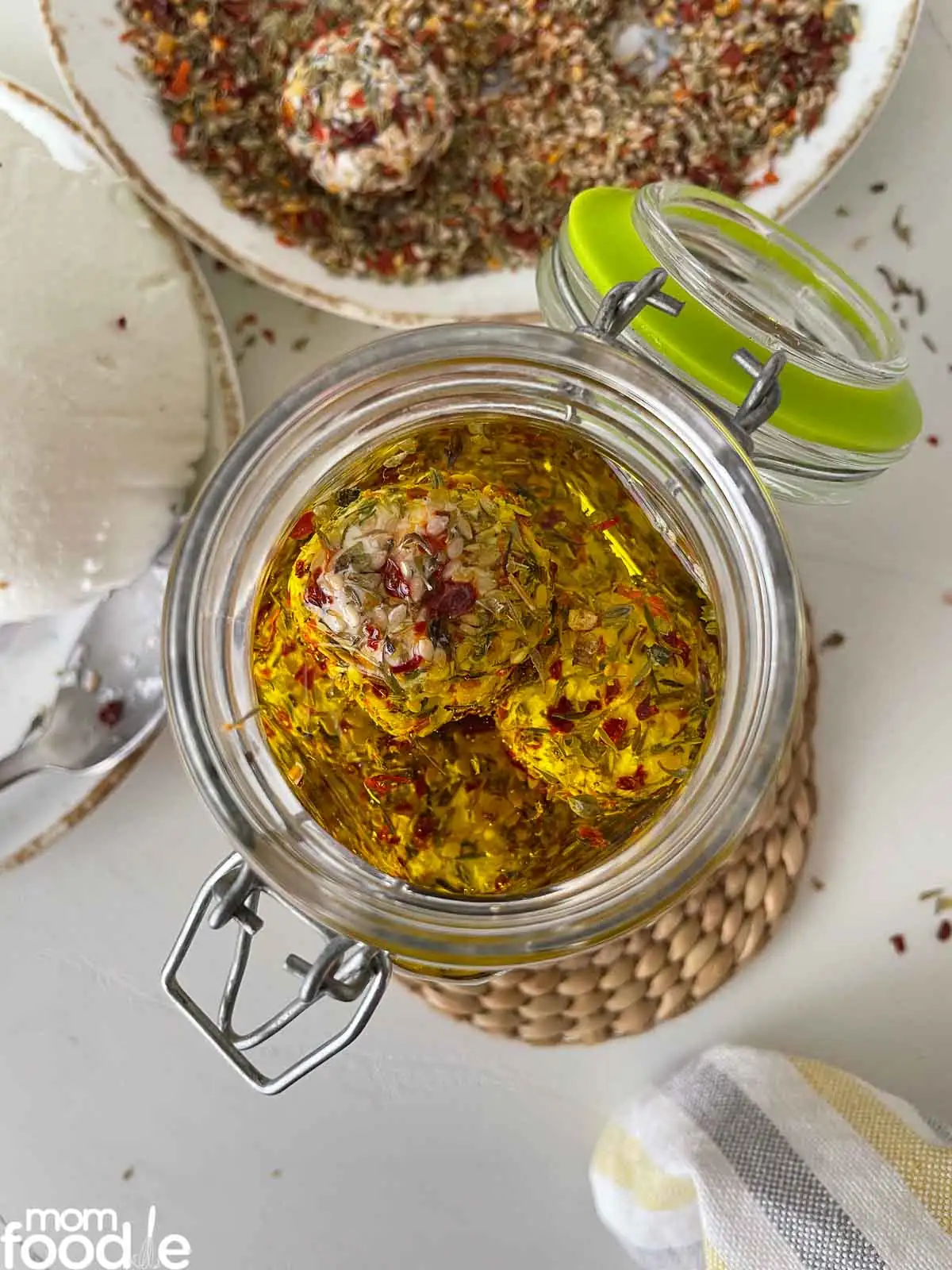 Place the spiced labneh balls in a jar or other airtight container and pour in a good quality olive oil until the labneh balls are completely covered. Seal jar.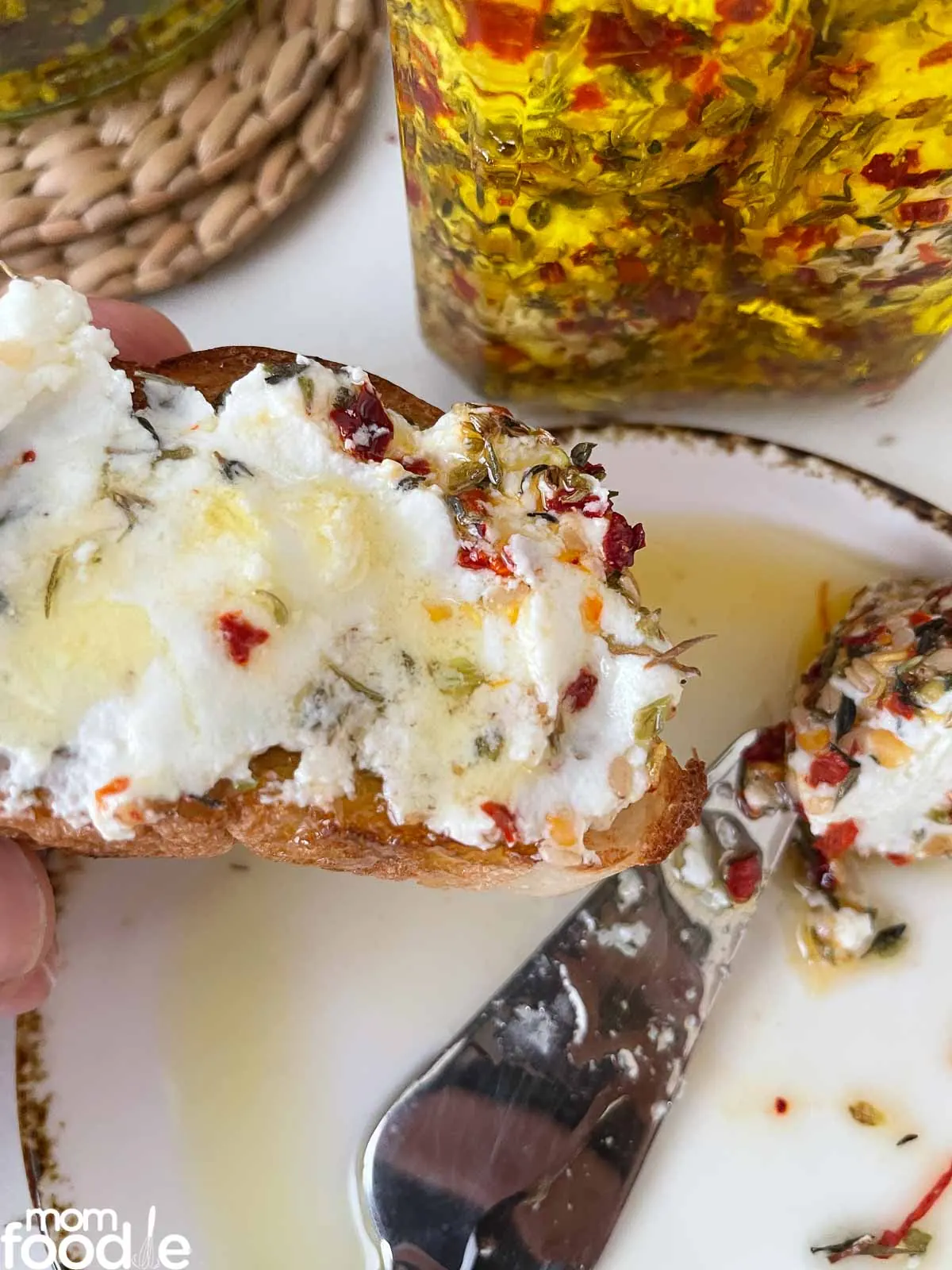 Enjoy as an appetizer, side dish, or along with pita bread or slices of crusty baguette. Of course, labneh balls are a perfect addition to a mezze platter.
Variations on Seasoning
Labneh is a versatile fresh cheese and there are a wide array of options for seasoning the labneh balls.
Crushed pistachios or other nuts make a great coating and the balls will pair nice with both sweet and savory dishes. Everything Bagel Seasoning would also be a tasty choice.
Lemon zest and or garlic added to the packing oil adds flavor.
Using finely chopped fresh herbs are a fine choice
Mix seasoning into the labneh before shaping, rather than using them to coat.
Plain is of course also an option and the most versatile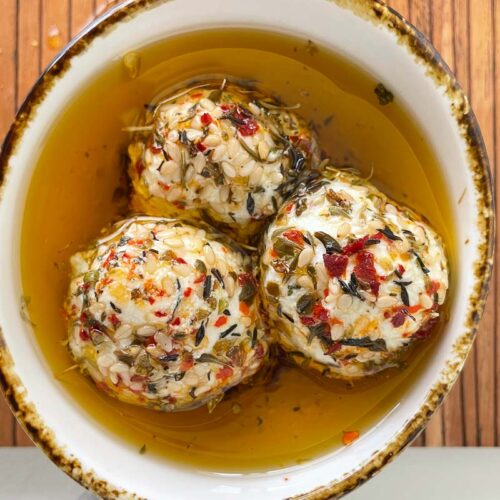 Labnah Balls
Homemade Labneh shaped into balls, spiced and marinated in olive oil.
Print
Pin
Rate
Equipment
Cheesecloth and string

bowl

lidded jar
Ingredients
Homemade Labneh
2

cups

Greek yogurt

(Greek style yogurt is used because the thick yogurt has already been strained once)

½

teaspoon

salt
Marinate for Labneh
1

teaspoon

oregano

1

teaspoon

thyme

1

teaspoon

chili flakes

2

tablespoon

sesame

1

cup

extra virgin olive oil
Instructions
Tie the salted yogurt in a cheesecloth and suspend on over a bowl to strain. Alternately, you can place the wrapped up yogurt in a shallow bowl or rimmed dish with a heavy object such as a pan on top to press the liquid out.

Leave it to strain for 48 hours in the refrigerator.

Mix oregano, thyme, red pepper flakes and sesame seeds to make coating.

Squeeze out residual milk whey, then form balls out of the dry yogurt. Roll them in the seasoning.

Place the labneh balls in a glass jar and cover completely with olive oil. Seal.
Notes
Nutrition calculated based on assumption of roughly ⅓ of the oil adhering to the labneh when serving.
Nutrition
Calories:
164
kcal
|
Carbohydrates:
4
g
|
Protein:
7
g
|
Fat:
14
g
|
Saturated Fat:
2
g
|
Polyunsaturated Fat:
2
g
|
Monounsaturated Fat:
9
g
|
Trans Fat:
0.003
g
|
Cholesterol:
3
mg
|
Sodium:
224
mg
|
Potassium:
119
mg
|
Fiber:
1
g
|
Sugar:
2
g
|
Vitamin A:
123
IU
|
Vitamin C:
1
mg
|
Calcium:
108
mg
|
Iron:
1
mg